If you can sew five straight(ish) lines, you can make these simple but stunning easy-sew curtains for any room in your house!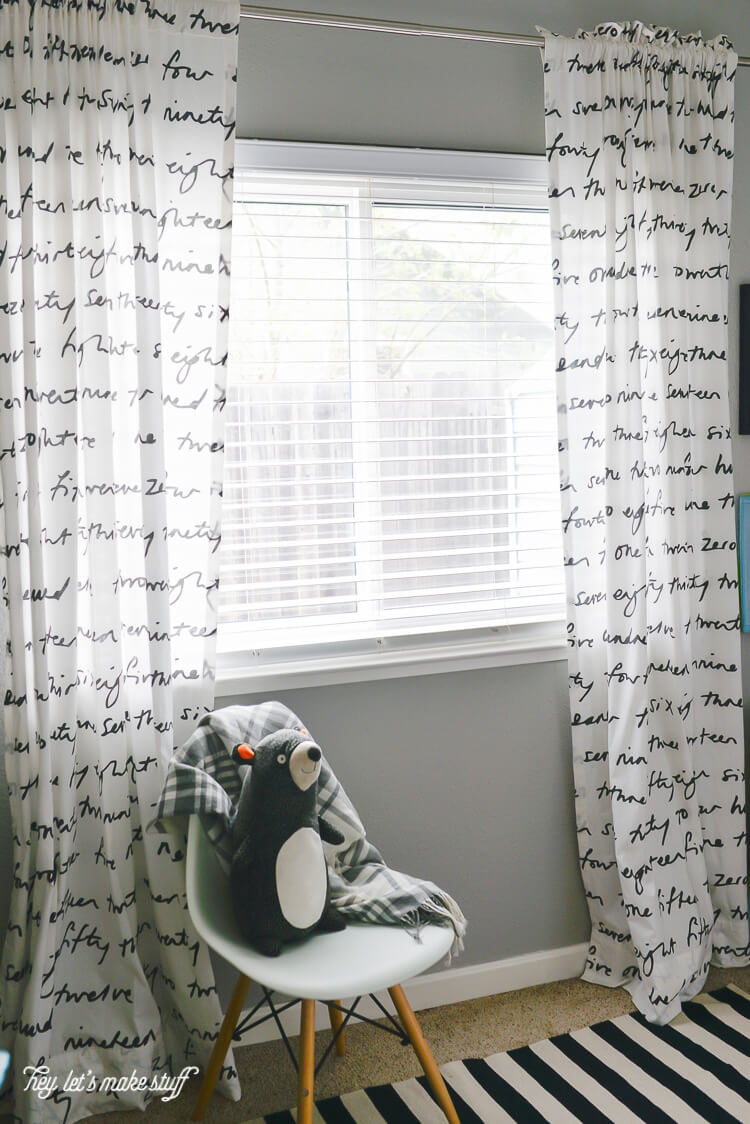 Did you know that IKEA sells fabric? Our local IKEA has a large selection of fabric, mostly in home-decorator weights (canvas, upholstery, etc.). But when Ryan and I were in there the other day, we found a light cotton fabric with this great text print: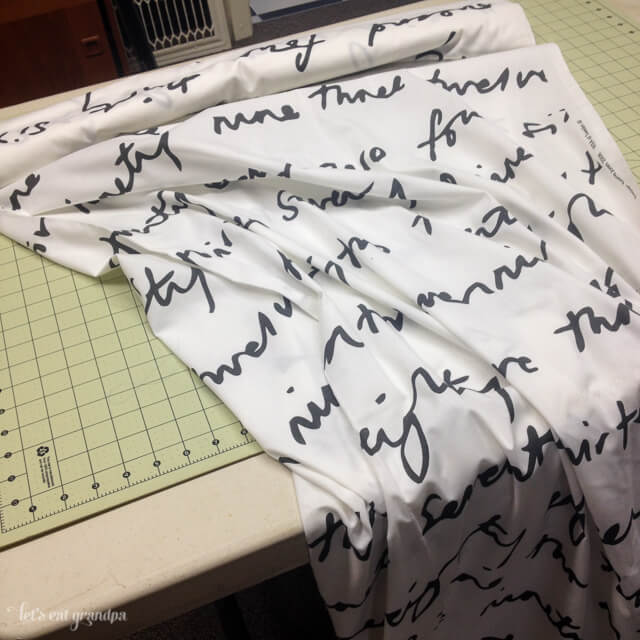 We're giving our home office / library a makeover, and I thought this was the perfect fabric to complement the literary nature of the room. Plus, it's a whopping $4.99 a yard—if you've ever purchased enough fabric to make curtains, you know that's a bargain.
And along with new curtains for me, comes an easy-sew tutorial for you! Note these curtains are unlined — they definitely let in a lot of light and offer little privacy. When I make curtains for our guest bedroom, I'll post a tutorial about how to make lined curtains.
There are a lot of tutorials for no-sew curtains, but come on ladies (and gents) — you can learn to sew a straight line! These curtains are a great beginner project because each curtain has only five straight lines of sewing (see below). For two custom curtain panels, you can sew ten straight lines! They don't even have to be that straight! And because they are sewn, they should last longer than curtains made exclusively with fusible hem tape.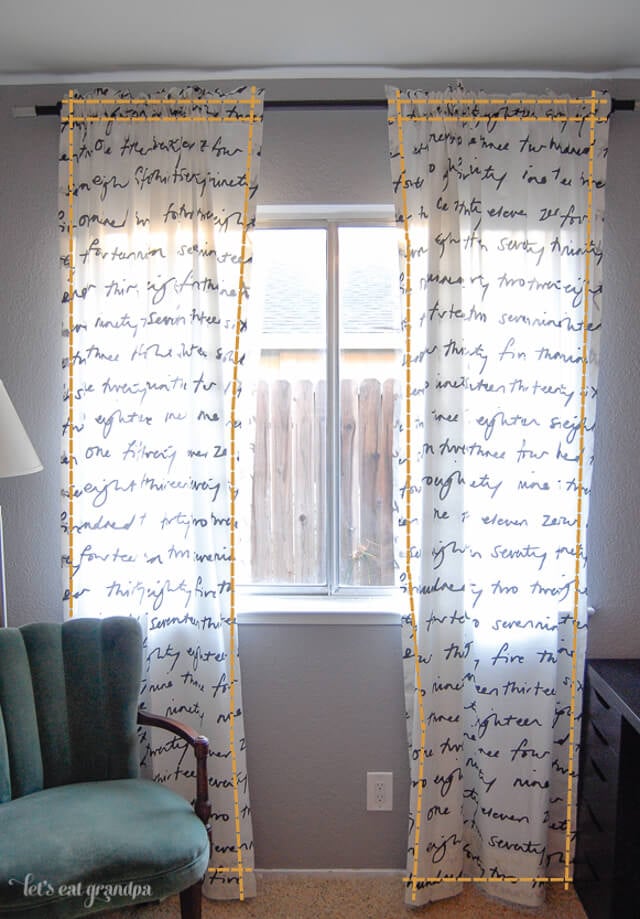 Supplies for the Easy-Sew Curtains:
Determining Fabric Yardage:
For floor to ceiling curtains (my personal favorite — adds drama and softness to a room), take the height of your ceiling and add 14″ for the top and the bottom hems. So, if you have a 96″ ceiling (8′), you will have a total of 110″ of fabric for each panel. Double that for two panels and you have 220″ of fabric, or just over 6 yards. I bought 7 yards just to be safe, and have enough left over to make some matching pillows.
If you want another length (say, the height of the window + curtain rod), use that for your height measurement, and still add the 14″.
I suggest buying fabric that is at least 60″ wide. Standard 45″ fabric is just too narrow for most windows, if you fully want to close the curtains. Most home decor fabric is 60″.
Directions for the Easy-Sew Curtains
Measure out the full height of your first panel, with the hem allowances (using the above calculation, it would be 110″). You don't have to be super exact — there is plenty of fabric to hem with. Just get close.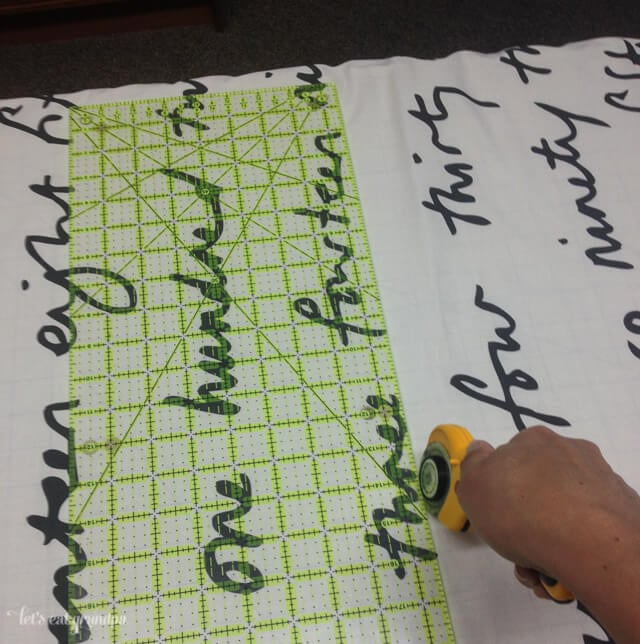 Cut both 110″ panels. I use a rotary cutter and mat, but you could just as easily use scissors.
This particular fabric had writing on the selvage. Creating a nice side edge requires me to turn the fabric under, and the writing showed through to the front. Not cool.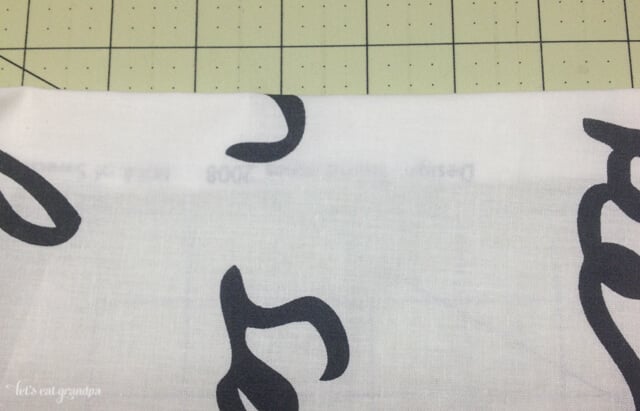 So I trimmed off the selvage (again, scissors would work just fine here).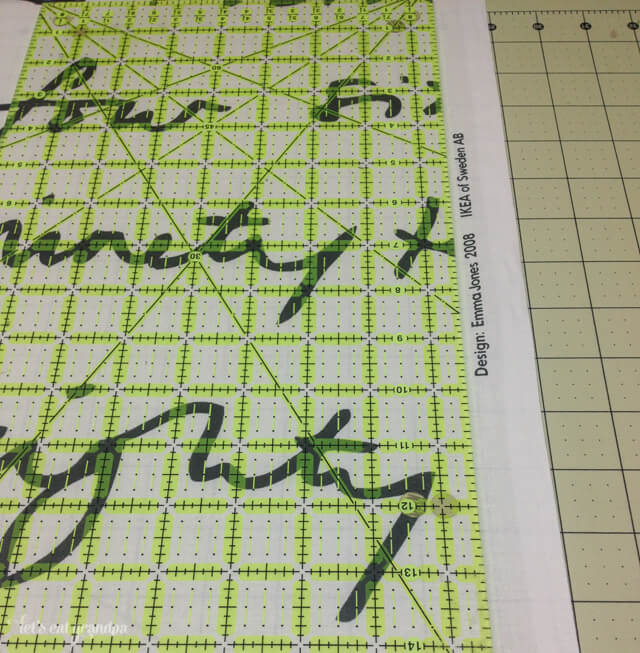 To create the side "hem" on the curtain, iron a 1″ hem along the entire 110″ length of the fabric. A ruler can help guide you.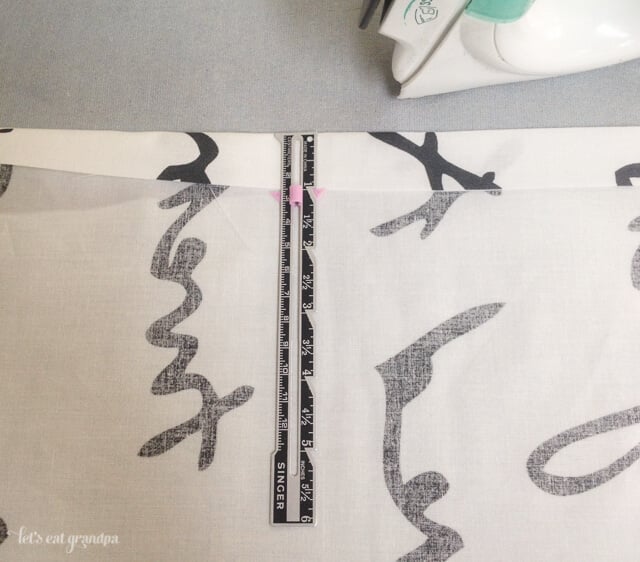 Turn the fabric over one more time, enclosing the raw edge in the fold, and iron. Pin to hold down the hem.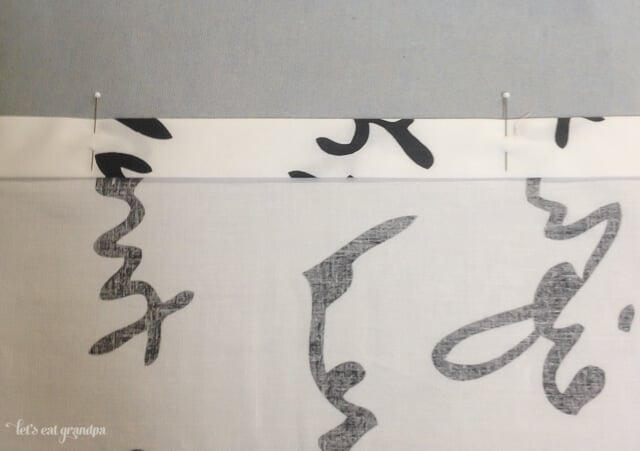 Sew the hem closed all the way down the curtain, using a narrow 1/8″ seam allowance (meaning 1/8″ away from the interior edge of the folded fabric). Do this to both sides, for both panels.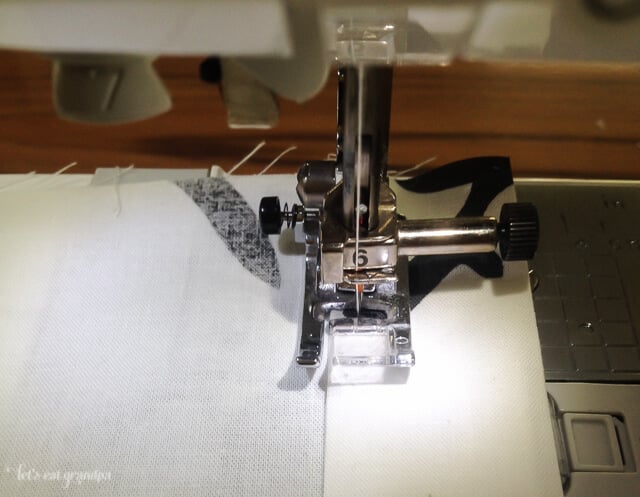 This tutorial used the "rod pocket" method for hanging. No grommets, tabs, or hardware to deal with.
To determine the height of your "pocket", double the width of your curtain rod. I have a pretty hefty 1 1/2″ curtain rod, so my pocket is 3″ deep. If you have, for instance, a narrower 1/2″ curtain rod, your pocket only needs to be 1″ deep.
Add 3″ to your pocket height: for mine, 3″ + 3″ = 6″. 1″ of this will be just turning the fabric under (see the next paragraph and illustration), 2″ will be the ruffle at the top, and 3″ will be my pocket.
To create the rod pocket, fold over the fabric at the top 1″ and iron. (Important note: if you are using a directional fabric such as this text fabric, make sure you are making the rod pocket at the top of the curtain — you don't want your print upside down!) If you'd like, use some fusible hem tape to hold this fold down (optional).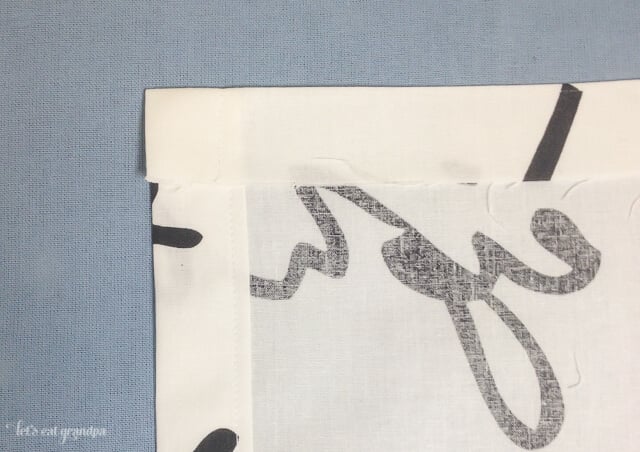 Then fold the fabric down 5″ (which is my original 6″ minus the 1″ fold). Iron the edge and pin in place: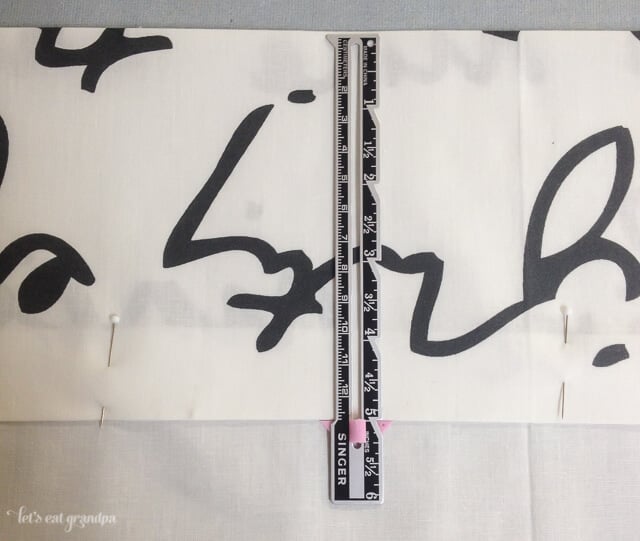 Sew the edge of the fabric in the same way you sewed the side hems above, with a 1/8″ seam allowance.
Because my pocket needs to be 3″ deep, I am going to sew another line 3″ above the seam I sewed (not the folded edge of the fabric). I used a ruler and drew a line 3″ above my seam all the way across using a disappearing ink marker. This leaves 2″ above the line for the ruffle.
Note: if your rod pocket needs to be, for instance, only 1″ deep, sew the line 1″ above the seam you sewed.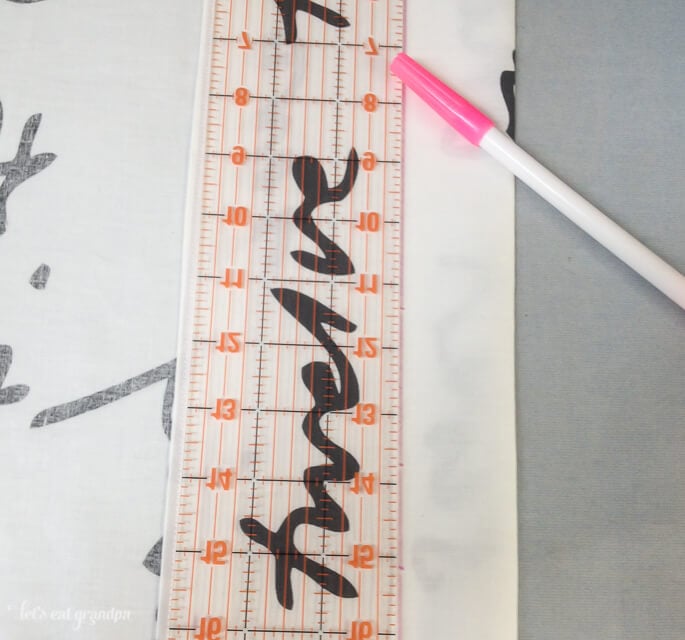 Sew down the line you just drew. You've completed the rod pocket for your curtain! Follow these directions to make the rod pocket for the other panel as well.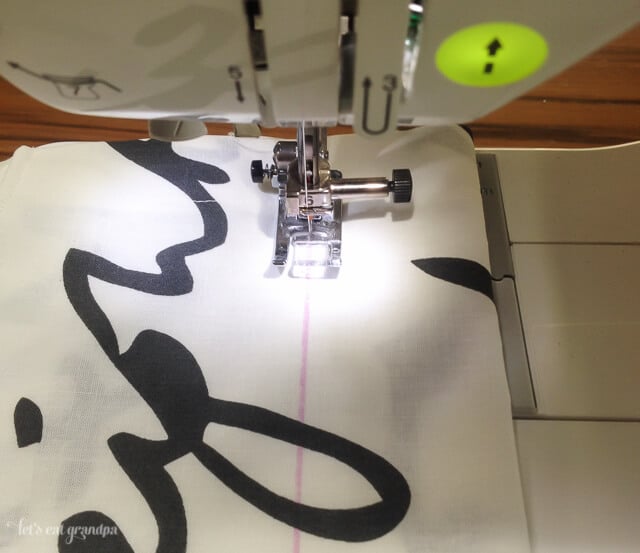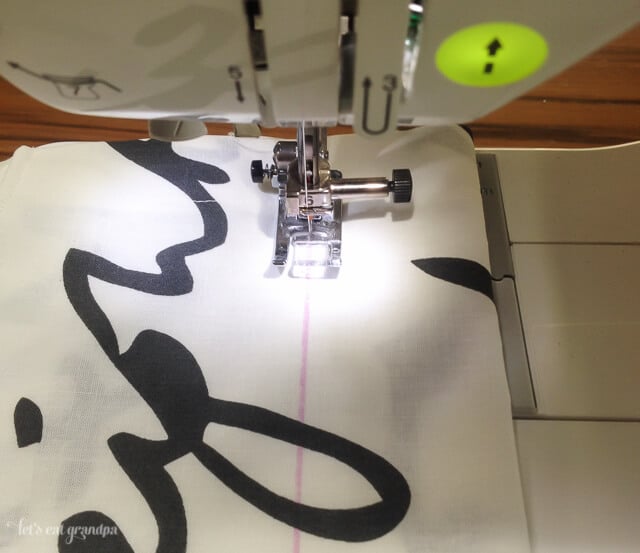 To hem your curtains, hang them up. You'll notice I have quite a bit of fabric pooling at the bottom. Some people like this look, but I find it a little messy, especially with a behemoth dog who will try and sit on them. So I hem them to floor length.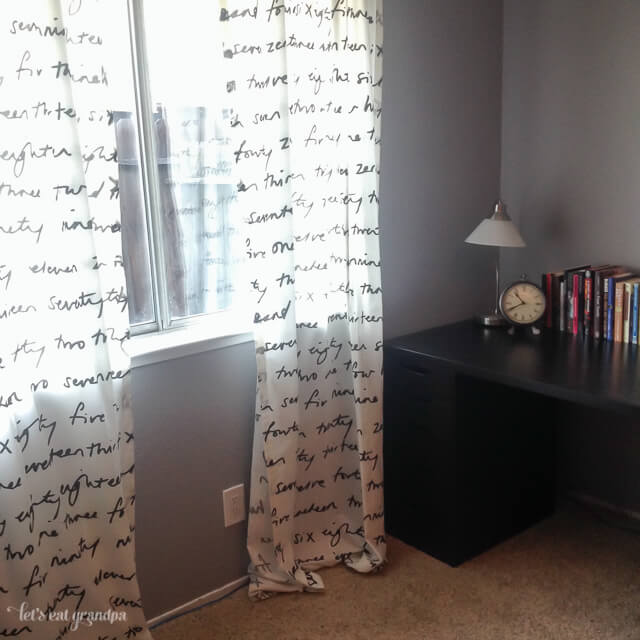 Pin the curtains so that they just brush along the floor. I have pins both at the fold and to hold the excess fabric behind the curtain: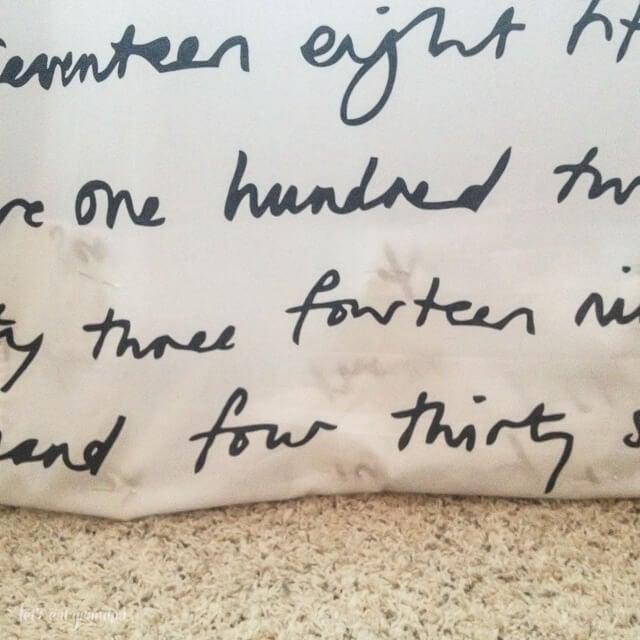 Iron the fold so that you can use it as a guide.
Your calculation should have left you with 8 or 9 inches of extra fabric for the hem. I like a hefty 6″ hem — it allows the curtains to hang better, and because the bottom is heavier, they aren't as likely to randomly float away from the wall if there's a little draft.
Measure 7″ away from the ironed fold, and draw a line. This leaves 1″ to fold under and 6″ for the hem.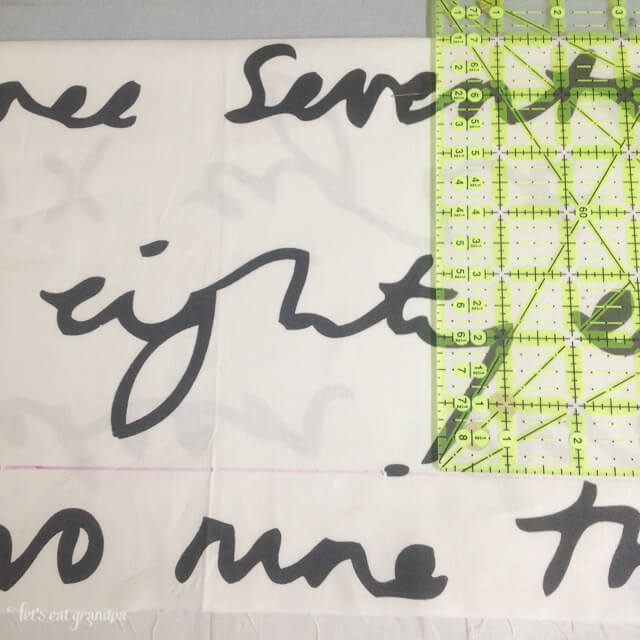 Cut along the line you just drew. I used scissors. Fold over the fabric at the top 1″ and iron. If you'd like, use some fusible hem tape to hold this fold down (optional).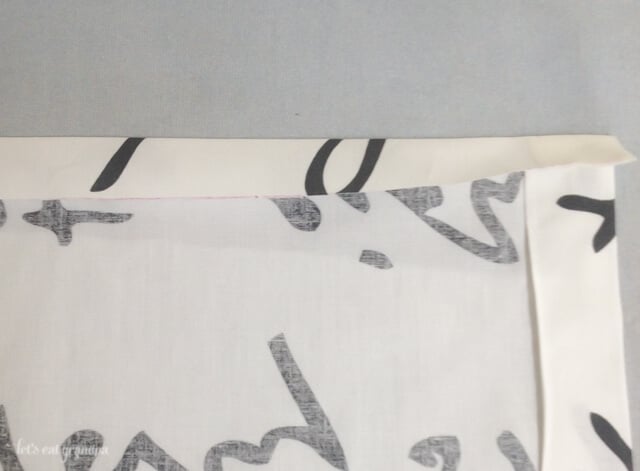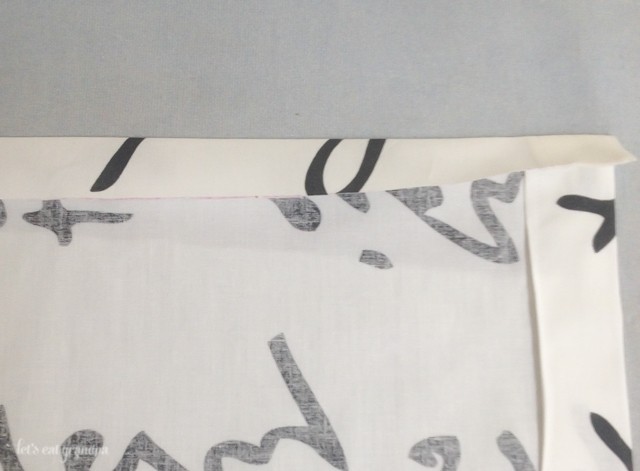 Then fold your hem back along on the ironed fold line you already made and sew down the hem, in the same way you sewed down the hem for the rod pocket above.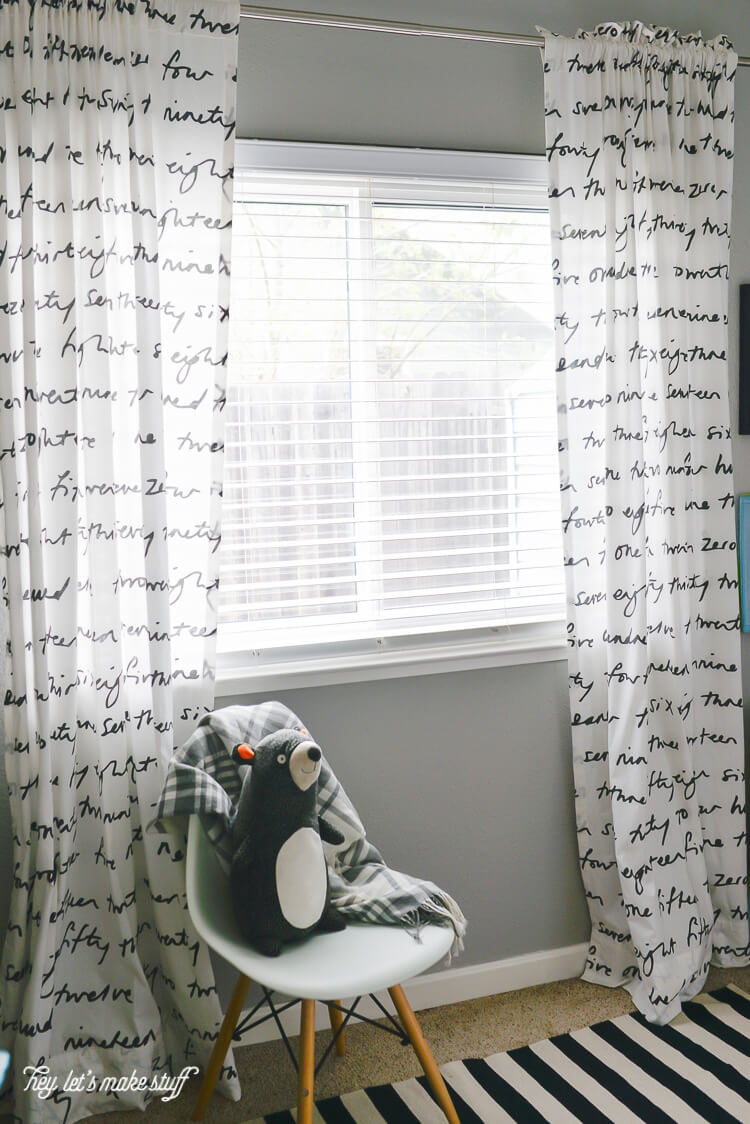 Voila! You've made yourself some beautiful curtains! If you have any questions, please leave them in the comments and I will try and clarify or modify the tutorial to be more clear.