Sublimation flip flops are fun for weddings and bridal showers, family reunions, and more! Learn tips and tricks for making customized flip flops using your sublimation printer.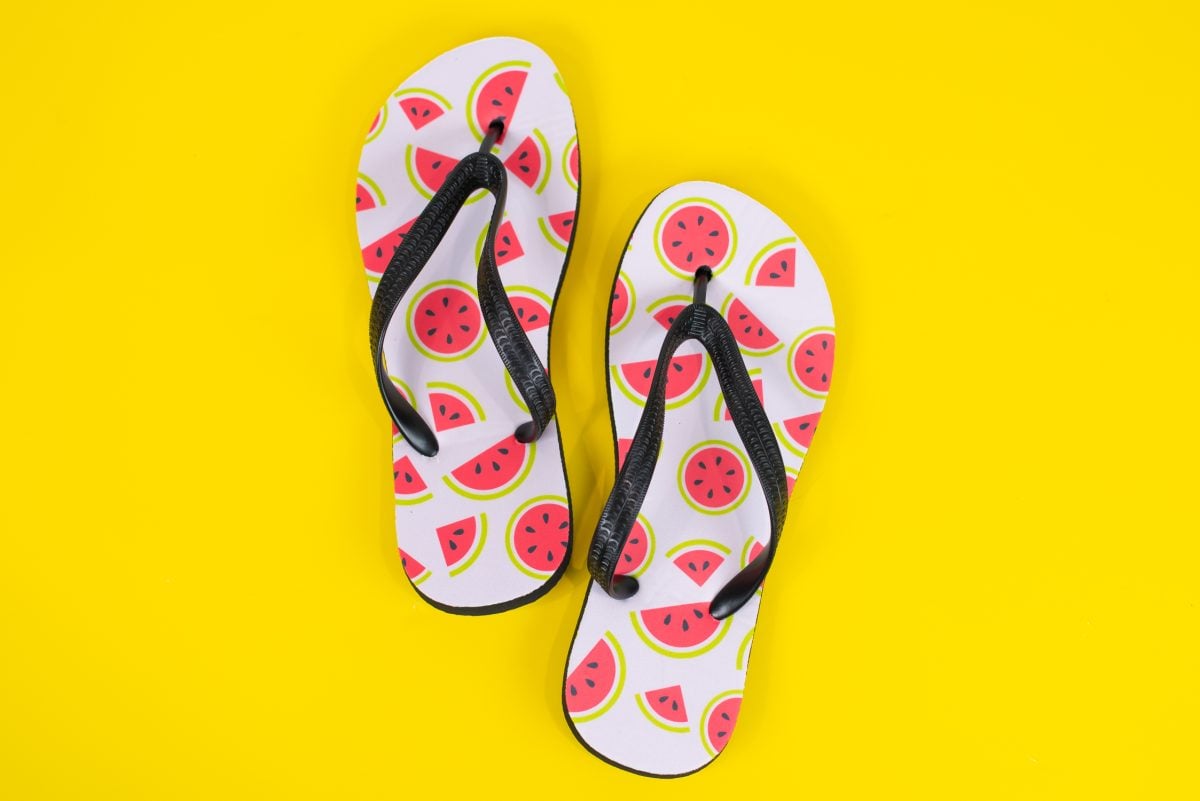 With summer nearly here and wedding season well underway, it seems like the perfect time to create custom sublimation flip flops! I recently attended a wedding and was on my feet for hours! I would've loved to have a pair of flip flops to slip into after the ceremony instead of trying to navigate the grassy tent in my heels. Even better if they were personalized!
Sublimation flip flops can make a great addition to wedding receptions! Customize with the wedding theme or date and leave them in a basket for guests to grab. No more tired feet! They'd also make a fun bridal party gift. Coordinate with wedding colors or the attendants' favorite colors for a unique gift they can put to good use later that night!
These flips flops are pretty simple to make, but there are a few tips ands tricks you'll want to know. You'll also want to be sure to have the correct flip flop tool. Trust me, it makes life SO much easier! You can do it without, but it's a pain.
I'll also provide you with time and temperature recommendations for pressing, plus share what I learned along the way when making my own sublimation flip flops!
Additionally, I'm using my Sawgrass SG1000 to print my sublimation transfers, but you can use any sublimation printer you have.
Supplies for Sublimation Flip Flops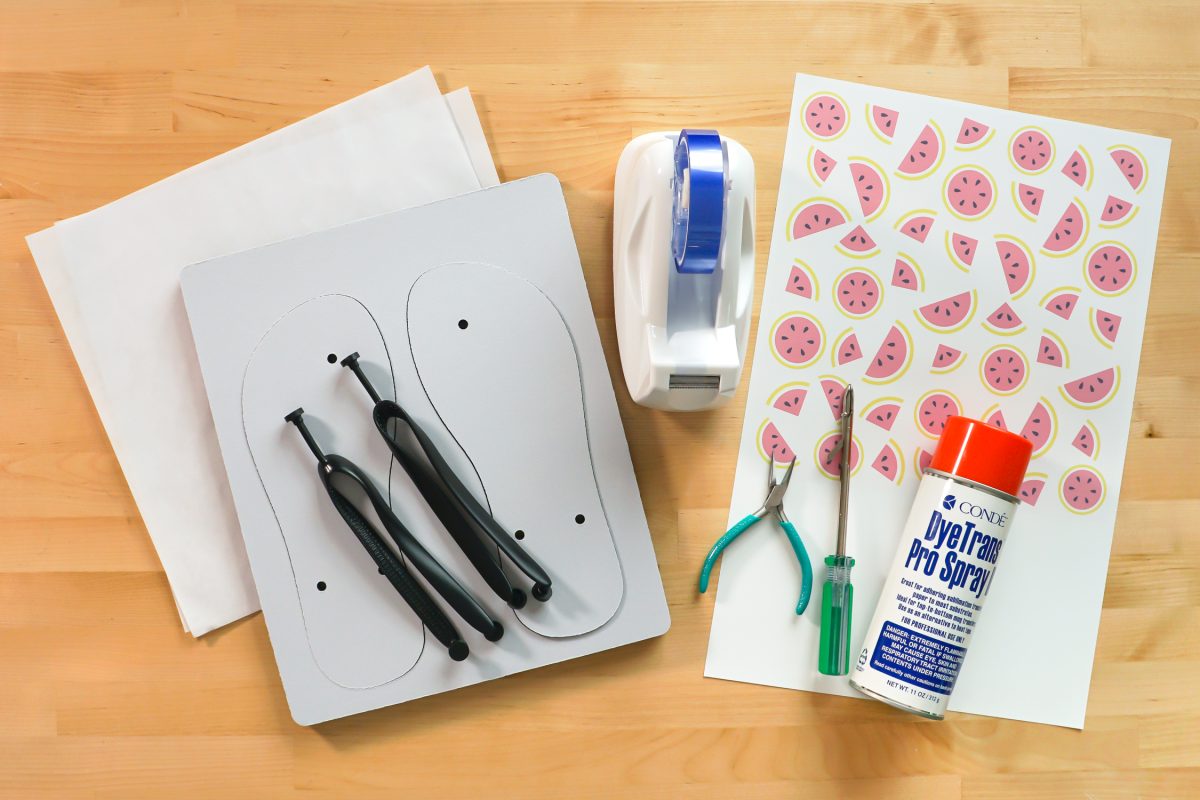 A note about flip flop sizing: These flip flops seem to run pretty big—I think they are men's sizes. Heat Transfer Warehouse only had medium and large when I ordered, so I got medium, but Conde carries all three sizes, as well as straps in white.
Small: 10.25″ (Men 5.5-6, Women 7 to 8.5)
Medium: 10.7″ (Men 8-9, Women 9.5 to 10.5)
Large: 11.5″ (Men 10-12, Women 11.5 to 13.5)
Download the Free Fruit Patterns File under SUBLIMATION S15
This file can be found in my Free Craft Resource Library. The file number is: S15.
Want access to this free file? Join my FREE resource library! All you need is the password to get in, which you can get by filling out the form below!
Instructions for Sublimating Flip Flops
Printing Your Flip Flop Sublimation Design
Unless you are only making small flip flops, you may need to use paper larger than 8.5″ x 11″ in your sublimation printer if you want a full coverage design. If you have a Sawgrass printer, you can easily adjust your paper size.
Depending on the design, you can also to use regular 8.5″ x 11″ paper if you place the flip flop at an angle on the paper. It definitely works with patterns like the ones I have here, but not as well for words or other designs. You'll need to print out two prints of the design and trim around the edges of each design in a flip flop shape so they don't overlap when pressing.
I printed out my design in Sawgrass Print Manager, but there are so many different software programs you can use. No matter what sublimation software program you are using, you'll need to upload, resize, mirror, and print your flip flop design.
Because I have the larger SG1000, I was able to print my design on an 11″ x 17″ paper making this project extra easy!
Adding the Transfer to Your Flip Flops
Start by lint rolling your flip flop blanks to remove any debris.
I made several pairs of flip flops in my quest to get it right, and I found that a combination of spray adhesive and tape worked the best to keep the image from shifting on my blank. If you only have tape, that's fine too, but definitely don't do only spray adhesive—it didn't stick worth a darn once heated and my paper shifted and my image ghosted.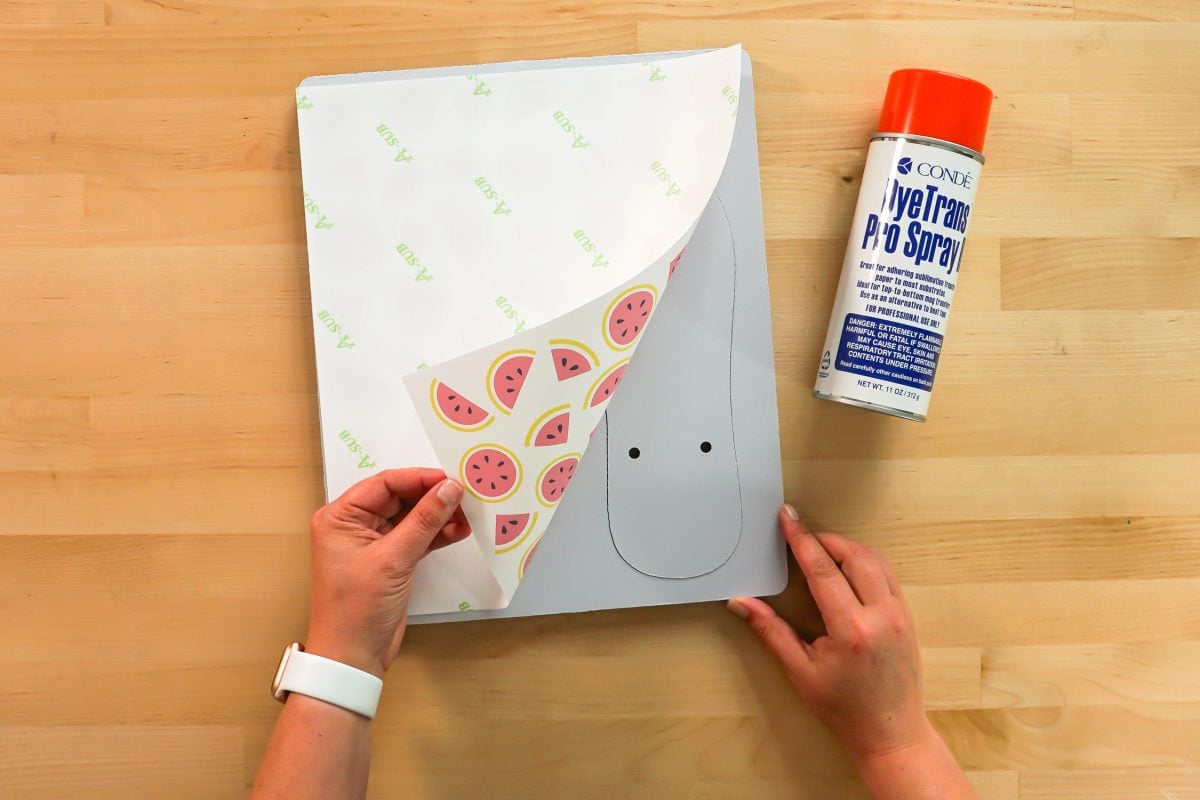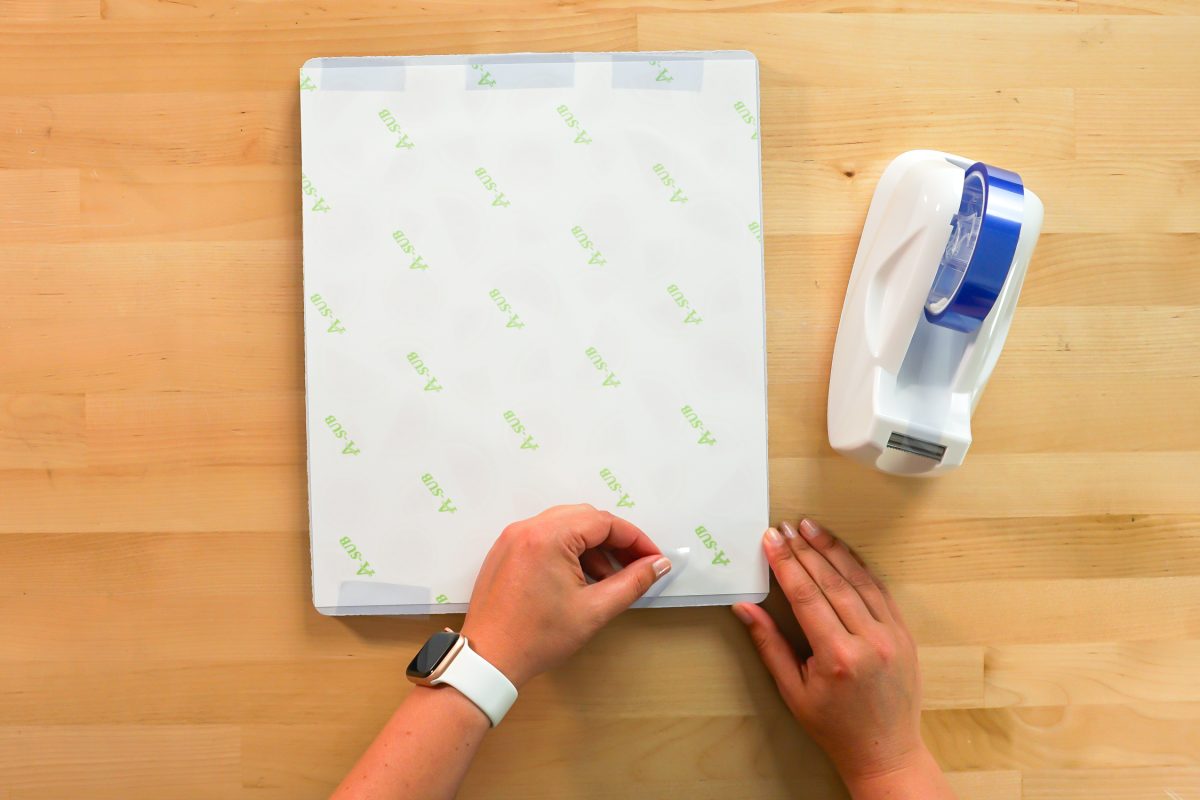 So for this project, I used some spray adhesive and added some tape around the edges of my transfer. You want to make sure that the entire footbed is covered or you'll have white lines at the edges of your flip flops.
Sublimating Flip Flops
Now let's talk about pressing details!
Important: Always check the product page where you purchased your flip flops for the manufacturer's recommended time, temperature, and pressure settings for your sublimation blanks. This varies from manufacturer to manufacturer and you always want to start with their recommendations and then test more if needed.
I pressed my flip flops within the form because I felt like I got the most even pressure. You may want to test pressing one at a time depending on the size of your transfer or press.
Your sublimation sandwich will look like this, top to bottom:
Butcher paper
Transfer taped face down on your flip flops
Flip flops face up in the form
Heat press base mat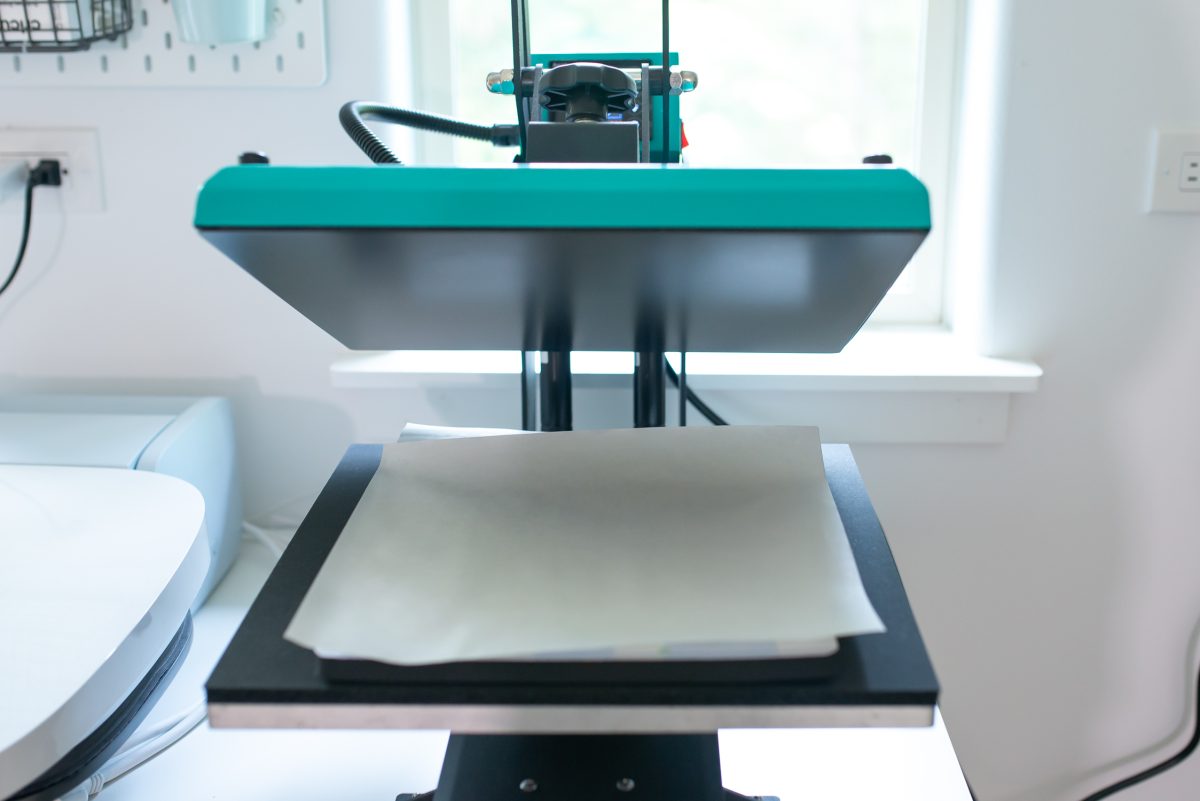 Sublimation Settings:
Time: 55 sec
Temp: 400°
Pressure: Medium – Firm
Allow your flip flops to cool before removing the butcher paper and transfer sheet to reveal your final flip flops!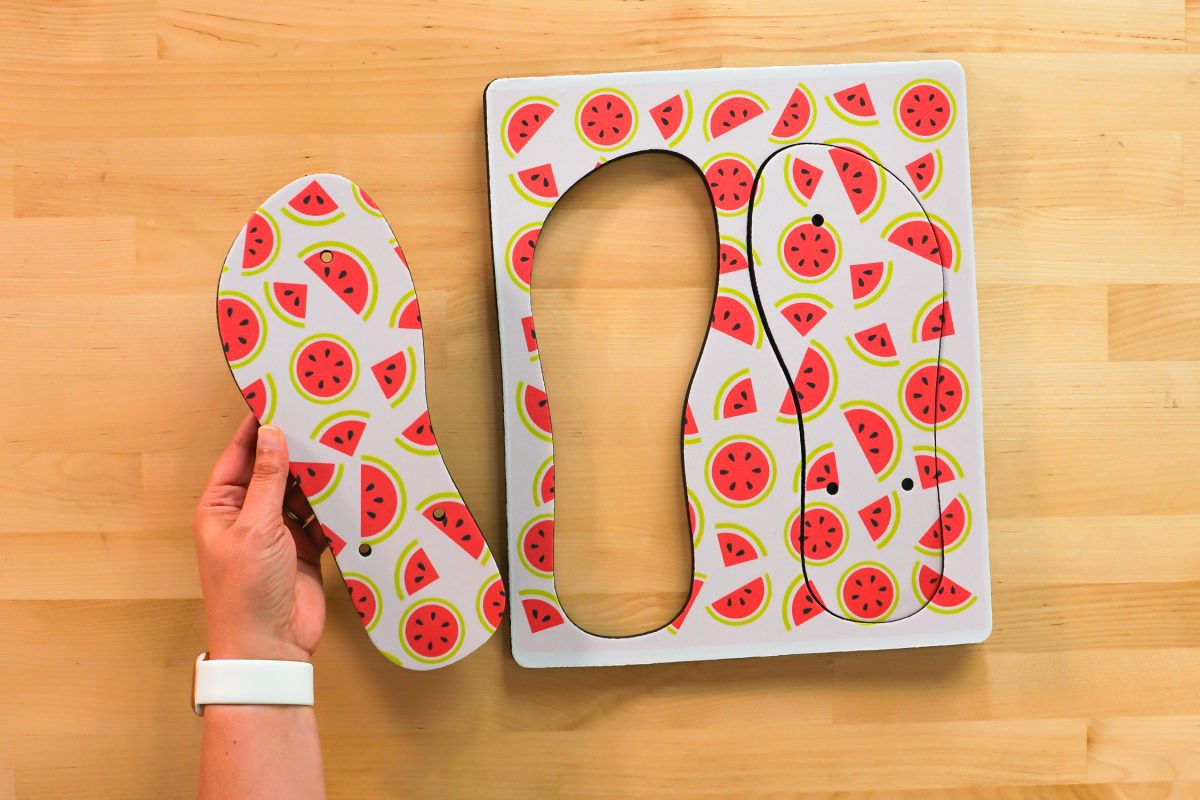 Assembling Your Flip Flops
Now comes the fun part (did I say fun? I meant not so much fun). You'll need to add the straps to your flip flops. There is a left and right strap and it's important that you get the right one or you'll have to do this "fun" process more than once. Line up the straps on the sandal with the two bottom holes. If the toe strap is pointed toward the top hole, you're good. If it doesn't, you have them backward.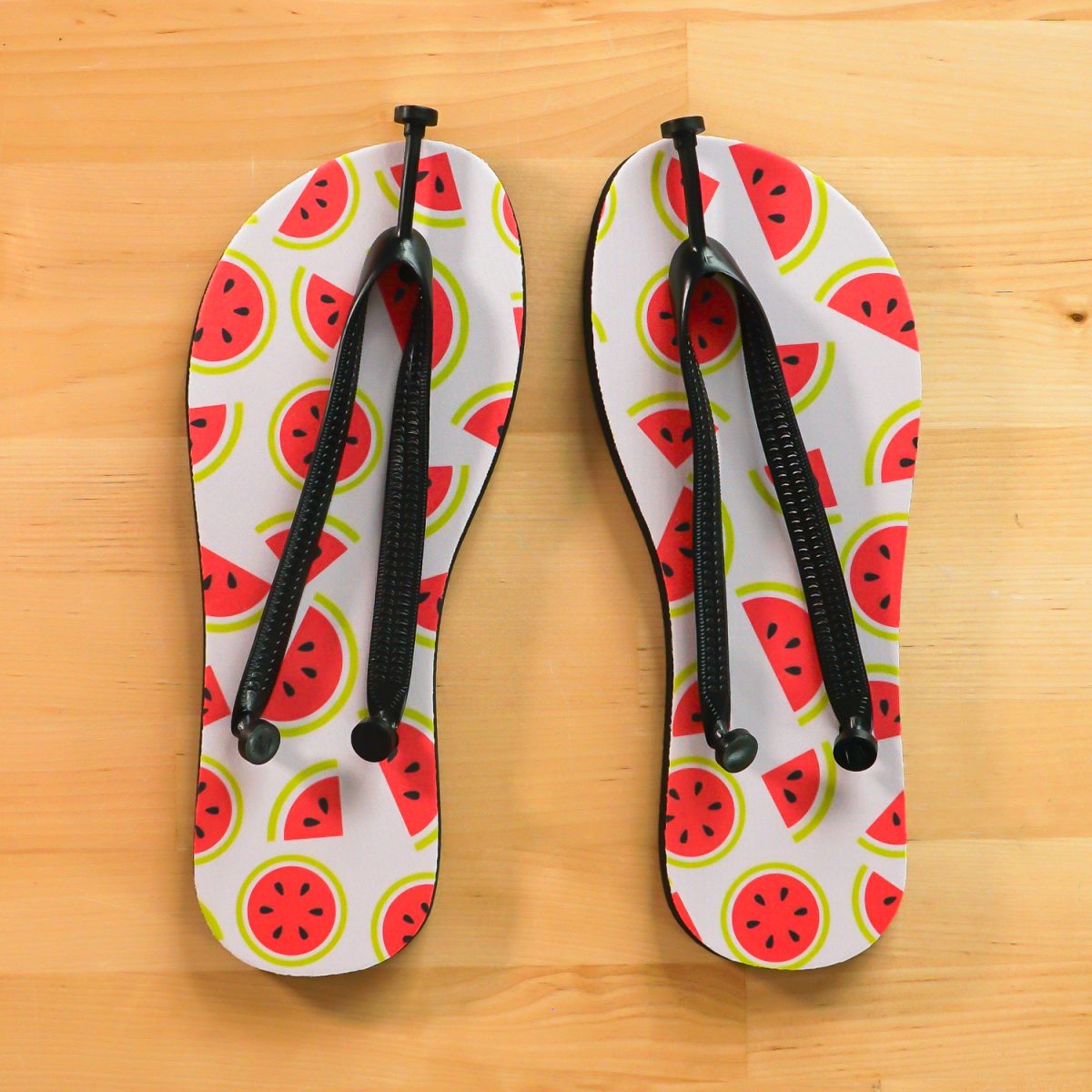 A flip flop assembly tool should make it much easier. Problem is, my flip flop tool didn't work. The part that opens to hold the round piece at the bottom of each strap wasn't big enough. So while I would've loved to use the tool, it didn't work for me (not for a lack of trying!).
So I used my hands and a small pair of pliers to force the straps into the holes. It was difficult but possible. I am looking at replacing my flip flop tool and I will report back with how easy the tool makes the assembly.
---
Sublimating Flip Flops: Pros and Cons
I think these flip flops would make a great personalized gift item for special events like weddings or bridal showers. However, I don't think they'd be something that would be comfortable to wear daily. I definitely wouldn't wear them to walk miles! They're a bit stiff and heavy and wouldn't be comfortable to wear long term.
I strive to be as honest as possible with you, so I'll share both what I like and dislike about these sublimation flip flops!
Pros:
A simple, easy project that has a big impact! There's definitely a WOW factor with these.
Make an inexpensive gift or party favor item.
They sublimate beautifully!
Cons:
They are one of the most stinky sublimation projects I've done. That rubber creates quite the smell when heated.
They create a lot of waste. The "form" they come in is just wasted rubber and I don't think there needs to be that much extra around each flip flop.
They aren't very comfortable for longer wear.
They can be tricky to assemble.
Overall, I think this is a pretty cool project! While I wouldn't recommend the flip flops as a closet staple, I do think they'd make a great gift or to have in a wedding reception basket for those tired feet! Just don't expect to wear them for a long day at Disney!