Last updated on April 17th, 2017 at 03:13 pm
This is a sponsored post written by me on behalf of American Heart Association.
All opinions are 100% mine.
I wasn't expecting to be hit with postpartum depression. But my boys are the reason I am getting healthy again!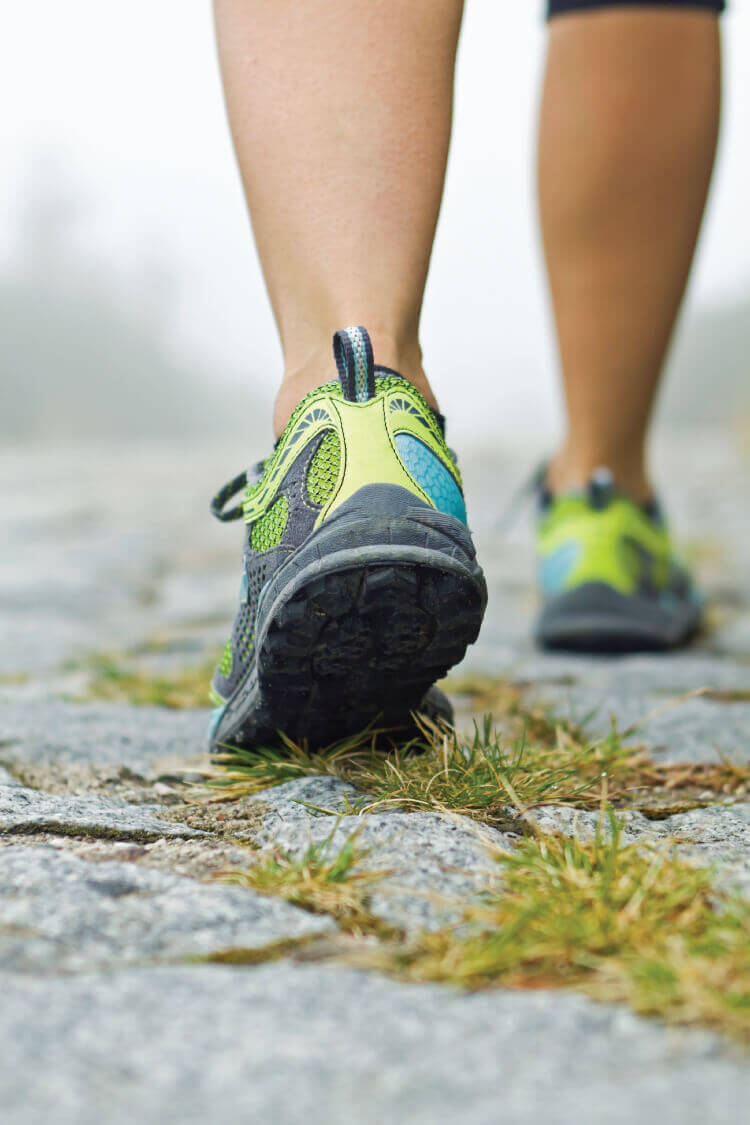 I'm stepping outside the craft room to get a little personal today. I've wanted to talk about my struggle with postpartum depression and anxiety here, but it's been difficult to write about. The American Heart Association has encouraged me to examine why I want to live a healthier life, and I thought it was a great starting point for talking about how I've been coping since the twins were born.
I wasn't clueless. I knew that being a new mom of twins would be difficult. But nothing could prepare me for the overwhelming emotions that came with it (thanks, hormones!) and my complete inability to deal with things that wouldn't have bothered me one bit before the boys came along. I didn't recognize my emotions, my postpartum body, or my thought patterns. It was day after day of panic attacks, exhaustion, crying, and constant negativity. I wasn't myself. At all.
It's been such a struggle, one that has affected me mentally, emotionally, and physically. And it's affected everyone around me.
Thankfully, I got help. I started talking about it to the right people. My doctor and I discussed medication. My friends and family have rallied around to help us out with the boys. Ryan has done enough to earn sainthood. Ten months in to this twin parenting gig, and I'm feeling a lot better. My emotions have leveled out and my thoughts are returning to normal.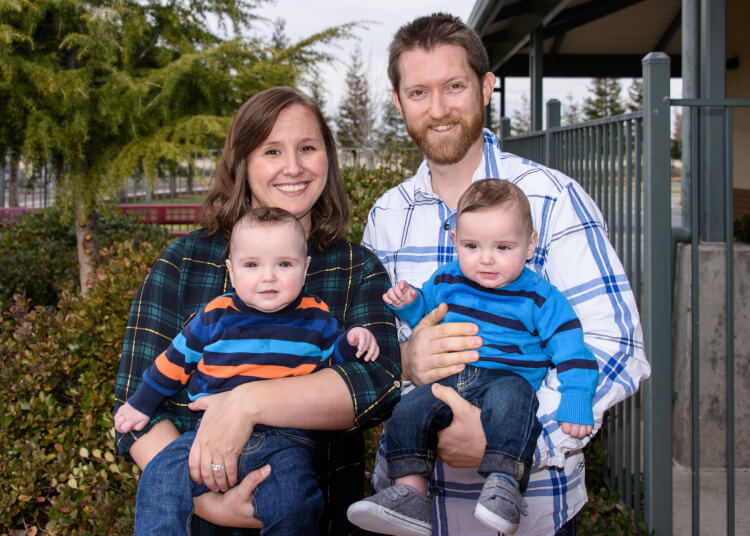 But I'm still struggling with creating a holistic view of my health, for my heart, my mind, and especially my body. I recently realized recently that I have been using the twins as an excuse to eat whatever I want and rarely get any exercise. Other people, trying to be kind, just enable me: "You've got twins! Go ahead and eat the cookie." (Or cookies. Or…box of cookies. Thank you, Girl Scouts.)
And because I am not taking care of myself, I'm more prone to both physical injury and illness (I've thrown my back out and survived a round of the flu just recently), and the depression and anxiety creep back in when I'm making unhealthy choices.
I have two very adorable reasons to live a healthier, longer life. As an older mom (I'll be, ahem, firmly in my mid-thirties next month), I recognize the importance of taking care of myself. I don't want to just be alive as my boys get older. I want to thrive. I want to chase them through the grass. I want to climb the tree in our backyard. I want our family to travel around the world, and that's hard when you're holding onto extra baby weight (okay…cookie weight). Life is why I need to be healthy. My boys are why I need to be healthy.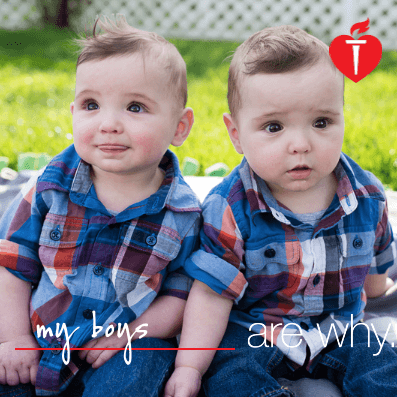 And I know that my choices influence my family's choices. The healthier I am, the healthier my family will be. It's not rocket science. If I serve more fruits and veggies, my family will eat more fruits and veggies. If I decrease how much salt I use, we will all decrease our sodium consumption. If I decide to go for a hike or bike ride, there's a really good chance Ryan will join me (and of course the boys will!).
So I'm making a change. Every morning I have available, I'm walking three miles with the boys in their stroller. That's mommy's time to get some exercise and the boys enjoy the fresh air. I'm back on a healthy eating plan that I'm tracking daily. I'm cutting out sugary sweetened beverages. I joined the Mom's Unite Facebook Group to get encouragement and tips for living a healthy life. Most importantly, Ryan is on board and is helping keep me accountable.
If you're like me, and need the encouragement and support, check out the American Heart Association's Pinterest page. They have great resources for healthy living, including recipes, healthy tips and tricks for moms, and information and resources on heart and brain health. They work to improve the health of communities by affecting laws through advocacy initiatives. And they fund life-saving research and science advances to help us live healthier, longer lives.
Hey moms, guess what? You can do it it too. If I can start to make healthier changes, so can you. I truly believe its up to us, moms, to make these changes within our family. It starts with us.
So let's do it! Everyone has a reason to live a healthier, longer life. What's yours? Let me know in the comments!