A stacked Felt Christmas Tree is a fun way to use up scraps to make an easy DIY Christmas ornament.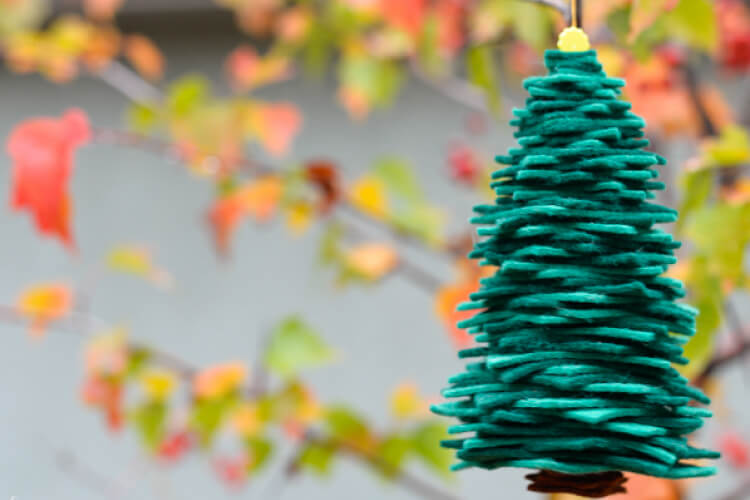 PIN THIS FELT CHRISTMAS TREE FOR LATER.
CHRISTMAS CRAFTS DELIVERED RIGHT TO YOUR INBOX WHEN YOU SUBSCRIBE.
Today I'm participating in a Trim The Tree party! Stop by at the end of this post and see all of the other clever ideas!
For me, I'd like to share how to make this easy Christmas tree ornament out of felt, thread, and a straight pin.
Supplies
Three colors of felt: two shades of green and one shade of brown
Heavy-weight thread
Yellow flower-head pin (optional)
Tools
Rotary cutter, cutting mat, and ruler
OR scissors
Large needle
Directions
Cut the following felt squares:
Six 2″ x 2″ light green
Six 2″ x 2″ dark green
Six 1.75″ x 1.75″ light green
Six 1.75″ x 1.75″ dark green
Six 1.50″ x 1.50″ light green
Six 1.50″ x 1.50″ dark green
Four 1.25″ x 1.25″ light green
Four 1.25″ x 1.25″ dark green
Four 1″ x 1″ light green
Four 1″ x 1″ dark green
Three .75″ x .75″ light green
Three .75″ x .75″ dark green
Two .50′ x .50″ light green
Two .50′ x .50″ dark green
Six 1″ x 1″ brown
As you go, stack the pieces into a tree shape with the biggest pieces at the bottom — no need to be perfect since they'll move around when you connect them together. But it at least gives you an idea of what your tree is going to look like.
Thread your needle with a length of heavy-weight thread, making a knot at the end. Starting with trunk of the tree, star threading the felt pieces through the middle of each piece.
Keep threading until you haver reached the top of the tree.
Once you get to the top, make a loop and thread your needle back down through the tree. This will be the loop that you use to hang it Knot at the bottom. If you'd like, use a yellow flower-head pin to create a star on the top!

I didn't have a tree to trim yet, so I hung this little guy on a tree that's holding onto fall with all its might. 



Hope you have fun trimming your own tree this Christmas!
More than 35 of your favorite bloggers have come together to share their fun and festive ideas. From ornaments to tree skirts,  you are sure to be inspired by all of these amazing homemade ideas to trim your tree!
4.  Vintage Green Paper Ornament
3.  Embossed Wood Bird Ornament
4. Snow Man Wood Slice Ornament
9. Wooden Spool Christmas Tree
1. Gingerbread Cookie Ornament
8. How to Decorate your Tree like a Pro
9.  Joy Ornament
1. Scented Gingerbread Ornament
5. Wood Slice Child Silhouette Ornament
6. Tips for Decorating the Christmas Tree
9. Rustic Christmas Tree Garland
10. Starfish Christmas Ornaments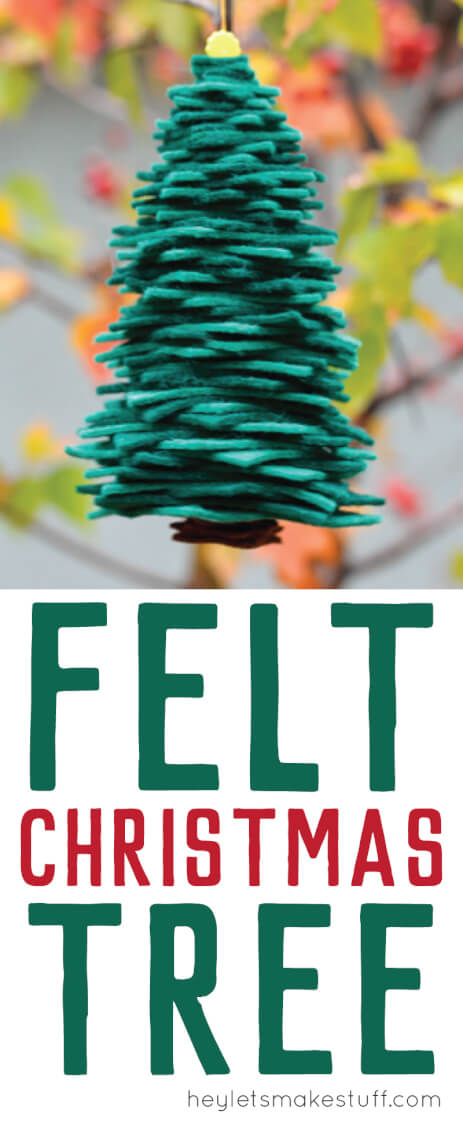 OTHER ORNAMENTS FOR YOU:
MORE CHRISTMAS CRAFTS FOR YOU:
TODAY'S TOP TEN POSTS