If you're having an issue with a download, please read through the following frequently asked questions. We get hundreds of support emails and have found that most download issues can be solved using the instructions below. Thank you for helping us keep our inbox tidier!
Where to Find Free Downloads
Many of the files at Hey, Let's Make Stuff are available to you for free in exchange for your email address. You'll be added to my fun email community, where you'll get access to new free files, post updates, giveaways, and all sorts of awesome deals. You can unsubscribe at any time and we never sell your information.
To download a free file, you'll see an image like this on a blog post: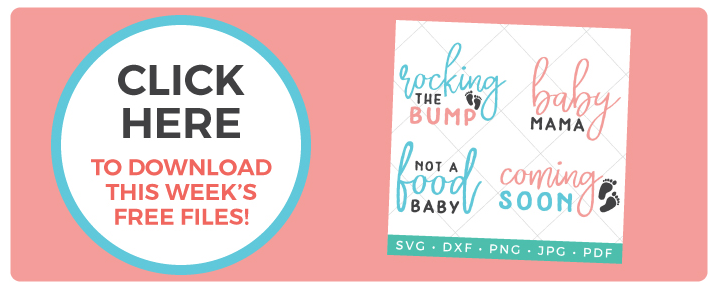 When you click the image, a box will pop up for you to enter your name and email address. Then click SEND ME THE FREE FILE.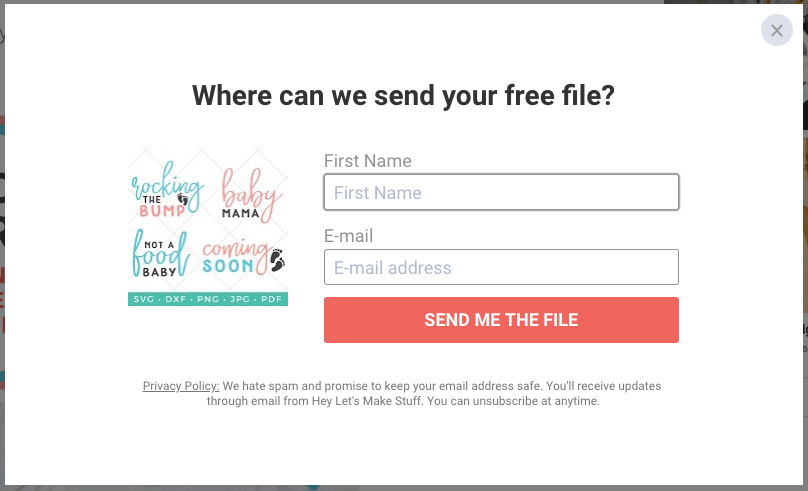 If you do not see this box after clicking the image, make sure your pop-up blocker is turned off. If that still doesn't work, try a different browser. Still not working? Try a different device.
The pop-ups are designed to work on mobile, but occasionally people have trouble with their phones but can make it work on a desktop or laptop computer.
What if I Don't Get the Email with the File?
If you did not get the email, first check your email's spam folder.
If you are using Gmail, check your Promotions tab.
Sometimes readers input the wrong email address into the form (it happens often!). Go back to the form and try it once more.
Also make sure to add [email protected] to your safe senders list.
When I Click the Download Button, Nothing Happens
Some mobile devices do not handle download links very well. I suggest using a desktop/laptop computer if possible.
You should receive an email with a button to download the file you requested. Click the button that says "Download your free file here!"

When you click the button, sometimes it doesn't seem like anything is happening. Or a blank page opens in your internet browser. Often, something DOES happen, you just don't see it.
After clicking the button on a desktop/laptop computer, check your desktop, downloads folder, and documents folder. If you still don't see it, do a search on your computer for a zip that starts with HLMS.
After clicking the button on a mobile device, check your Files or Downloads folder.
Again, if you are struggling on your mobile device, please try a desktop/laptop computer.
How Do I Unzip My File?
All of my files come in a zip folder that will need to be unzipped. My zip files do NOT contain malicious software or anything that will cause harm to your computer—they are just a way to deliver several files at one time.
Opening zip files on a desktop/laptop is easier than on a mobile device. Generally you should not need additional software.
Mac: Double-click on the zip file and it will unzip.
PC: Right-click on the zip file and click Unzip or Extract.
iOS Devices (iPhone & iPad): Download app 'iZip' from App Store. Unzip the file using the app.
Android: Select the file and click on Extract.
If your PC is asking you to buy the WinZip program, don't! You should be able to unzip the file without it. Uninstall WinZip by going into "Programs and Features" (Vista / Windows 7) or "Add/Remove Programs" (XP). From there, uninstall WinZip. Uninstalling WinZip should cause Windows to revert to it's native zip handling behavior and you should be able to just right click the zip file and click Unzip or Extract.
What if My Computer Reads an SVG like it's an HTML File?
This is a common problem, particularly for PC users. A downloaded SVG file will look like an Internet Explorer or Google Chrome icon. Most often, you can still upload the file to Cricut Design Space and it will work fine. Learn more about uploading SVG files to Design Space.
In Google Chrome, there is an extension to replace all of the Chrome icons with a thumbnail of your image, super helpful if you have a ton of files and want to see what they are at a glance.
Can I Sell Products I Make Using HLMS Free Files?
My free downloads are for personal use only. If you download a free file from my shop and want to sell items made with the file, you can purchase a commercial license.
Please try all of the above steps to retrieve your free file. If you are still having trouble, please email us at [email protected] and we'll try to get it figured out!