Want to make using your Cricut Venture cutting machine easier? The Cricut Venture Docking Stand has features like a Smart Materials roll holder, catch baskets for long projects, and smooth glide wheels.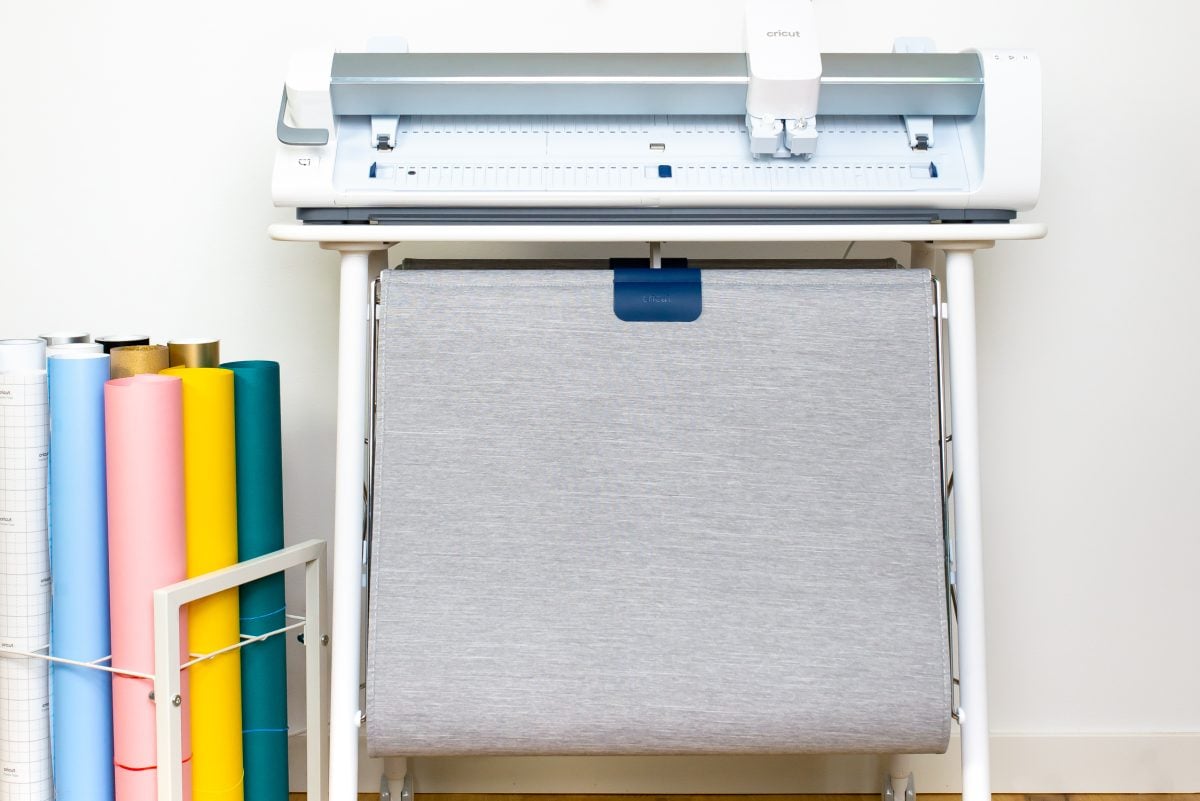 If you have a Cricut Venture or are looking at getting one, you may be wondering if you should also get the Cricut Venture Docking Stand. (Not sure what Cricut Venture is? Check out my Ultimate Guide to Cricut Venture!)
As Cricut's most expensive and largest machine, Cricut Venture is definitely an investment in itself—so in this post I hope to help you decide if you want to purchase the Docking Stand to go along with it.
We'll cover the anatomy of the Docking Stand and how to use it—plus talk about what to do if you don't want to purchase it. That way you can make the best choice for your needs, space, and budget!
What is the Cricut Venture Docking Stand?
The Cricut Venture Docking Stand is basically a cart specifically made for your Cricut Venture. It makes using your Cricut Venture cutting machine easier, particularly if you're cutting projects using Smart Materials.
Let's look at all the parts of the Cricut Venture Docking Stand.
Tray
To start, your Cricut Venture sits on a sturdy tray. There are two small docking posts that secure your Venture so it can't slide around. I think the tray itself is made of MDF or something similar and it's very solid.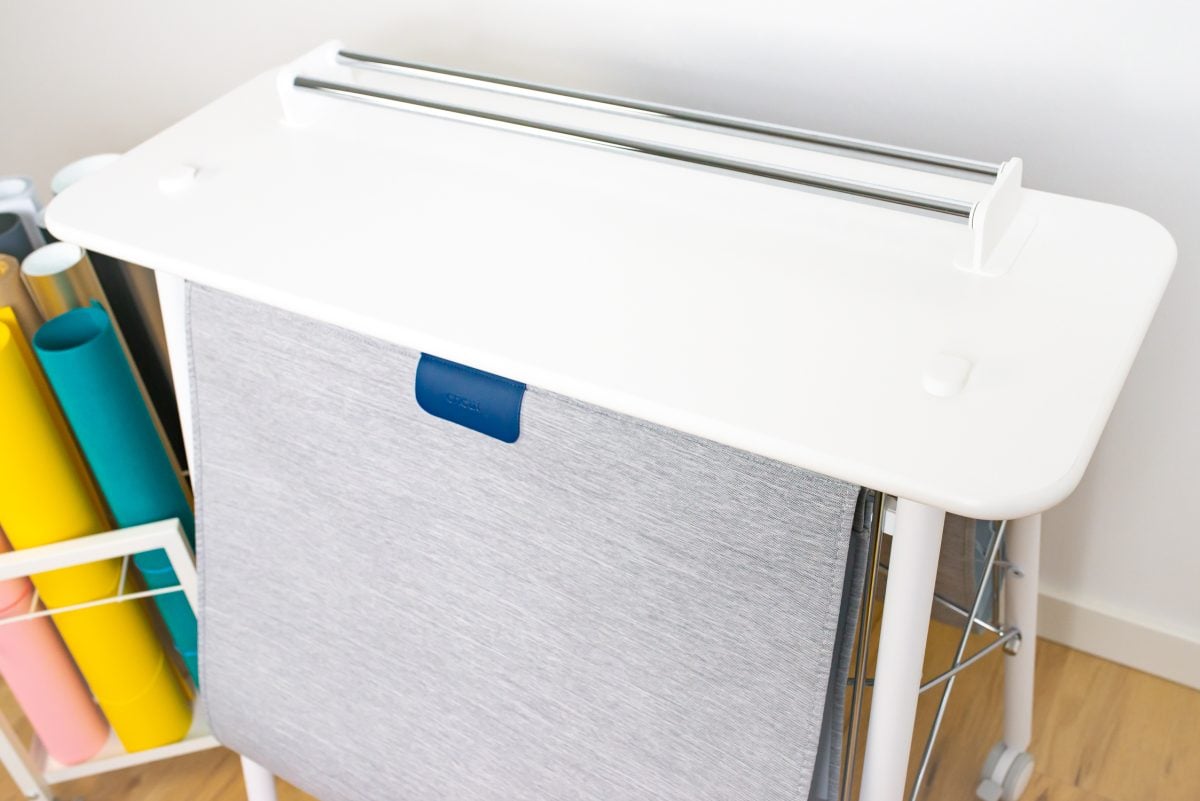 Roll Holder
On the tray sits two spinning metal bars. This is where you can put your roll of Smart Materials while it's cutting. The bars spin as the material is fed into the machine, allowing it to feed smoothly. Sometimes the materials will roll nicely back into the roll, and sometimes they will spill over the back into the back catch basket.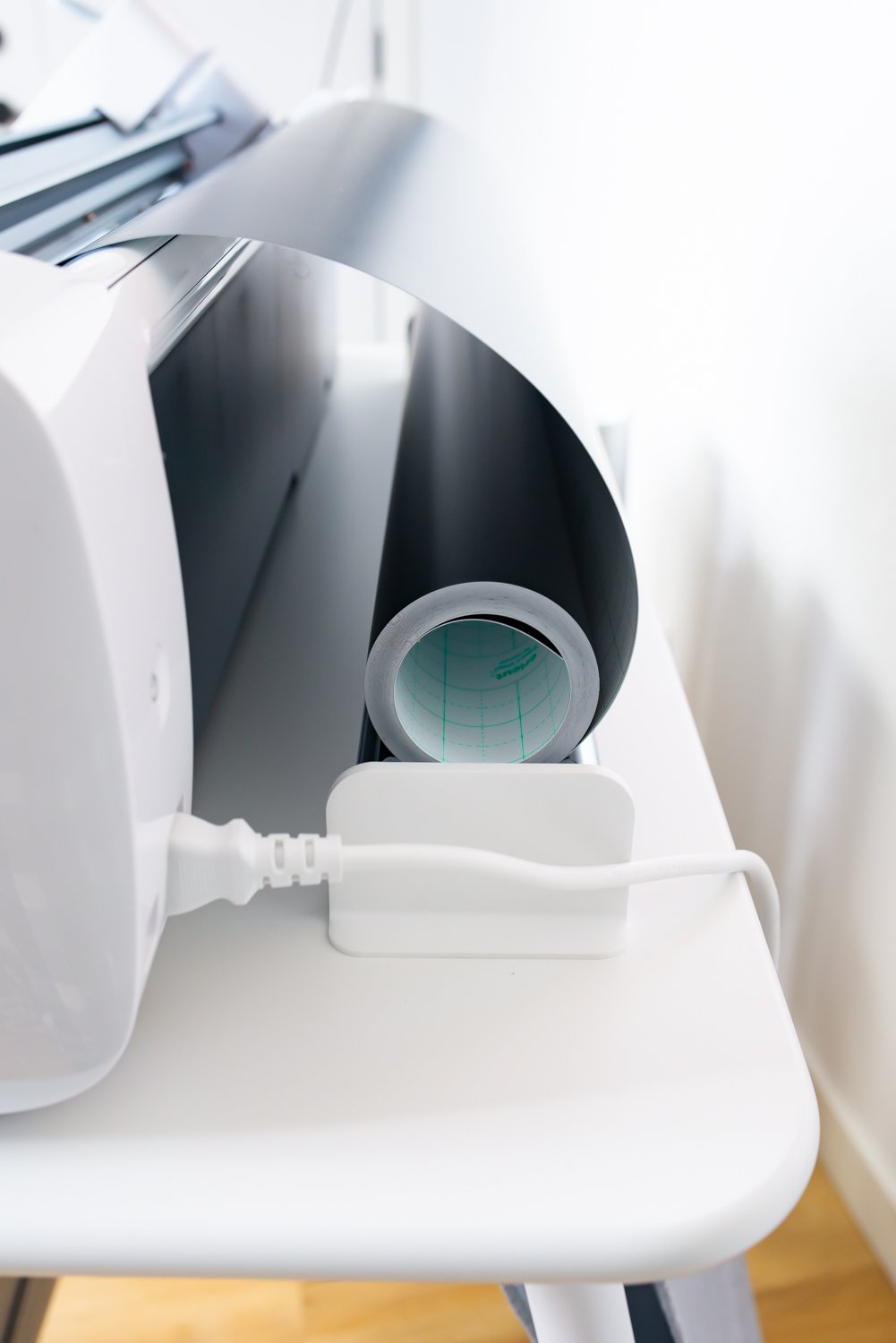 Catch Baskets
On the front and back of the stand are two fabric catch baskets. These are basically loops of fabric that "catch" your material as it is fed through your machine.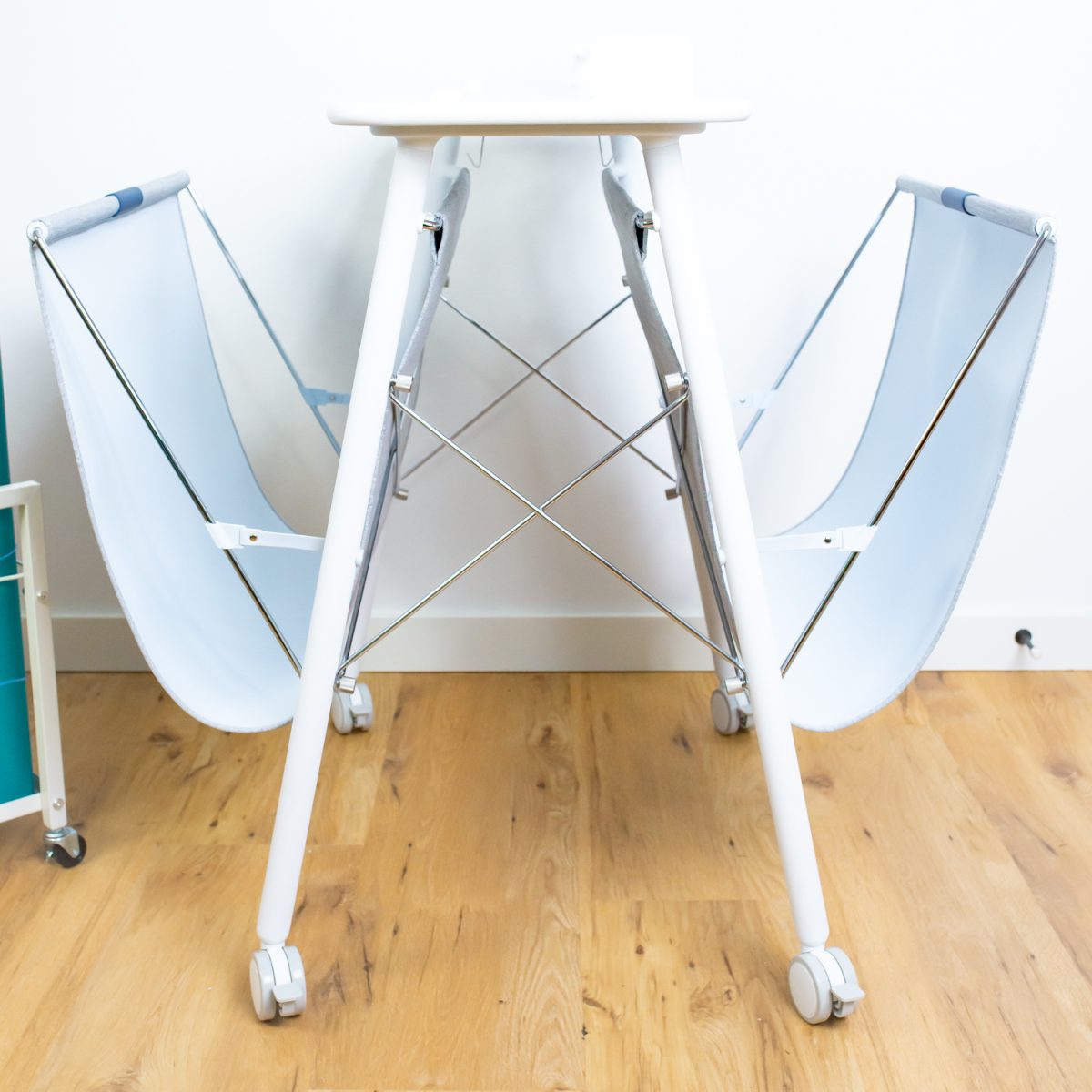 There is one on the front and one on the back. At first I didn't understand why the back one would be there, but if you're cutting projects long enough, sometimes the roll holder can't keep up and the back catch basket is there to capture any material from behind the machine as its fed through so it doesn't fall on the floor.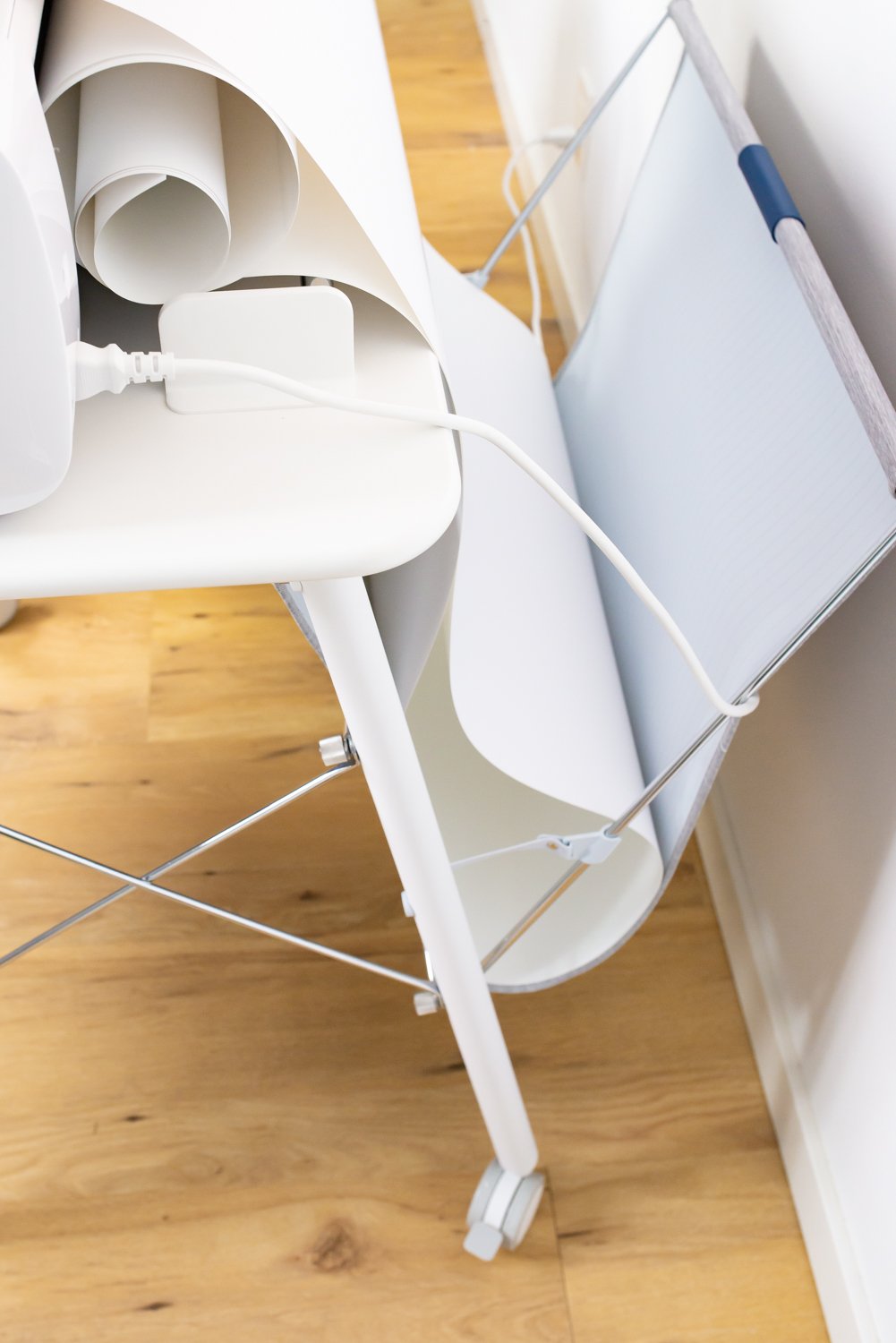 The catch baskets are lined with an anti-static material. I think my house is the perfect place to test this because my Bernese mountain dog Gus has hair that is incredibly annoying to remove if it's static-ked to anything. So far, so good—much much much less dog hair on my projects than there was when I was using Smart Materials with my Cricut Maker 3 and things just hit the floor. These catch baskets, by far, are my favorite feature of the Docking Stand.
Breakaway Clips
The catch baskets are held up by clips that are designed to break away from the cart. So if they basket somehow gets too full (this has never happened to me) or if your kid or animal gets snagged on one of the catch baskets while it's open (much more likely around here), these clips will break away. Yes, your material will end up on the floor, but these breakaway clips are designed to keep your entire Docking Stand from tipping over. They do take quite an effort to break away.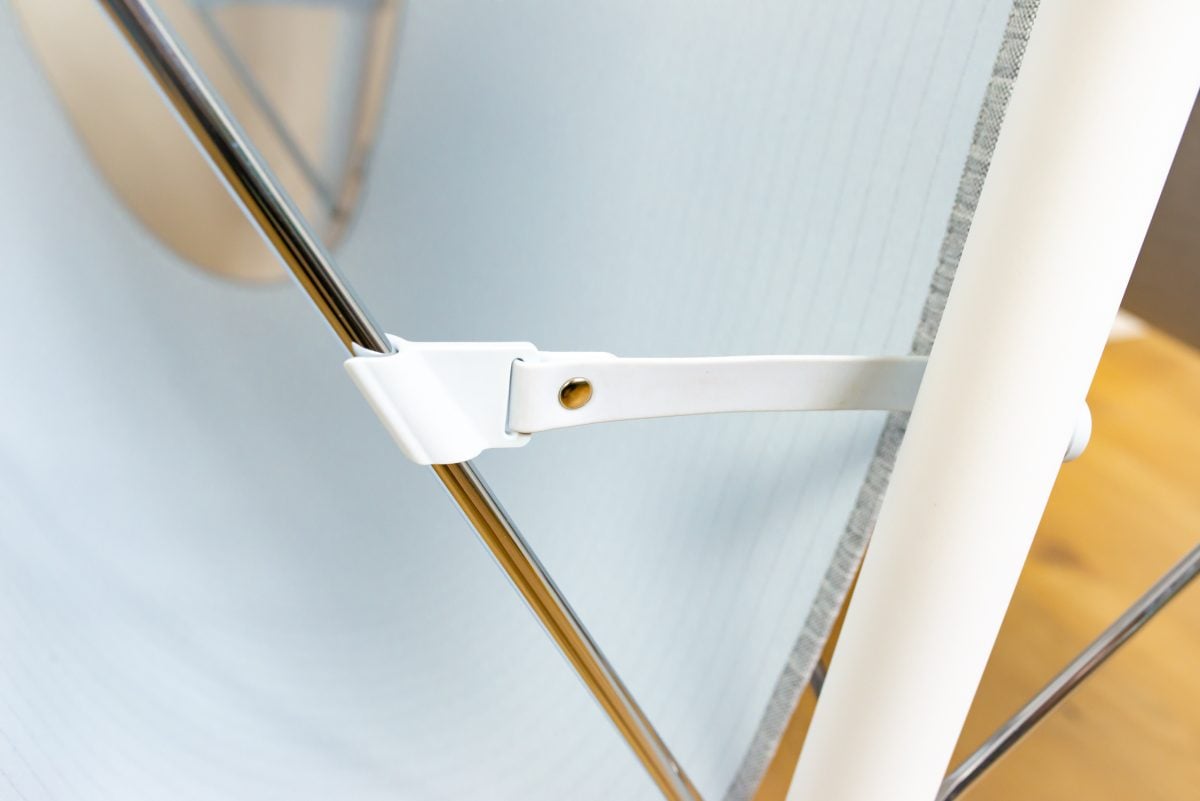 Mat Holders
In between the two catch baskets, under the tray, are two hooks. These hooks are designed to hold the larger Cricut Venture mats. I give this part of the design an E for Effort, but they are a bit hard to access. You have to detach the back side of the the catch basket to get to the mats, which is a bit fussy. However, those mats are enormous and hard to store elsewhere, so even though it's a bit tough to access them, it does give you a good place to store them.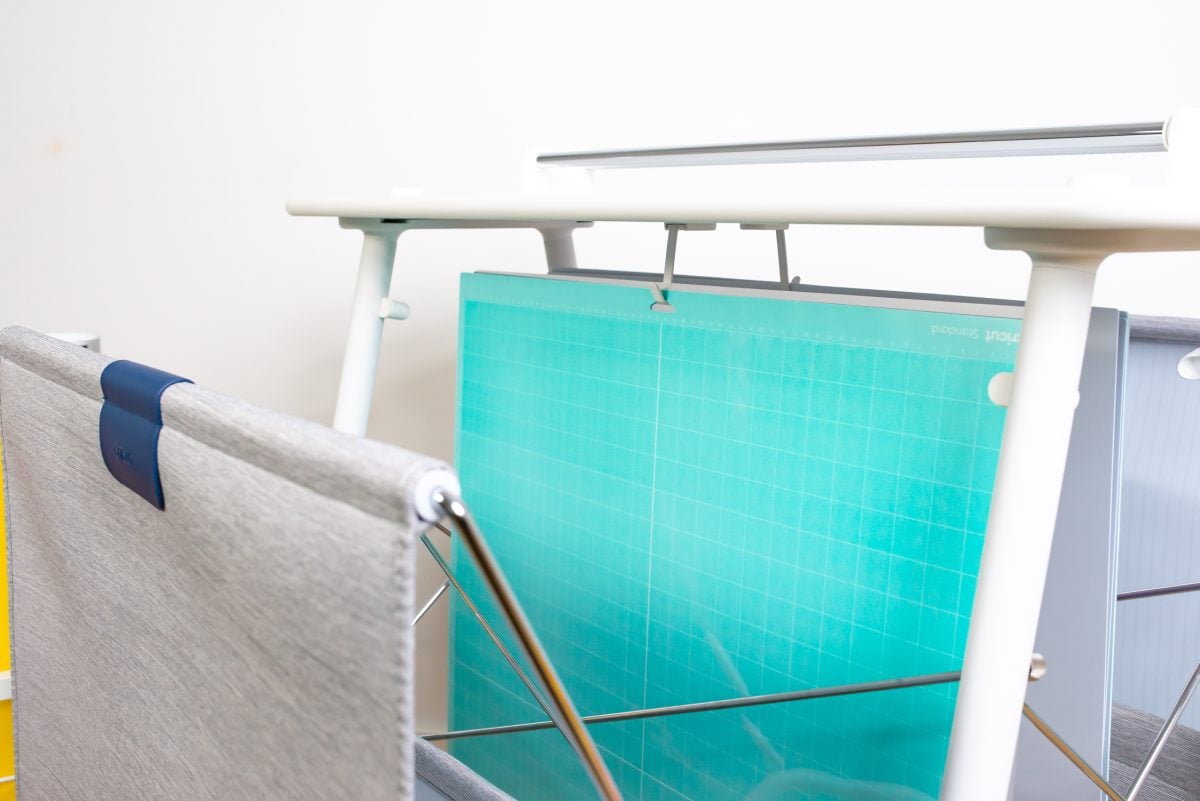 As with all Cricut mats, make sure you are storing your Cricut Venture Performance Mats with the mat protectors to help protect them from dust and pet hair.
Locking Wheels
The stand has four high-quality casters to roll around on. These casters also lock so you can keep the stand from moving around.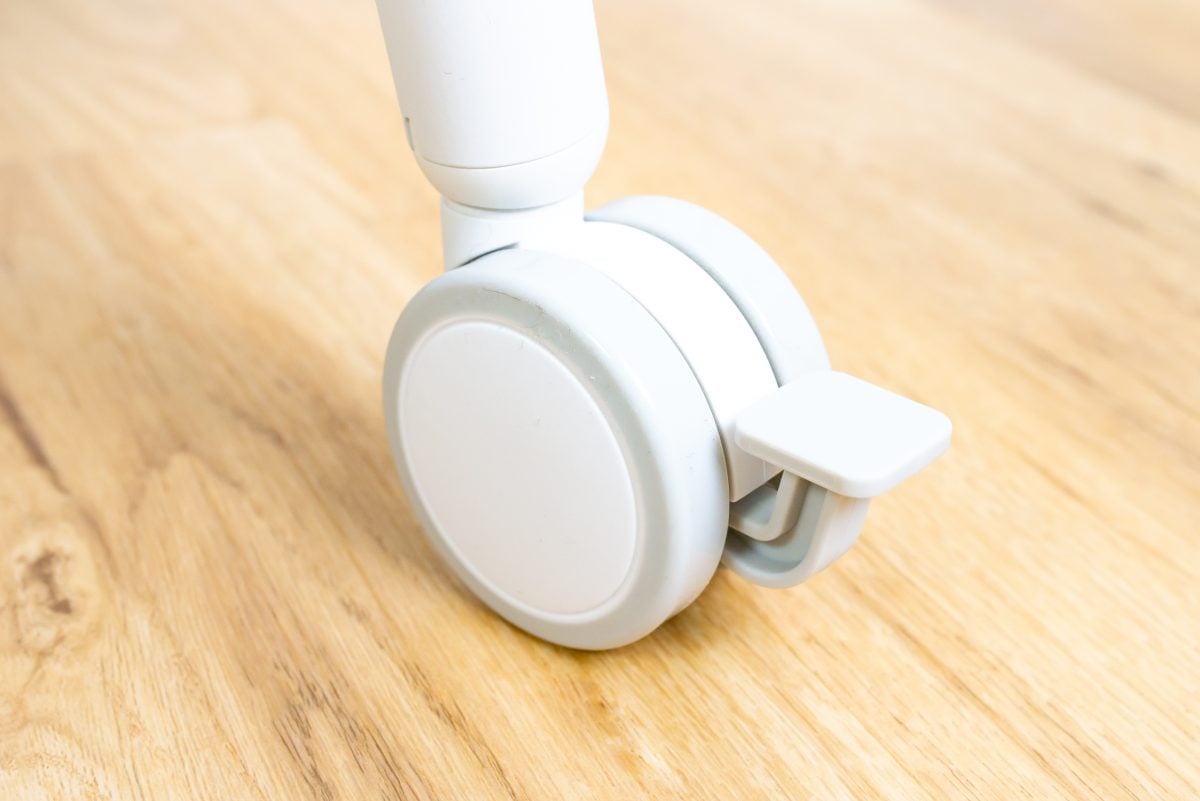 Docking Stand Assembly
The box for the Docking Stand is large. And heavy. The box itself weighs 100lbs! My husband carried the box up our stairs, but after that I was able to unbox it myself. Just a few pieces of tape to split and then the box opened like a giant pizza box, with the lid hinging away from the bottom of the box.
The Docking Stand comes somewhat flat-packed, meaning there is assembly required. I found it pretty easy to assemble, though there were a couple instructions that had me scratching my head for a moment before I figured out what I needed to do. The assembly itself, however, was a breeze and it required no specialized tools—just sliding parts into brackets and screwing on other parts.
One thing I want to reiterate from the instructions—keep the styrofoam pieces on the tray piece of the docking stand while you assemble it. The tray piece won't sit straight upside down because of the roll holder, and that will make assembly much more difficult. I kept mine on but I can easily see how someone would miss that and take the styrofoam off!
How Big is the Cricut Venture Docking Stand?
Here is the approximate size of the Docking Stand once it's been assembled:
36″ wide
24″ deep (from front to back wheels)
34″ tall (without Cricut Venture)
42″ tall (with Cricut Venture)
I was surprised at the height when I put everything together. It was taller than I expected, which is great. I thought I'd probably be bending over a bit to use it, but it feels very ergonomic for my average 5'6″ frame. I've been using it for a while now and I think it's a really good height for average-sized people.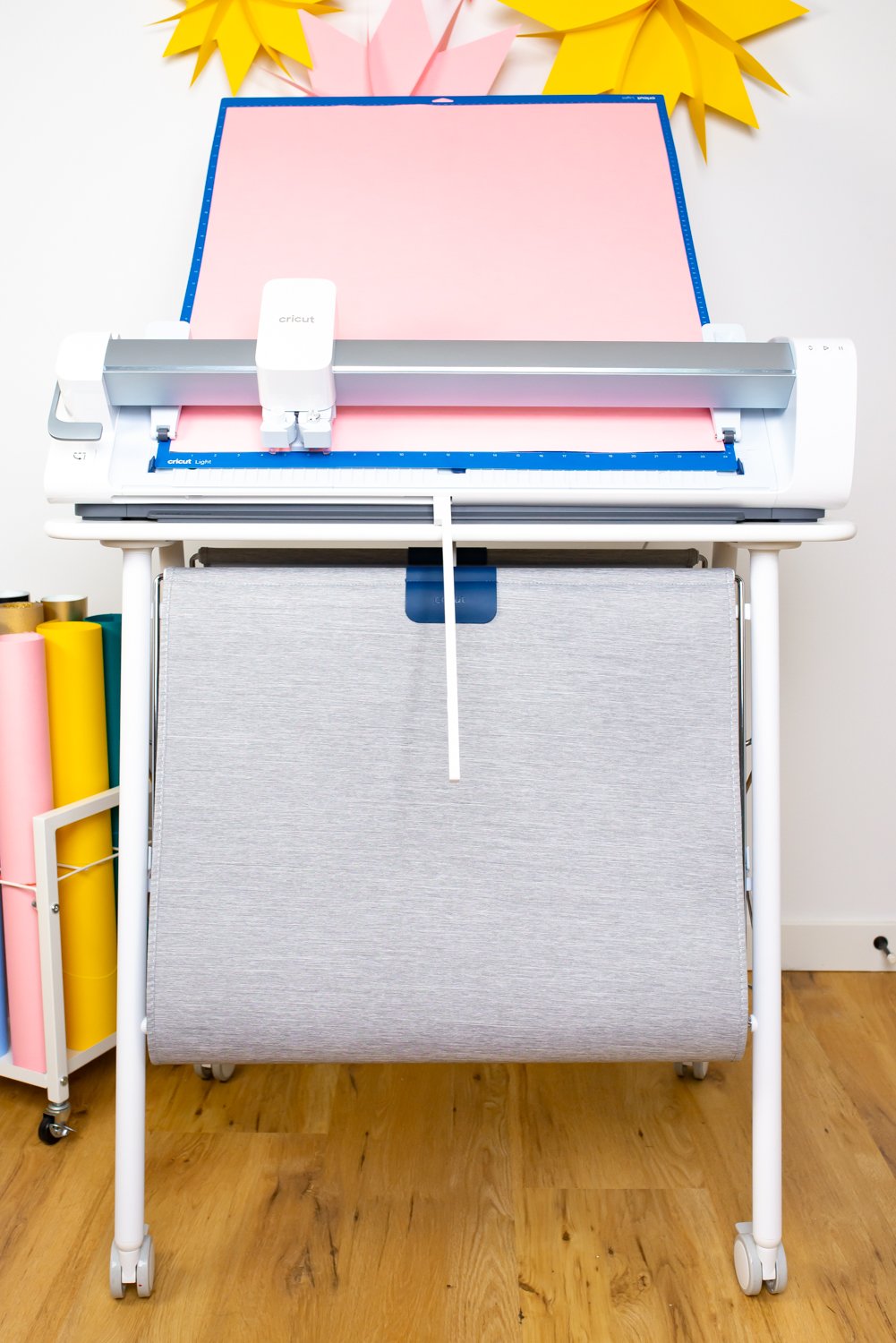 Cricut Venture Docking Stand Stability
One of my biggest concerns when I first saw the Docking Stand was stability. That's a thousand dollar machine sitting on top of what is basically a cart, and that made me really nervous. I've tried to simulate tipping it and running into it (I'm sure the secret camera footage of this would be hilarious!) and I found it pretty darn sturdy. Then I actually DID trip into it the other day and while the whole thing moved a bit, it didn't come close to knocking it over.
I do think, with enough force, you could knock it over, especially if the wheels catch against the edge of a carpet or something similar. But for day-to-day use I don't think there is any worry about it tipping, at least for me, even with kids and a big dog.
Review of the Cricut Venture Docking Stand
Overall this is a high-quality storage piece and I am impressed with how stable and durable it is. As I was trying to figure out how to photograph the machine for my post, I wheeled it all over my studio and never once did I feel like I was going to knock it over and despite the weight it glided pretty effortlessly.
The catch baskets are really wonderful when working with Cricut Smart Materials and so far, I've had a lot less dog hair on my projects than I did when I was using my Cricut Maker 3 and the materials would just end up on the floor. Definitely my favorite feature.
I also like that it's so easy to walk around the machine to access the material behind the machine. You can unlock the wheels and easily move it around, making it easier to use than when it's on a table.
One thing I wish it had was a little bit more storage, maybe on the sides under the tray. I'd love a place to put all of my Cricut Venture accessories—the mat supports, the cleaning kit, etc. It would just be nice if everything could be housed on the stand itself vs. elsewhere in my craftroom.
Other than desire for more storage, I really don't have much bad to say about it—I really like it! So is it worth it? Yes, I definitely think so!
Do you need the Docking Stand to use Cricut Venture?
Absolutely not! You can use your Cricut Venture on a sturdy table. The biggest thing to know is that the machine needs to go at the edge of the table to allow for the mat to move up and down as its cut at a 45° angle. Good thing, all tables have edges, so just slide the machine to the edge and you're good to go.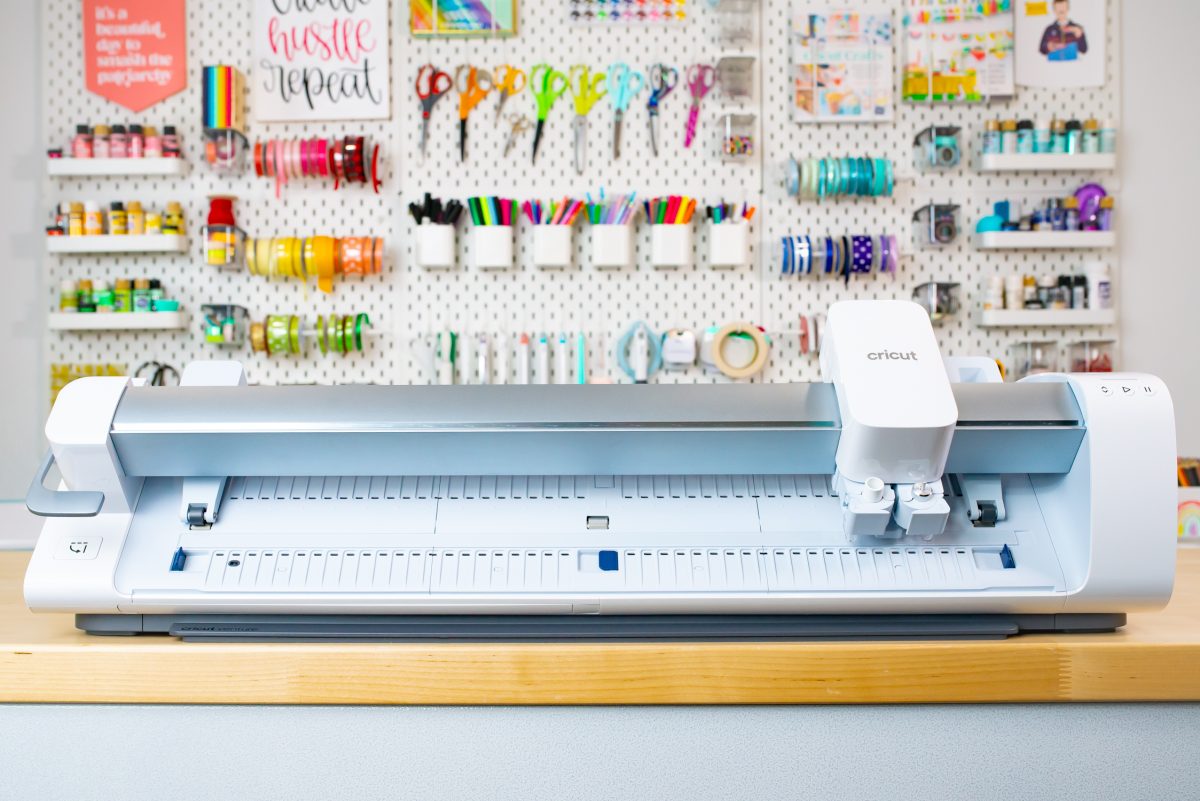 Additionally, not everyone has room for another piece of furniture in their craft room! Maybe you already have a table that will work for your Cricut Venture and there's no need for the stand. I have a huge craft space was definitely re-arranging in here to find a good place for it to live full time.
Cricut Venture Docking Stand Price
Here's the kicker. If you buy the bundle with the Cricut Venture machine and Docking Stand, you'll pay $1249 for both. If you buy the machine ($999) and stand separately, the stand will run you $349. So you're saving $100 by buying them together. If you want to wait to see if you want the stand in the future, just remember it'll cost you an extra $100 buying it separately.
Update: July 25, 2023—The Docking Stand is currently only available for sale through HSN. They don't appear to have the machine + stand combo available yet, though.
Have questions about the Cricut Venture Docking Stand? I'm happy to answer them for you!