Want to find fonts and designs for your Cricut, Silhouette or Glowforge crafts? Look no further than Creative Fabrica! Check out why I love Creative Fabrica and why I think they are one of the best resources for cutting machine crafters.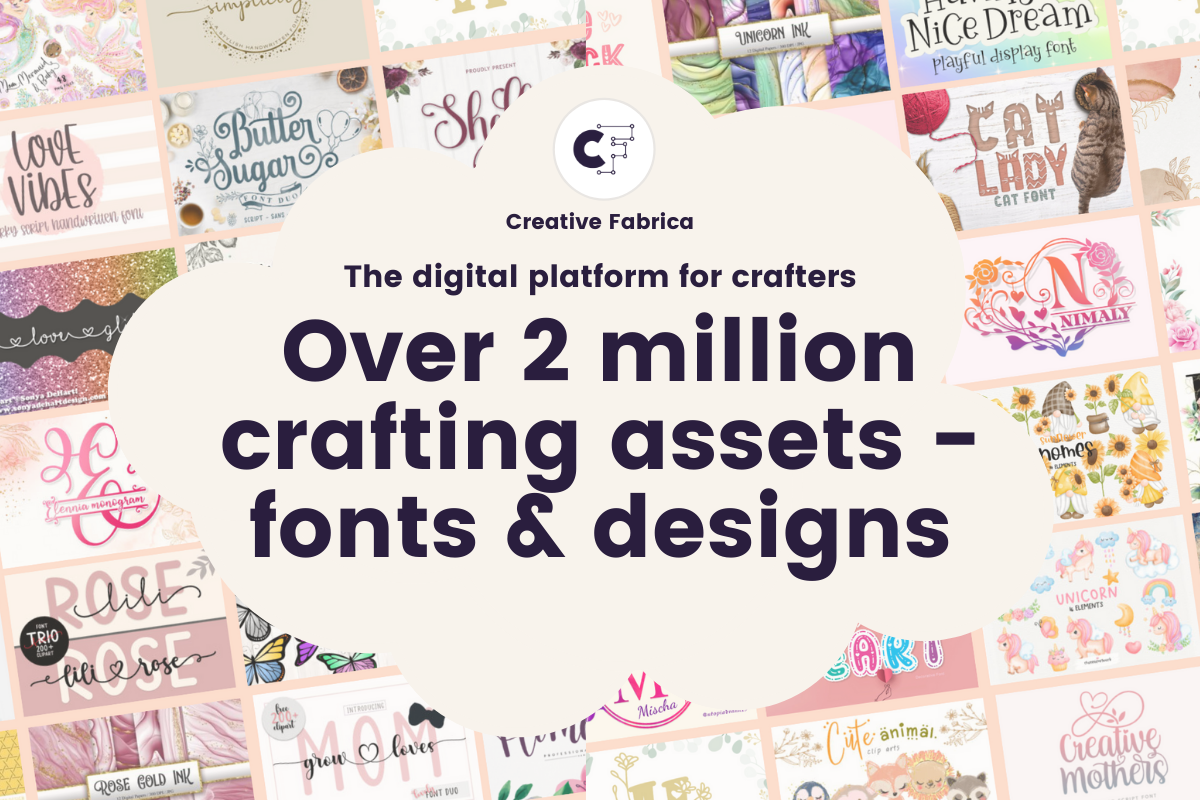 This post is sponsored by Creative Fabrica but opinions are my own.
If you're looking to take your Cricut, Silhouette, and Glowforge crafts to the next level, I want to introduce you to one of my favorite crafting websites: Creative Fabrica!
You know I love sharing crafting resources with you, and as a long-time Creative Fabrica user, I'm excited to partner with them today to dive into what they do and why I think they are a fantastic resource—in particular for cutting machine crafters.
Don't have a cutting machine? Creative Fabrica is also a great site for graphics for sublimation prints, coloring pages, sewing and quilt patterns, teaching materials, and more! Let's dig in more to this awesome resource.
What is Creative Fabrica?
Creative Fabrica is an online platform for graphics and font designers. You'll find more than two million high-quality fonts, cutting machine files (SVG and DXF), graphics, illustrations, patterns, and more—all in one place! New designers and designs are added every day so there's always more to discover.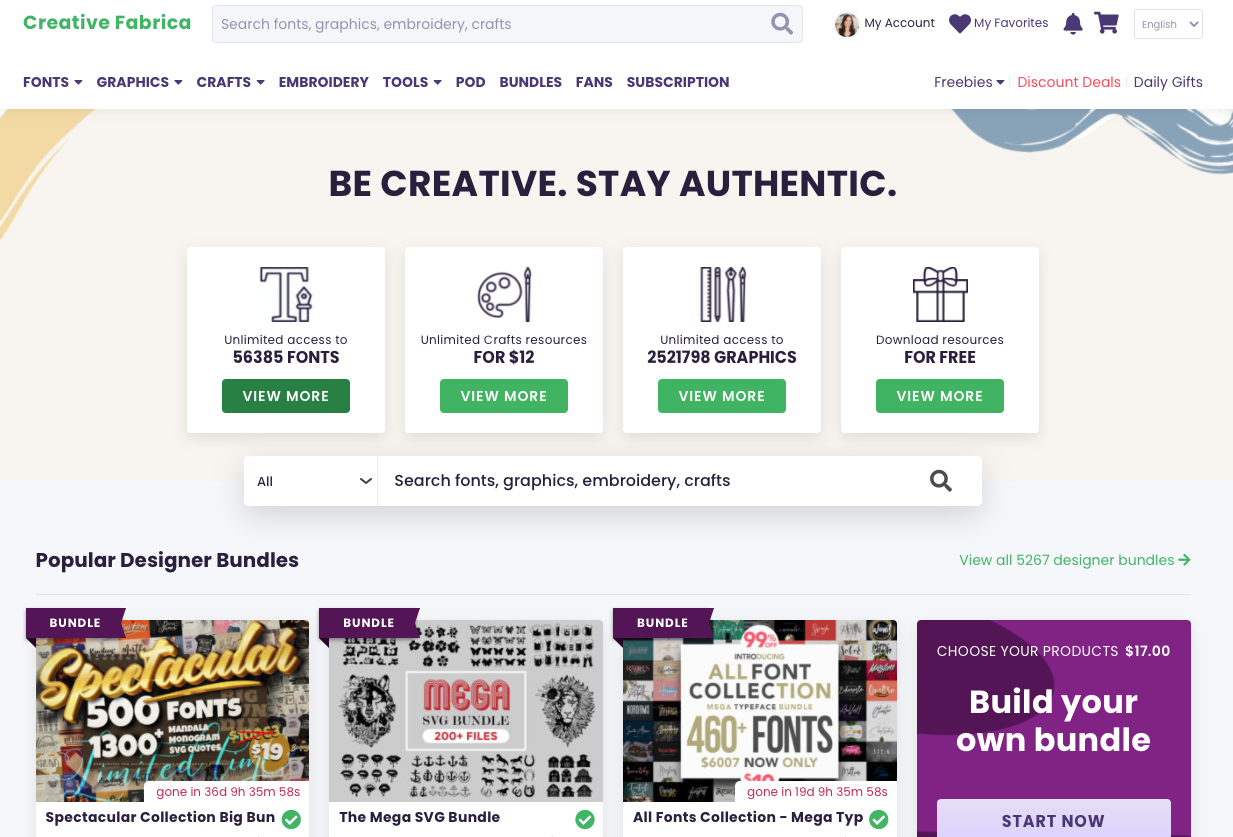 Because Creative Fabrica is so extensive, I thought I'd share some of my favorite features so you don't miss out on finding something you love!
What Types of Files Does Creative Fabrica Have?
Creative Fabrica has a huge range of file types, so I thought it would be helpful to break down what types of files you'll find on their site and how to use them in your crafting.
Fonts
If you've been around here for any length of time, you'll know I'm a font hoarder. I LOVE collecting fonts. Within in the Fonts category of Creative Fabrica, you'll find more than 55,000 different fonts! Perfect if you're a font-lover like me.
We all know what fonts are, but I wanted to point out a few things for cutting machine crafters in particular.
A cutting machine cuts simple files better than it does complicated files—this includes fonts. Not all fonts are created equal when it comes to using them on a cutting machine. When you're looking for fonts to cut, the main thing you want to look for is clean edges. For example, Boho Babe is super cute, but your cutting machine may struggle with the uneven edges and little brushed accents within each letter.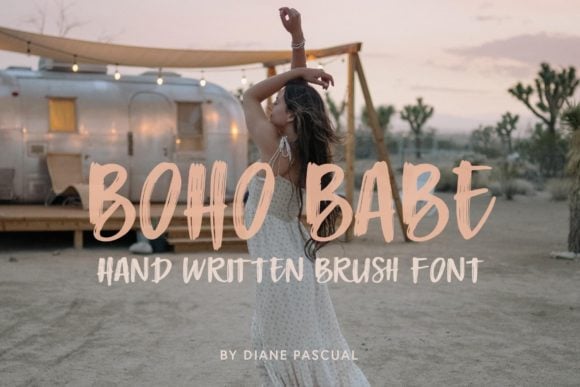 Boho Babe would be great for printed projects (like invitations, home decor art prints, or even sublimation prints), but avoid cutting fonts like this with your cutting machine.
If the font is more simple and smooth, however, then you should be good to go when using it with your Cricut or Silhouette, like this font, Brilliant Summer. The edges are smooth and the strokes are thick enough that your cutting machine will have no problem with this one.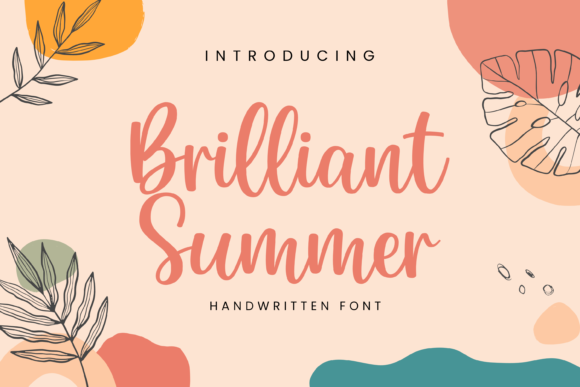 With more than 55,000 fonts at Creative Fabrica, you should be able to find exactly what you're looking for for just about any creative project you're working on.
SVG + DXF
If you're looking for images to cut on your cutting machine, you're going to be looking for SVG or DXF files. These types of files cut natively on your machine. You can upload SVG files to Cricut Design Space, the Glowforge app, or the paid editions of Silhouette Studio, and you can upload DXF files to the free version of Silhouette Studio.
For example, if you're looking for a camping file to cut on your Cricut to make a t-shirt, you can search "Camping SVG" on Creative Fabrica and you'll get a ton of results, including this fun Camping SVG Bundle.
JPG + PNG
Creative Fabrica also has a huge range of other types of graphics on their site in JPG and PNG form. These are great files for printing—you can use them a clip art on printed items or with a sublimation printer. You can also use them with Cricut's Print then Cut or Silhouette's Print and Cut features, where you print the image on your home computer and your machine cuts around the outer edge of the image.
For example, these watercolor plant clip art would be adorable on a printed home decor sign, but there's no way to cut them out using your cutting machine without using a Print and Cut feature.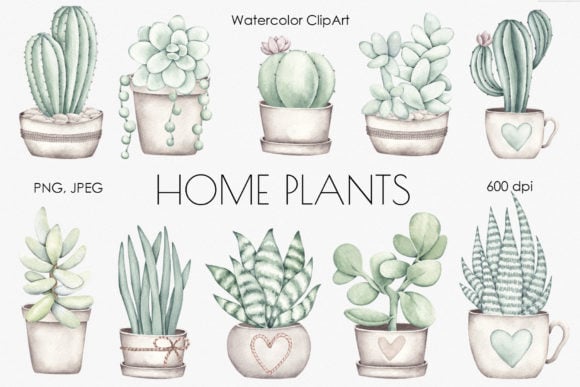 Other File Types
If you spend some time poking around on Creative Fabrica, you'll see they have so much more than just fonts, cut files, and graphics! You can find PDF knitting, sewing, quilting, and hand-embroidery patterns, for example.
If you have an embroidery machine, you can find a wide range of machine embroidery pattern file types.
If you design your own SVG, sublimation, or other files, Creative Fabrica has a whole section for product mockups, including t-shirts, mugs, totes, and more.
They even had a whole section go KDP-ready files, which are basically entire books/workbooks you can print using Amazon's Print on Demand services—including coloring books, teaching resources, planners, journals, and more.
Creative Fabrica Freebies
Now that you know what sorts of file types you'll find on Creative Fabrica, let's check out a section of their site we all love—freebies!
There are actually two sections of freebies on Creative Fabrica: Daily Gifts and freebies offered by designers.
Creative Fabrica Daily Gifts
The Creative Fabrica Daily Gifts section is actually three free files— a font, and a graphic (which could be any type of graphic file), and a crafting file (SVG/DXF). For example, the day that I am writing this, the free files are a pretty script font called Moonstone, a bundle of Funny Cacti sticker PNG files, and Happy Birthday SVG. These files update every single day, meaning you can get 1,095 free files every year just from this Daily Gifts section alone!

Designer Freebies
In addition to the Free Gifts section, there's a HUGE section of Freebies that come from the designers on the Creative Fabrica platform. Many of the designers on the site have a free file or two, so you can test their designs before purchasing a paid file.
You can sort Freebies by file type to help narrow things down—here's an example of some of the free fonts from the day I wrote this post: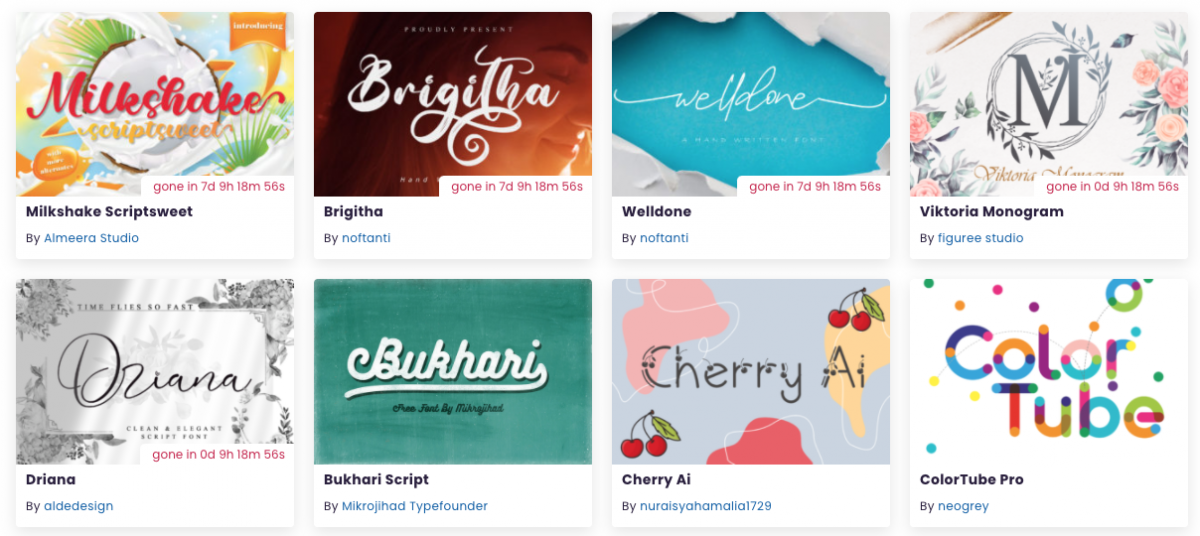 These free designs often have a countdown, so grab the ones that you like before they expire. As I'm writing this post, there are nearly 20,000 freebies!
$1 Deals
What's the next best thing to free? $1 deals! There's also an extensive section on Creative Fabrica for $1 deals. They also list upcoming deals on this page, so if you see something you like you can click the "Get Notified" button below the image and Creative Fabrica will send you an email when it goes live!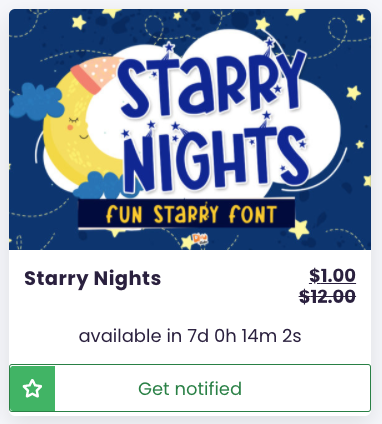 Creative Fabrica Subscriptions
One of the ways to get the most value out of Creative Fabrica is through their subscriptions. Instead of paying individually for each asset, you can freely download any designs or fonts included in your subscription, without limit, each month.
They have four subscriptions:
The Craft Club – $12 / 3 months
Fonts – $19 a month
Graphics – $19 a month
All Access – $29 a month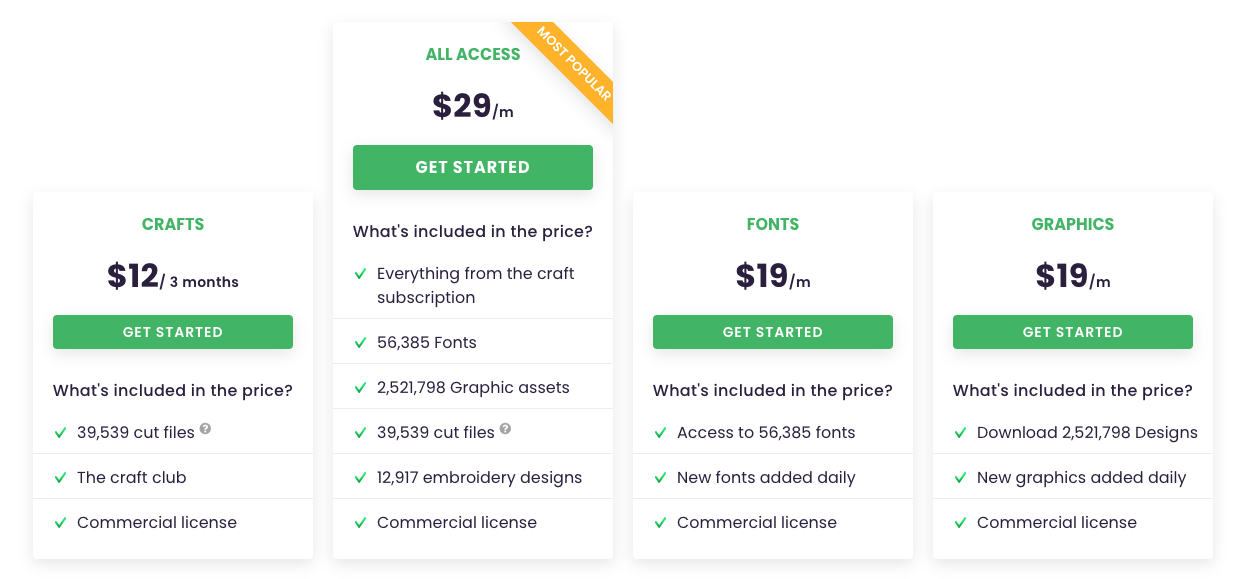 You can check out all of the benefits of each Creative Fabrica subscription, but I really do think that the All Access subscription is the best deal for most Cricut crafters. You get access to all the designs and fonts on the platform, which is great because we generally want BOTH cutting files and fonts.
Plus, all of the designs and fonts fall under a premium commercial license, which makes it easy for you to sell the things you make using the assets you've downloaded.
Creative Fabrica's Build Your Own Bundle
If you aren't ready for a full subscription, Creative Fabrica also has a Build Your Own Bundle option! For just $17, you can pick 30 assets (fonts and designs) out of 270 featured assets to bundle together. The featured assets change often, so this is a fun way to get a bunch of designs at a low price without committing to a subscription. Again, they all include a commercial license!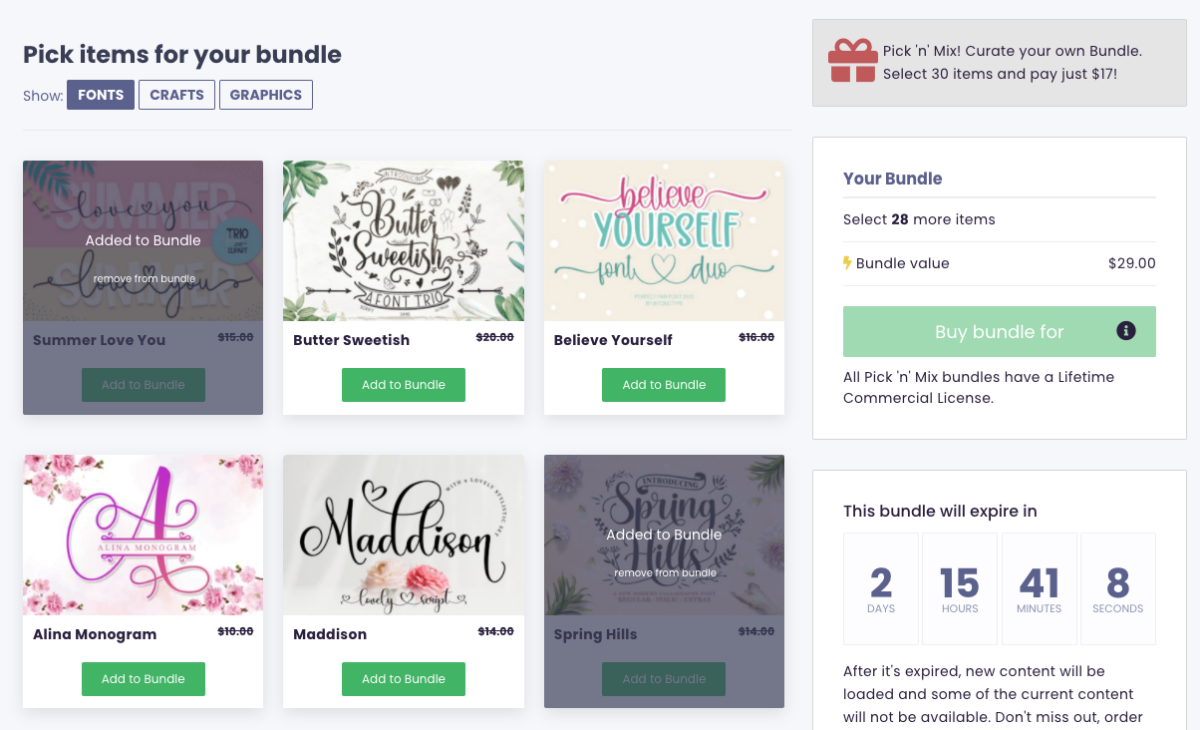 Request Your Own Design
Finally, if you haven't been able to find what you're looking for in the two million assets on Creative Fabrica (for instance, if you want something personalized or if you're looking for an SVG from a very specific job or event), you can request your own design if you're a member of the Craft Club or All Access subscriptions! Basically this gives you a designer in your back pocket.
I hope you've found my Creative Fabrica review helpful. I think it's a great addition to your cutting machine crafts toolbox. If you have any questions, let me know in the comments!