Etsy is the perfect place to find all styles of Christmas printables! I've rounded up some of my favorites—all under $10. Perfect for home decor, classrooms, invitations, and more.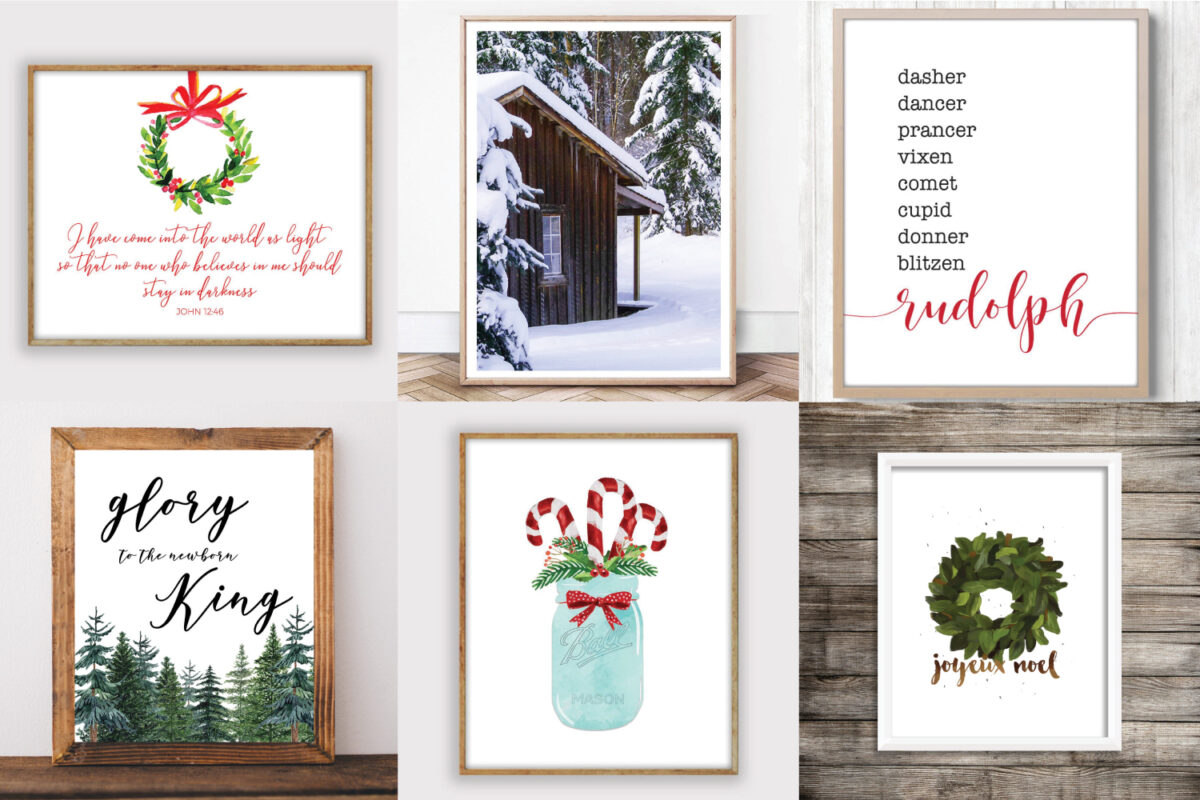 Printable art is one of the easiest ways to decorate your home for the holidays. But buying art can be expensive, especially when it's only going to be up for a month or two for Christmas.
Enter Etsy!
Etsy is the perfect place to find inexpensive art for your home for the holidays. I've scoured Etsy to find some amazing art deals for under $10—most are under $5! (Pricing may have changed from publish date.)
My favorite trick is to swap out the everyday photos and artwork I have in our home with seasonal printables. I actually just store everything in the same frame behind the mat—makes it super easy to switch things out for the holidays.
Christmas Printables for Under $10
I've broken up these printables by style—my style is more modern and quirky but I know a lot of you like farmhouse, for instance. So there's something in here for everyone! There's a lot of overlap so make sure to check out each section.
Modern Christmas Artwork
Let's start with modern Christmas printables. This section has gorgeous minimalist prints and quirky modern art.
Farmhouse Christmas Printables
Farmhouse style is not going anywhere! These farmhouse Christmas printables will look great in any country chic home—Joanna Gaines would love them all.
Christian Christmas Printables
Looking for Christian Christmas printables? I've got you covered with these gorgeous prints.
Retro / Vintage Christmas Artwork
If you love nothing more than a retro holiday, this section of vintage Christmas artwork is for you!
Printable Christmas Quotes
I love a good quote print and this selection of Christmas quotes is no different!
Printable Christmas Photos
While on the hunt, I also found so many gorgeous photography prints. These are often less traditionally Christmassy, but would work all throughout the winter months!
Printing your Christmas Printables
These are all digital files, so you are going to need to get them printed before you are able to hang them in your home for the holidays. Here are a few options:
At Home: If you have a smaller print, this is a great option. I prefer a laser printer, though an ink jet works as well!
Local Print Shop: If you really want to chat with someone about you prints, check with a local print shop. You can bundle your prints into a single document to save money over printing them individually.
Online Print Shop: You can use any number of printers online, like Shutterfly, VistaPrint, and MPix. I've used all three and I'm always happy with the results.
Office Depot or Staples: Both of these stores are great options for prints. If you want large black and white prints, try their engineering prints. You'll save so much money!
Also make sure to check out all my printable Christmas ideas! Lots of games, gift tags and party ideas to choose from.