Want to find cheap or even free sublimation files for your crafting? Look no further! I've rounded up my favorite sites for free and cheap sublimation files, plus what to look for when you're downloading any image for sublimation printing.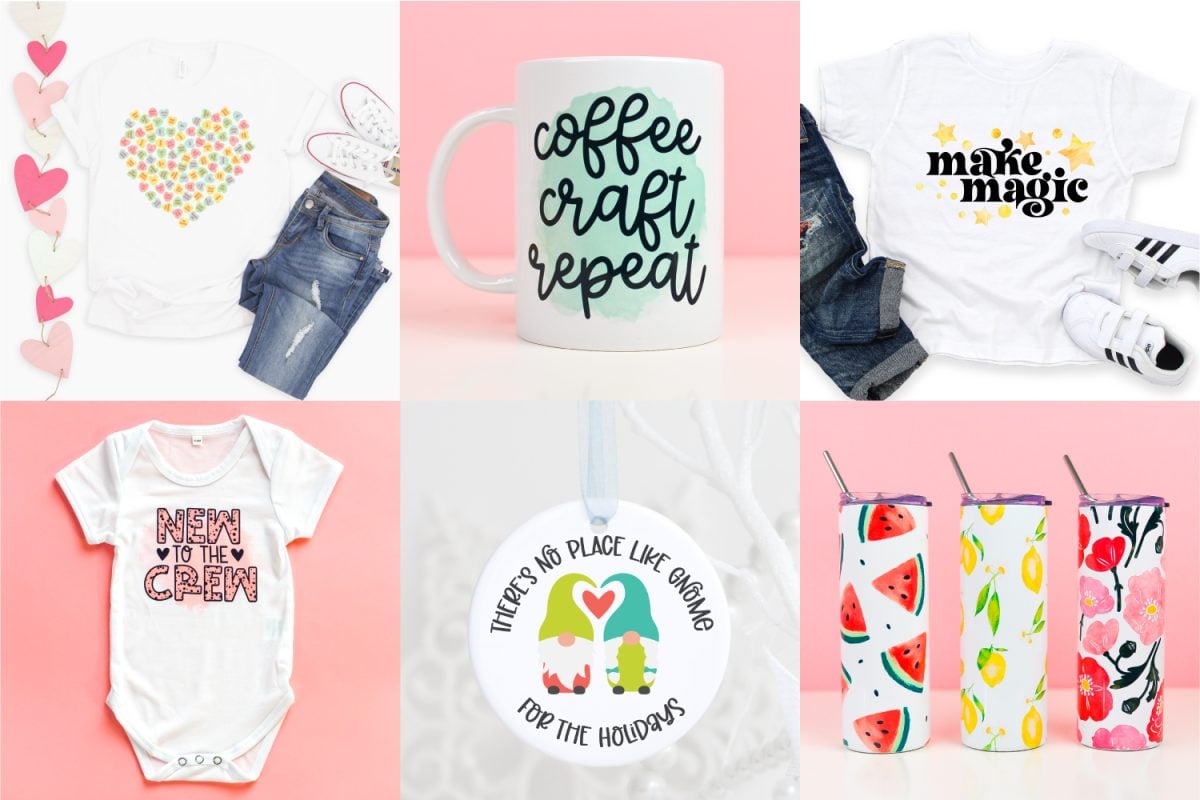 You've got your sublimation printer all set up. You've got paper and blanks and a heat press and you are ready to GO!
But…what images are you going to sublimate? Most beginners don't start out designing files themselves—they get them from other designers. So today I'm sharing a list of places to find cheap and free sublimation files for you to craft with!
Join our Sublimation Made Simple Facebook group for tips, tricks, support, and resources!
First, let's first talk a bit about sublimation images and what you want to look out for when downloading or purchasing files. Then check out my list at the bottom of this post for links to all my favorite sites for paid and free designs.
DISCLAIMER: I'm not an intellectual property lawyer (heck, I'm not any kind of lawyer!), so this should not be taken as actual legal advice. If you have questions, reach out to an intellectual property lawyer for clarification.
Commercial vs. Personal Use
Whether you get a file for free or you buy it, you should be aware of the terms of use for the file.
Commercial License
If your sublimation files come with a commercial license, this means that you can sell final products made using the file according to the terms of use of the file (usually included as a PDF or text file in the zip). Sometimes you can upgrade to a commercial license for an extra cost. This may not matter to you if your crafts are for your own personal use. But if you're making final projects for sale, you really need to make sure you have a commercial license for the files you are using.
For instance, you can purchase a $10 license for any of my cut files and that grants you the use of that cut file on up to 500 handmade goods for sale. So if you buy my "Creativity Words" sublimation file, there's a dropdown to select a Small Use Commercial License. Then you can use that file to make t-shirts, totes, mugs, and more to sell!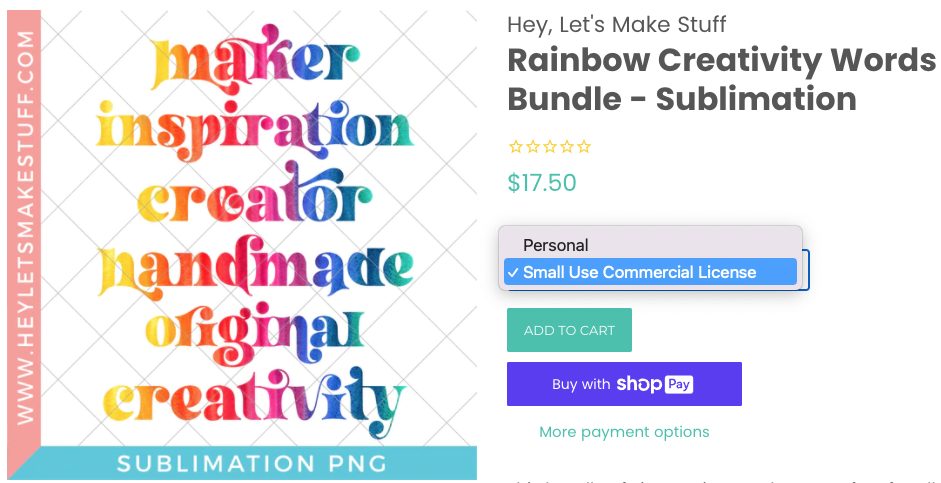 Personal Use
Sometimes I think we justify using certain images (see below for examples) by saying they are just for "personal use." But this argument falls apart when you think about any other thing you purchase.
My friend Angie is fond of saying you can't nick a candy bar from a grocery store and when you get caught, just say it was for "personal use." You'd get charged with shoplifting. Personal use isn't an excuse to use a file in a way not intended by the designer or company.
Licensed Images
Now let's talk about images, characters, names, fonts, logos, and more that are held under a company's copyright. We're talking media brands like Disney and Warner Brothers, brand names and logos like Nike or Coca Cola, and even sporting events like March Madness or the Super Bowl. This also includes smaller companies—pretty much any company is going to hold licenses and copyrights to their own images, illustrations, characters, logos, and more.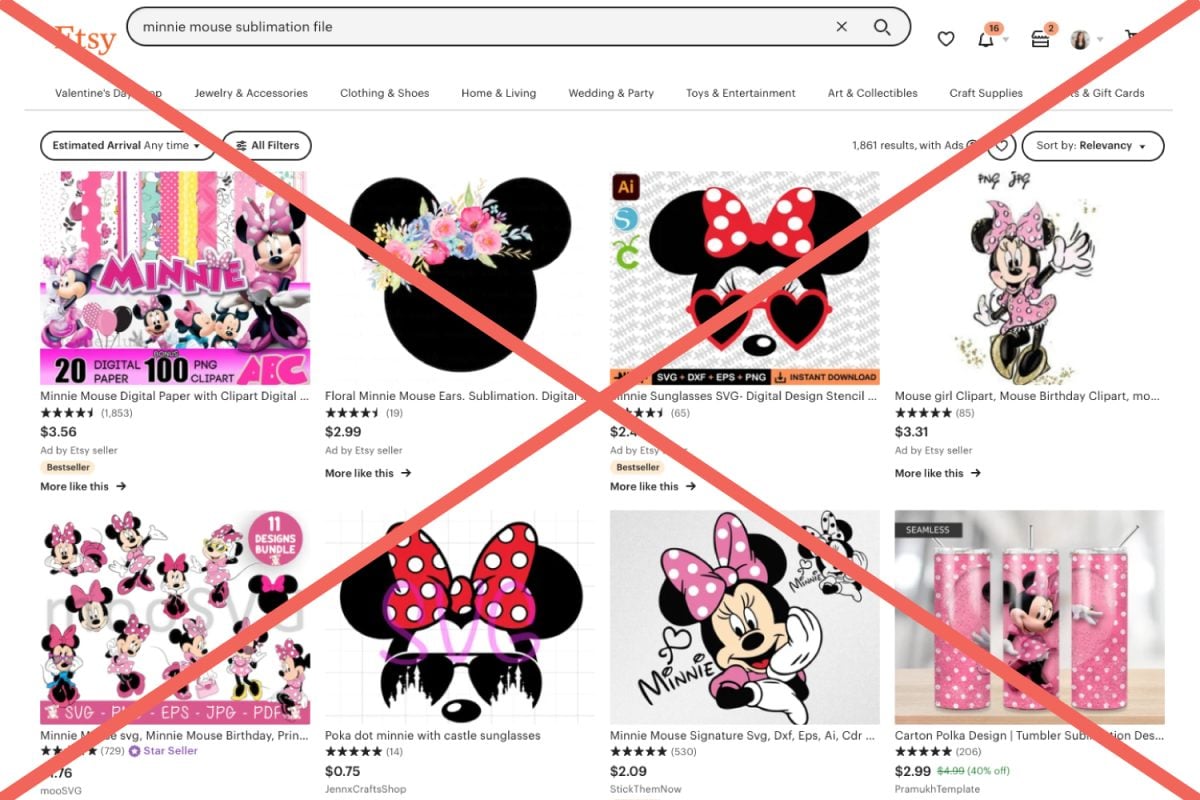 Copyrighted content, both files and finished products, are illegally sold everywhere—on Etsy, in online shops, at craft fairs, and more. It's so ubiquitous, that we may think that it's fine and no one cares. Yet the owners of these copyrights are constantly taking down shops and filing lawsuits. You can get into serious legal trouble for using images with licensed content.
While copyright applies to personal use, it's even more important for things you might be selling. So even if you really want to put Baby Yoda's face or Louis Vuitton's logo or an Audi symbol on your items for sale, DON'T. Yes, you may get away with it…but you may also NOT get away with it. And is that worth staking your entire business on? As Elsa would say, "Let it go!"
There are some things that are in more of a gray area, like quotes. It's up to you to do the research on whether or not this falls under a company's trademark. This is one area where I suggest consulting a lawyer who is familiar with copyright and trademark law.
The one caveat to this is images in Cricut Design Space. Cricut has partnered with some of these companies and have licensed "print then cut" images available for personal use that will work for sublimation projects. You can read more about the restrictions for crafting with these files in Cricut's Angel Policy, but note that these licensed images cannot be used on products you are selling.
Legitimate Paid and Free Sublimation Files
Sublimation files are a newer type of file to hit the market, so there are far fewer places to find freebies than there are other types of files like SVGs for a Cricut or clip art for printables. But as more and more people start to design files for sublimation, frebbies will increase.
There are sites that offer legitimately free files, including my own blog. Most of these sites will ask for your email address in return for the free download, meaning the designer can then send you emails with more free and paid files, as well as information on other things they offer.
If you're going to pay for sublimation files, use reputable sites, which I've listed below. Buying from the original designer means you are getting the highest quality file available. It hasn't been re-saved or compressed, and it hasn't been traced from the original file. This is THE BEST way to get sublimation files if you aren't designing them yourself.
Bad Files—Avoid These
Google or Website Images
You can't just pull images or clipart you want off Google or other websites to use. Google itself doesn't own any of the images—they are all held as copyright by their respective owners and creators.
If you are looking at another website's images or artwork, make sure you are looking at the terms of use for the actual image you want to use. Often this is in the footer of the website.
Again, this includes using photos for your own "personal use."
Dump Facebook Groups
You may come across "dump groups" on Facebook or elsewhere where people share "free" sublimation files illegally—no designer has an open license to distribute their files in this manner. Often admins of these dump groups will buy designs and share them with everyone in the group for free, which is against the terms of use of both the designer and Facebook. Thankfully there's been a big crackdown on these groups in the last few months, including legal action.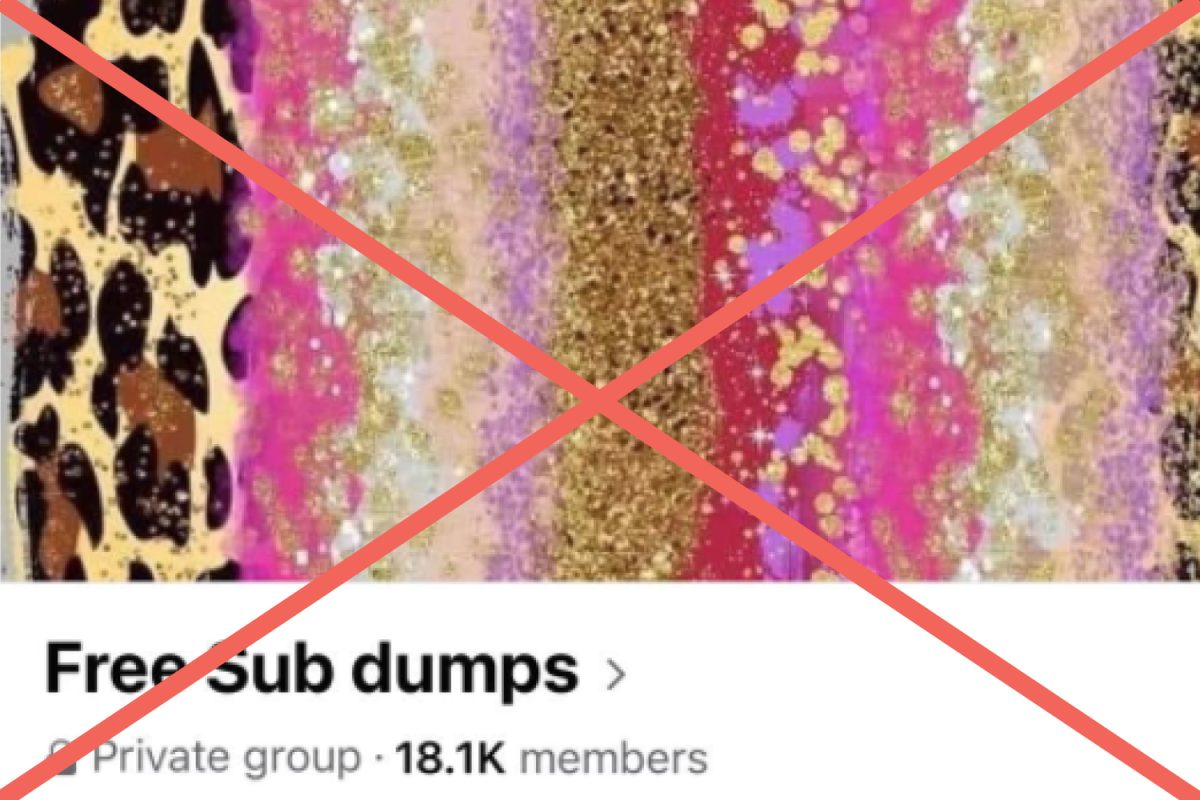 To be honest, it's really disheartening as a designer and creator to see my work being shared (often at a much lower quality file or with the watermark) in these groups. Instead, support your favorite designers by purchasing the files from them legally. If you end up in an illegal dump group, the best thing you can do is report it to Facebook. Designers are constantly fighting this uphill battle and having crafters on our side really helps!
Fake Etsy Shops
One of the more unfortunate things to come out of the sublimation boom is a large number of fake Etsy shops selling stolen files.
Often these shops will purchase the file from the original designer and then slap their own watermark on it and sell it for a fraction of the cost, undercutting the original designer. This is illegal but Etsy is very slow to respond to complaints.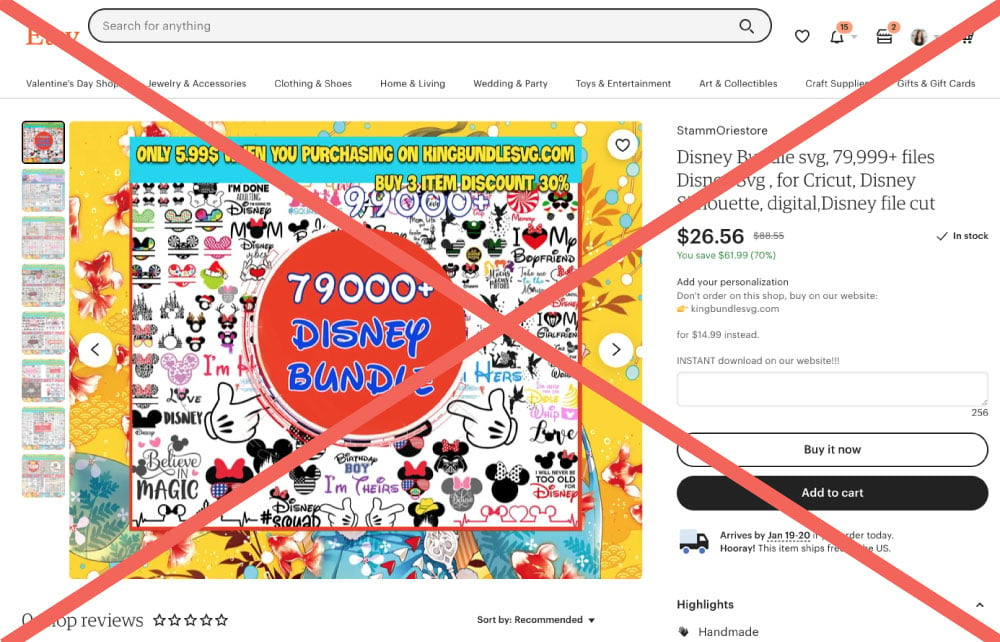 Here are a few ways to spot a FAKE Etsy shop:
The shop photos have a watermark from a different designer
The shop photos are covered with such a heavy watermark, you can't really see the actual file. This is done to obscure the original designer's watermark.
The photos are weirdly cropped. This often means a designer's watermark was cropped off.
The shop says they are in the US or Canada but only accepts PayPal. US and Canadian shops are required to also offer Etsy Payments.
The shop is selling licensed files, like Disney or Marvel.
The shop has one-star reviews complaining about quality. Or it has zero reviews.
The shop is selling an impossibly large number of files for too-good-to-be-true price (it IS too good to be true—these files are often terrible quality!).
This checklist was modified with permission from a list complied by Jula Bay on Etsy. You can download her complete list here. Often you can dig a little deeper in your image search on Etsy and find the original designer of the file and buy from them. Giving them a head's up that their original file is being stolen is always appreciated, too!
Note that often these files will be of terribly quality having been resaved and compressed. Save yourself the disappointment and buy from the original designer.
Where to Find Cheap and Free Sublimation Files
Thank you for sticking with me through all of that legal stuff! It's one of those things I think is super important and often gets overlooked when you are a beginner and first starting your sublimation crafting journey.
Here are a bunch of shops where I love to buy sublimation files! Most files come in a PNG file format, but you'll often find SVGs, JPGs, and even PDF files. All of these should work for sublimation.
Etsy (read my notes above about fake Etsy shops before purchasing!)
Want to learn more about sublimation? Check out these posts!