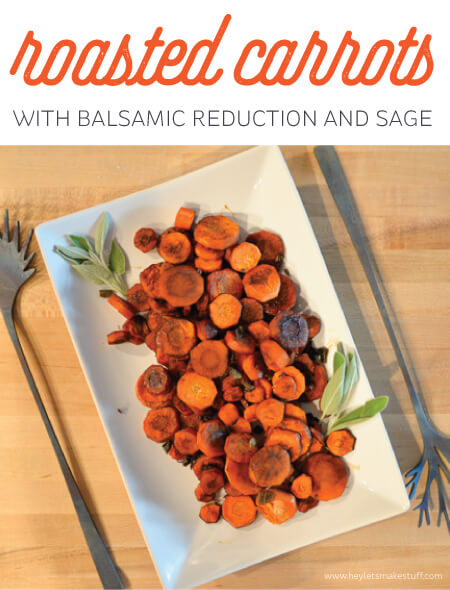 I originally shared a version of this post on illistyle, one of my favorite blogs out there!
Remember in September when I made the balsamic reduction and then drizzled it over ice cream? Well now I'm back with another recipe using the same balsamic reduction — roasted carrots with balsamic reduction and sage. Can I get a "nom" up in here?
NOM!
If you need a refresher, you can learn how to make the balsamic reduction here. Then you're ready to make the rest of the recipe!
Ingredients
Four large carrots
1/4 cups balsamic reduction
Fresh sage (about 2 tablespoons when chopped)
Olive oil (or fat of choice)
Directions
Preheat your oven to 350°. Peel and slice the carrots, and chop up the sage.
Lightly coat the carrots with a bit of olive oil and the balsamic reduction. Spread evenly on a greased baking sheet, sprinkling sage on top.
Bake for 15 minutes, and then stir the carrots around. Bake for another 15 minutes or until done as desired (I prefer my veggies a little al dente!).

And that's it! These have a wonderful fresh sage flavor, balancing with the tanginess of the balsamic. Hope you enjoy!
TODAY'S TOP TEN POSTS