Last updated on April 28th, 2017 at 05:45 am
Celebrate the new moms in your life by making a thoughtful gift basket!
This shop has been compensated by Collective Bias, Inc. and its advertiser. All opinions are mine alone. #SipIndulgence #CollectiveBias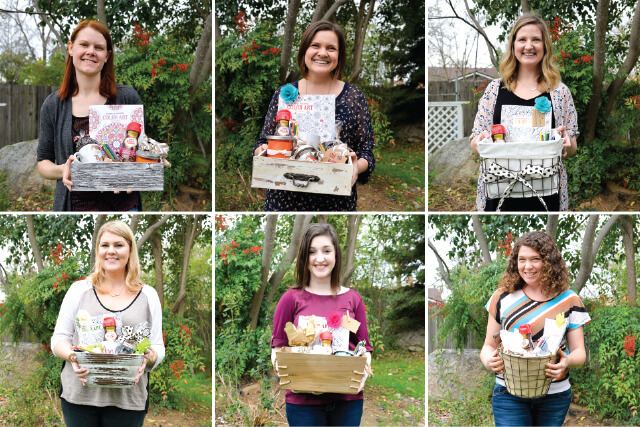 For a few years, I've gathered for brunch with a few friends at local restaurants. I look forward to these gatherings more than almost anything else I do. Sipping cup after cup of warm coffee, eating decadent food, and catching up with my best friends—there really is nothing better!
Over the last few years, we've all had babies (ten total!). And whenever a new baby arrives, we are quick to take brunch out of the restaurant and into the new mom's home. We bring food, coffee, and small gifts, and lavish our love on each other and the new baby.
This past weekend, I decided to throw a brunch for a few of my friends who all have close friends or family members expecting babies. I knew it would be fun to get together, eat, and create a fun and thoughtful gift basket of goodies for a new mom. We had so much fun!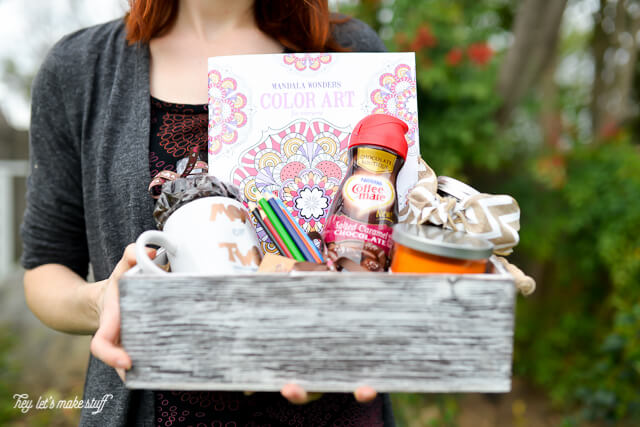 Brunch: Sourdough French Toast
First I served brunch. I made one of my absolute favorites—sourdough French toast, and I served it with vibrant fresh fruit and chocolate chips, to complement the indulgent COFFEE-MATE® Chocolate Boutique Liquid Coffee Creamer that I had for our coffee.
Whisk together all ingredients (except bread) in a shallow dish.

Lightly butter a frying pan and heat

Dip bread in egg mixture and fry until golden brown, flipping halfway through.
The harder the sourdough, the better the french toast (great for day-old bread!). Top with butter, maple syrup, chocolate chips, fresh fruit, or whatever sounds good to you!
The recipe is so simple and is perfect for a weekend breakfast when you want to splurge a little.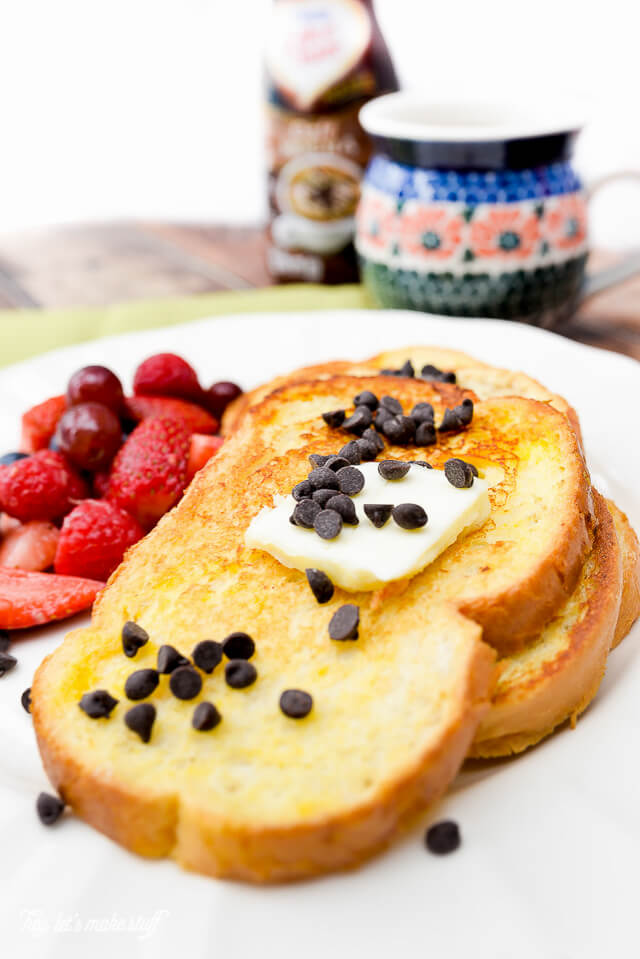 And of course coffee. We drank lots of coffee. Even though we were taking time to make gift baskets for our friends and family members, we also took some time to indulge a little ourselves by turning our everyday coffee into a decadent treat with COFFEE-MATE® Chocolate Boutique Liquid Coffee Creamer. We all had our favorites between the Salted Caramel, Cafe Mocha, and Toffee, but all three were delicious!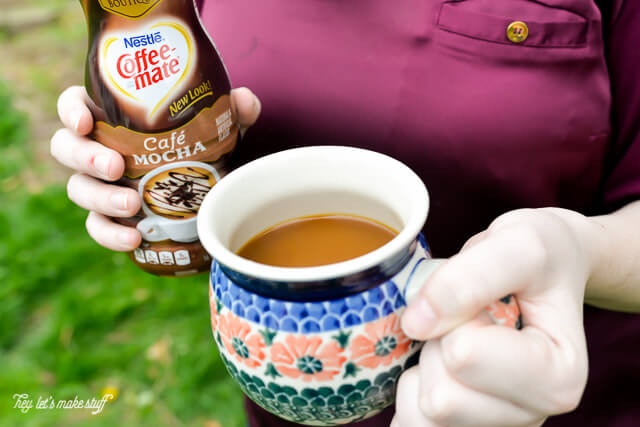 You have to try them for yourself—so yummy! And you can download a $.75 off Ibotta offer from Walmart by clicking here. I found the creamers on the tippy-top shelf of the refrigerated section.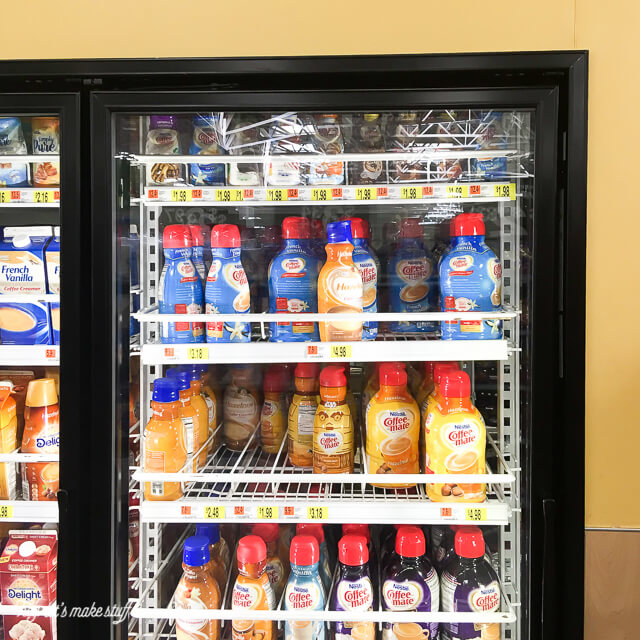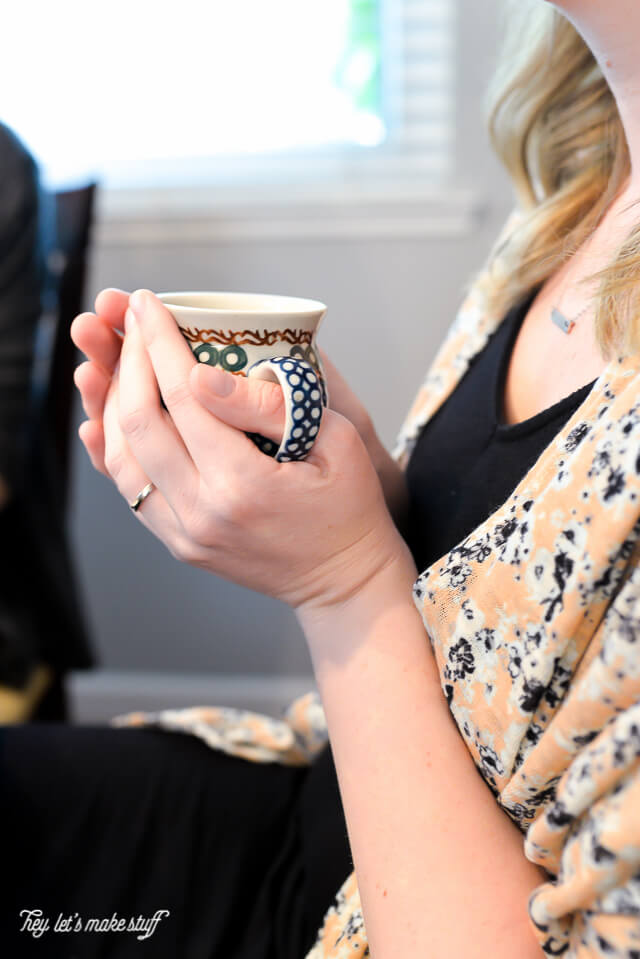 New Mom Gift Basket
After we ate, we got to work creating our baskets. My dining room is super small, but it was fun to be in there among my friends. Everyone was laughing and having a good time—it was one of the best mornings I'd had in a long time!
I picked up a bunch of different baskets and boxes, so everyone's basket would be unique.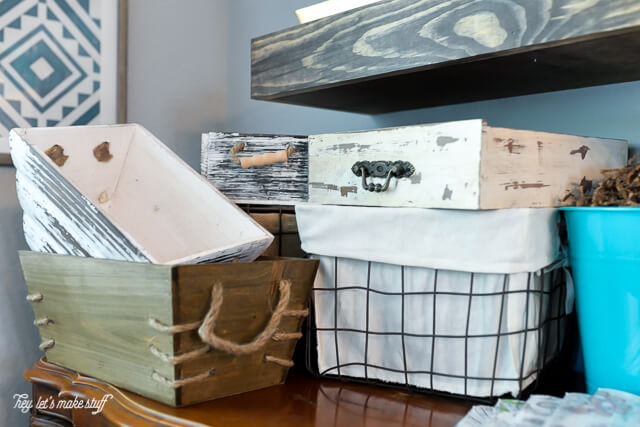 I set out a bunch of craft supplies and gift basket stuffers and let each woman get to work building her own gift basket. I had ribbon, washi tape, flowers, clothespins, scissors, gift tags, fabric, tissue paper, and paper crinkle basket filling, among other things, for them to work with.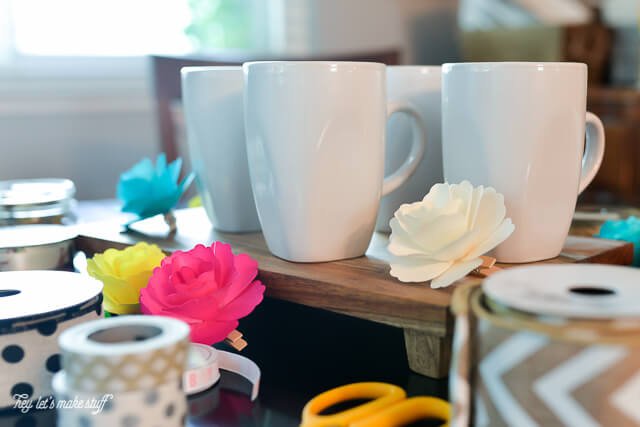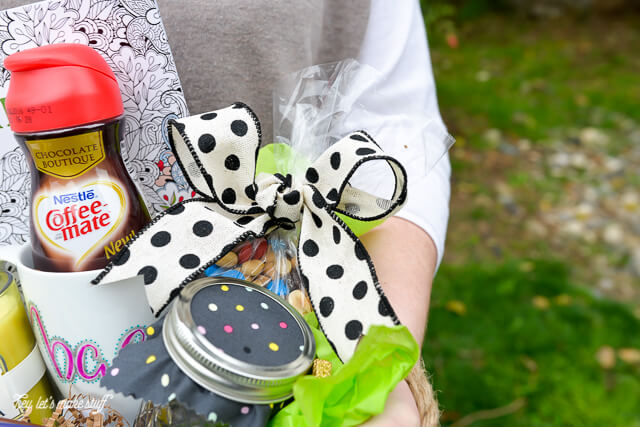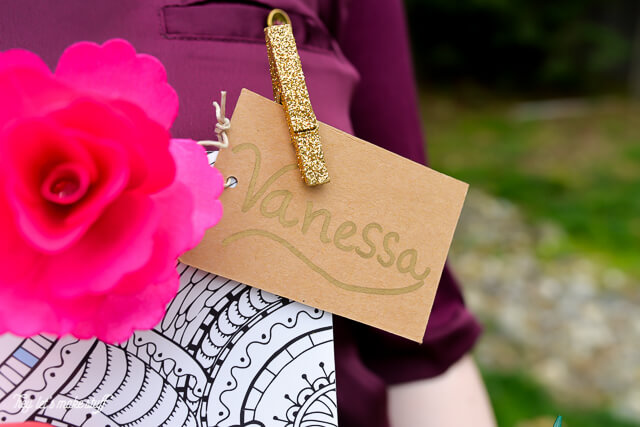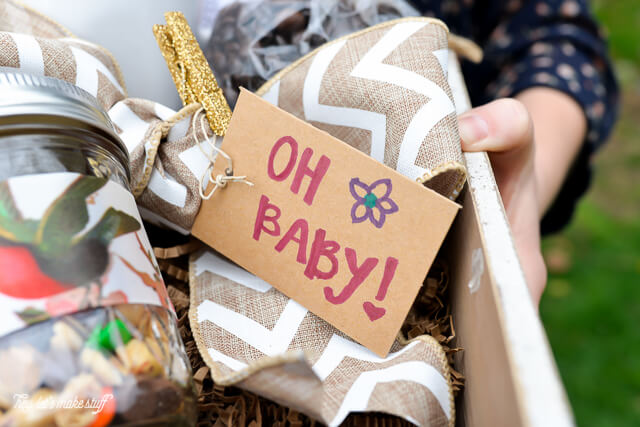 Everyone had the same items in their basket, but I loved seeing how differently they each used them.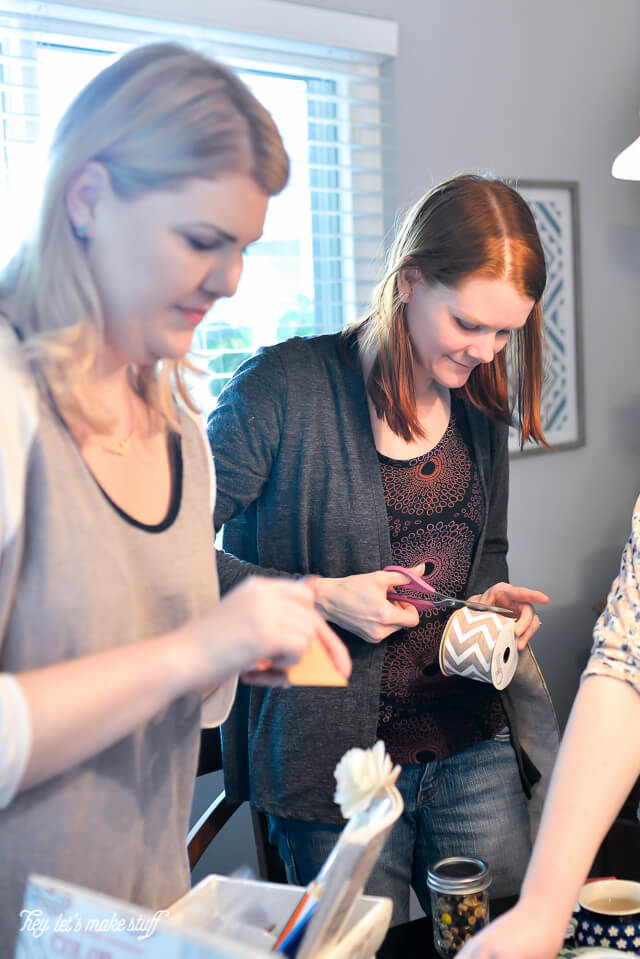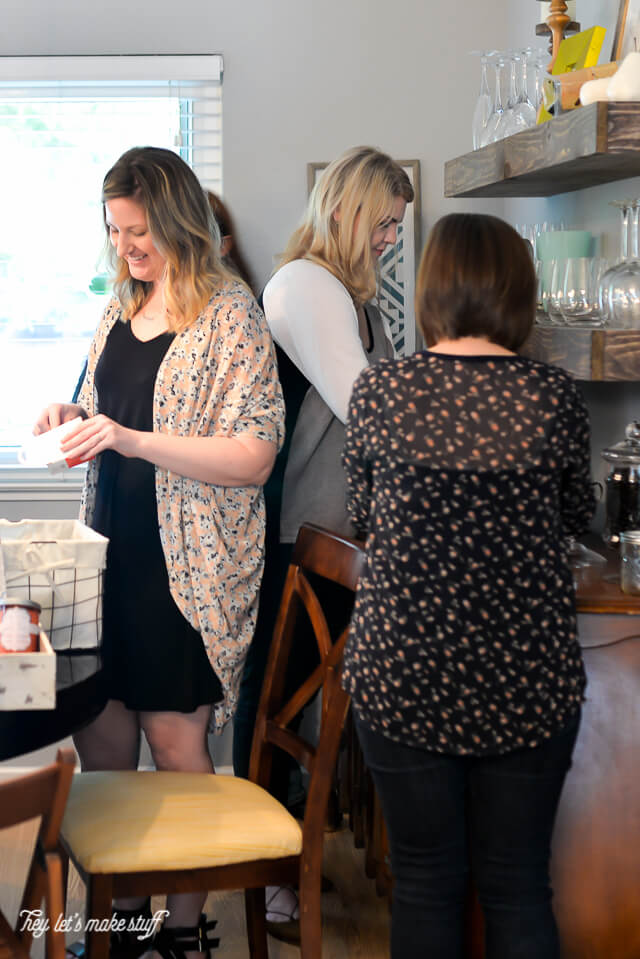 New moms have a hard time getting enough to eat, so we included trail mix for easy snacking. I love how my friend Amy put hers in a mason jar with a beautiful satin bird ribbon.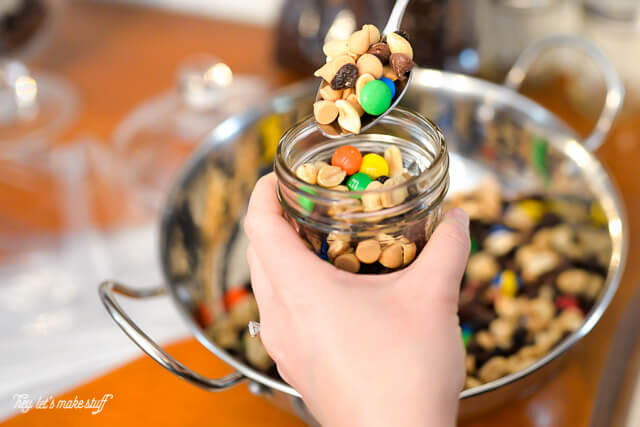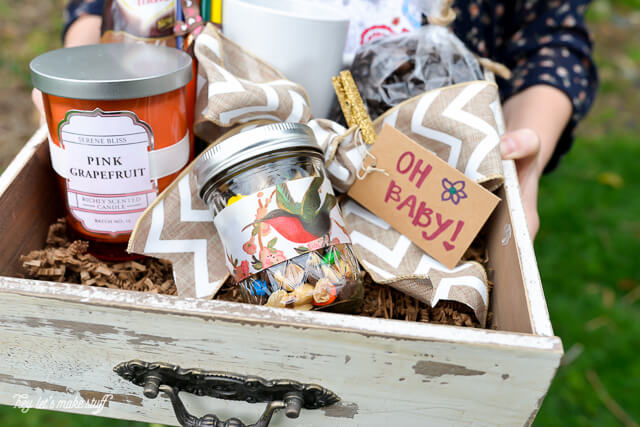 We had adult coloring books, colored pencils, and soy candles as well. Being a new mom can be so stressful, so we thought these would be good items to include to help her relax.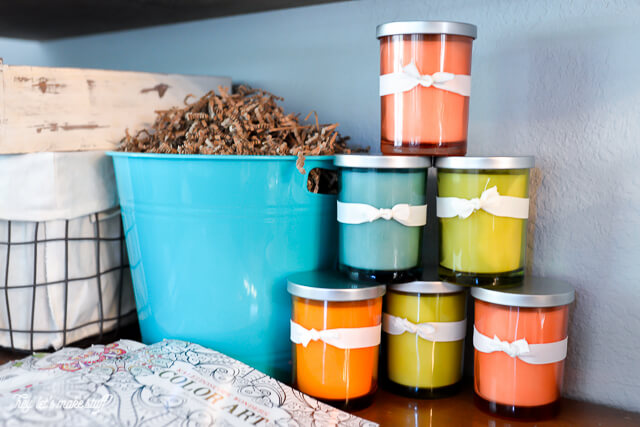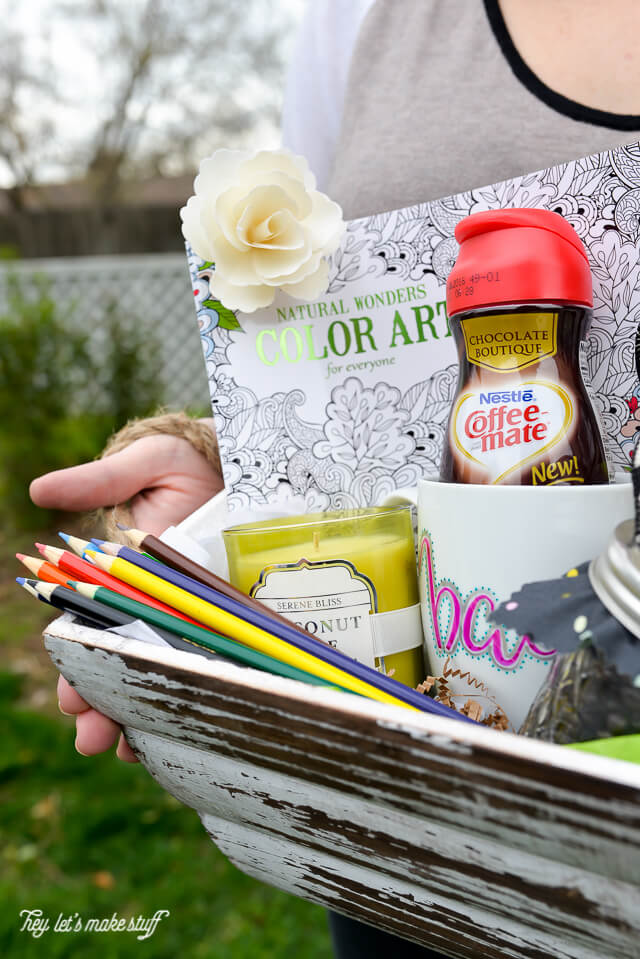 I also had the option for everyone to write a message or draw a picture on their coffee mugs with permanent marker (which were then baked to adhere the ink). The messages everyone wrote to their friends were so sweet.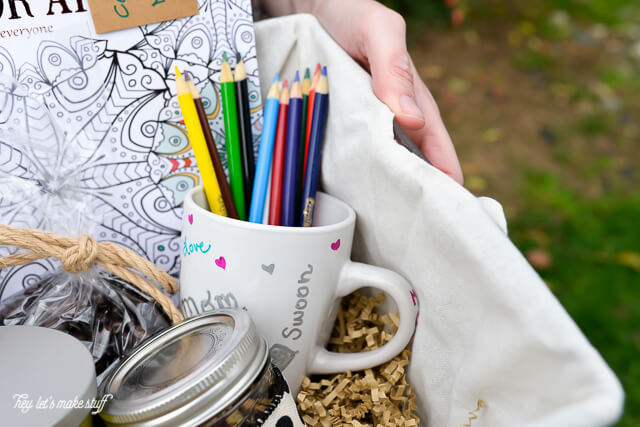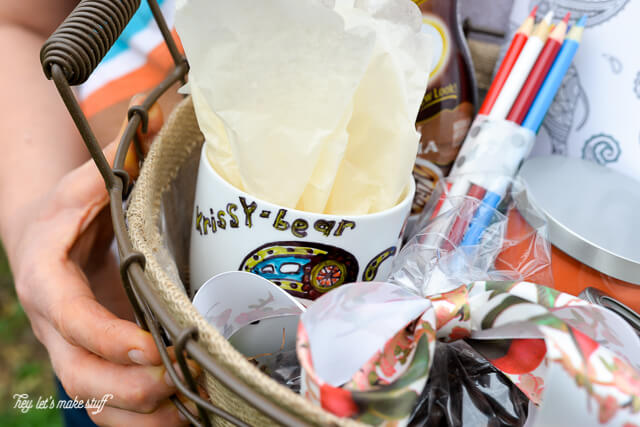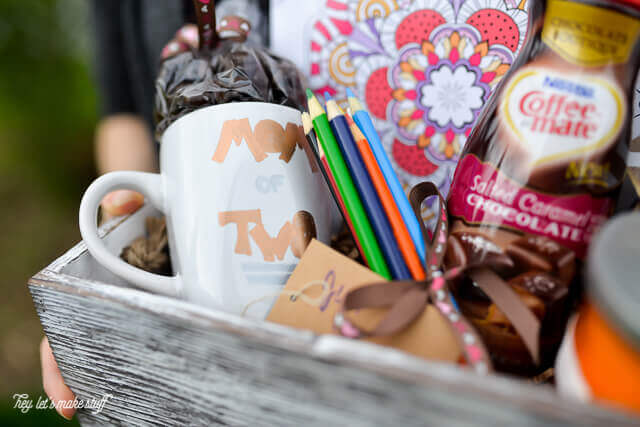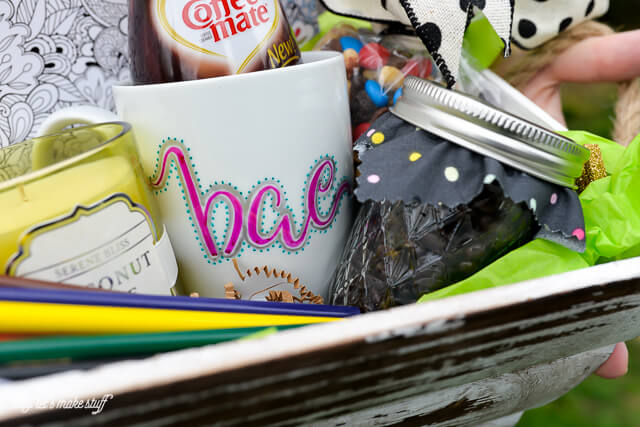 And of course, new moms need coffee. I had regular coffee (with the option to use decaf if the new mom is concerned about caffeine), which everyone packaged up and included in their gift baskets, along with a bottle of delicious COFFEE-MATE® Chocolate Boutique Liquid Coffee Creamer.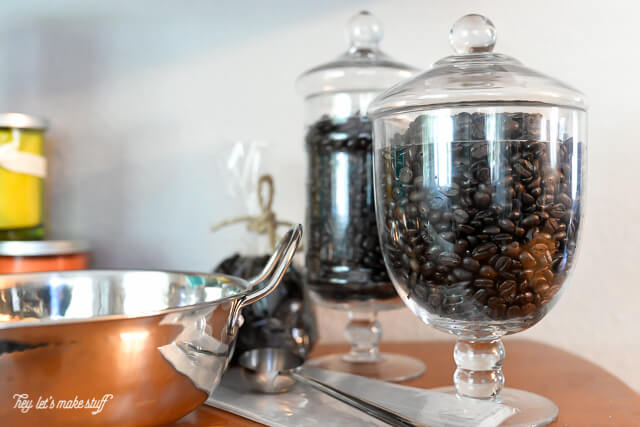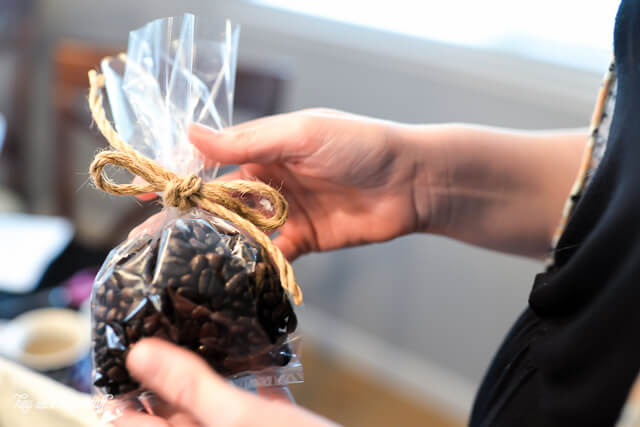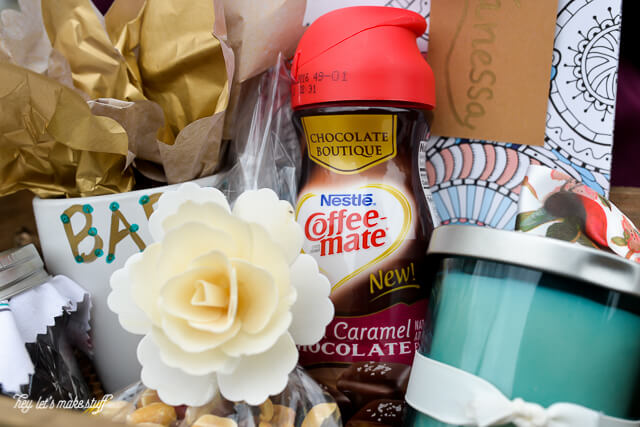 If you were to give a gift basket to a new mom, what would you include in it?