Let your spouse, kids, or bestie know how much you love them with these love letters made using the Cricut! A great DIY Valentine's Day idea—though you can always remind someone of that you care year round!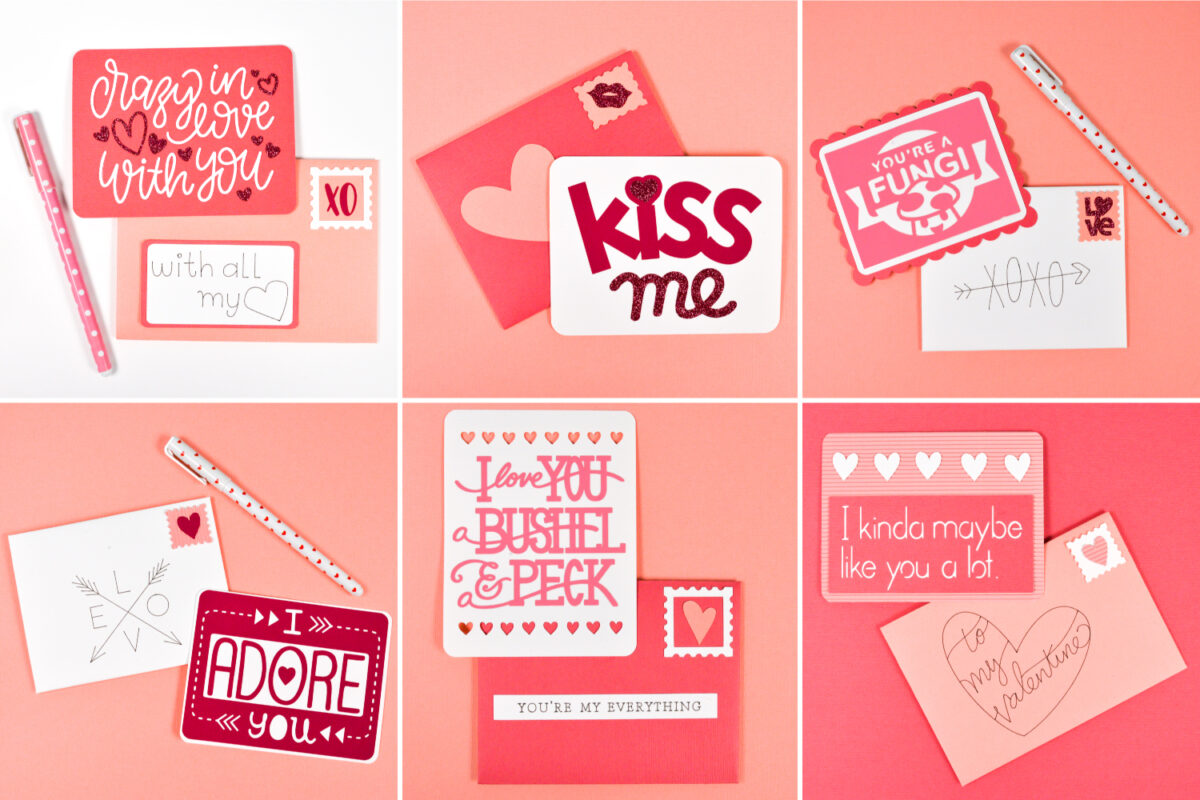 DIY Valentine's Day Idea: Love Letters with the Cricut
One of my goals in 2019 is to invest in my family even more. I think I'm a good wife and mother, but I often find myself reacting more than being proactive in motherhood and our marriage. This year, however, that changes. My goal is to be more deliberate with how I love my family—from putting my phone down more often to have uninterrupted playtime with my boys to having a weekly date with my husband. We're only two weeks into the new year and I can already feel a difference! It's amazing how being just a little more intentional can go a long way.
This year, I wanted to try a new Valentine's Day idea—leaving love notes around the house for my husband on February 14 made with my Cricut Maker! Just little pick-me-ups to let him know I'm thinking about him. These sweet love notes also work for your kids (well, your kids who are old enough to read—my boys aren't quite there!) or even as valentine to your sister or best friend. Include one alongside a Valentine's Day gift, include one in your kid's lunchbox, or pop one in the mail to your bestie.
I've created six different love notes for this post , but there are so many images in Cricut Access that you can use to create any sentiment you might want! I hope this gets you thinking about the myriad ways you can use images from Cricut Design Space. I think often we look at all the images and can't imagine how we'd use them. So here's some inspiration, cut in cardstock corrugated paper, and iron on vinyl!
Head over to Cricut Design Space to access the file I've created for this project—but then let your imagination run wild! These cards are totally customizable.
Supplies for this Cricut Valentine's Day Idea
Design Space + Cutting Directions
Start by going to the Cricut Design Space file I designed. If you'd like to make them as-is, click "Make It," or if you'd like to customize them in different colors or change out some of the elements, click "Customize."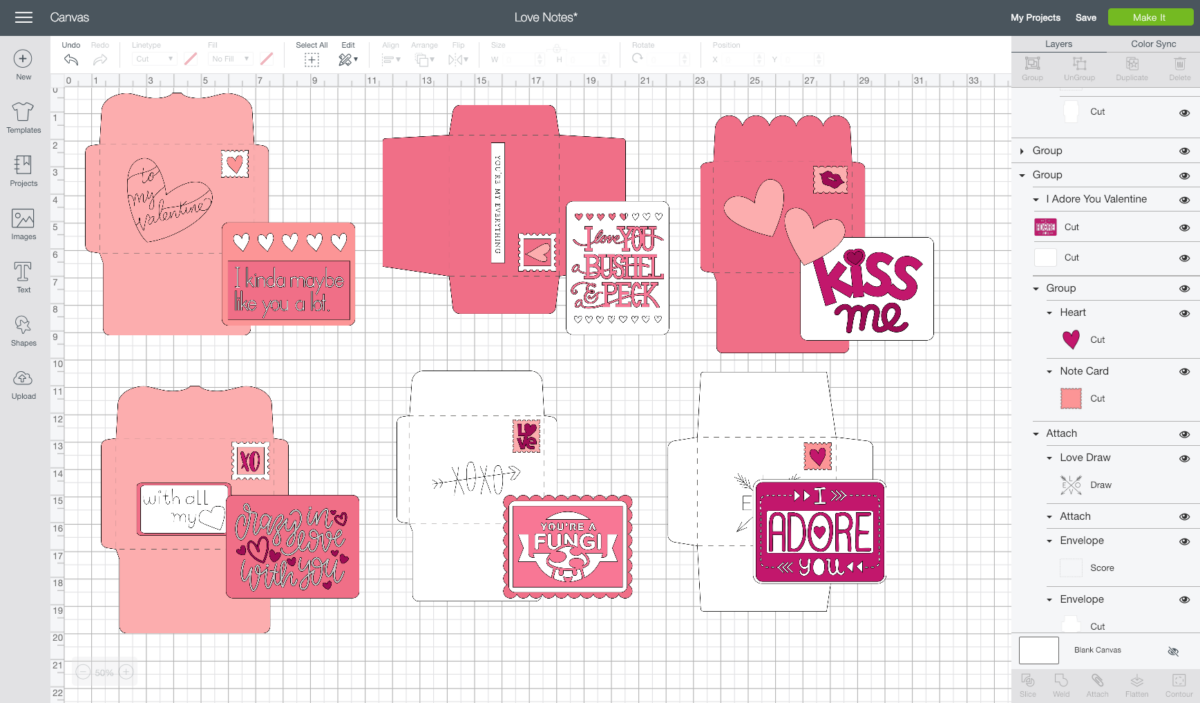 You'll see that there are many pink layers. Once you click Make It, it will be sorted onto the following mats, in this order:
Mats 1-3 = white cardstock
Mat 4 = white iron on vinyl
Mats 5-6 = light pink cardstock
Mat 7 = corrugated paper
Mat 8 = dark pink iron on vinyl
Mat 9 = pink glitter iron on vinyl
Mat 10 = light pink iron on vinyl
Mats 11-12 = dark pink cardstock
When you're ready to make your file, gather your supplies. In the Prepare Screen, take a look at each mat—some of them will need to be mirrored if you are using iron on vinyl, using the slider at the bottom of each mat (you need to mirror the iron on mats individually).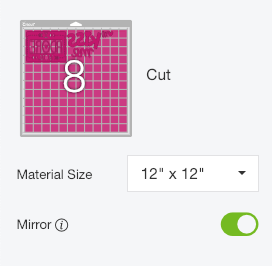 Then cut out all the elements. I used my Cricut Maker and the Single Scoring Wheel. As a paper crafter, I love the Scoring Wheel. The Scoring Stylus does a good job, but the Scoring Wheel really does create a cleaner, deeper score—making folding these envelopes a breeze! If you're cutting any scored project out of a coated material, use the Double Scoring Wheel—it prevents your paper from cracking. Learn more about both scoring wheels.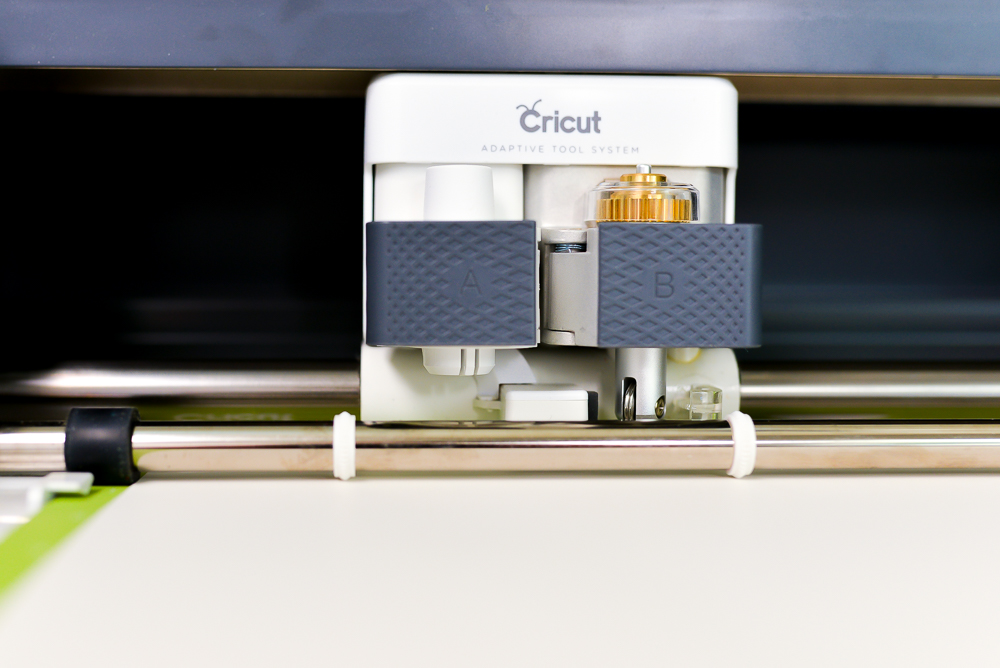 I also used the Cricut pen to "address" my envelopes with little quotes and words I found in the Cricut Image Library. If you want to actually mail these, check out my post on using your Cricut to address envelopes.
Assembly Directions
Once you have all your pieces cut out, separate them into the different love notes. It'll be a bit like a puzzle—sort everything so that you can put them together properly.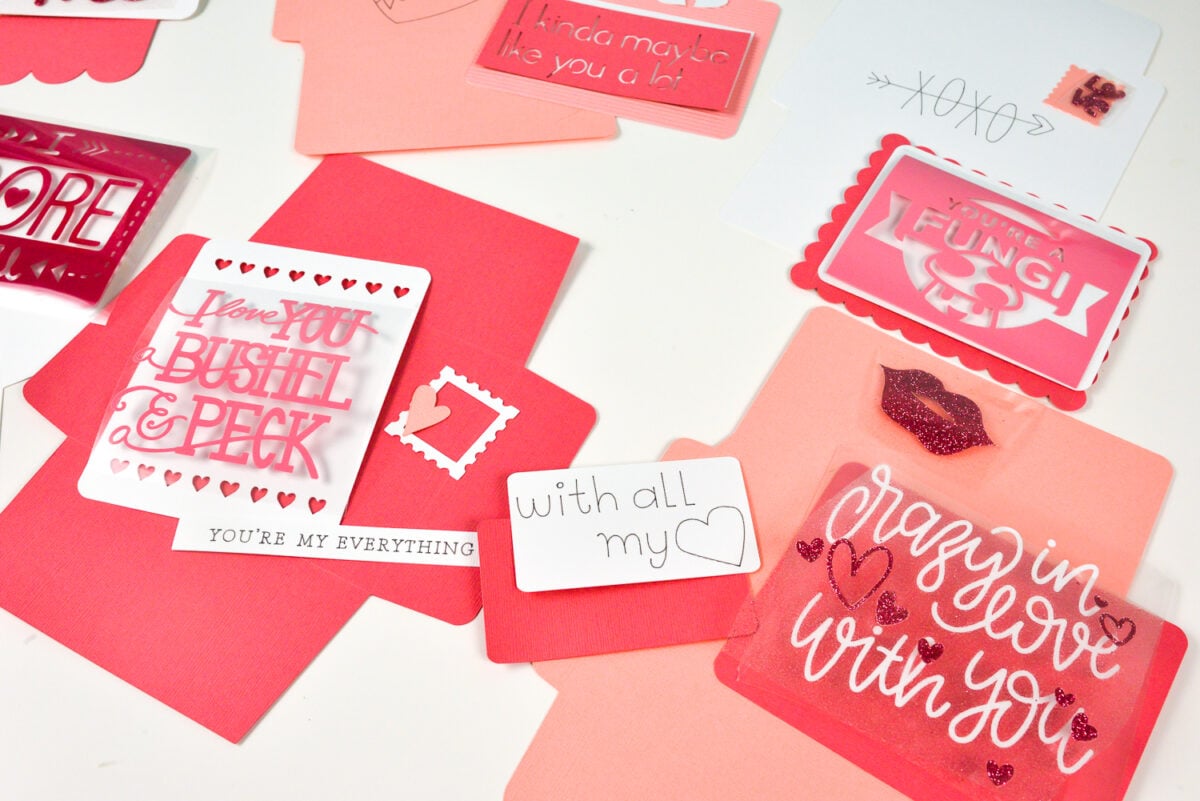 To make each card, start with your iron on elements.If you've never used iron on vinyl on cardstock before, you're missing out! Iron on bonds effortlessly with the cardstock—no messing with transfer tape or glue. It's really easy and a technique that I come back to often.
One tip—technically Cricut's Everyday Iron On is "warm peel" (see the difference here) but I find it peels better after it cools, particularly on cardstock. I used my 6″ x 7″ Cricut EasyPress—it's perfect for small jobs like this.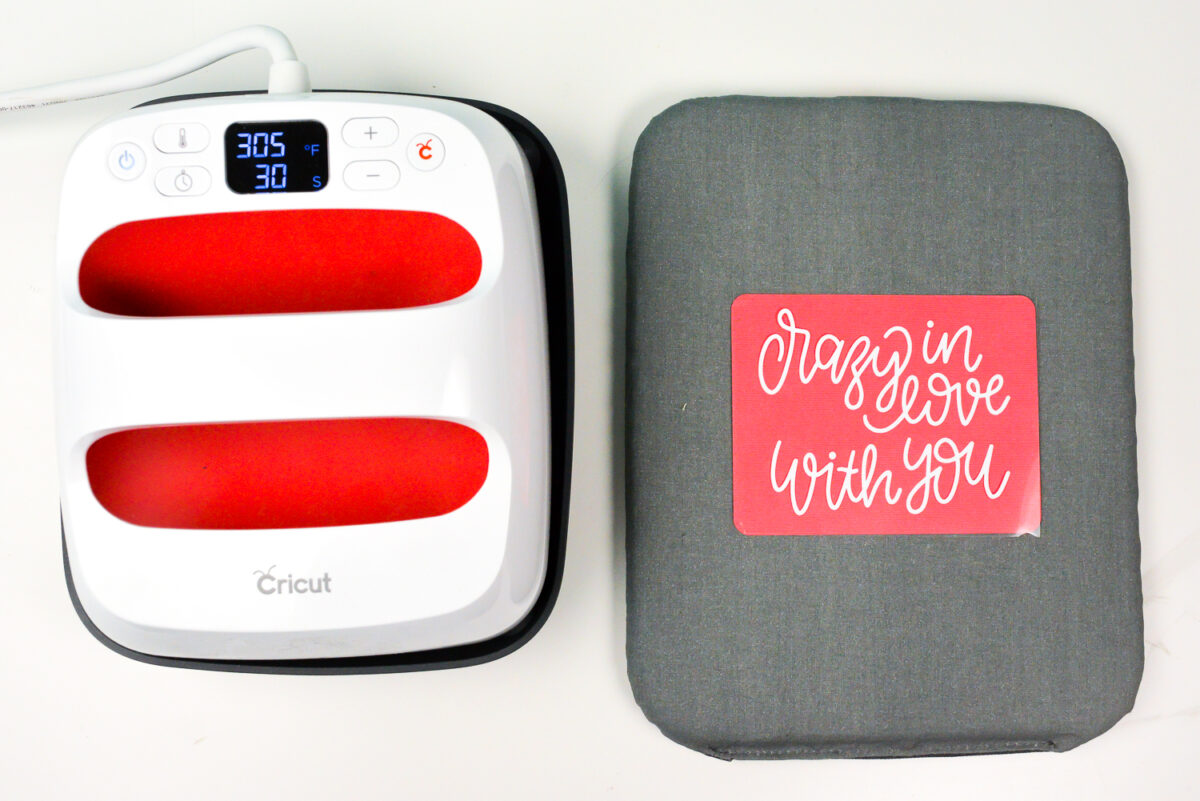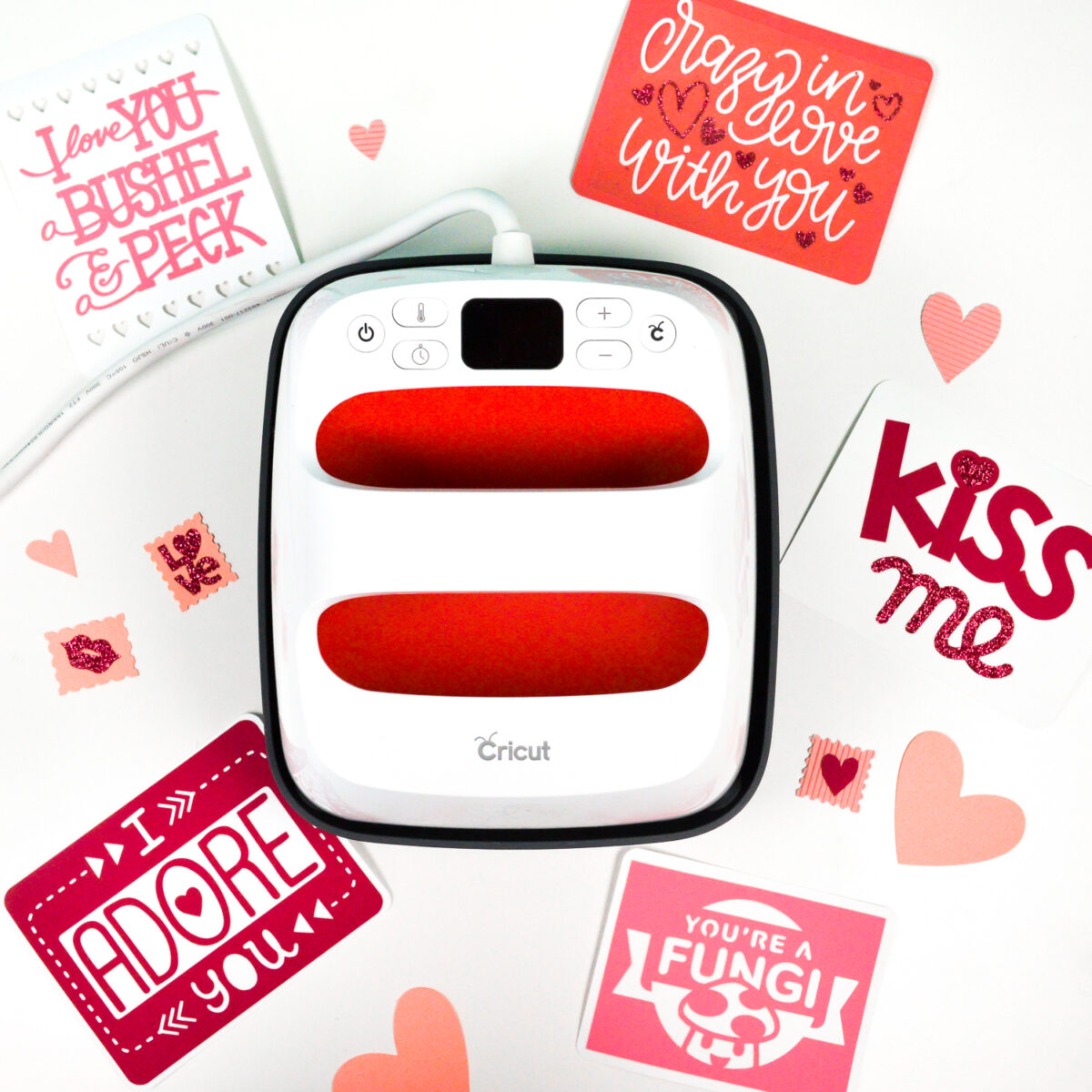 Next, make your envelopes. Fold on the scored lines and use glue to secure the three non-flap sides. I'm using an extra-strength glue stick—I don't want them to come apart when I'm stuffing them.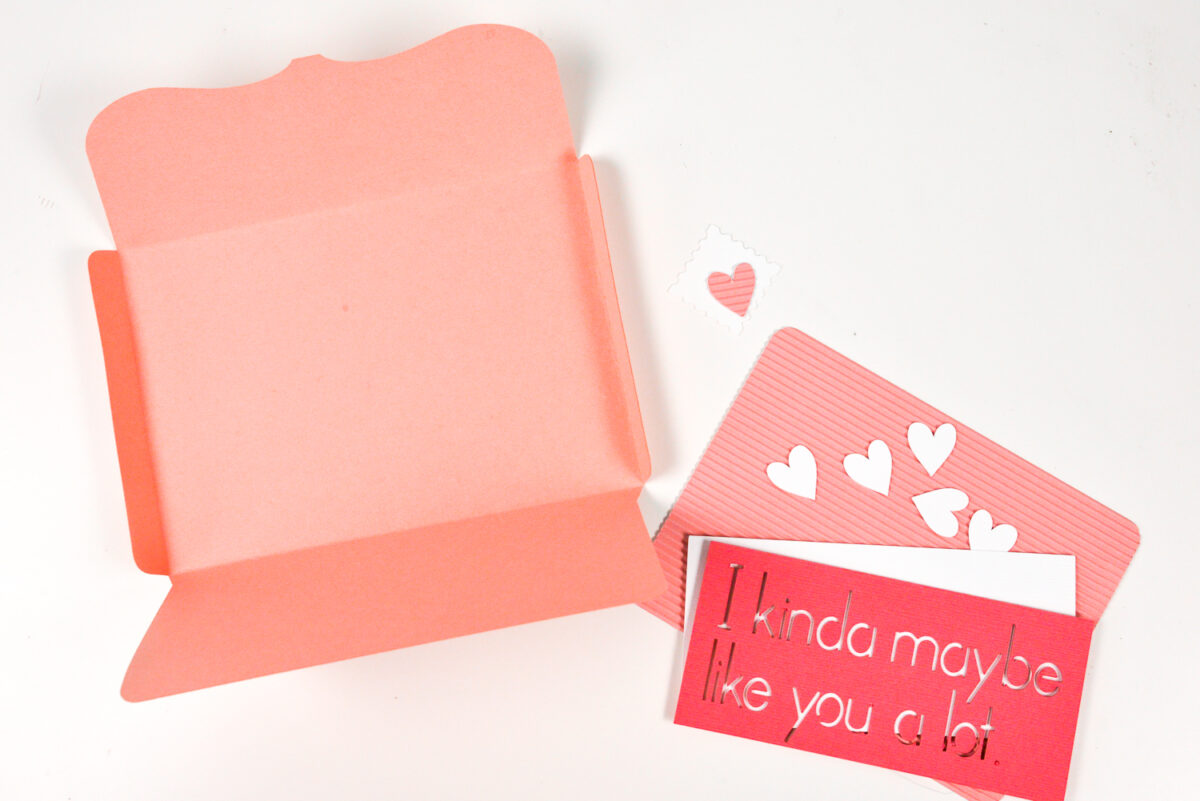 Then start to assemble the final glued pieces of your cards and stamps.
Once all your cards are assembled, you can put them in the envelopes and you're finished! You can give them individually, or hang them on a string to create a banner—perhaps your special someone can open up one a day for the days leading up to Valentine's Day. A Valentine's day advent calendar of sorts!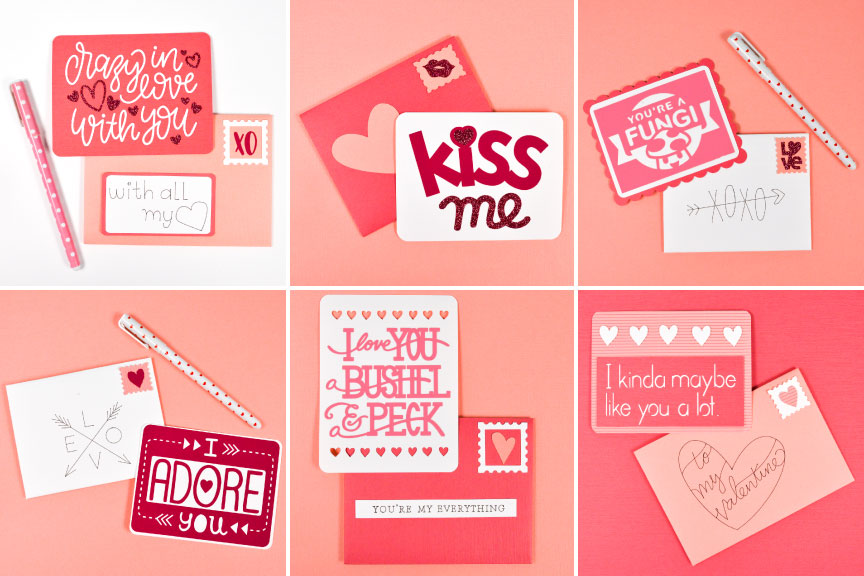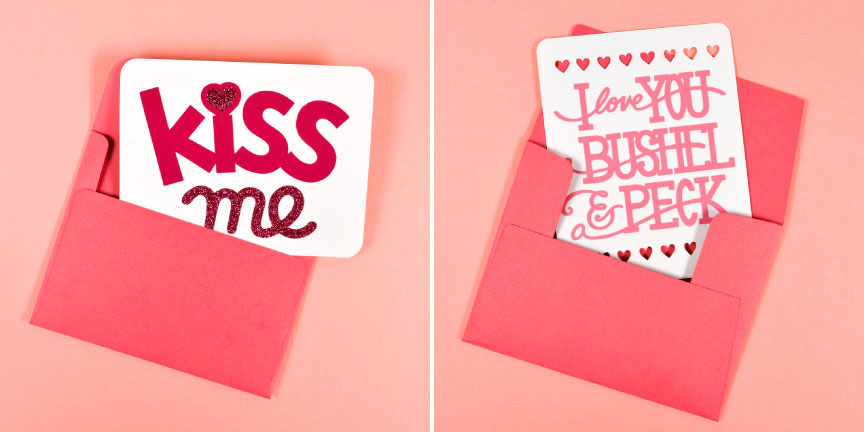 Are you planning any special Valentine's Day ideas with your Cricut? I'd love to hear about your projects in the comments!