If you're longing for the Caribbean, here are some fun tips and tricks to create your own tropical table setting at home! Includes free printable files, too!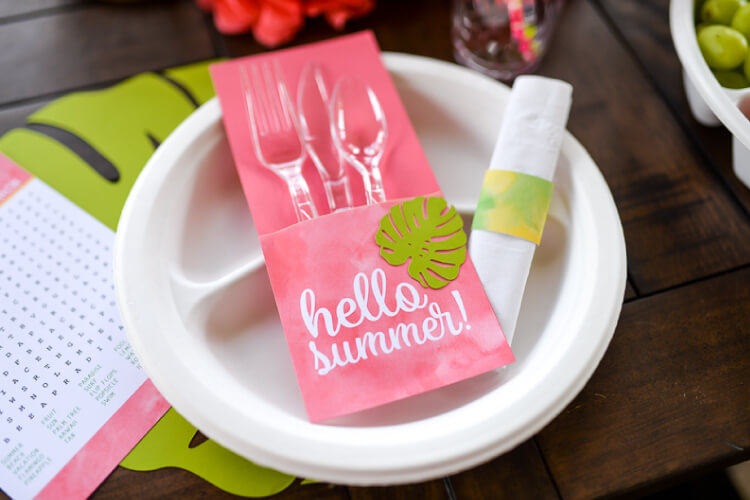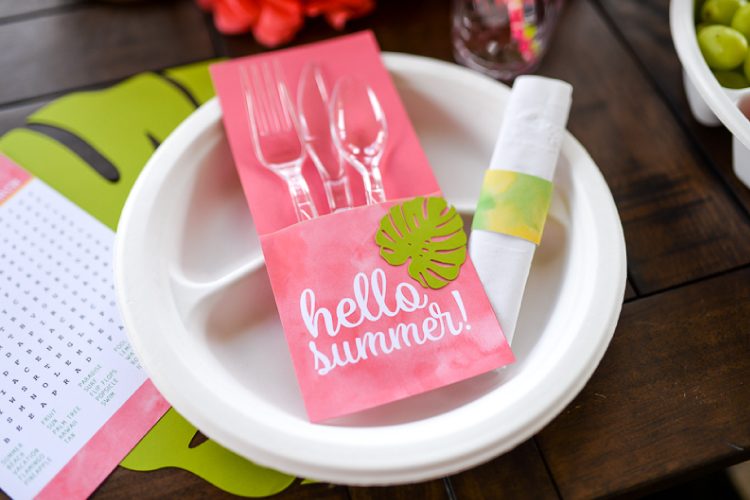 This is a sponsored post written by me on behalf of the Chinet® brand for IZEA. All opinions are 100% mine.
I never thought I was a tropical vacation kind of gal. I have always loved the mountains and preferred to spend time in a cozy cabin rather than on the beach on a towel. But a trip to Jamaica last October changed my mind, and just this week Ryan and I started planning a trip to Turks & Caicos! I am really starting to see what all the fuss is about — relaxing on some of the best beaches in the world drinking delicious cocktails while eating fresh fruit right from the island can't be beat!
If you can't make it down to the Caribbean this year, I've got a few ideas to bring that tropical vibe to your outdoor sceneo. My husband and I have a goal to have an outdoor meal with friends once a week this summer — this gives us a chance to intentionally connect with the people we love the most and enjoy the beautiful evenings we get here in Northern California. Our first meal was with our good friends Val and Steve, and I created some fun tropical table setting ideas to really make our meal special! You can download all of the printables and cut files for this party at the end of this post.
Let's start with the centerpiece! There's no need to blow the budget on decor. I used a combination fresh fruit, tissue paper flowers, and lanterns I already owned to create a simple centerpiece for the long table. Pineapples were two for $5 at the grocery store this week — thank you summer! I made a handful of bright pink tissue paper flowers — these are my go-to decoration because they are cheap and super easy to make (we made 500 for our wedding!) and really punch up the brightness factor. Combine that with a few beachy rattan lanterns I already owned and the centerpiece was done! Other options for a tropical centerpiece include fresh flowers and palm leaves, glass hurricane lamps, starfish and shells, and driftwood.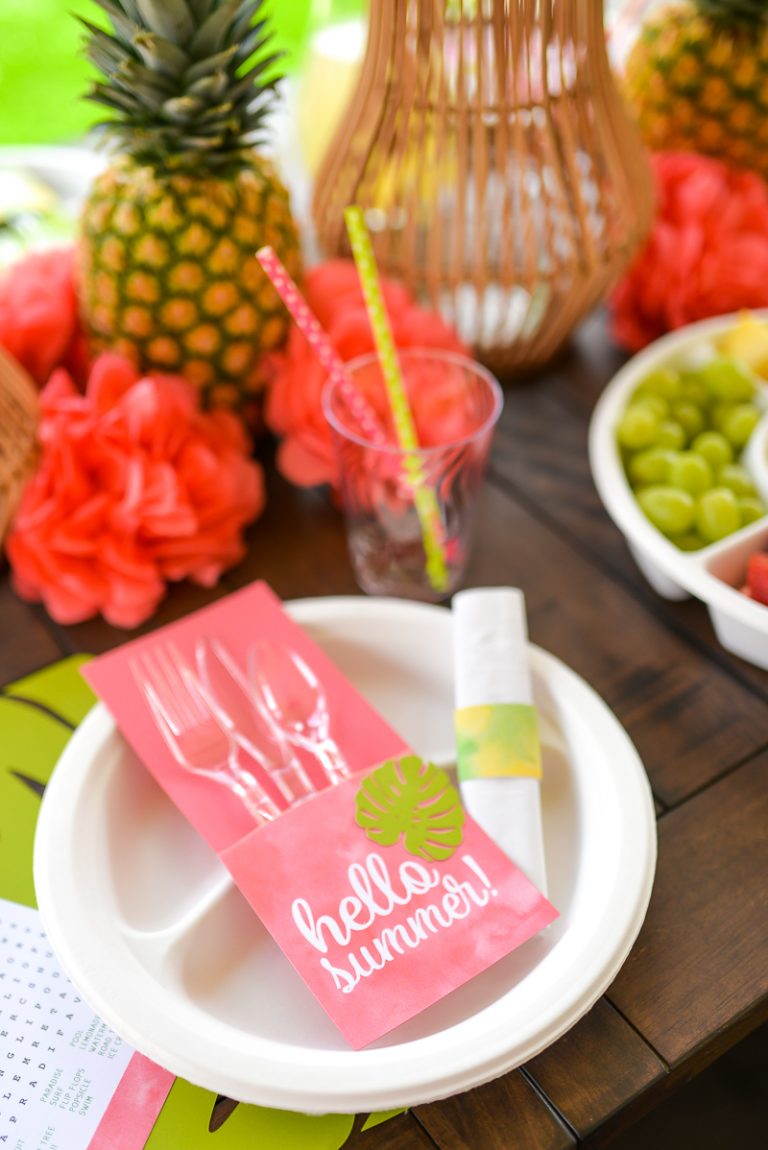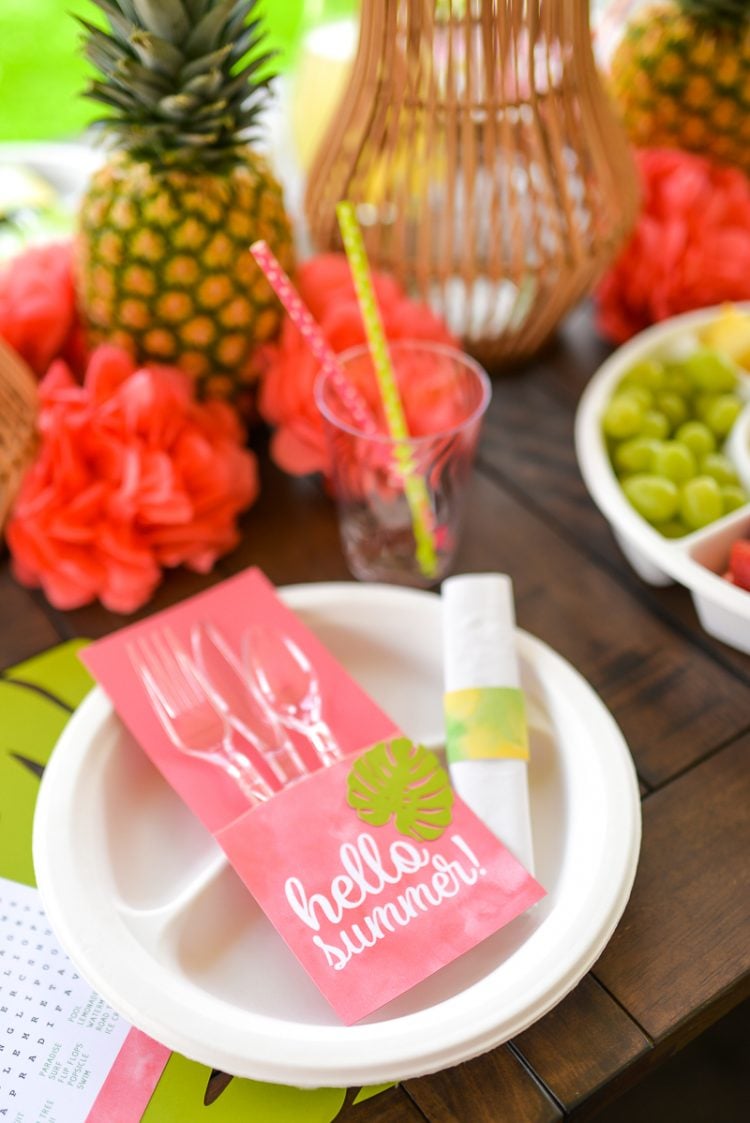 I took color notes from the centerpiece to inspire the rest of the place settings and decor for the table — bright pink, green, and yellow. Instead of a traditional charger or placemat, I designed a giant philodendron leaf and offset it a bit below the simple white disposable plates. This file can be cut by hand or on an electronic cutting machine like a Cricut or Silhouette. I love how bright this looks under the Chinet® Classic White™ compartment plates, and it gives a nice balance to the place setting for the summer word search I designed.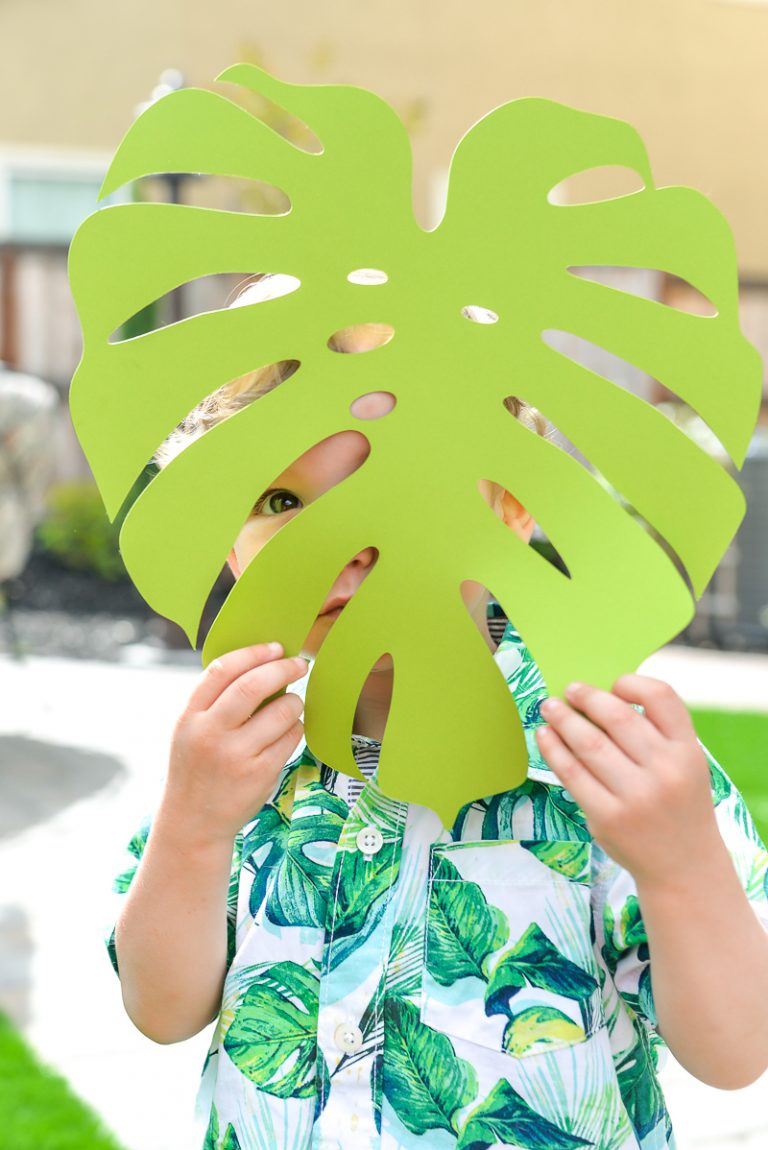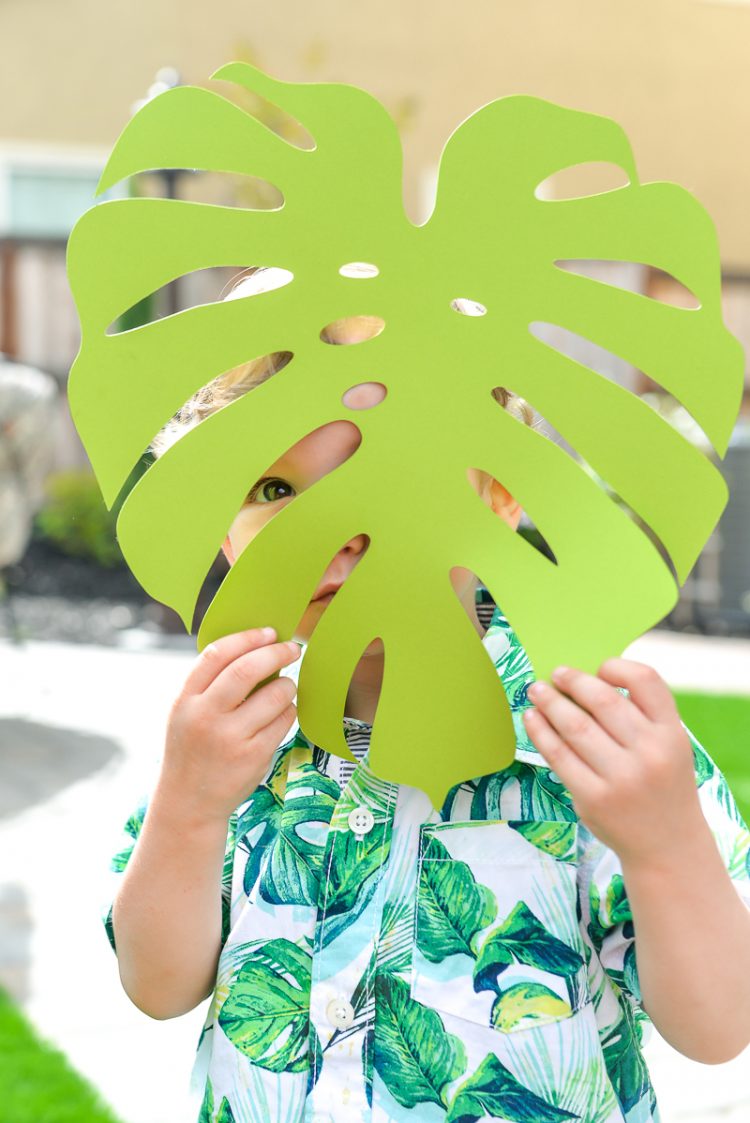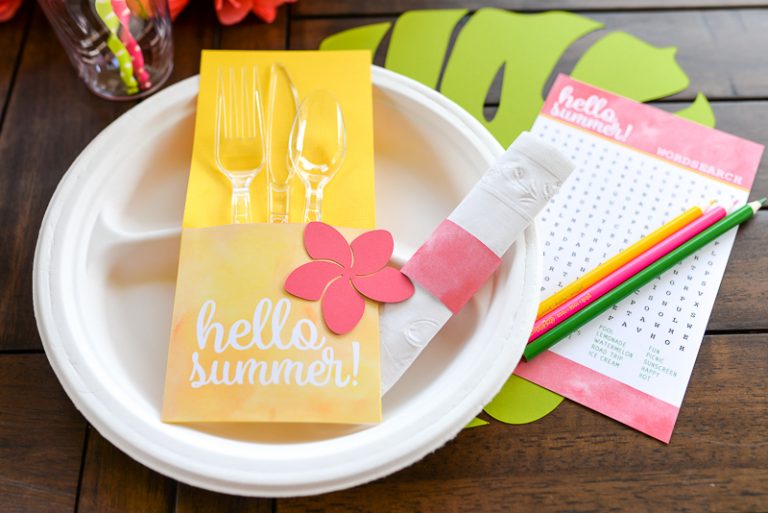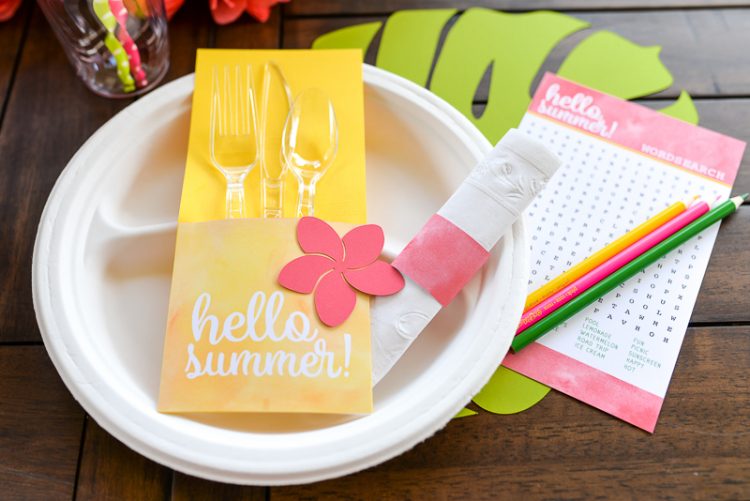 Speaking of the word search, who doesn't want a fun little competition between friends? Set a timer and see who can find the most words in five minutes! Everything is related to summer so it's perfect for a tropical party. We're total word nerds over here, so we love stuff like this. After dinner, you might choose to play a fun board game together — Isle of Monsters or Forbidden Island might be fun to break out at a tropical themed meal.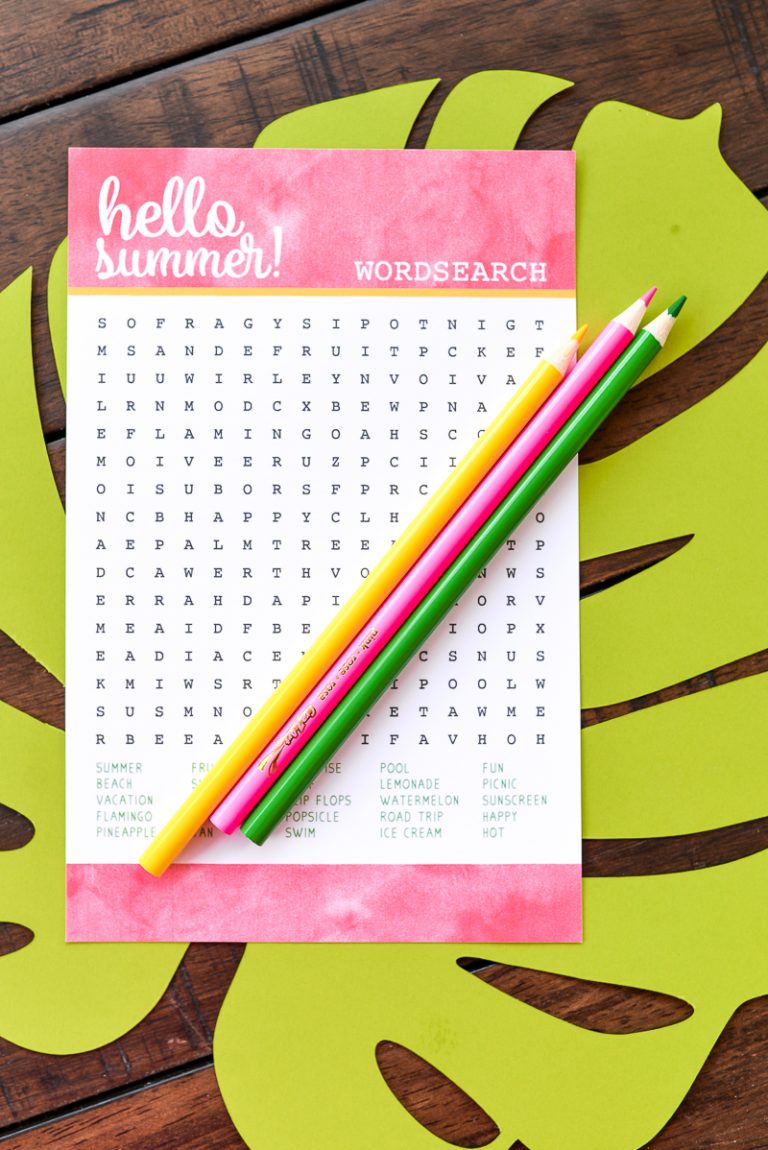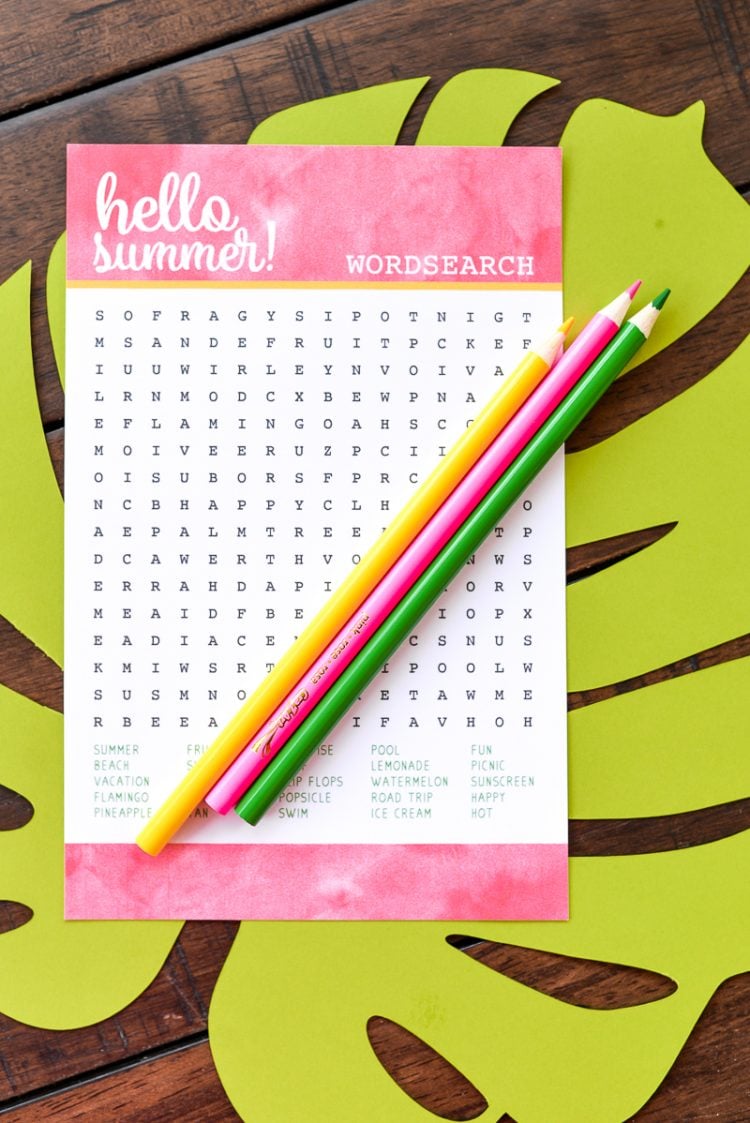 Back to the actual place setting! On top of the white disposable plates is a tropical utensil holder. The front image can be printed on any home printer and glued to a 4″ x 9″ piece of coordinating card stock. Run a thin line of craft glue around the sides and bottom edges of the printed top piece, and adhere to the bottom of the card stock. Wait to dry before inserting the utensils. The flower and leaf decorations on top can be cut on a cutting machine, or you can cut them out by hand (though these have more intricate parts you may choose to just cut along the general edge for these!). Shiny Chinet® Cut Crystal® cutlery reflects the light and add a little elegance to the table. Napkins are wrapped in a simple coordinating band of card stock, which helps keep them from flying off the table if it's a little breezy.
Helpful tip: I recommend cutting straight edges of card stock with a small paper cutter as opposed to scissors. You will get a straighter edge and you won't warp the paper, which can happen occasionally with scissors.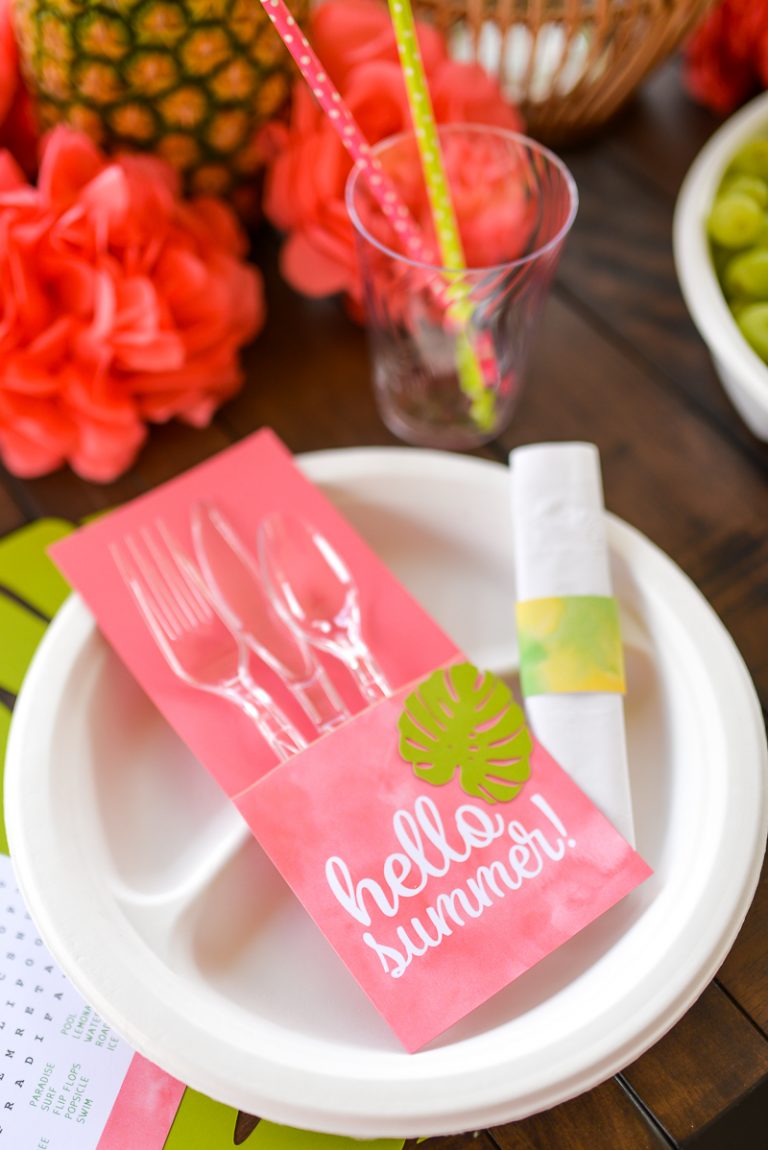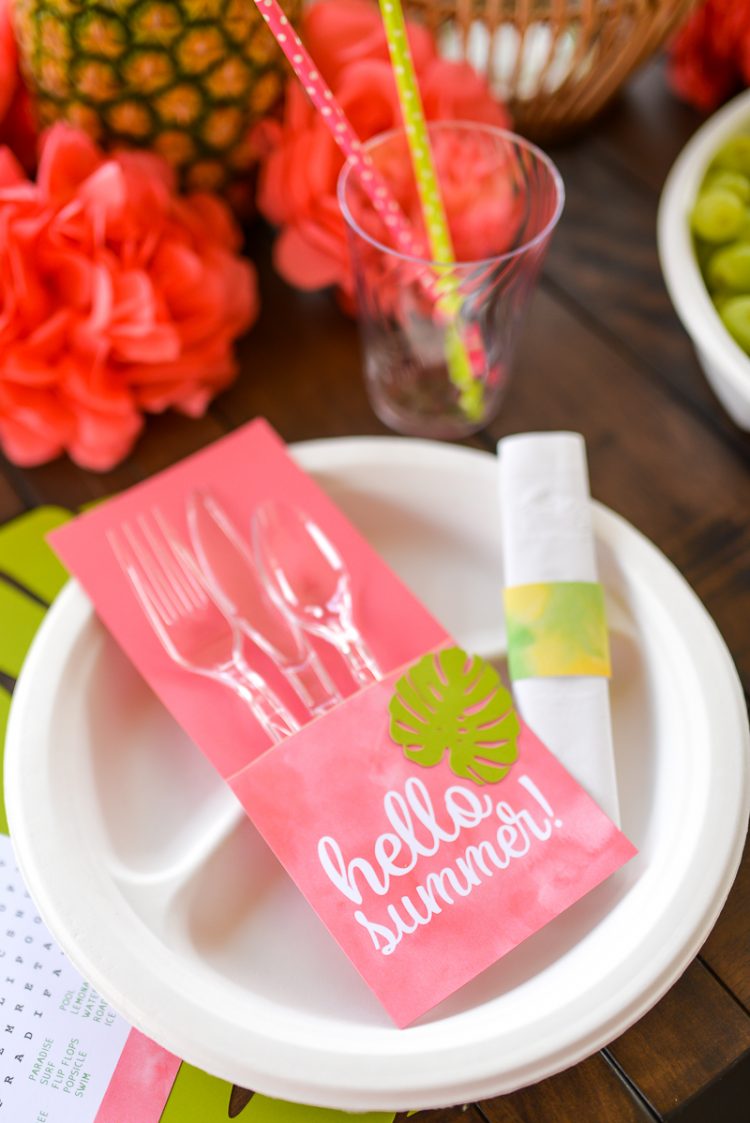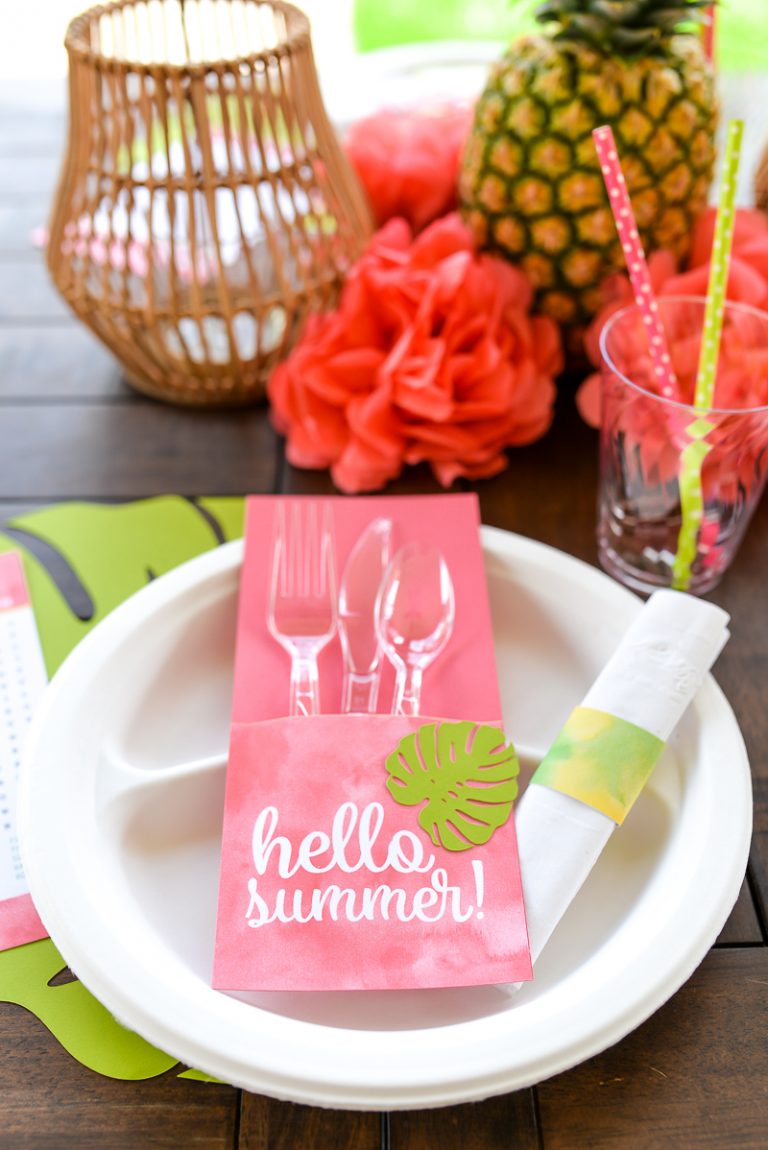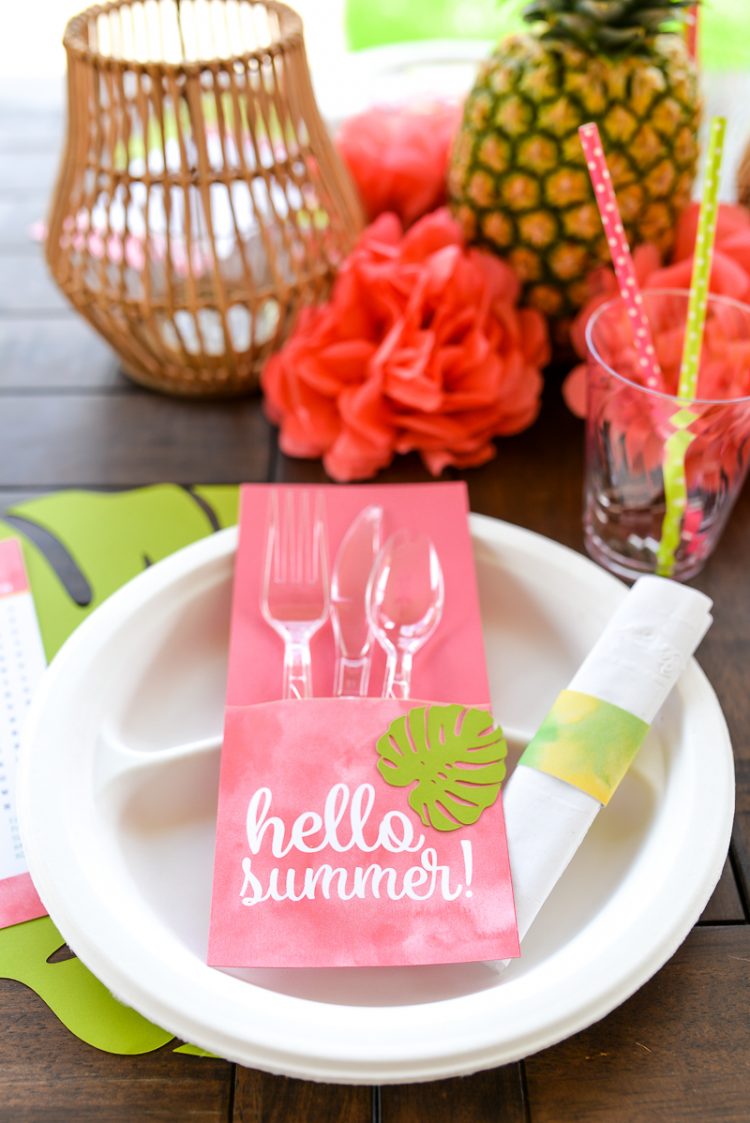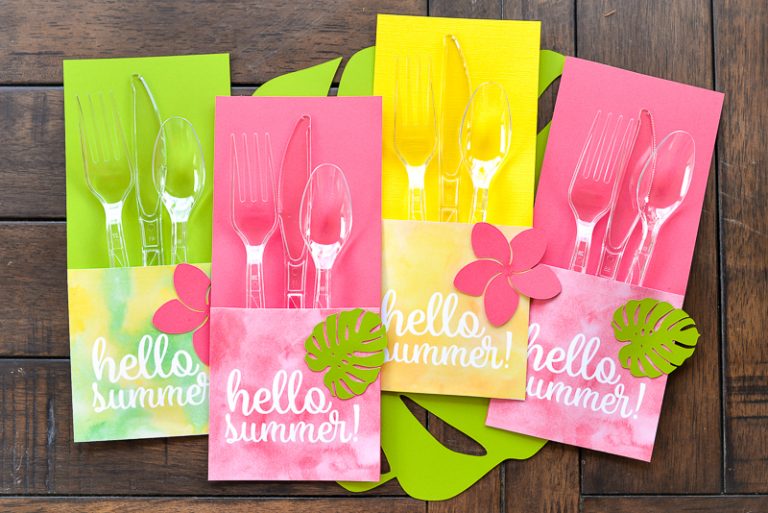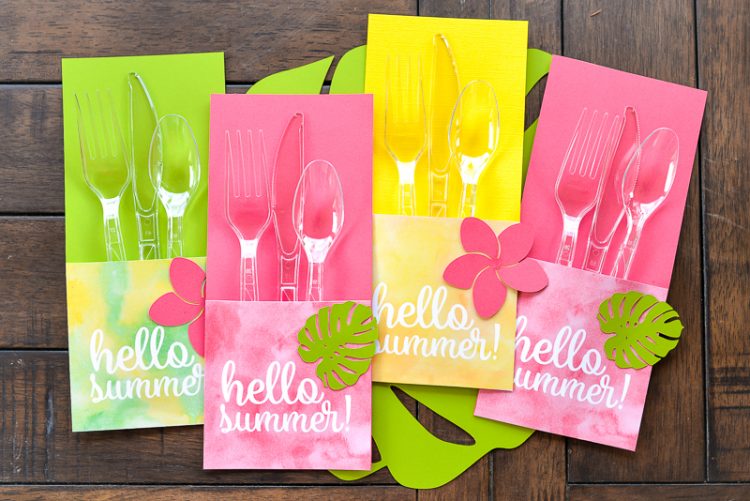 If you have a cutting machine and are feeling particularly tropical, you might want to cut out a set of tropical pennants to decorate! I designed these a while back for a totally different project but holy flamingoes, did they fit with the tropical theme perfectly!
Stop pulling your hair out and start creating confidently with your Cricut! Finally understand how to use your Cricut with my Learn Your Cricut eBooks!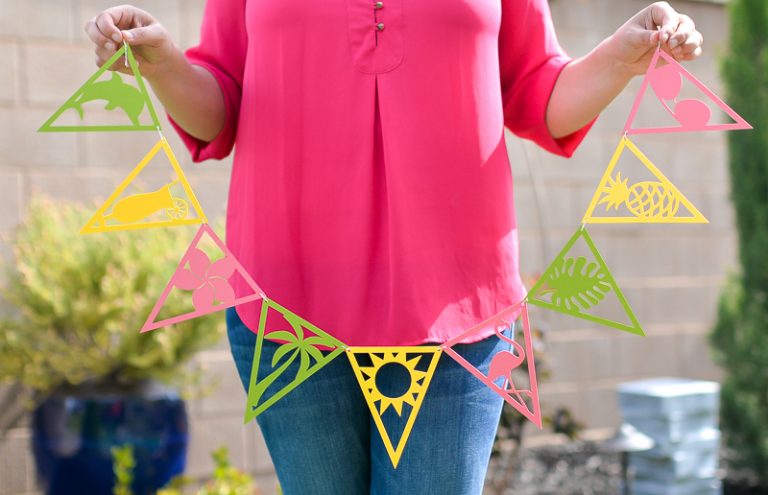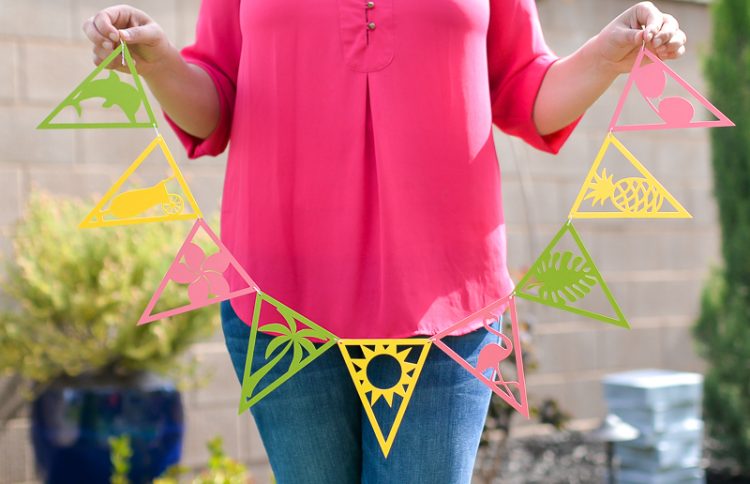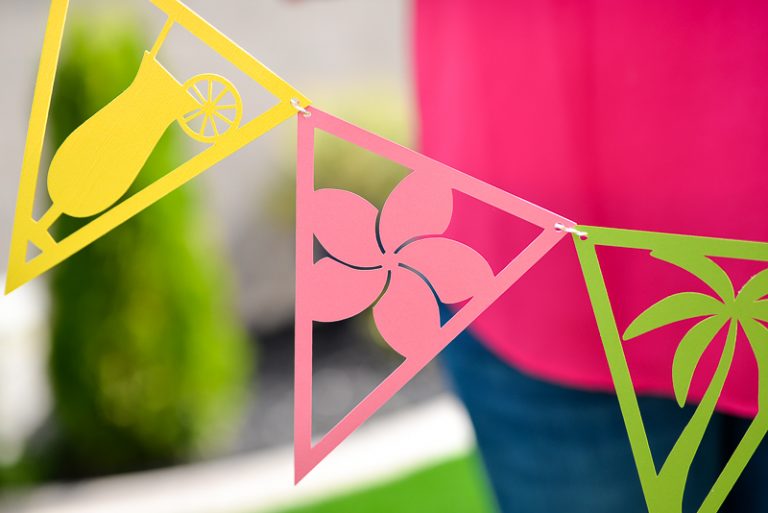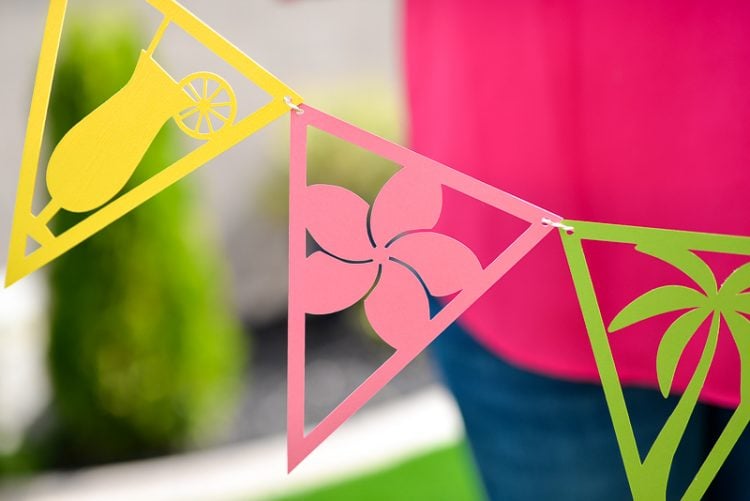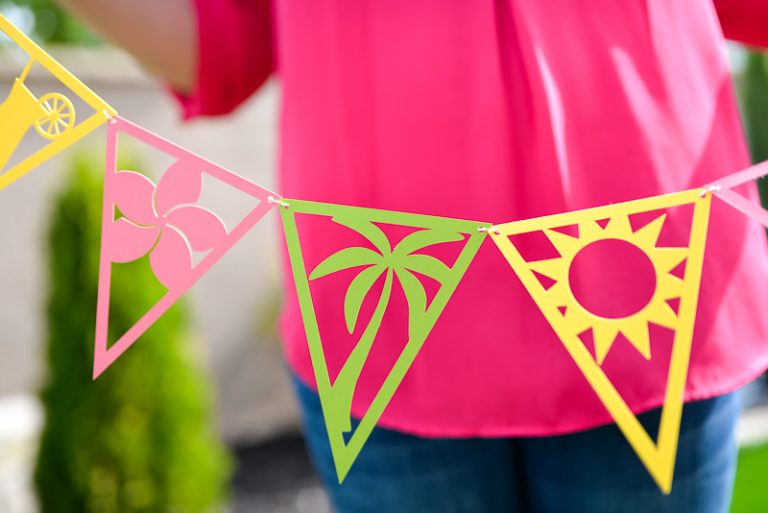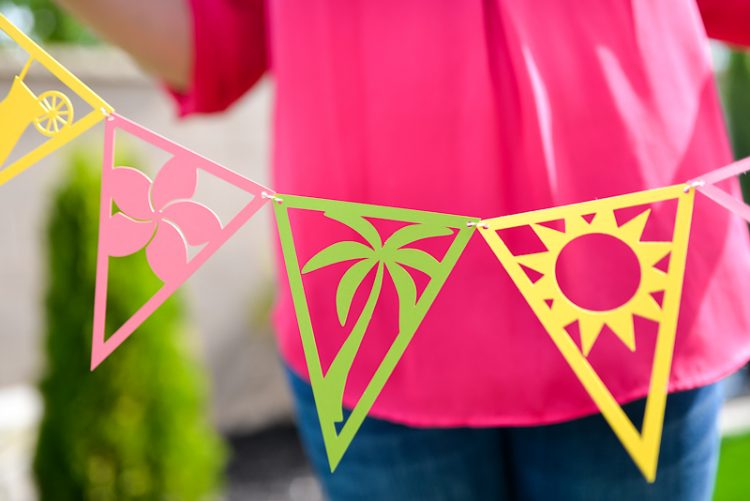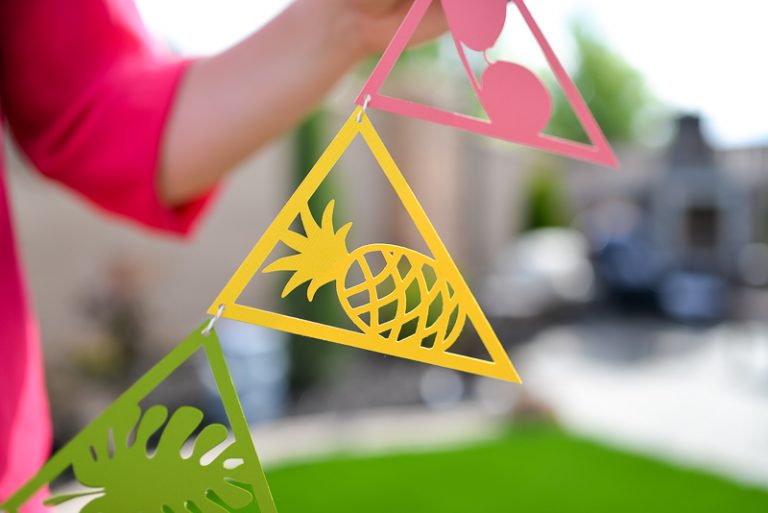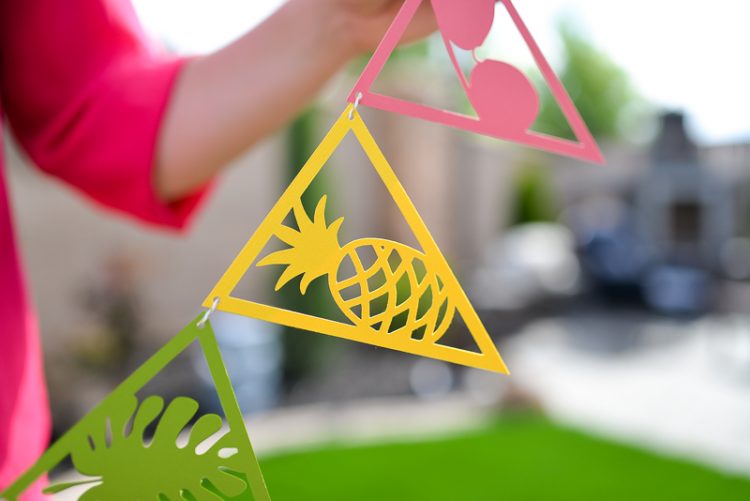 For food, we started with as much fresh fruit as we could stuff ourselves with! I love fruit in the summer, especially when dipped in a super simple dip. Just whip together one package cream cheese and one jar marshmallow fluff and you have one of the most yummy fruit dips you can imagine! The Chinet® Chips & Dip Party Tray was perfect for fruit — we set this in the center of the table and went to town. My boys in particular love fruit and couldn't get enough sweet goodness. For lunch, consider pulled pork sandwiches, shrimp kabobs, fish tacos, or a big summer salad. Keep all of the food bright and fresh and you'll feel like you're eating on the islands.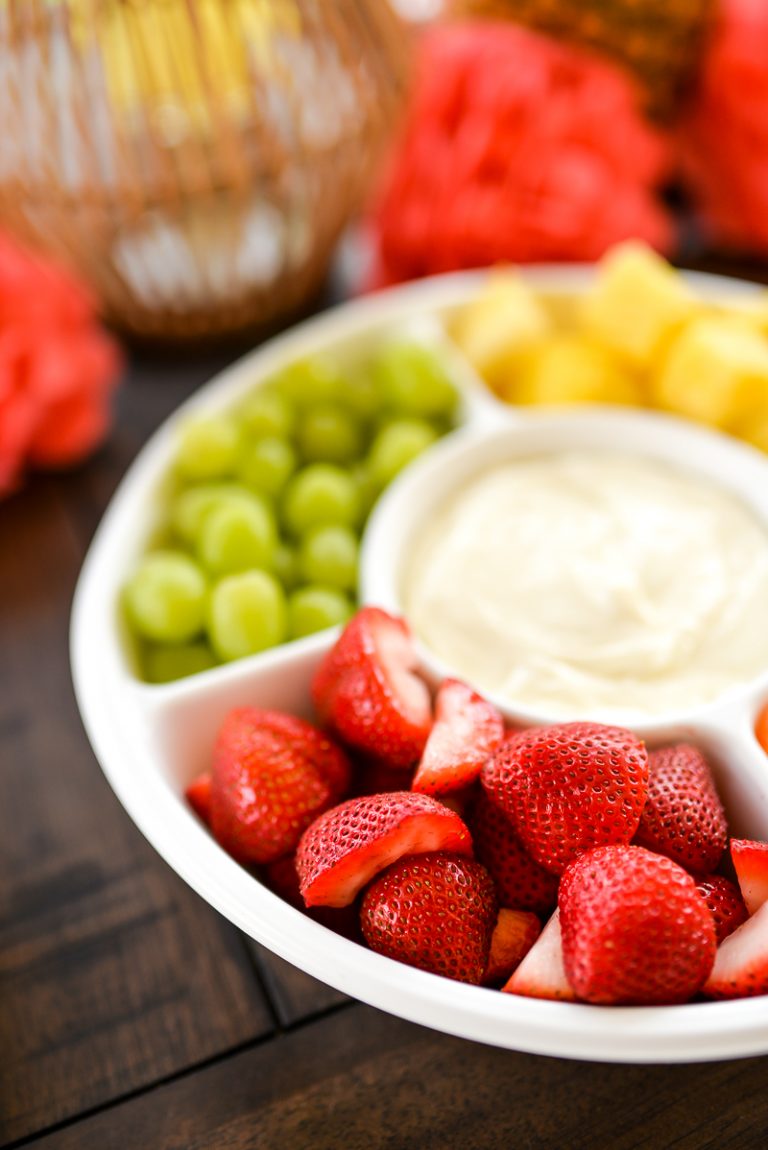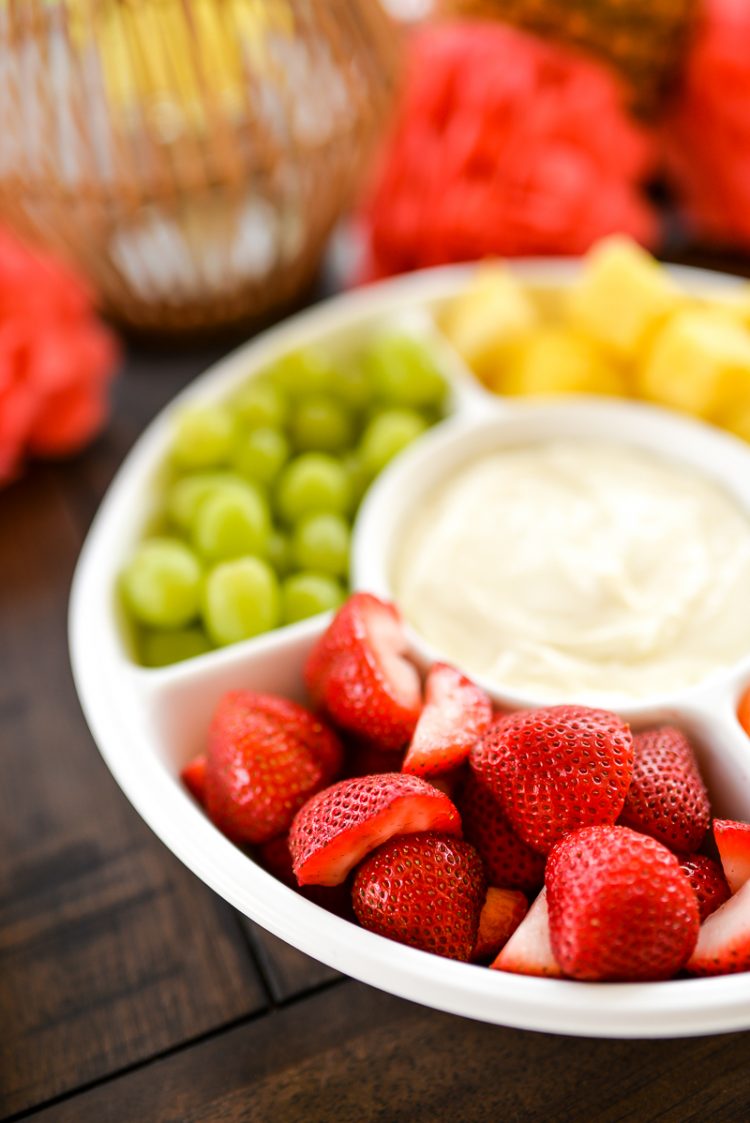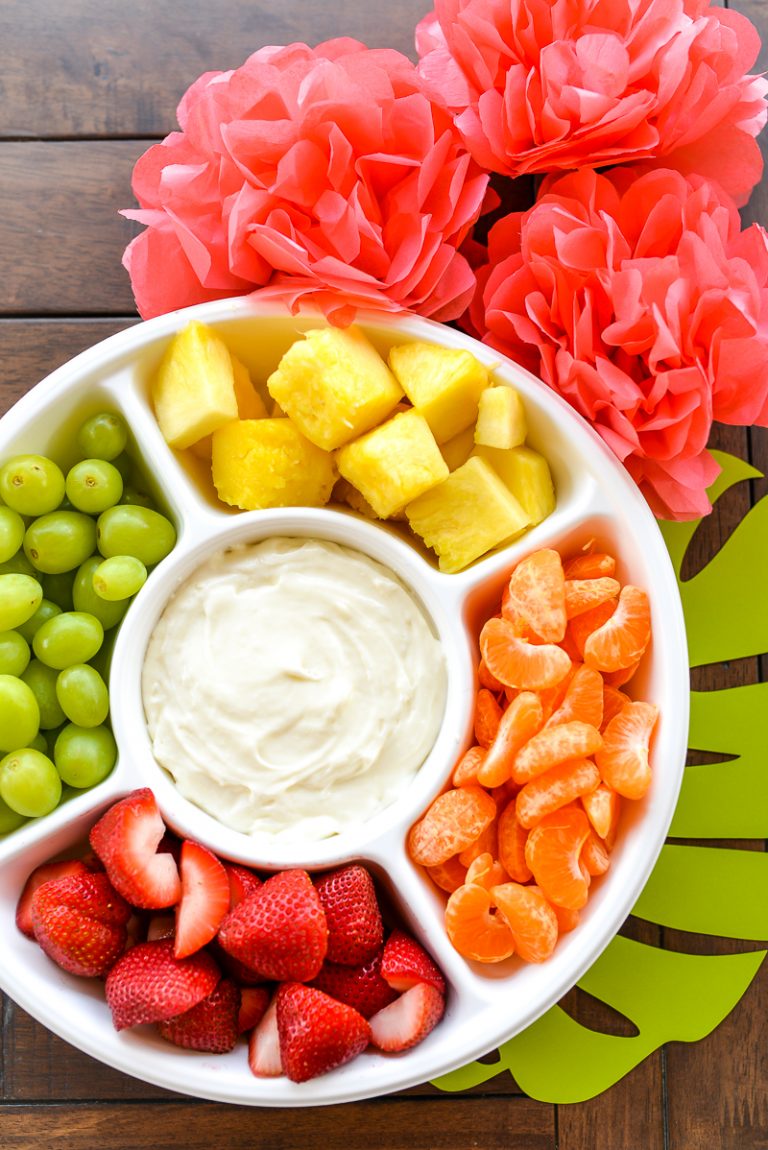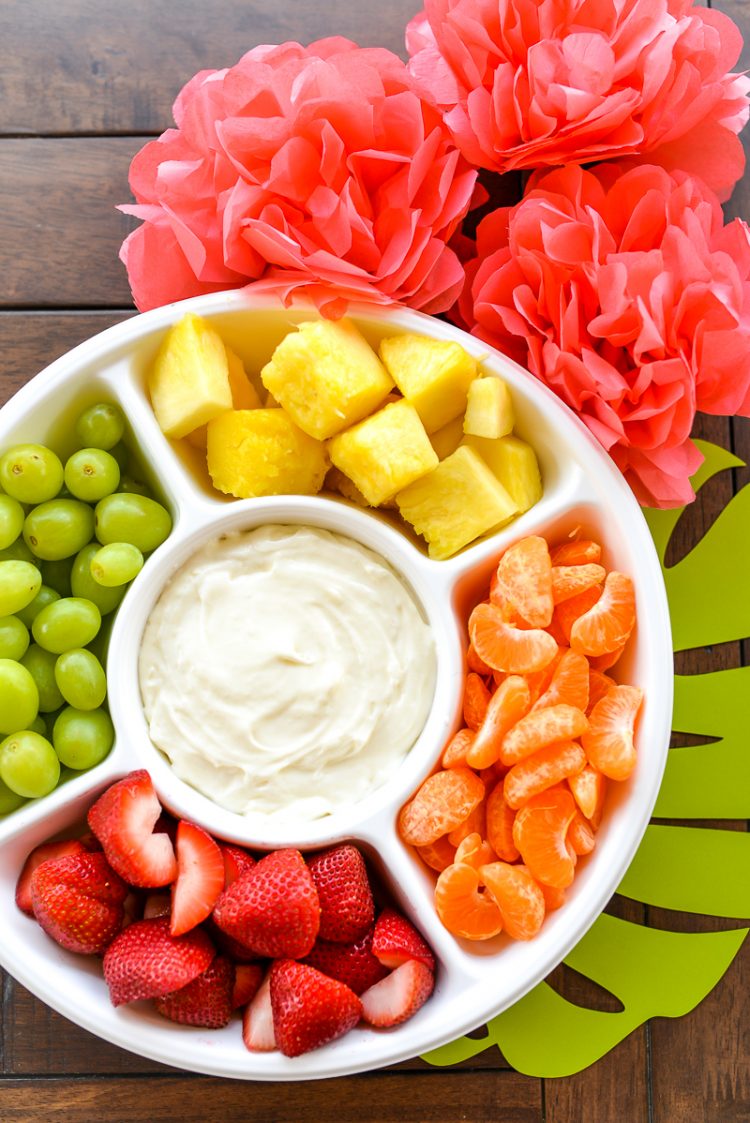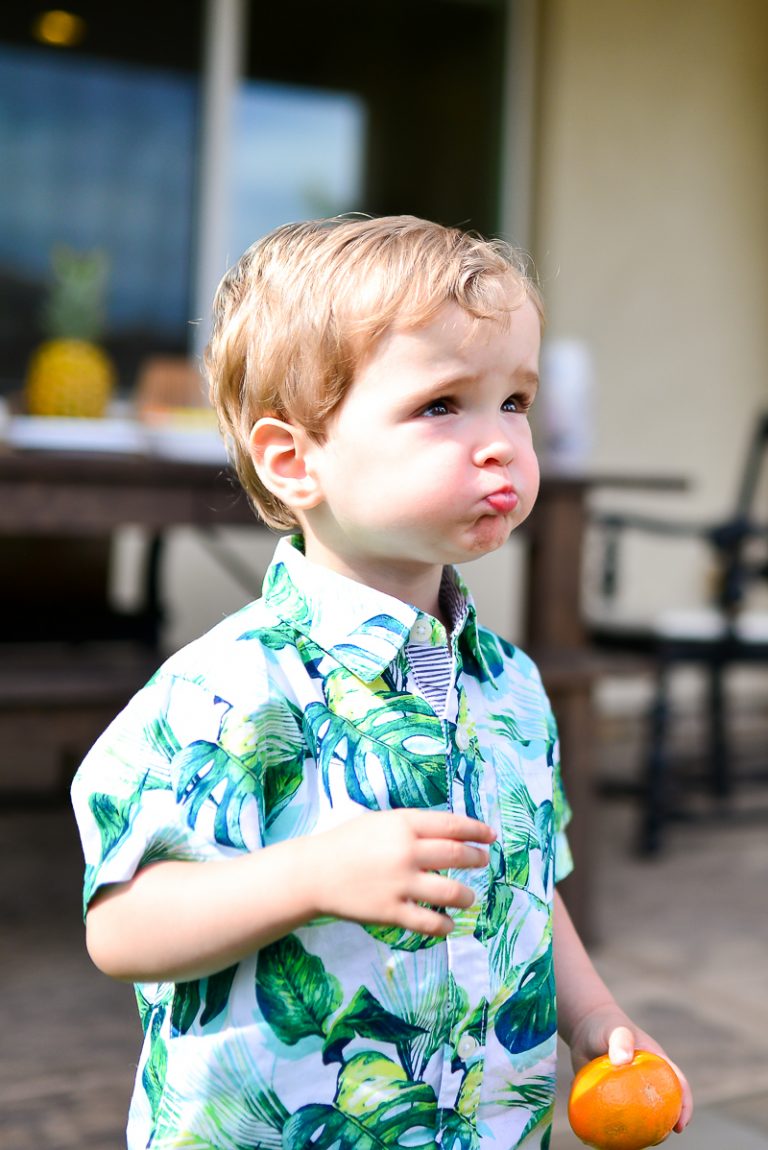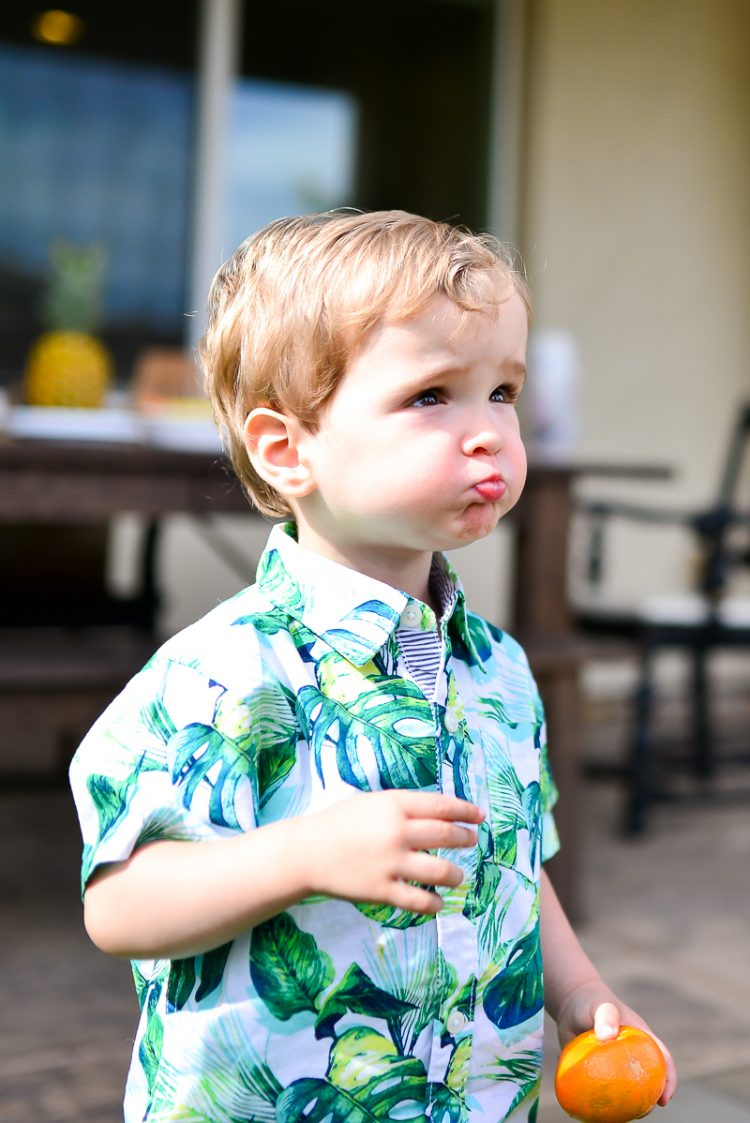 Since this was an early lunch and we had kids everywhere, we went with a simple lemonade to drink, though any number of tropical cocktails would be a delicious addition — strawberry daiquiris, margaritas, and piña coladas. Add a couple coordinating party straws to brighten up any beverage, or garnish with fruit!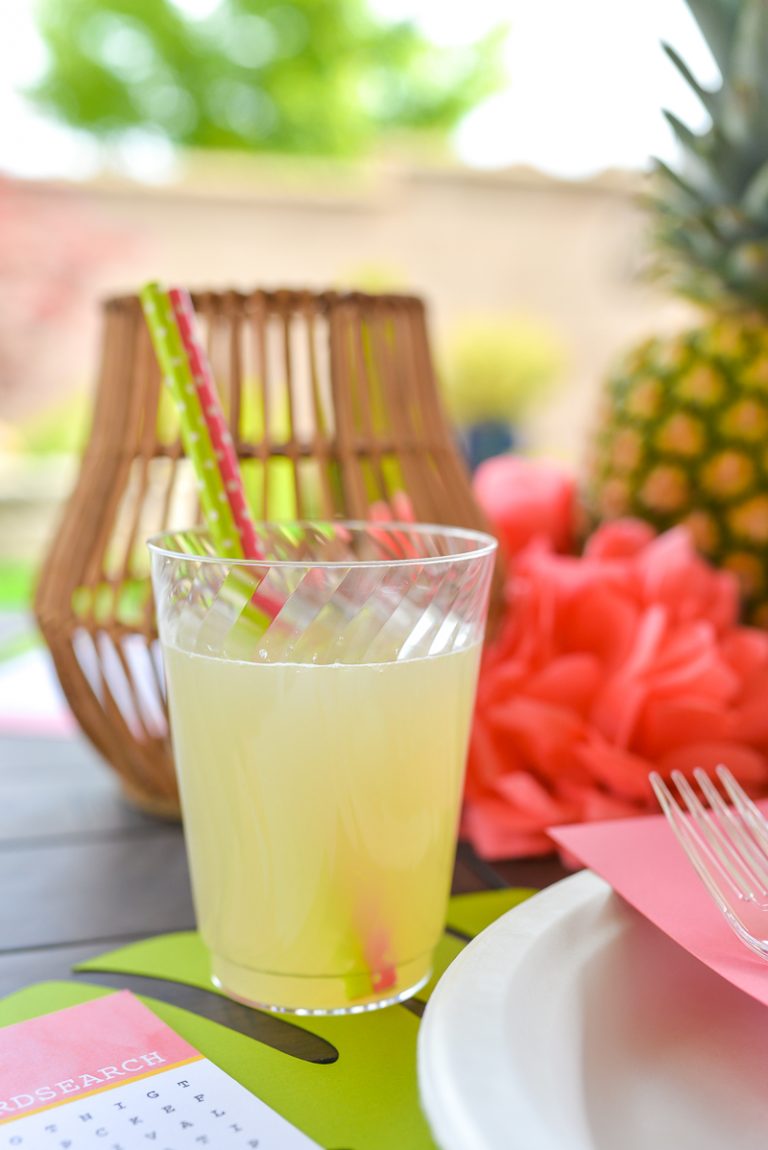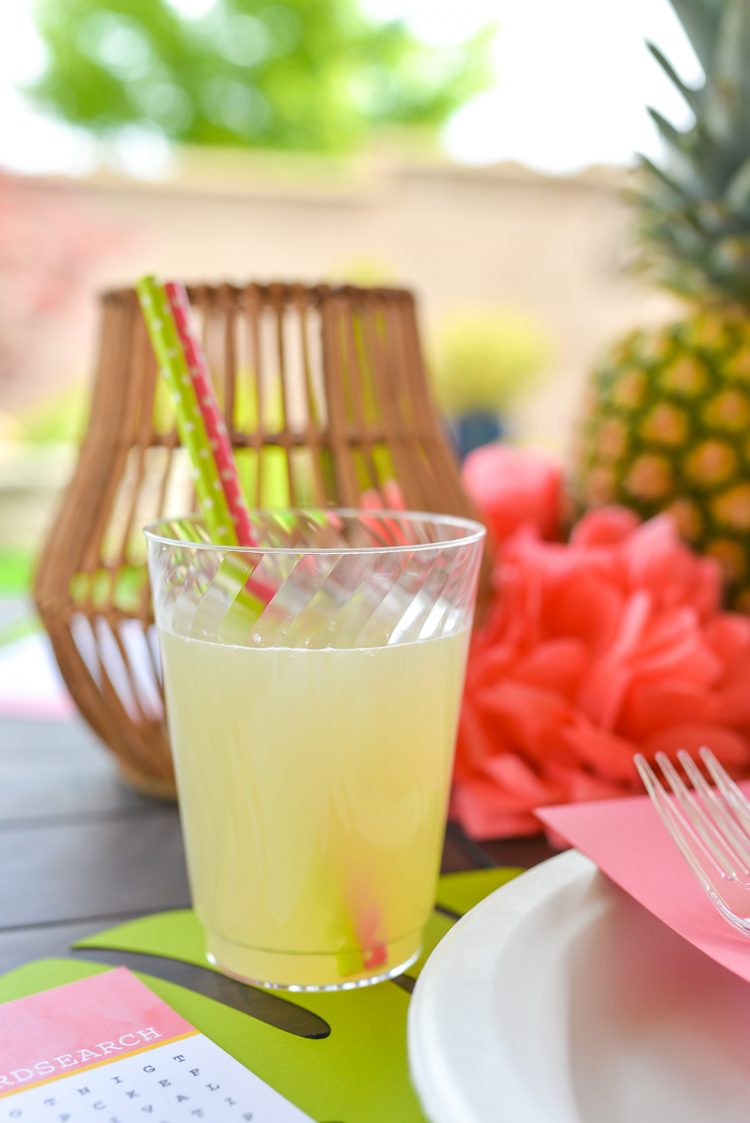 Because the goal of these meals with our friends is to actually spend time with our friends, I went with Chinet® Classic White™ plates and napkins and Chinet® Cut Crystal cutlery and cups. Dishes have always been my most-loathed chore, so I definitely don't want to spend all my time cleaning up in the kitchen when I'd much rather be relaxing on the patio with my friends. The Chinet Brand's products are perfect for all your outdoor entertaining needs — they hold up to the biggest, messiest meals. Pulled pork sandwiches? Gobs of potato salad? Juicy watermelon? These plates are strong enough to stand up to all of them. Click to learn more.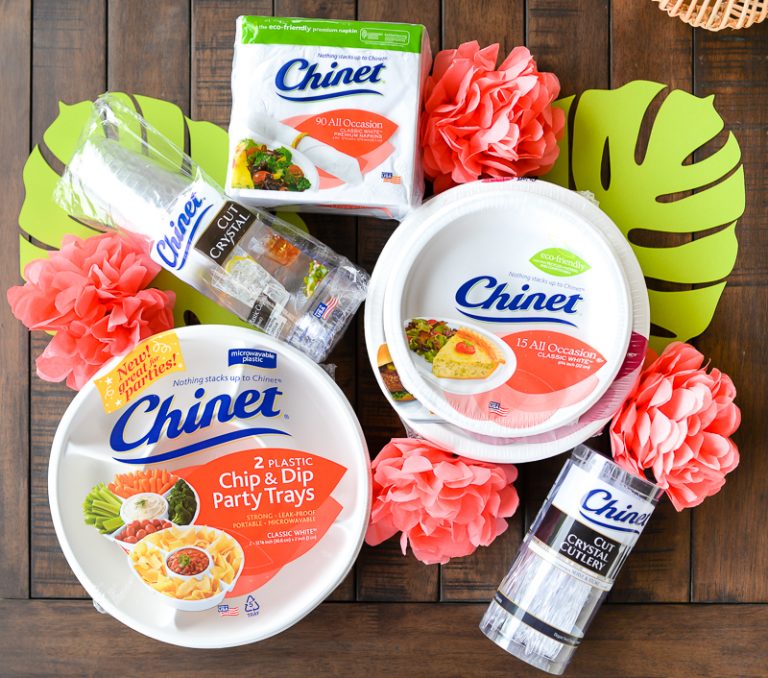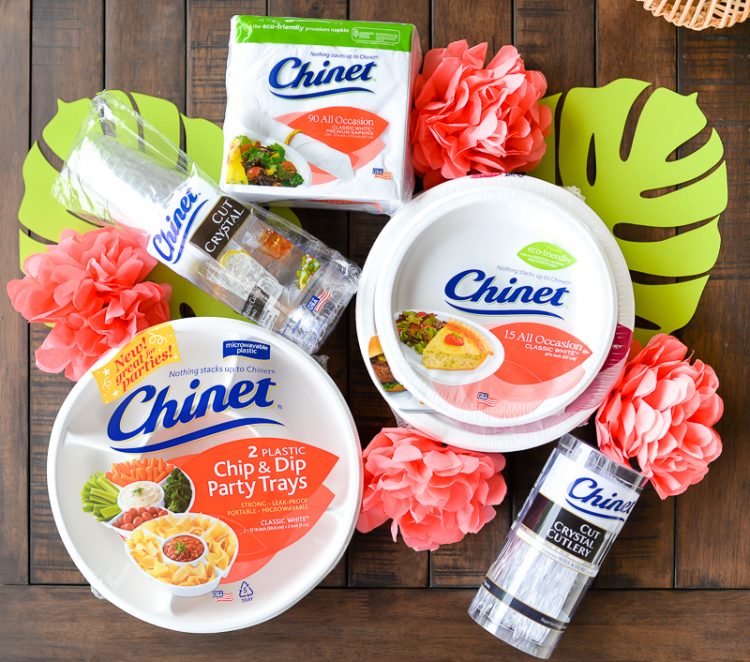 I know it can seem like a lot to spend an evening every week with friends — we're all so busy with work and activities and commitments. But we're also realizing that our friends and family are the reason we work so hard. So we've carved out this special time each week to intentionally come together. This strengthens our relationships and gives us a bit of breathing room in the chaos of life. Want to download the free files from this post?
Enter your first name and email address in the box below for access to this freebie, along with other fun free files in our email newsletter! If you have already received a freebie from my site, just enter your information again—you won't be added to any additional lists.
This freebie is for personal use only. You can learn more about our commercial license.