Last updated on September 25th, 2017 at 03:15 pm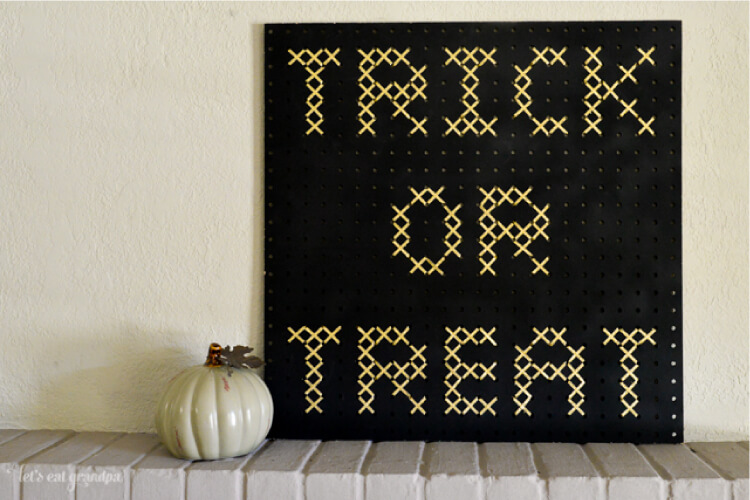 This was my original Craft Lightning project, which was supposed to take 15 minutes. It actually took me about two hours plus a trip to JoAnn for more ribbon. So not exactly fast, but I love the result!
I thought I was being all clever when I decided to do a giant cross stitch using a peg board. Of course, when I Pinterested it I found that others had done them, mostly with incredibly large and gorgeous roses. But I decided to go ahead since I hadn't see any quite like what I was planning to do and I knew it would make a fun statement on our mantel.
Supplies
24″ x 24″ Peg Board
Black Spray Paint
1/4″ Ribbon
Tape
Directions
This Trick or Treat Giant Cross Stitch wasn't difficult to make. I picked up a 24″ x 48″ peg board from Home Depot and had them cut it in half so I had two 24″ pieces.
I only used one for this project, so I can almost guarantee I'll do something with that other half soon!
I started by spray painting the peg board black. It was white to begin with, so it took pretty much the whole can to get good coverage.
For the text, I decided the best way to make sure it would fit would be to design it in Excel. I shrunk the cell sizes to get squares, and then played around with black and yellow squares to figure out how to arrange the crosses to make the pixelated letters look the best:
Once I figured it out, I started stitching!
I taped an end of the ribbon to the back of the board, and started weaving the ribbon in and out of the peg holes, trying to use the shortest route for each "x" so I wouldn't waste a lot of ribbon.
This part took the longest. But a few Dr. Who episodes later and it was done!
We're in such transition right now as we move into our new home that I can't really pull out all the stops to decorate my Halloween mantel. But I love seeing this up for now — it's such fun!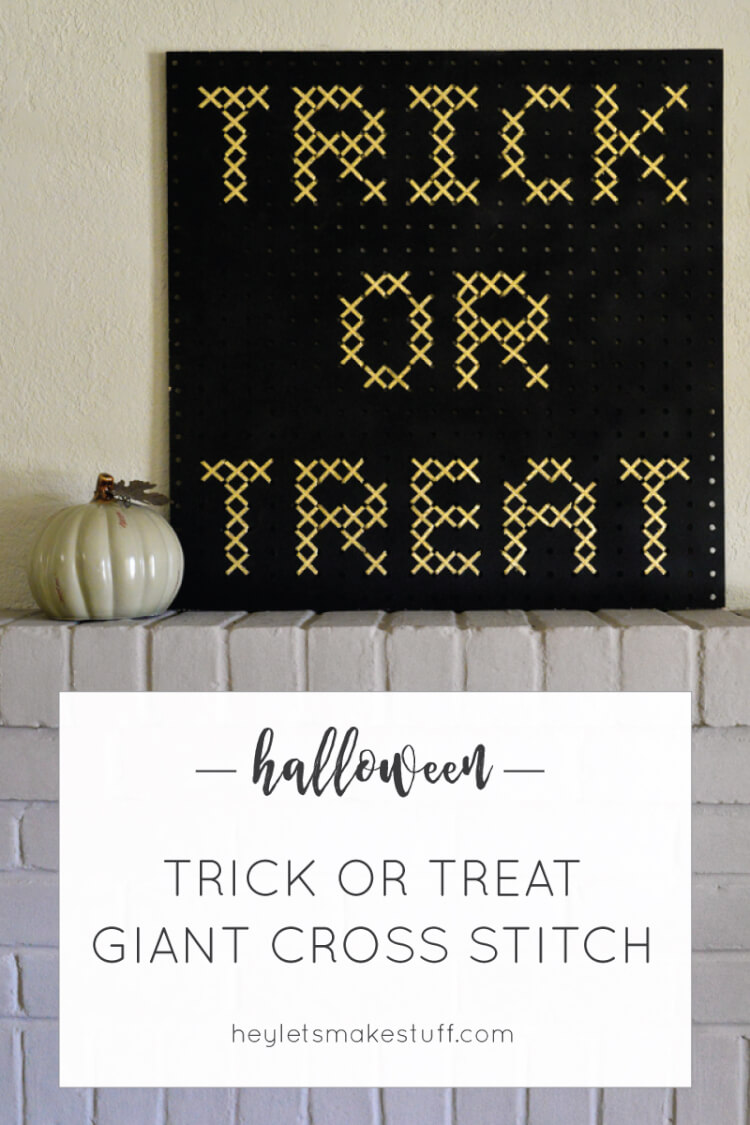 [wpp range=daily header="TODAY'S TOP TEN POSTS" limit=ten order_by=views stats_comments=0 wpp_start=<ol> stats_views=1 wpp_end=</ol>]