This is the best meat sauce you'll ever eat — and it's fantastic on spaghetti, tortellini, stuffed shells, or whatever else you can think of! This easy meat sauce recipe comes together in about 30 minutes.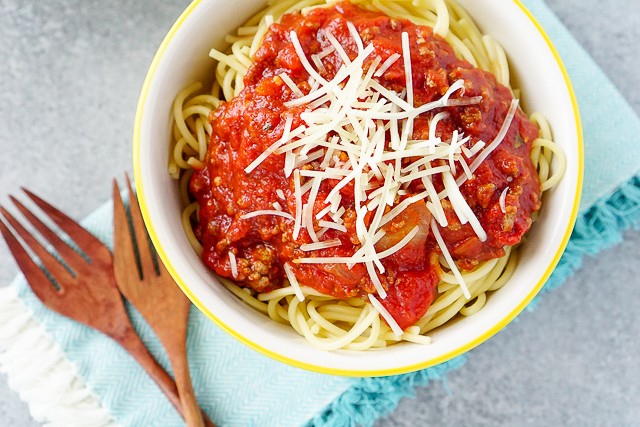 It is your lucky day. I'll tell you why — today I am sharing my meat sauce recipe. I know what you're thinking. Everyone has a meat sauce recipe and they think it's the best. I'll admit. There are a lot of recipes out there. But mine has swayed a dozen of my friends to forgo the meat sauce of their mothers and use mine instead. That's how good it is.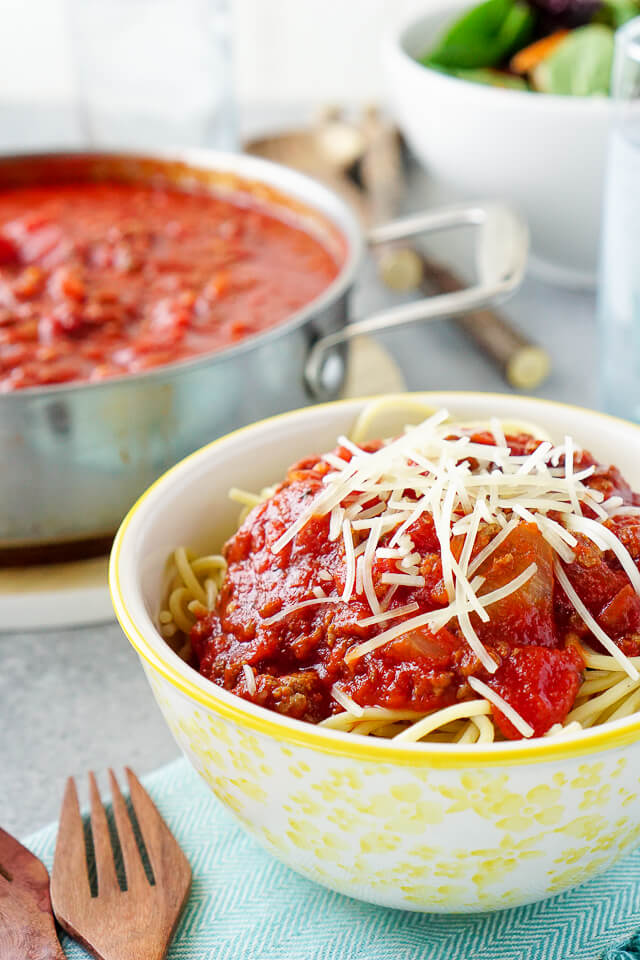 It's a recipe that my mom has made my whole life, adapted from, of all things, a microwave cookbook in the 70s. Don't let that turn you off — I've long-since modified it to be made on the stove. This sauce is hearty and a little sweet, and can be used in so many dishes, from classic spaghetti to stuffed shells to cheese tortellini. I could eat it without pasta, to be honest. It's that good on its own.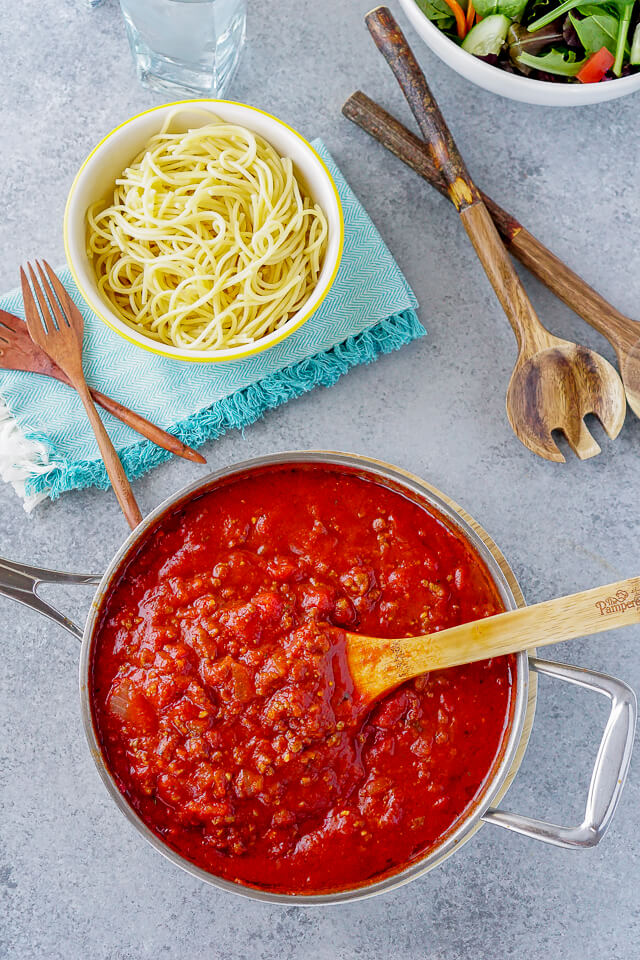 I often have all the ingredients on hand except the ground beef, so it's an easy dish to whip up whenever I want to eat something that tastes good down to my bones. So pour a glass of wine and get ready to make the best meat sauce of your life.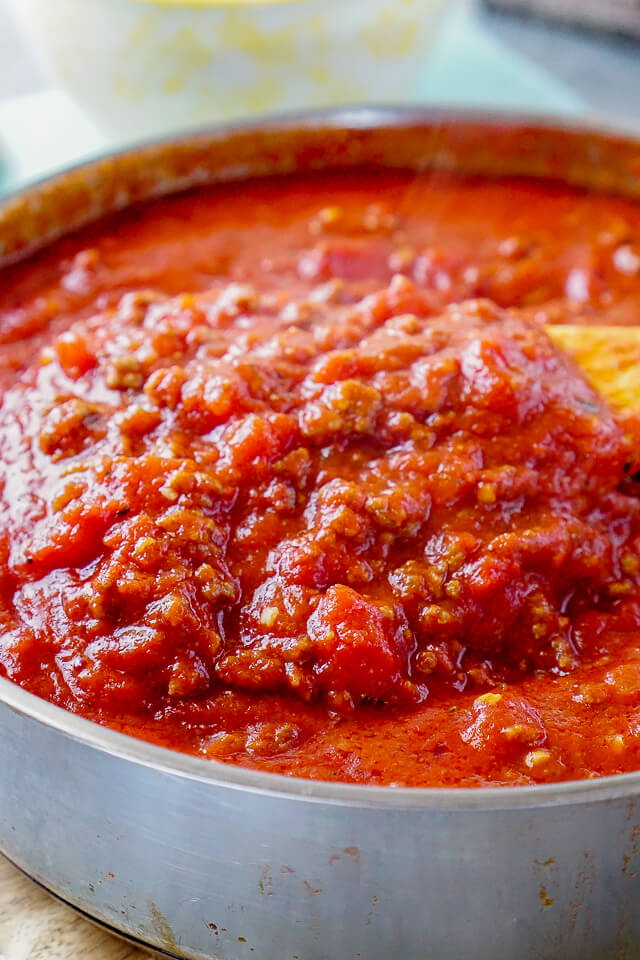 Ingredients
1 lb ground beef
1 medium yellow onion, chopped
6 garlic cloves, minced
2 tbsp olive oil
1 16 oz can tomato sauce
1 16 oz can diced tomatoes
2 6 oz cans of tomato paste
1 cup mushrooms (optional)
2/3 cup beef or veggie broth (I use a bouillon cube and boiling water)
2 tbsp brown sugar
2 tsp Worcestershire sauce
2 tsp oregano
2 tsp dried basil
1 tsp salt
1 tsp pepper
Parmesan cheese for topping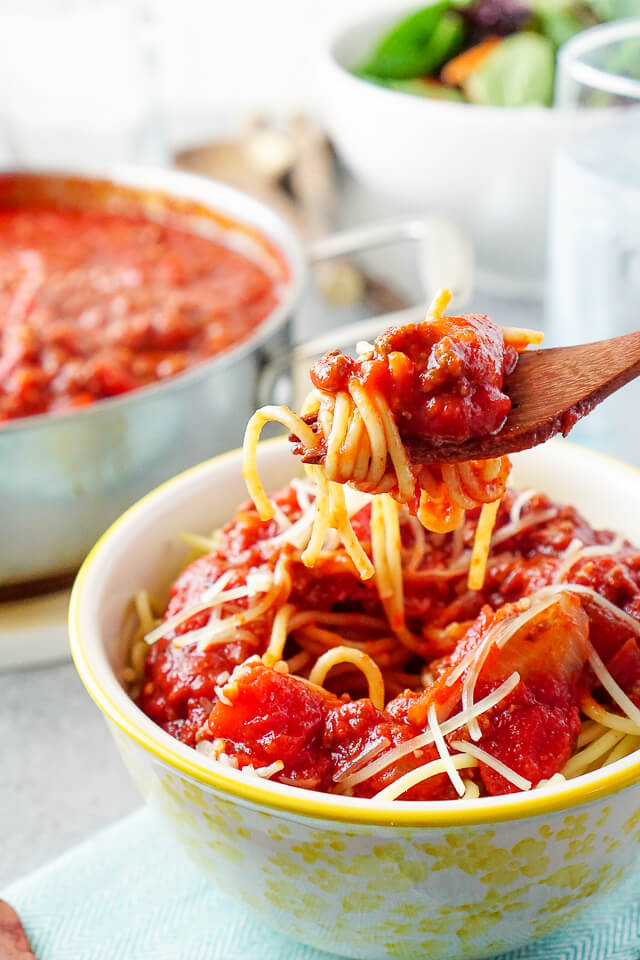 Instructions
If you are making this into spaghetti, boil water for your pasta, and cook pasta according to the package directions.
Brown your ground beef in a skillet.
In a large pot, saute the onions in olive oil until translucent. Add the minced garlic and saute for another minute. Enjoy the smell. Have another glass of wine if you'd like.
Add all remaining ingredients and bring to a simmer.
Combine the sauce with the meat. Mix it all up. Top with parmesan cheese, if you so desire. Serve with garlic bread and of course, more wine. And somehow it's even better as leftovers.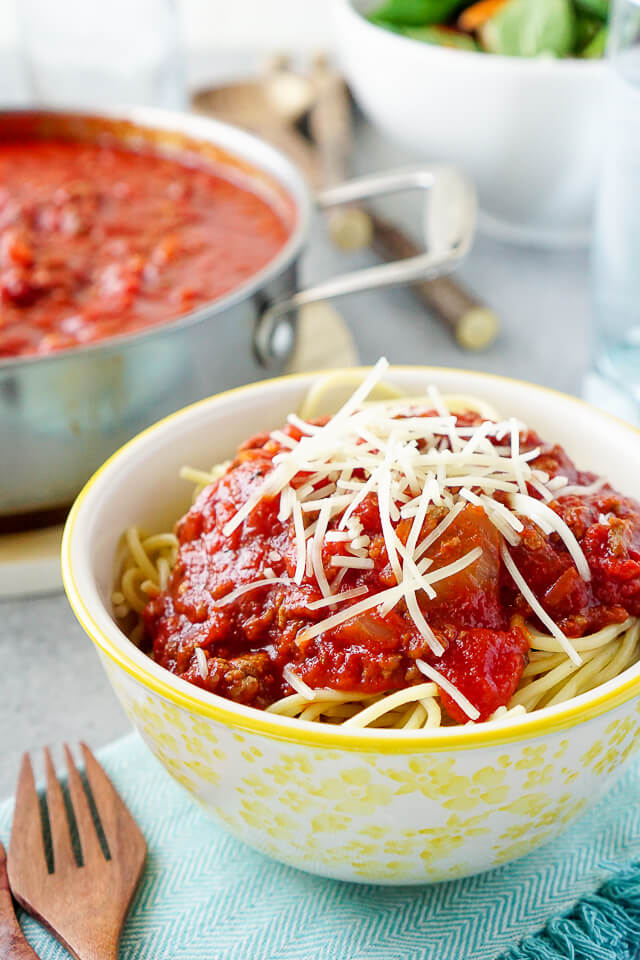 Dinner Ideas You'll Love
Latest posts by Cori George
(see all)