This is a sponsored post written by me on behalf of the Chinet® brand . All opinions are 100% mine.
Bring the outdoors in by shopping your yard for your thanksgiving table decor this year! Thanksgiving on a budget doesn't have to be skimpy—by using what you already have along with Chinet® plates, cups, and cutlery, you can set a table that everyone will remember.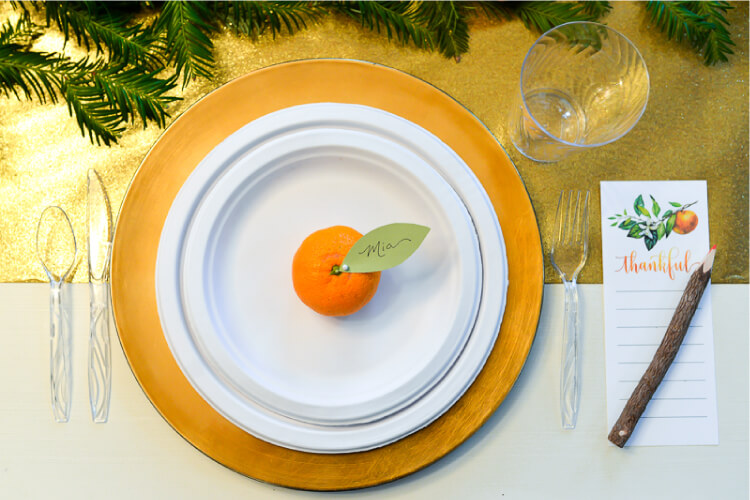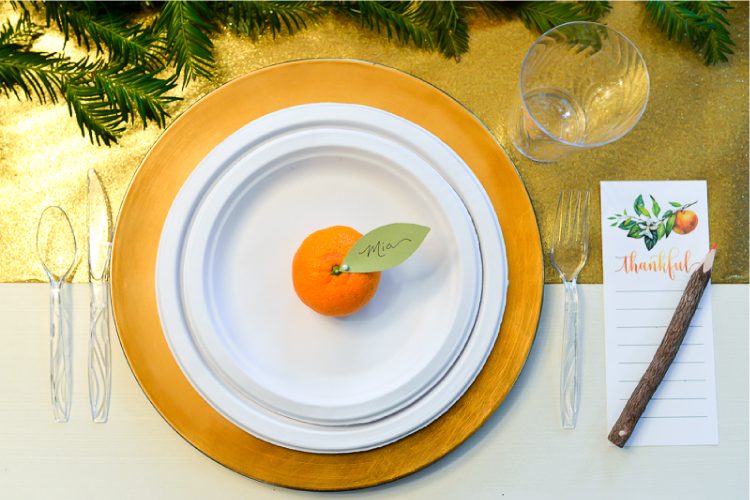 When we moved into our home a few years ago, I was surprised to find so many different plants on our little patch of property in the suburbs. Heavenly bamboo, several varieties of roses, a flaming pink crepe myrtle, white and purple agapanthuses, bright yellow daffodils, and a mimosa with its soft peachy blooms, plus a bunch of others I can't name. We even have five redwoods standing tall over our front yard. I've added my own plants to the mix — several citrus trees, some sweet peas, and each year I plant different annuals in the front window box.
When we moved in, I started bringing the outdoors in by taking cuttings of some of the plants and sticking them in a big white pitcher in the middle of our table. Everything from the classic roses to small branches off our numerous trees. I love that it brings a little life into our dining room—for absolutely free. It's also something I can do year-round—the fragrant flowers in spring, the redwoods for Christmas.
Shopping Our Yard
This year I'm taking that concept of "shopping our yard" and designing a simple but elegant tablescape using some of the plants in my yard (and a neighbor's yard — she has a mandarin tree!).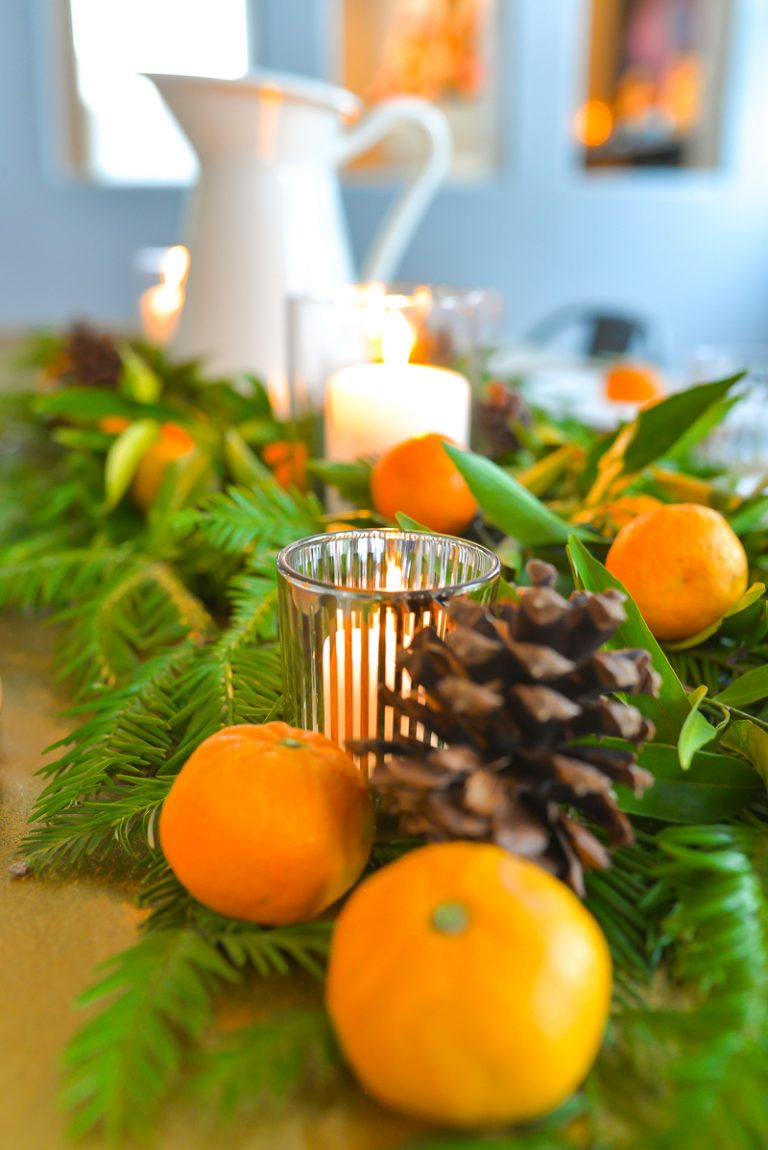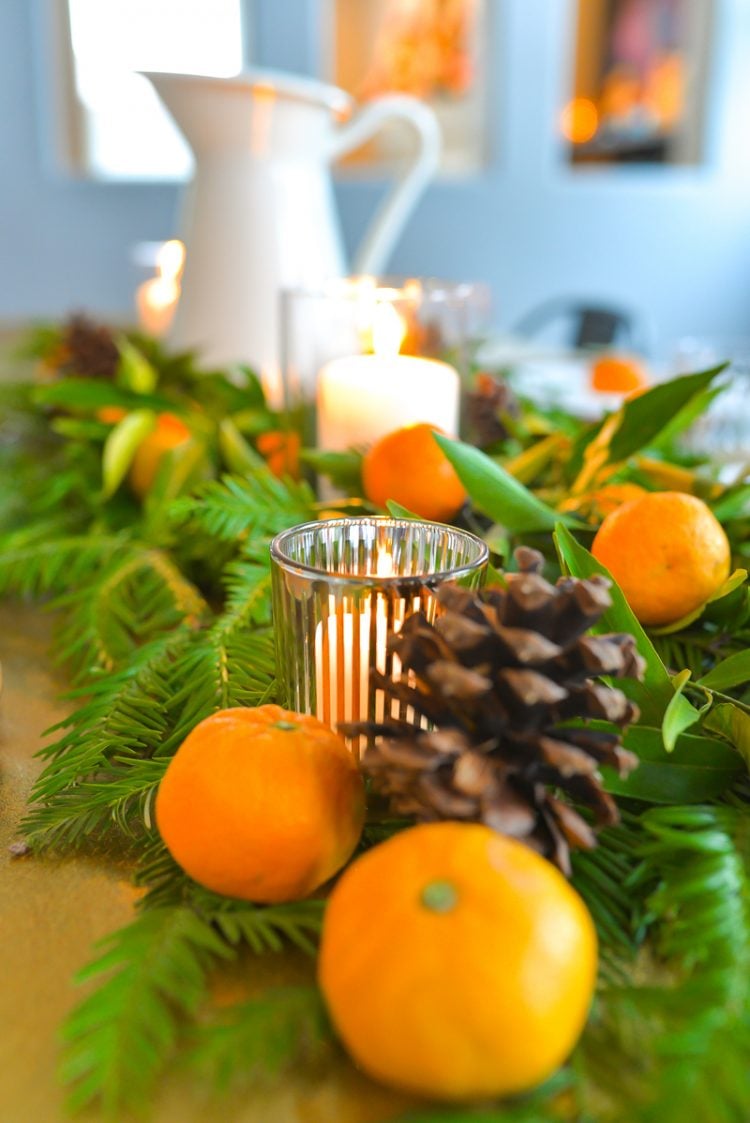 To ground my Thanksgiving table decor, I found some sparkly gold wrapping paper and used it as a table runner. If it makes it through Thanksgiving dinner without getting too thrashed, I'll wrap some Christmas gifts in it! On top of that is a river of redwood and mandarin branches—the more the better! Pinecones bring an element of fall to the table without going overboard. In the center is my simple white pitcher.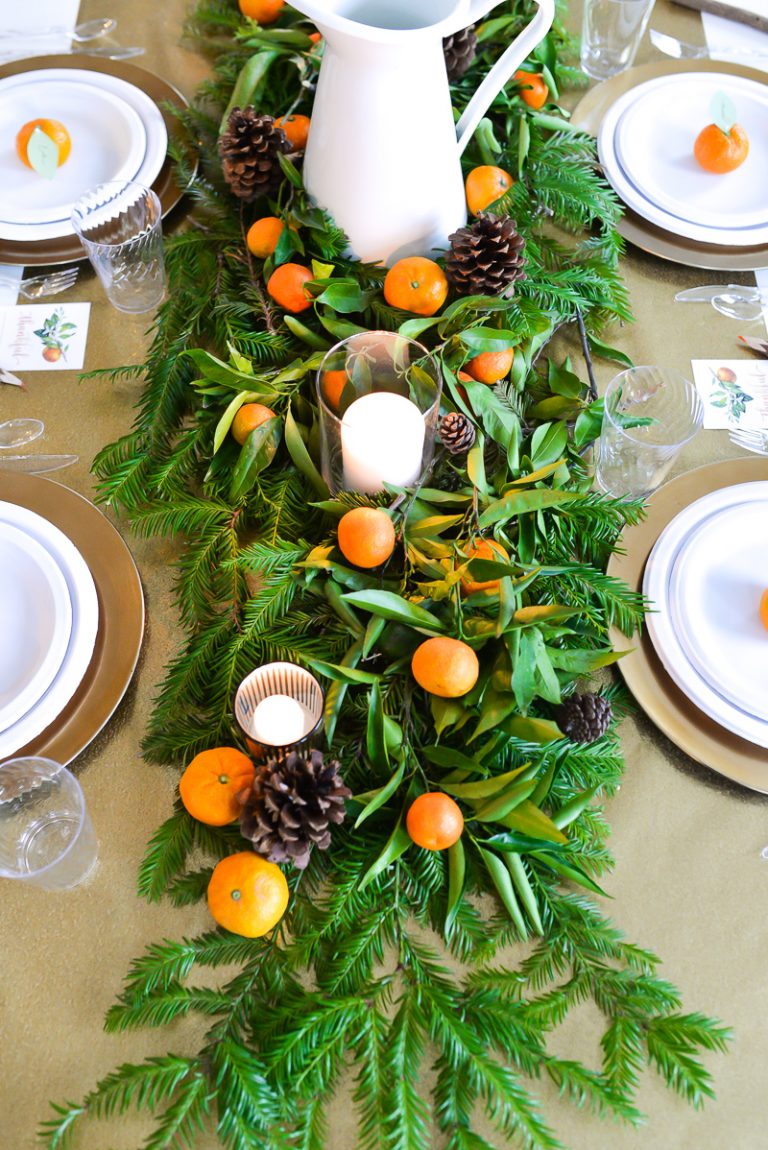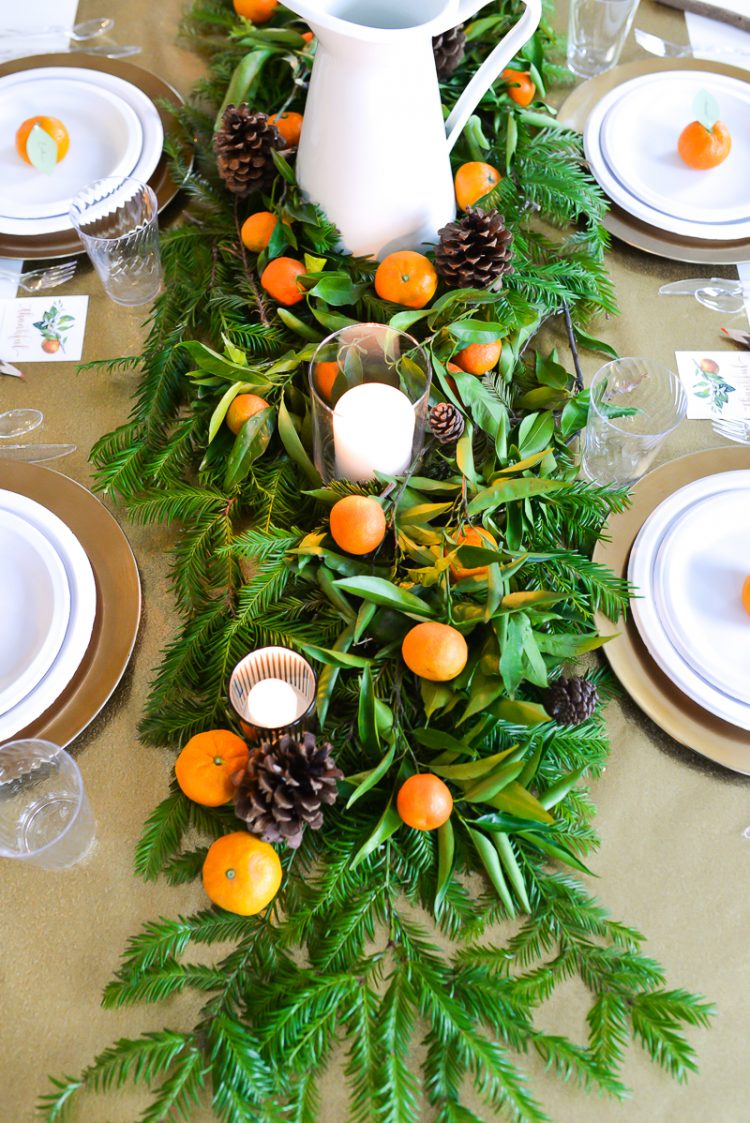 Note: if you have someone at your table who might, well, eat some of your decor (hello toddlers!), you might want to stick to plants you know are nontoxic.
Within the branches, I have simple white candles and gold and glass votives to bring some ambiance to the table. The sun is setting so early these days so the candlelight will really shine once night falls.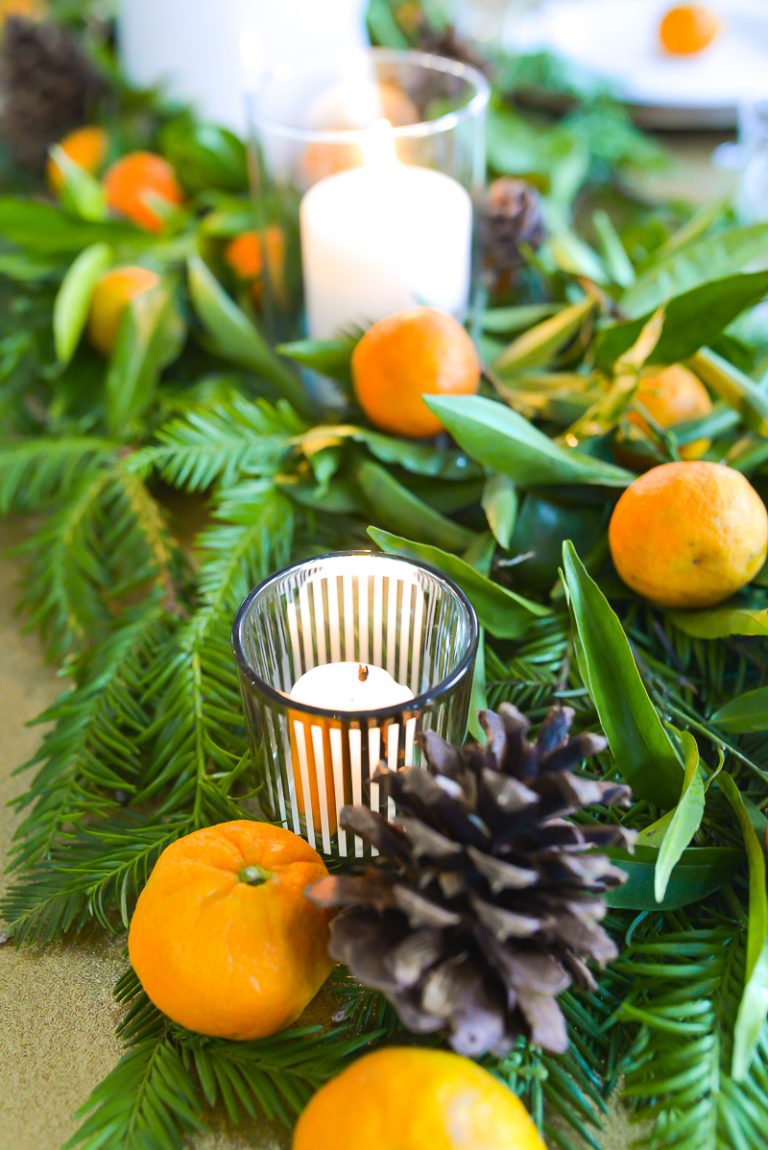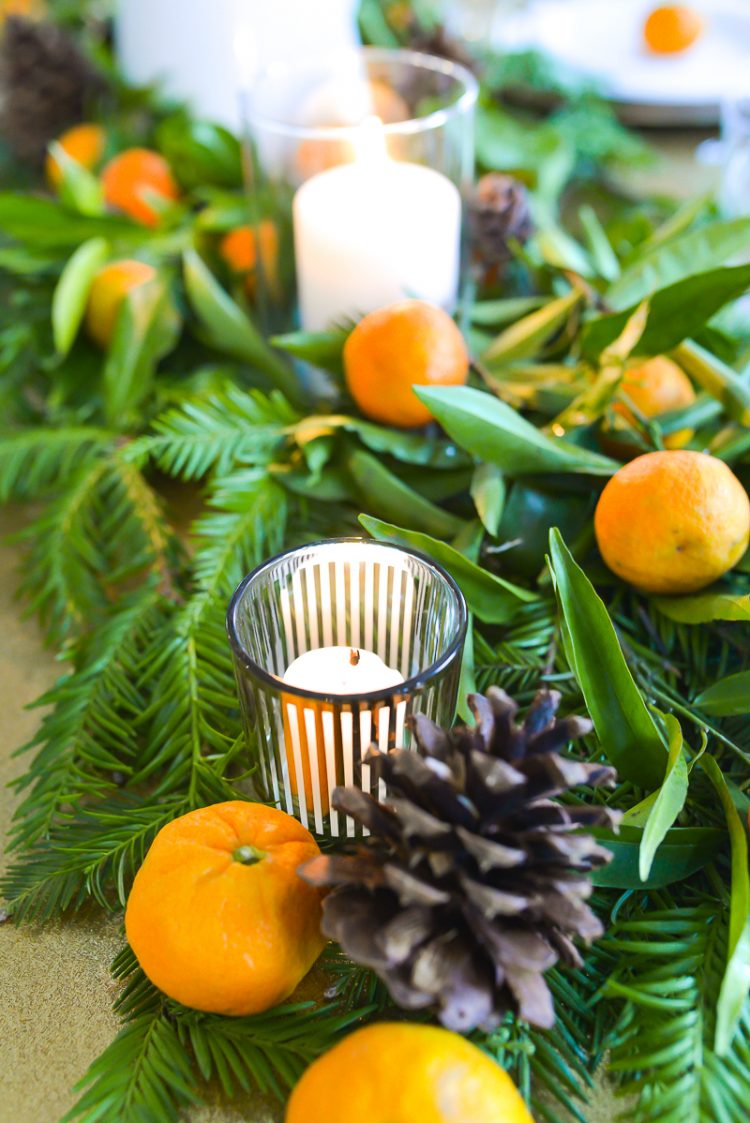 Setting the Table
For each place setting, I kept it simple. A pretty gold charger with two stacked Chinet® Classic White™ plates. A mandarin sits on each plate with a pretty green paper leaf with the guest's name, attached with a pin. Chinet® Cut Crystal™ cups and cutlery finish of each place setting.
I love using Chinet products because they help save me from my least favorite part of any holiday—doing all the dirty dishes! Plus they are sturdy enough for all that gravy-covered goodness that Thanksgiving brings. This means I can spend more time lingering over a glass of wine with the people I love. Learn more more about Chinet.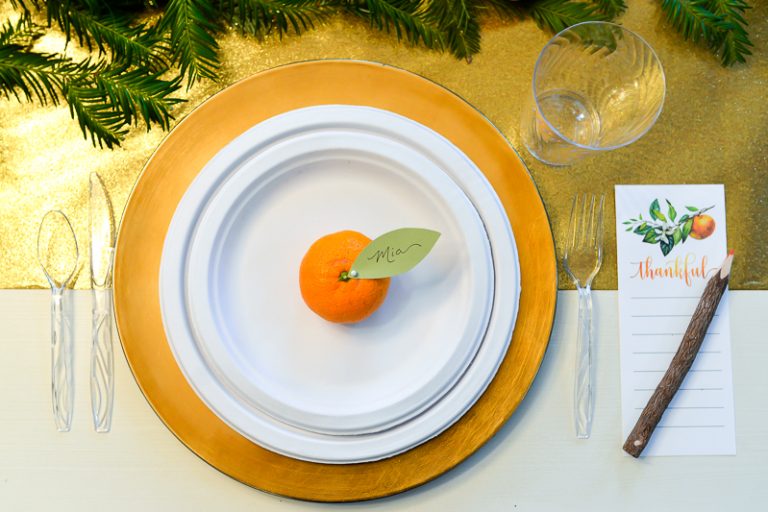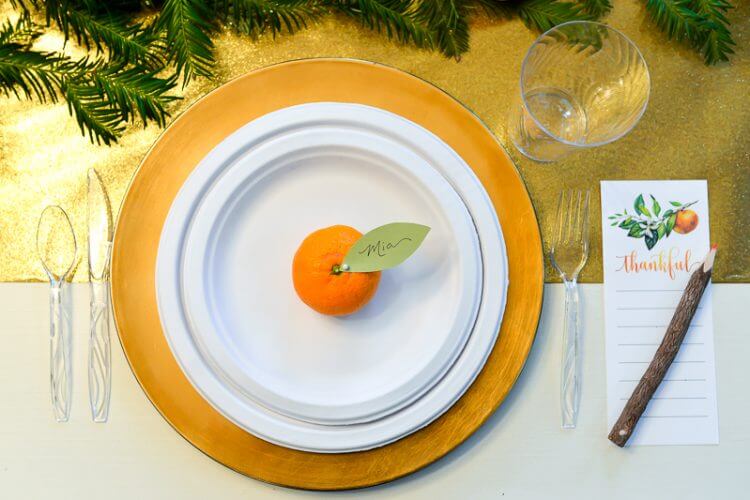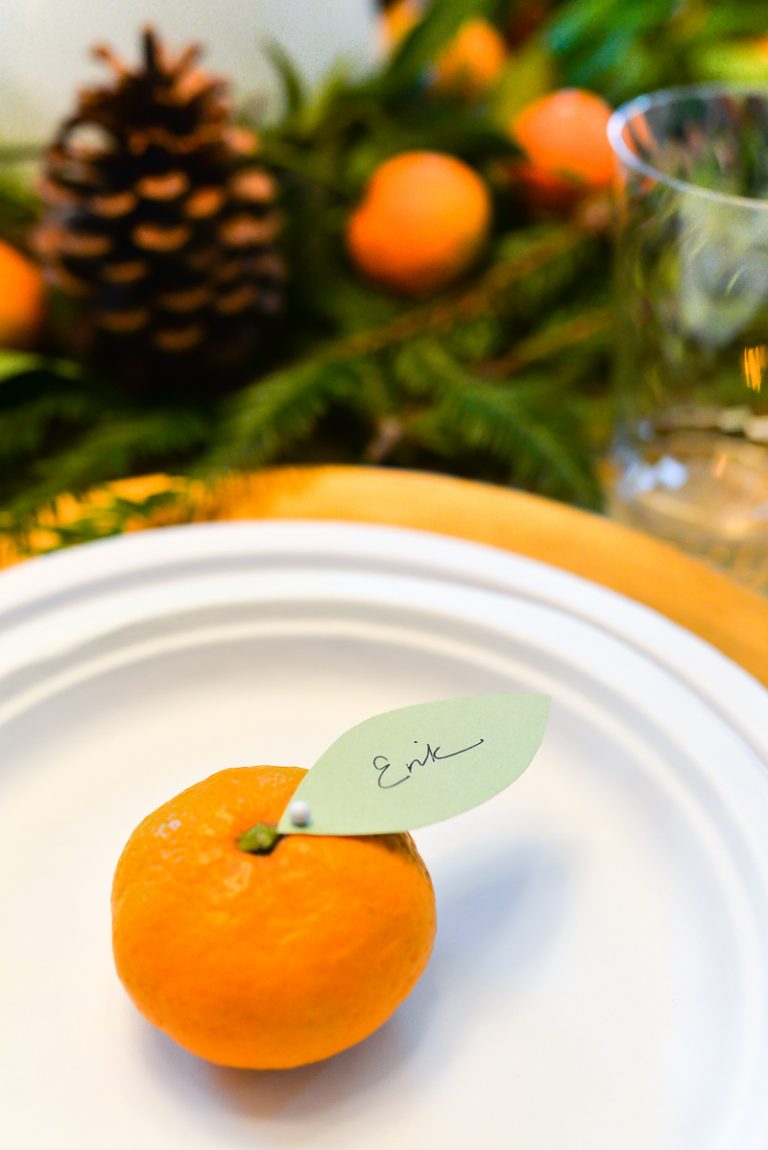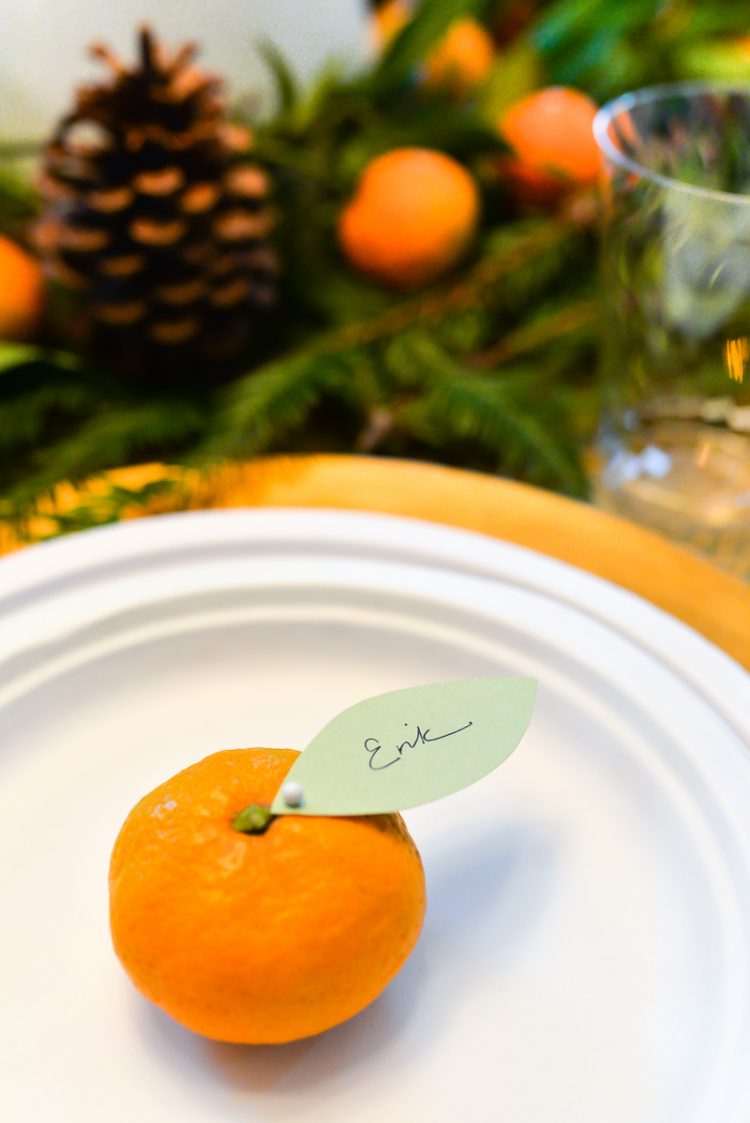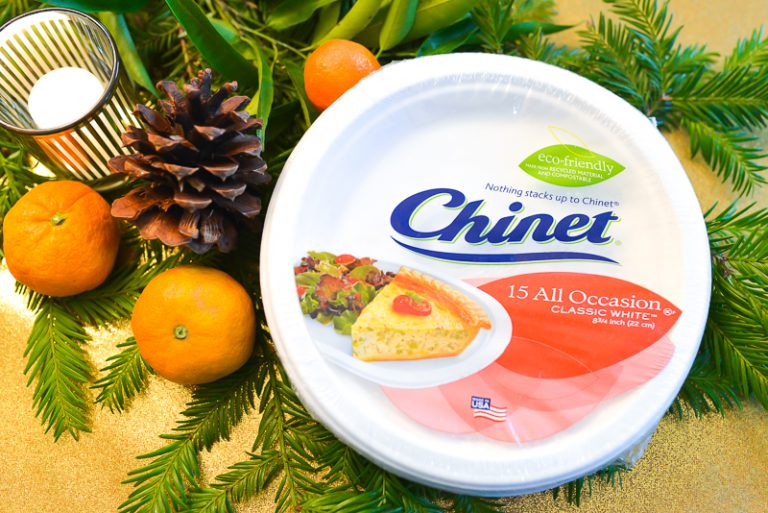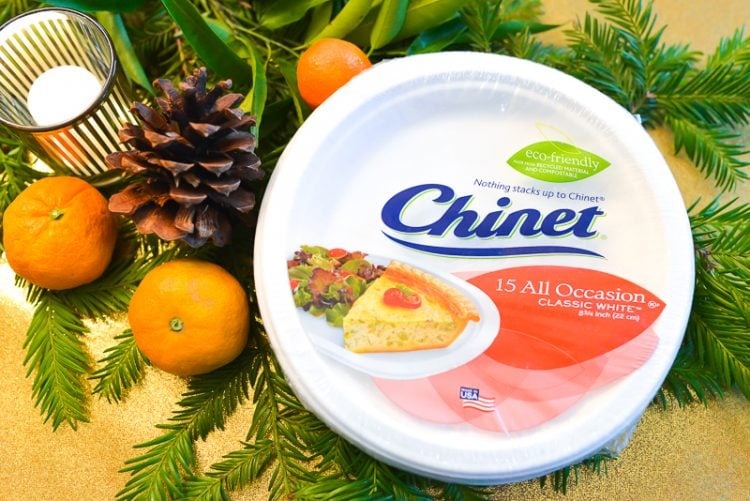 I also designed a Thankful printable with the mandarin orange theme. It's a great way to have your guests reflect on the things that really matter. You can download it here.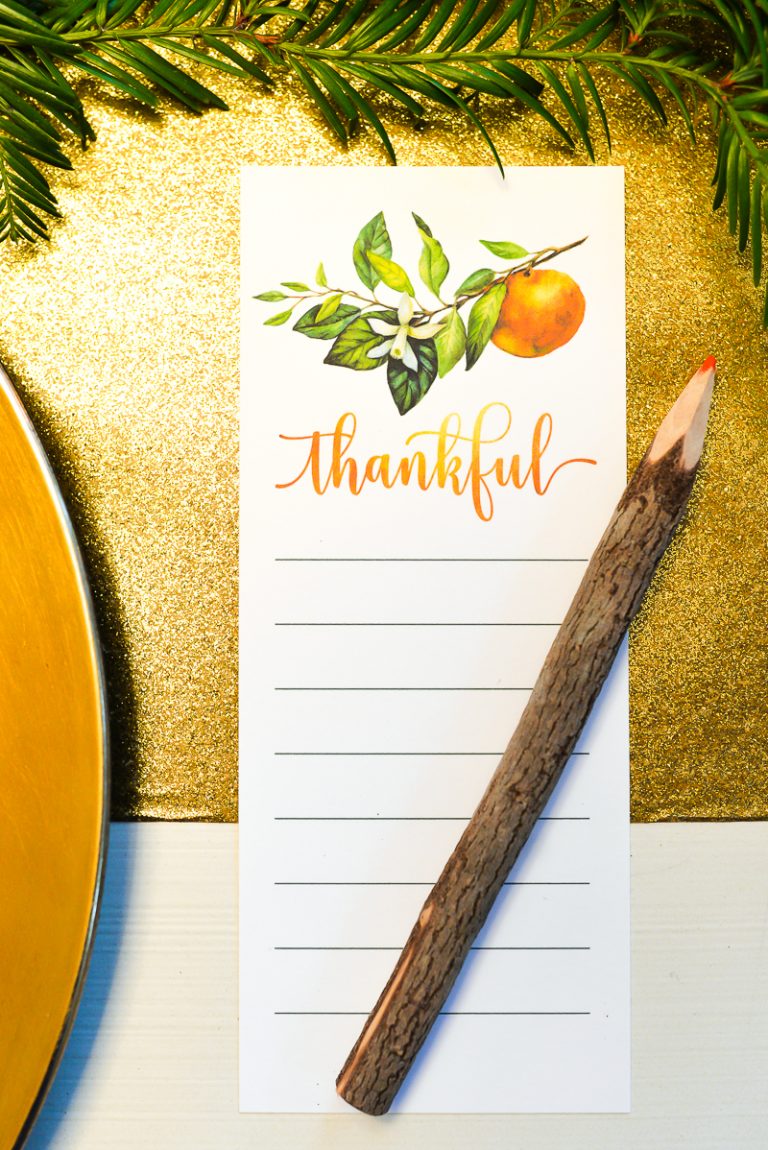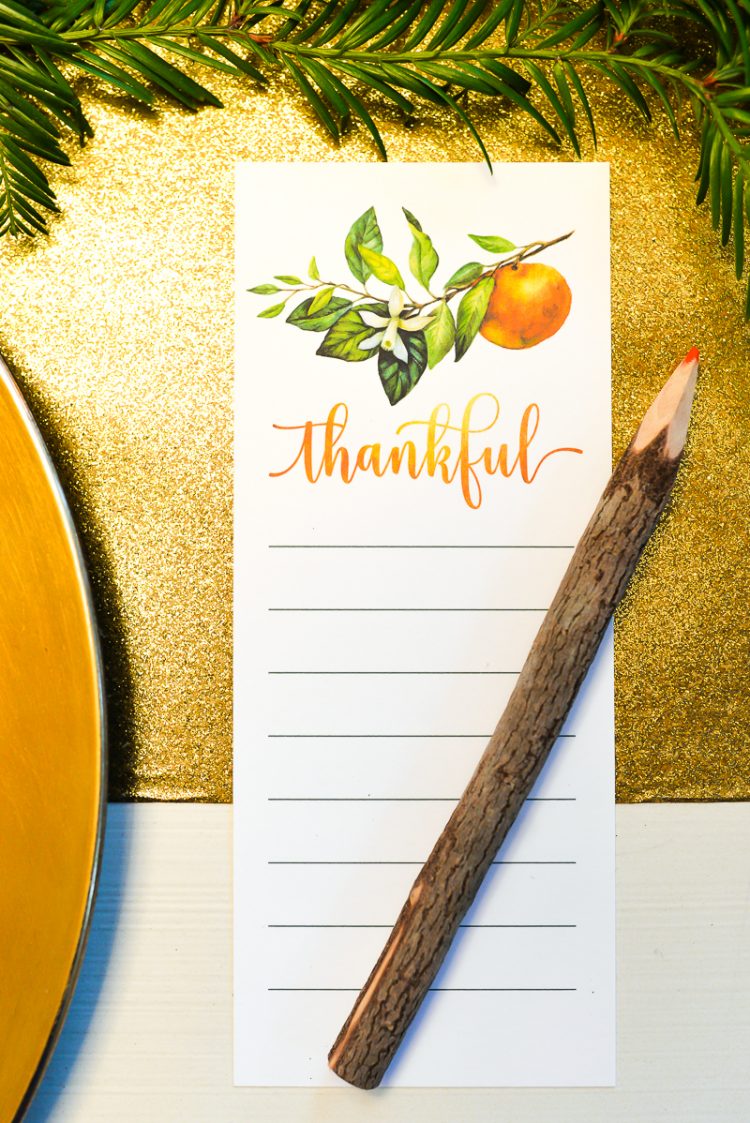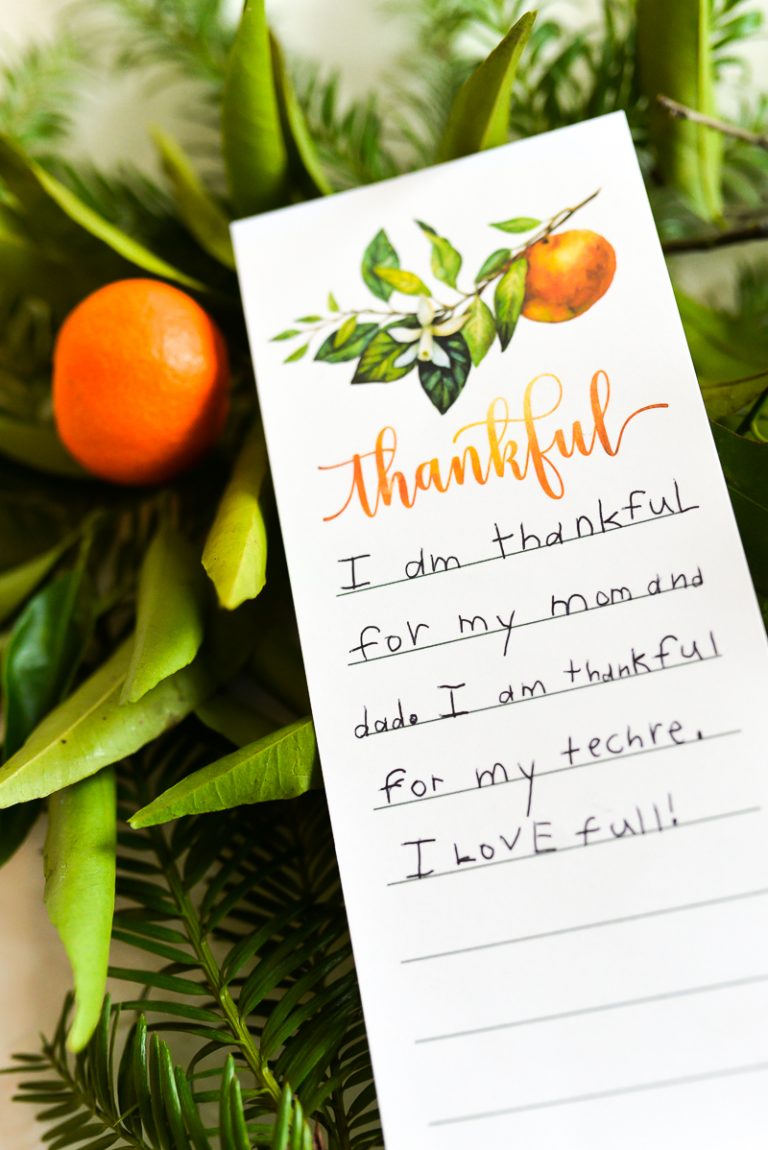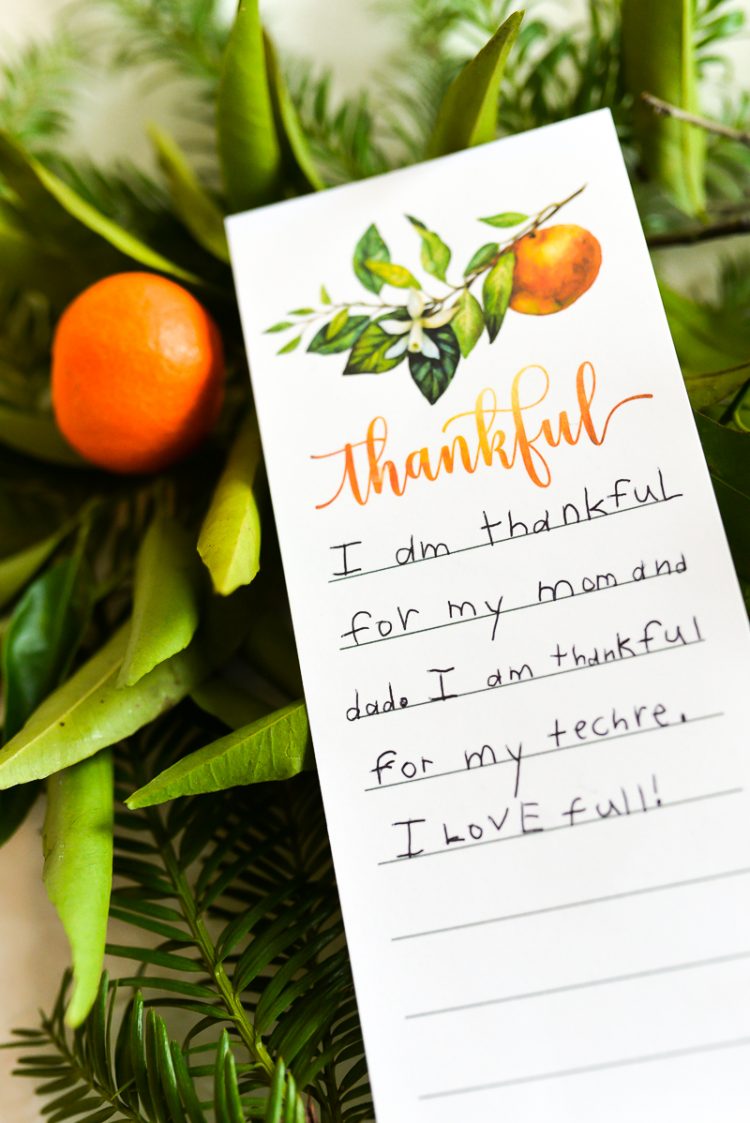 I don't know about you, but Thanksgiving is my favorite holiday of the year. I get to gather with my amazing family, there is no gift-pressure like at Christmas, and I can eat more food than is socially acceptable on any other day of the year. This Thanksgiving table was so easy to create by shopping my yard and using Chinet® plates, cups, and cutlery, that I can really focus on what makes Thanksgiving special.
The food.
I mean, family. Yes family. Family is the best.
Okay let's be real. The food is also the best.
Cheers to a beautiful Thanksgiving with your family and a very happy holiday season!


More Thanksgiving Fun
[ess_grid alias="thanksgiving"]