Who appreciates your unique sense of humor more than mom? Give her a laugh or two with this layered snarky Mother's Day card you can create with your Cricut. An easy-to-make last-minute card idea.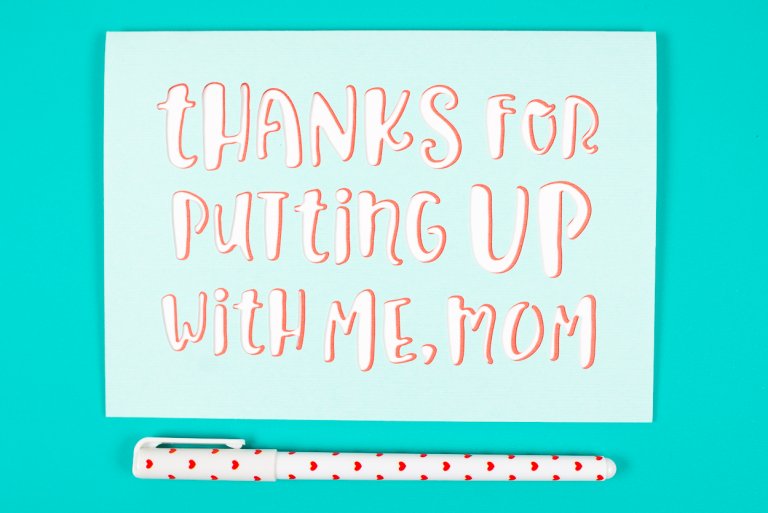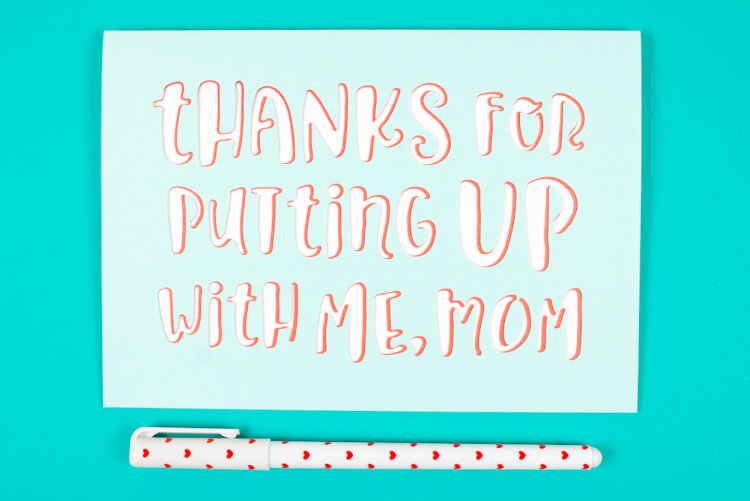 This post originally appeared on the Cricut Inspiration Blog.
Hey friends! Did you see my funny Mother's Day cards last week? I have one more! Those you can simply print with your home printer, but if you want to craft something for her, how about this cute-but-snarky Mother's Day card made with your Cricut!
Three layers of cardstock and a little spray glue and you're good to go! Here's how to make it.
Download the Snarky Mother's Day Card File
You will see that this card has three layers and uses the scoring stylus or scoring wheel. I'm going to call the three pieces of this card the single rectangle (white), the accent text piece (coral), and the main text card (light blue).
Choosing Your Colors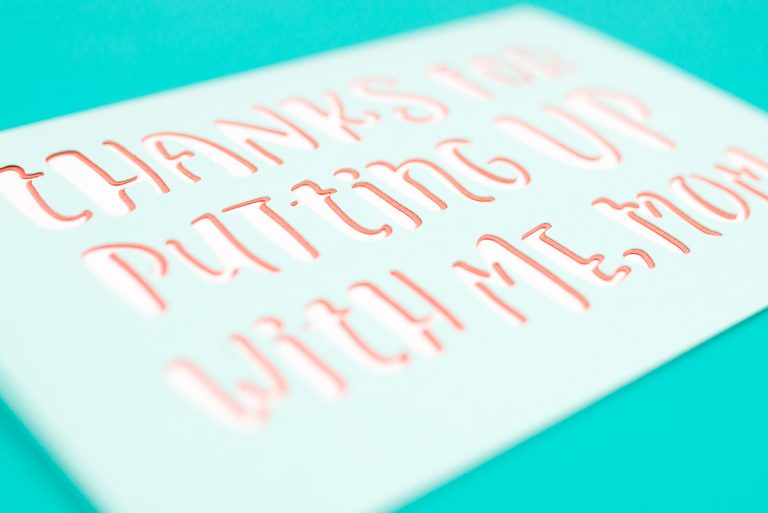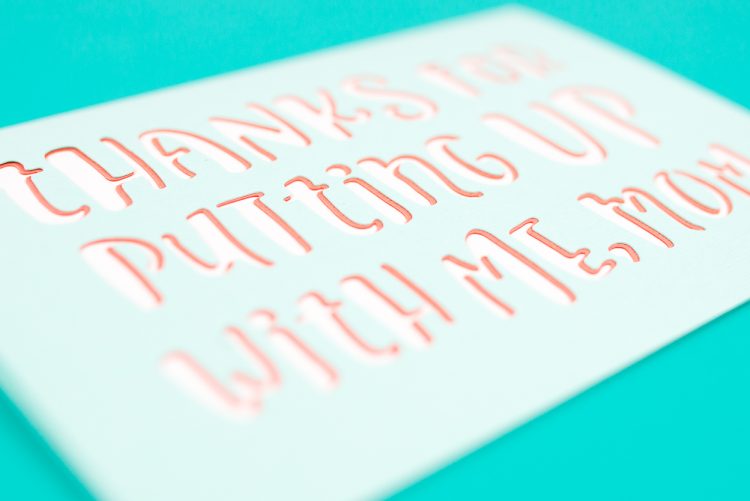 Because the layering in this card is subtle, I suggest using two contrasting colors along with white. Cut the single rectangle out of white, and then your two text pieces out of contrasting colors, one light and one darker, such as:
Light blue and coral (this is what I used)
Bright pink and light yellow
Deep red and light pink
Dark blue and light green
I prefer the darker color to be the accent color, but both ways work!
Cut Your Card
This is a simple project to cut, but there is one thing you'll need to do in Cricut Design Space before you cut your cardstock. Use the Upload button at the bottom of the left Design Panel to upload the SVG you downloaded above.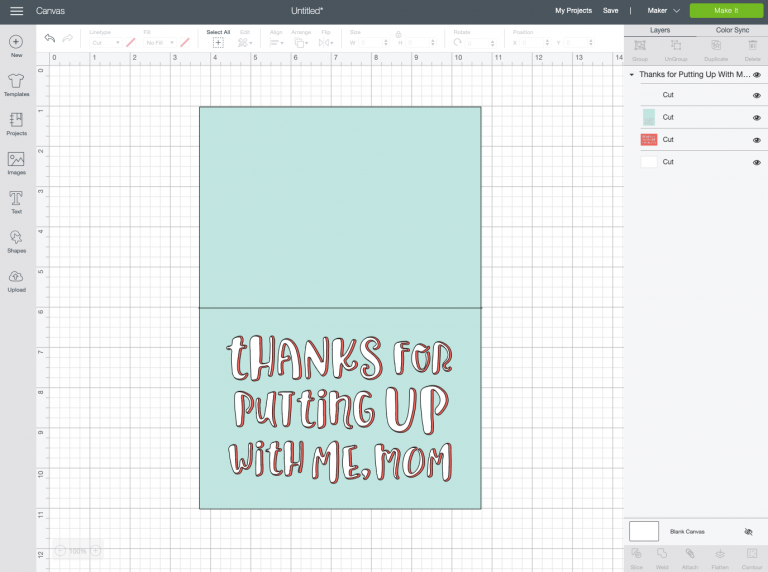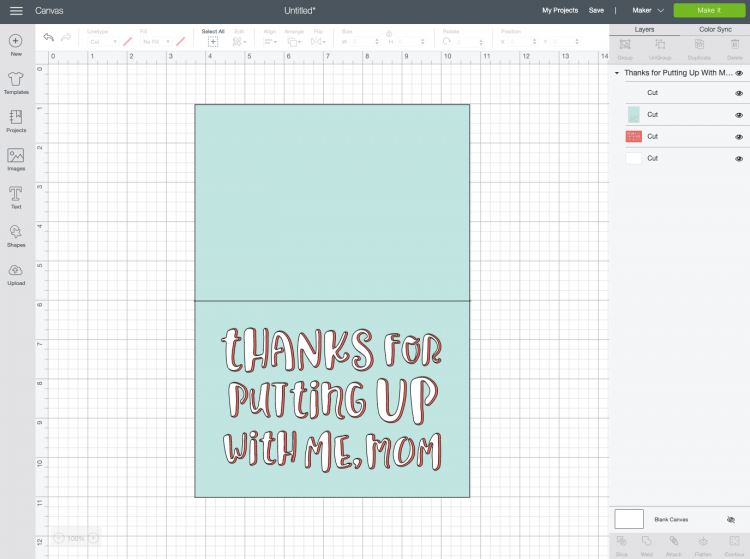 When you insert your image, you'll see you have the three pieces I mentioned above, and cut line. We need to change this cut line to a score line. Start by ungrouping your images using Ungroup in the right side Layers Panel. You'll see that each piece is now separate in the Layers Panel.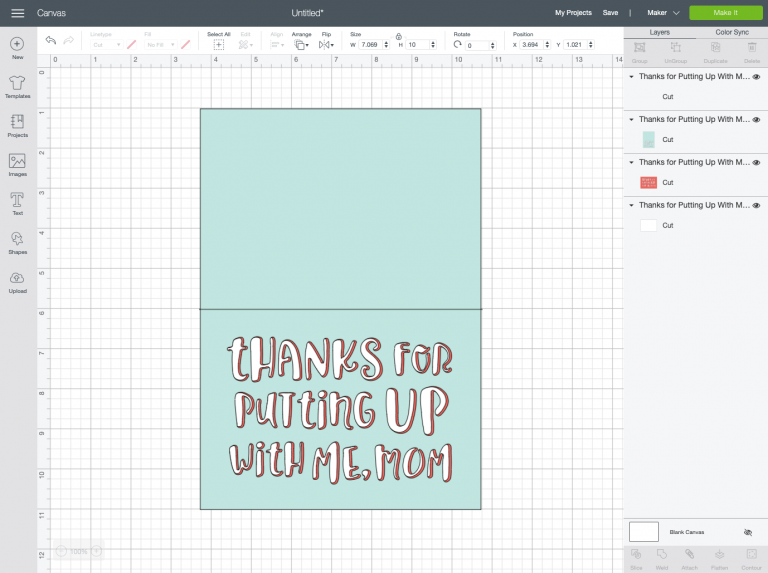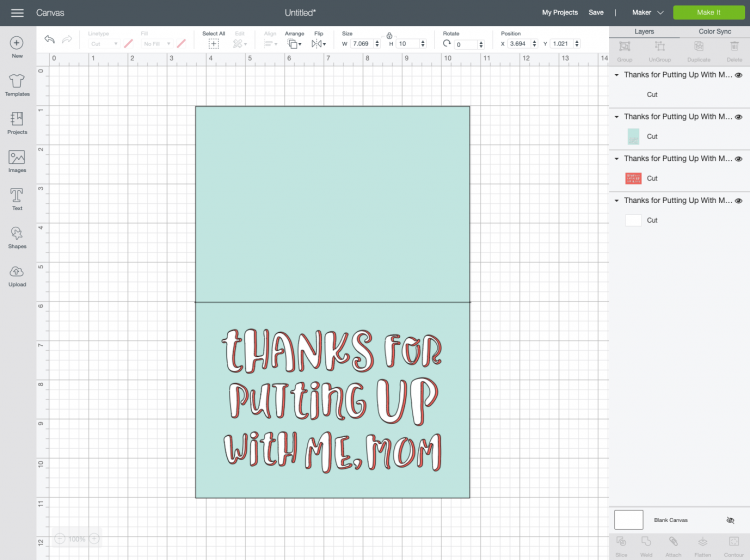 Change the cut line in the middle of the card to a score line using the Linetype dropdown in the Edit Toolbar at the top.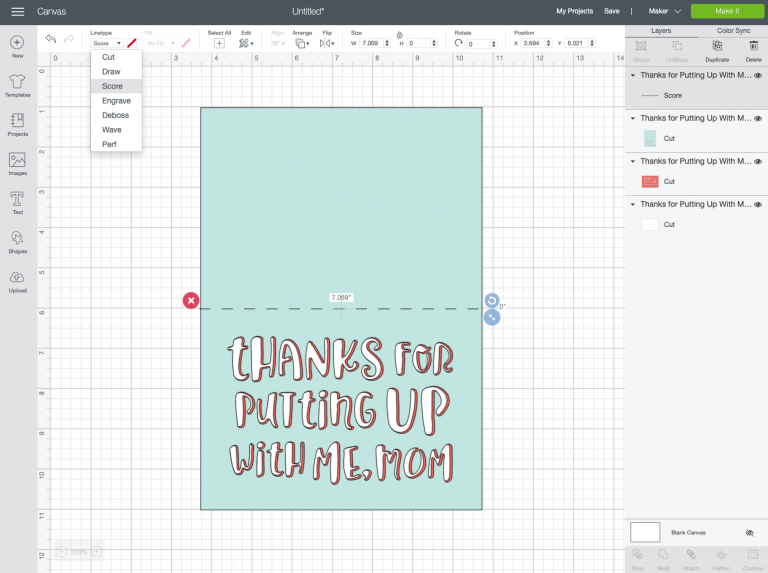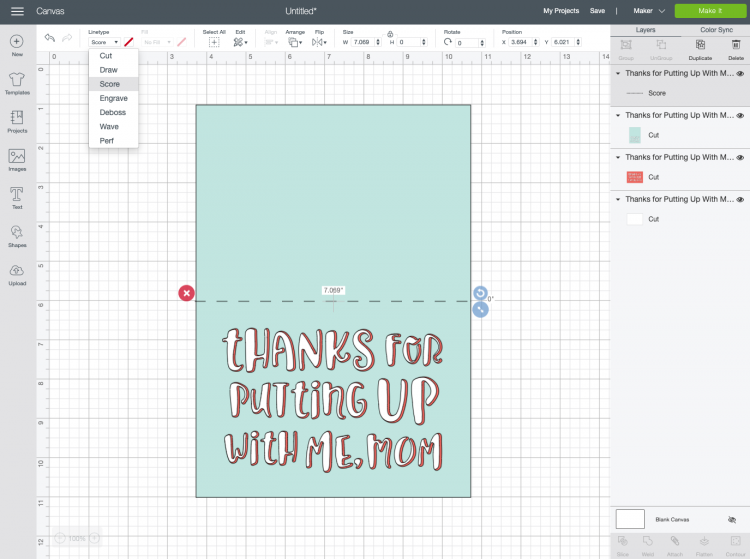 Then select just the main text card (blue layer) and the score line and attach these two layers at the bottom of the Layers Panel using Attach. This will ensure the score line will be on the correct layer of cardstock.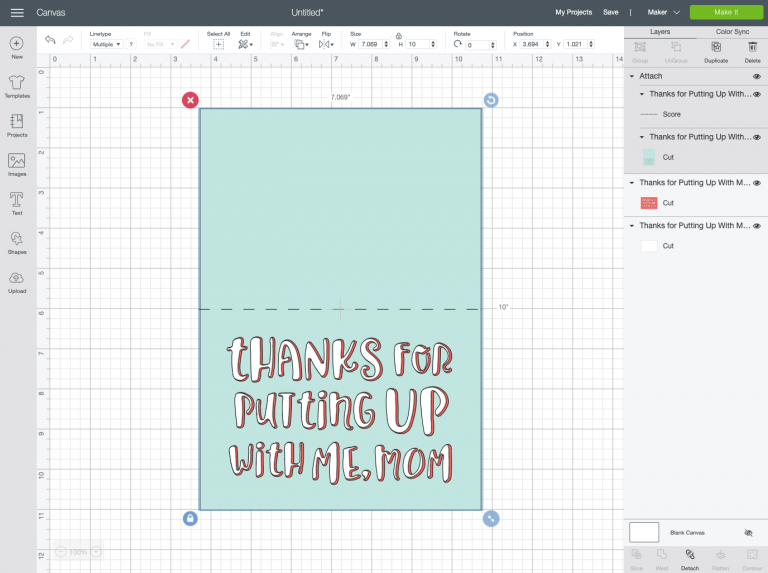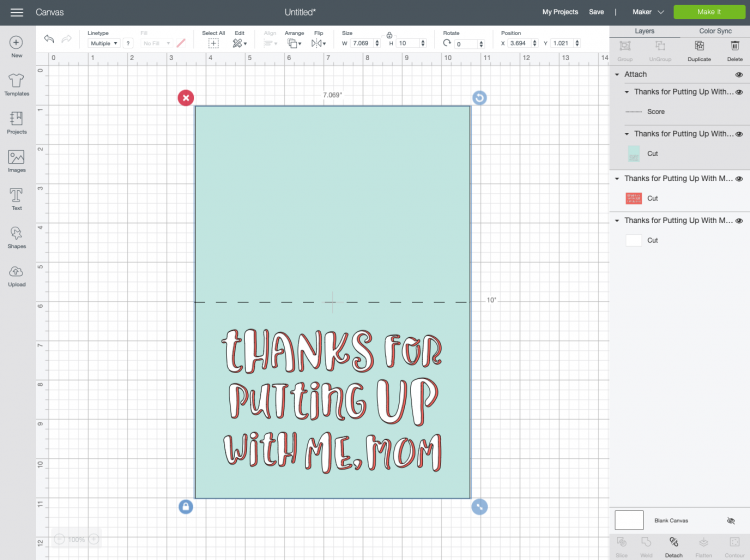 Then you're ready to hit Make It in the upper right corner and cut your three pieces of cardstock! If you have four mats when you go to cut, you'll know you didn't attach that score line correctly and you need to cancel the cut and try attaching it again.
Then cut your three layers of cardstock. Make sure you insert your scoring stylus or scoring wheel so that the Cricut can score your card for you!
Layer Your Cardstock
I find that spray glue is best for putting layered cards together. Start by spraying the back of your accent text piece with spray glue and centering it on the single rectangle. They are the same size, so they should fit perfectly. I like to set this under something heavy for a few minutes to let the glue really adhere. You don't want any of the pieces separating.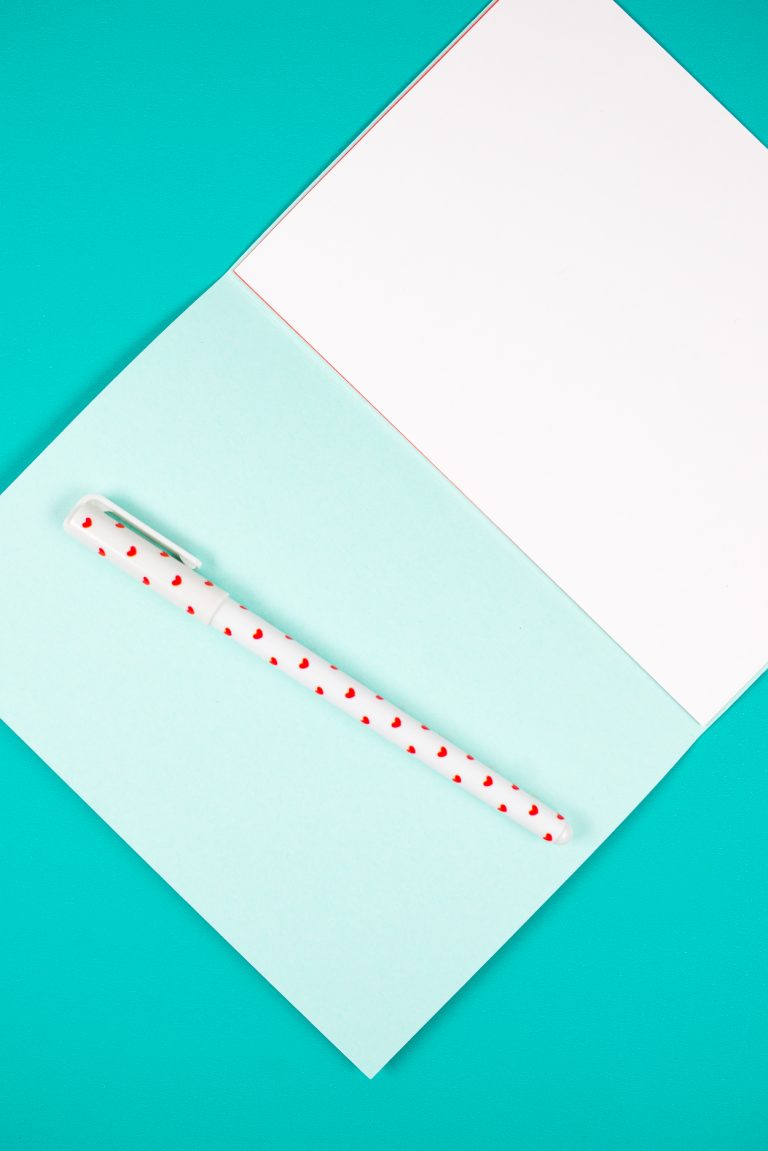 Next, you'll want to spray the back of the main text card. You only want to get glue on the text half of the card, however, so cover the other half with a piece of scratch paper so that side doesn't get gluey. Then center your rectangle in the center of the front of the main card piece, so that the white and accent color show through on the front of the card. Once it's centered, set it under something heavy to let the glue set.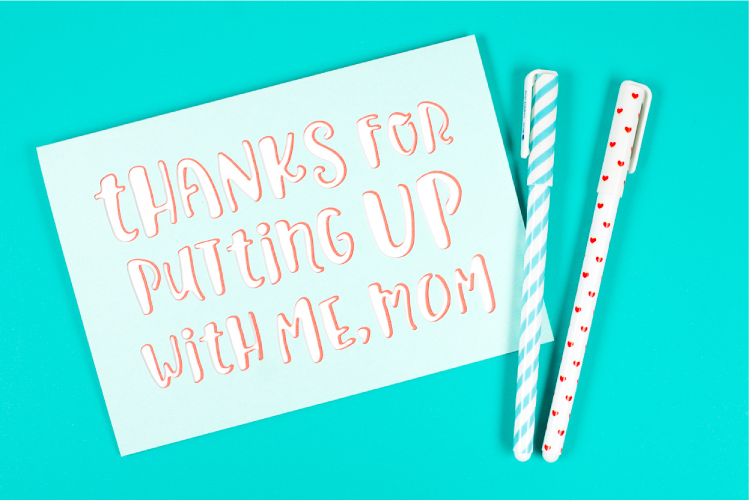 And that's it! Because this project is easy to make, it's the perfect last-minute Mother's Day card! And since we're all always looking for Mother's Day projects, tell me what you're making your mom this year for Mother's Day in the comments!
Mother's Day Gift Ideas