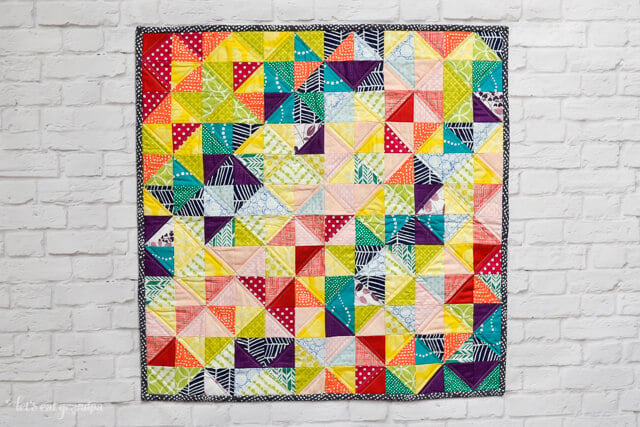 During the last round of the Schnitzel & Boo Mini Quilt Swap, I totally regretted not signing up. So when sign-ups came around this time, I was all over it!
Then I got my email. I was sending my mini quilt to the super amazing quilter and fabric designer Violet Craft! Hello game. You are getting Stepped Up.
I decided to make a quilt loosely based on a card I picked up at IKEA recently. I sketched out a basic pattern for what I wanted to make. 144 half-square triangles. Bring it!
I picked ten colors, with a dark and light version of each. Violet said she likes rainbows, so rainbows it is!
Cut it all out. Put it all together. Loved it times a billion. Thought about stealing it back for myself and going on the lam to Mexico with it.
Of course I didn't. Mostly because I couldn't afford the gas.
I quilted it in gray thread and made a label for the back. And I bound it in a dark gray.
Then it was done and I had to let it go!
It was hard to let it go, but in its place I received the most beautiful quilt from Trudi Wood, whose work I love, love, love.
Her quilting is gorgeous. I want to travel to the UK and learn her magical ways. The colors of this quilt are my favorites, too! I absolutely love it. THANK YOU, Trudi. It's already my favorite mini on my wall!
TODAY'S TOP TEN POSTS