Sew a sweet Easter table topper in the shape of an Easter egg, using up your leftover selvages! A great scrapbusting sewing project.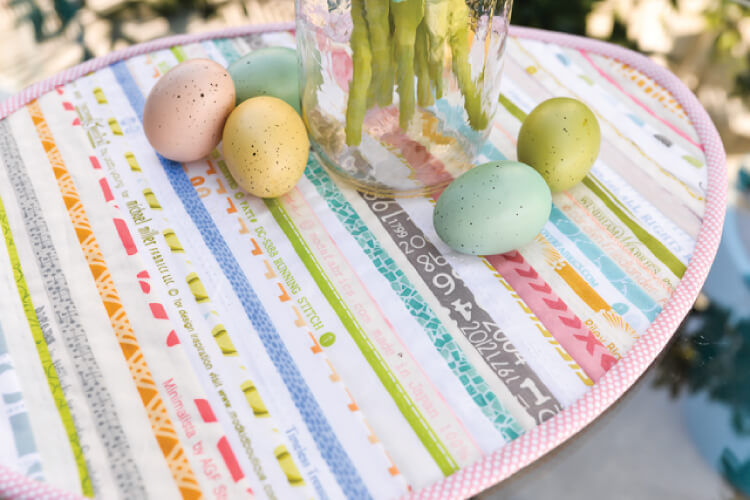 This is the story of a project that I was going to scrap, but then decided to rework it and it turned out better than I could have hoped!
A few years ago, at Sewing Summit, I heard fabric designer Thomas Knauer speak. A lot of what he said really resonated with me. One of those things was about failure. He encouraged us to fail. To make, make, make and not worry about the final product so much. To not wait for perfection, but to work with what skills and tools we have now to keep creating, to keep getting better.
When my Easter project wasn't working, I thought about scrapping it. It was even in the scrap pile. But after allowing myself the space to think about it more, I realized I might be able to make something out of it after all. My original idea was to quilt some selvages together, and then use my Bloomin' Quilt-As-You-Go technique with off-white fabrics make an egg shape out of the selvages, then bind the whole thing in a square shape.
Ugh, it was awful. I wish I'd taken some photos so you could see just how much it was NOT working. The off-white was too dark, I couldn't get the egg shape to work well, my quilting wasn't great, and it wasn't lying flat.
But then it hit me — I cut the egg shape out of the middle of my quilting and just added a simple binding. I had never bound a curve before, but it wasn't difficult.
Now I think it's highly successful! It looks Easter-y, it's clearly shaped like an egg, and the binding is the perfect finish. I love using the selvages, which are usually trashed. It's the perfect decoration for a little Easter table.
I had to photograph it on my outdoor table since our dining room is still under construction. But it's so cute out here! The weather is gorgeous, my citrus trees are budding, and everything smells heavenly (and our yard covered in bees, but I'm going to ignore that part!). It's absolutely my favorite time of year around Northern California.
(And lest you think my yard is a lush forest of flowers and greenery, if I turn 180°, you get to see part of our renovation reality, Cardboard Lane. Fabulous, isn't it?)