Last updated on December 7th, 2017 at 01:19 pm
Choosing pendant lighting for your kitchen can be a daunting tasks. With so many styles, finishes, and uses, how do you know which one will work best for you? Here are my top ways to choose the perfect pendant.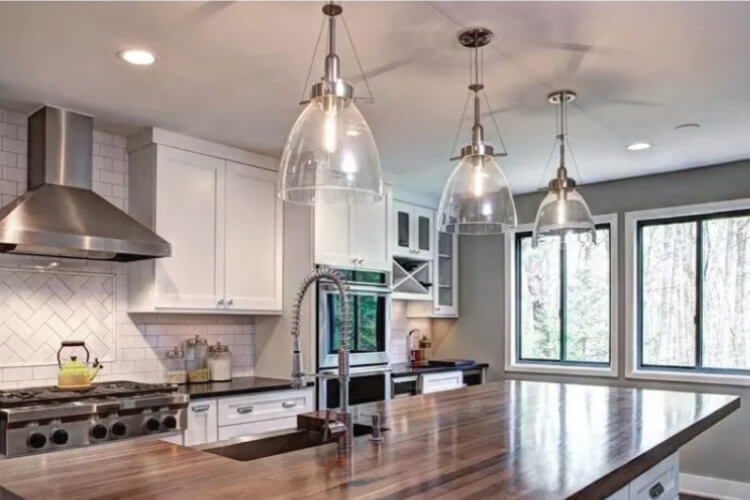 A big thank you to Build.com, who provided lights and additional product for our kitchen renovation.
If there's one thing I've learned visiting people's houses over the years, the importance of lighting is often overlooked. So many houses are dimly lit, and their lights aren't set up for the tasks that homeowners need to perform. Lighting can make or break a room — yet despite that, it is often one of the last things planned and budgeted for.
When we recently remodeled our kitchen, I knew the lighting was going to be important — I knew I wanted a bright, happy kitchen and our old lights just didn't cut it. Whether we're hosting a party or living our day-to-day lives, the kitchen is hub of our home. I didn't want just functional pendant lighting — I wanted something that was going to be inviting and open while also putting the finishing touch on our newly renovated kitchen. That's why I headed over to Build.com to choose the right pendant lighting — and I'm happy to share what I learned here with you today!
Pendant Lighting's Purpose
When I began to zero in on the pendant lighting for our kitchen, the only thing I knew for sure was that the old ones had to go. The dark bronze lights just weren't my style, didn't put out enough light, and didn't fit in with the look I was going for. But choosing new lights was hard until I realized I needed to think about their purpose as much as their aesthetics. When choosing the right pendant lights you have to consider what you're trying to accomplish. There are three types of lighting in your home, and pendant lighting can serve one or more of these purposes.
Task Lighting
Task lighting allows you to directly illuminate a specific area in which you intend to work. Whether it's your sink, stove top, prep area, or if you just want to make sure you can see that coffee maker clearly in the morning, task lighting provides directed lighting over a designated work area. The beautiful thing about pendant lights as task lighting is that most lights can be adjusted easily to the right height for your kitchen and tasks. If you're looking for task lighting, you will want a fixture that aims the light downward with a clear or open bottom.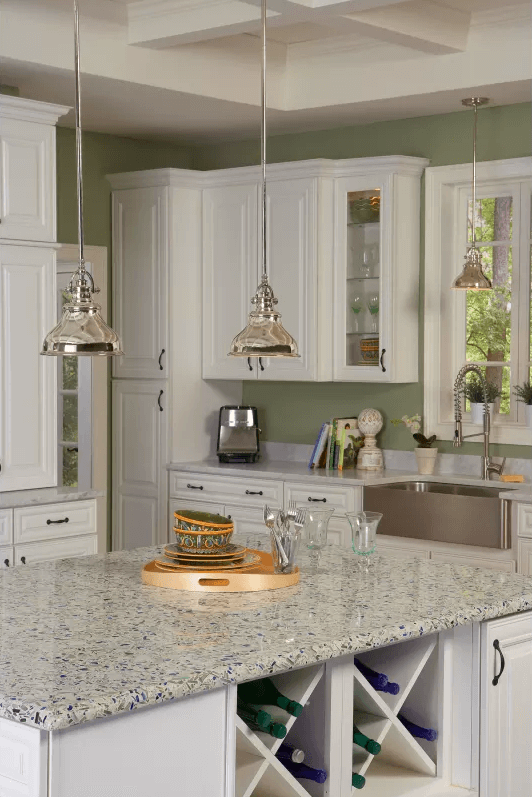 Quoziel Emery Chrome Pendant Light from Build.com
Ambient Lighting
Ambient lighting is powerful enough to shed light on the entire room. This gives you a central fixture or fixtures that show off your beautiful kitchen but also allows light to reach into spaces like cabinets, refrigerators or a kitchen island. Ambient lighting pendants can be both functional and beautiful. You may want to consider several smaller lights spread across the area or a larger single fixture with several bulbs for more even lighting. There's a trend to do really large pendants lately, and I'm loving it — make a statement!
For the best ambient lighting, you will want to find a translucent globe that will allow light to shine across the room. This was my biggest goal with our kitchen lights and I think they accomplish this purpose nicely, leaving our kitchen bright any time of the day.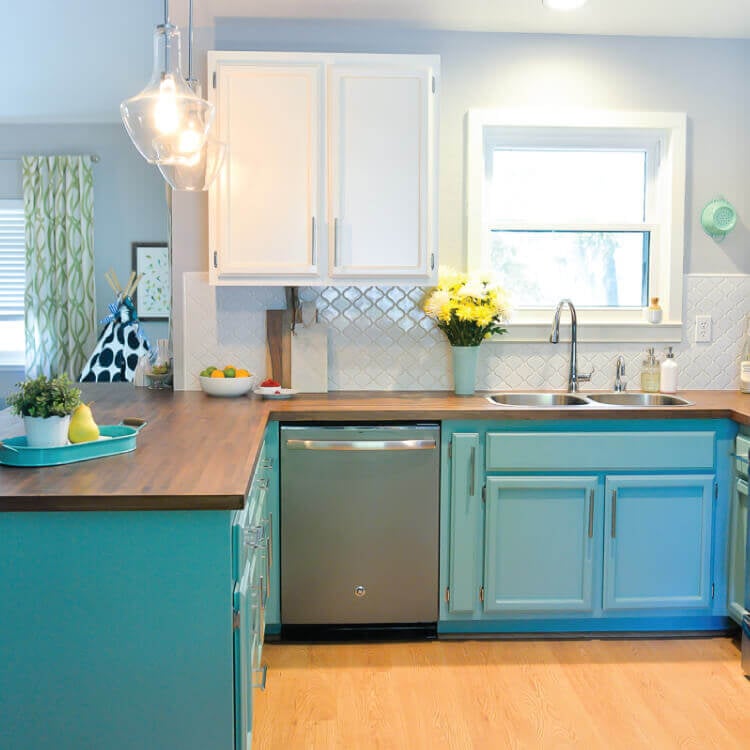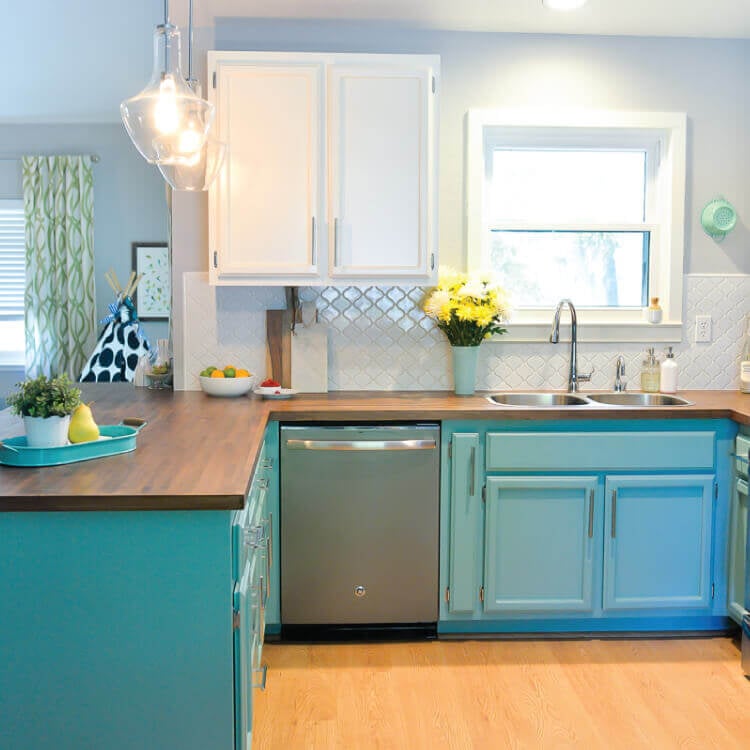 Kichler Everly Single Light Pendants from Build.com
Accent Lighting
Accent lighting allows you to draw attention to a specific item or area of your kitchen. You may consider this if you have a beautiful display of china or if you just want everyone to notice your stand-mixer. Accent lighting is for showing off those gorgeous aspects of your kitchen you don't want anyone to miss. Pendant lighting is not often used as a targeted accent light however, if you have a wood countertop a wash of light will help bring out the beautiful tones of the material and pinpoint lighting will really make those stone or polished metal countertops sparkle.
What about Aesthetics?
Obviously every kitchen is different and what works in my kitchen won't necessarily work in yours. That's okay! Can you imagine how boring life would be if everyone loved the same things? The best part of undertaking a kitchen remodel is being able to show off your own personal style. I've put together three mood boards to help you pick the pendants that best go with your style!
Light and Bright Pendant Lighting

left to right, top to bottom
Savoy House Dias  |  Et2 24-Light Larmes
Kichler Evie Mercury Glass  |  Progress Lighting White Globe  |  Millennium Lighting White
Progress Lighting Haven Rectangle
Platinum White Lustre Ribbons  |  Kichler Everly
Eurofase Lighting Piquito  |  ET2 Clear Glass Larmes  |  Capital Lighting Mini
Modern Farmhouse

left to right, top to bottom
Quoizel Imperial Emery  |  Jeremiah Weathered Pine Winton
Millennium Wide Bowl  |  Kichler Colerne  |  Globe Electric Cage
Feiss Harrow  |  Hudson Valley Lambert  |  Feiss Cadence
Kichler Grand Bank  |  Quoizel Bronze Steadman  |  Galvanized Warehouse
Mid Mod Style

left to right, top to bottom
Kovacs Amber Shade  |  ET2 Black Gloss Domus
Access Lighting Opal Helix  |  Fredrick Ramond Deep Rose Gold  |  Hinkley Somerset
Access Lighting Flux  |  Besa Lighting Lasso Glitter Glass  |  Feiss Beso
Globe Electric Flo  |  Kenroy Home Bulletin  |  Eglo Tarbes
My main goals for our kitchen renovation were to give my kitchen a more modern and open feel. I needed pendant lighting that was bright and wouldn't close off the space between my kitchen and the living room. Your goals and style might be totally different. So whether you're looking to remodel or just want to change things up a bit, don't forget the lighting—it's crucial! It can make a small kitchen feel big and open and add a warmth and comfort to the busiest space in your home.
More Home Decor Ideas