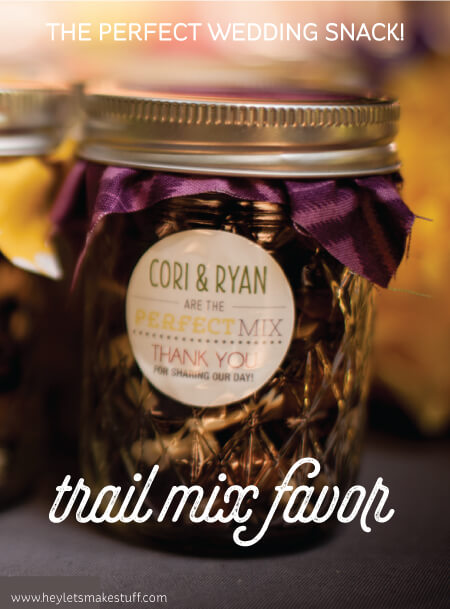 This morning I'm highlighting another detail from our wedding in August — our delicious trail mix favor! All of the photos are from our lovely photographer Jessica Stout.
It's safe to say that I am pretty much always thinking about where my next meal is going to come from. I get really cranky and a bit hypo-glycemic if I don't eat regularly. My maid-of-honor Amy and I used to joke that all we ever talked about at work was a) what we were eating, b) what we just ate, or c) what we were going to eat next. She could take twenty minutes describing the perfect sandwich.
So naturally, I was concerned with people being hungry at the ceremony. Our venue in Ben Lomond (outside Santa Cruz) was a little over three hours away from our hometown of Sacramento, and the wedding was at 3:00 pm. So people either had to eat lunch early before they left, or they had to come to the ceremony lunch-less, which sounds miserable. We decided to solve this dilemma by offering our favors before the ceremony even started. Guests could grab a mason jar of trail mix and a drink (lemonade, cucumber mint water, or iced tea) and head over to the ceremony.
Problem solved!
I used Moo.com to print the labels, in the same typographic style as the rest of the wedding. They say "Cori & Ryan are the perfect mix. Thank you for sharing our day!" I love how the jars turned out — they do a nice job of bridging the rustic forest /modern type styles of our wedding.
The fabrics that topped the mason jars were also from my stash (like the fabric streamers), cut into 4.5″ x 4.5″ squares. I put them over the top of the sealing lid, and then screwed the lid ring over them. SO colorful. My bridesmaids collected what they could find after the wedding, saving the scraps for me to sew with later. This is why they are my best friends!
I went with the quilted jelly jars — slightly more expensive, but I like the look and feel a lot more for these when compared to the plain glass jars. I braved Wal-Mart to get them*, and bought all 12 cases they had in stock.
They are filled with a custom blend of trail mix, all the things I like, nothing I don't. I bought everything in bulk at our local Sprouts and mixed it myself. I added some jordan almonds as a little homage to classic wedding favors. The perfect mix!
*To the people of the Midwest — Wal-Mart is scary in California. I will never forget the Wal-Mart I went to in Lincoln, NE — cleanest, brightest, nicest store I've ever been in. Here I fear dysentery.
TODAY'S TOP TEN POSTS