Last updated on February 28th, 2018 at 01:53 pm
Imagine being in beachy New England in this modern Nantucket nursery! The perfect gender-neutral nursery decor for any baby and mama who want to fall asleep to the sound of the waves lapping on the shore.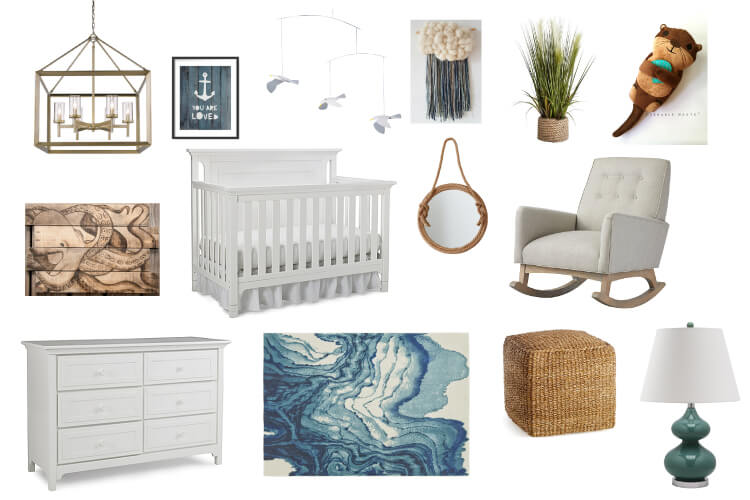 Before you ask, NO, I'm not pregnant again. But one of my best friends is! She's due with a little boy in September and asked me to help her create a easy, breezy nursery. She didn't want it to be nautical or cartoony, but instead evoke the beachy New England feeling of Nantucket or the Hamptons.
I love creating mood boards for different rooms, especially rooms where I have to step outside my personal style a little bit. I started with a simple and traditional crib and dresser set, and then started to fill in the room. I love the octopus wood print and the textile rain cloud wall hanging in particular.
The light is a yellow-gold color that pairs well with the jute ottoman, wood rocker rails, and rope mirror. The seagull mobile soars gently overhead. And of course baby needs an adorable plush otter!
Modern Nantucket Nursery Inspiration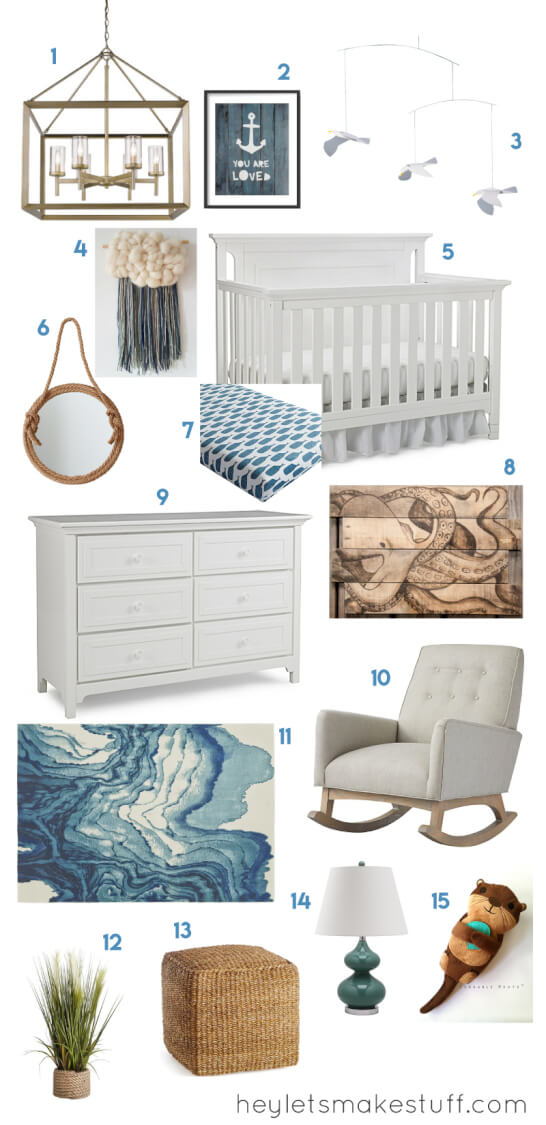 1. Ginsberg 6-Light Candle-Style Chandelier – Wayfair
2. You Are Loved Nautical Print – Etsy
3. Soaring Seagulls Mobile – Wayfair
4. Textile Rain Cloud Wall Hanging – Etsy
5. Ti Amo Carino Convertible Crib – Buy Buy Baby
6. Top Rope Mirror – Land of Nod
7. High Seas Whale Crib Sheets – Land of Nod
8. Octopus Artwork – Etsy
9. Ti Amo Carino Double Dresser – Buy Buy Baby
10. Everly Rocking Chair – Land of Nod
11. Angeline Blue Area Rug – Wayfair
12. Faux Grass Arrangement – Pier 1
13. Guyencourt Square Ottoman – Wayfair
14. Brayden Studio Table Lamp – Wayfair
15. Plush Otter – Etsy
Which is your favorite piece in this room I've designed? The rug is a particular favorite of mine — the watercolor design reminds me of waves lapping the shore. So relaxing!

More Home Decor Ideas