If you're struggling to get in the recommended 10,000 steps per day because you have small kids at home, here are mom-specific 50 ways you might be able to fit more steps into your day!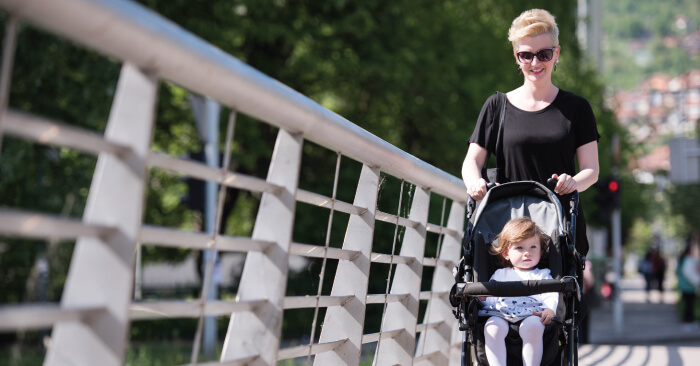 So I'm kind of obsessed with my FitBit lately. I've had it for more than a year and use it fairly regularly, but something got me going in the last few weeks and I find myself doing more and more to get my step count higher. Taking walks outside have really come to be a calming thing for me — away from the noise of two toddlers (even if I take them, they're pretty quiet in the stroller!), out in the sun, getting my blood pumping.
I am also talking with a few friends about doing the Avon Walk for Breast Cancer. It's walking 39 miles over the course of two days (a marathon the first day, a half marathon the second). If so, I'm going to really need to step up (see what I did there?) my walking game!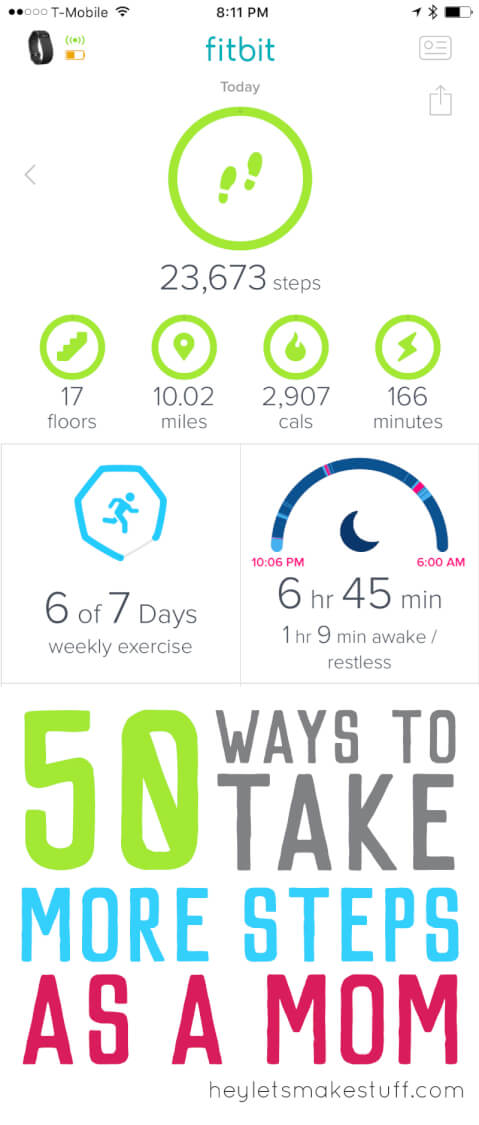 No matter what activity tracker you have, getting more steps in per day can help you be more active, burn more calories, and stay in better shape. But it can be hard as a mom! Sometimes we feel like we're stuck inside the house with our kiddos.
One of the keys is to make sure you're wearing your fitness tracker in a way that it'll actually capture your steps. There's nothing worse than walk two miles with your stroller, FitBit on your wrist, just to realize that it didn't count your steps because your arm wasn't swinging. Same goes for a shopping cart. My easiest workaround is to strap my FitBit to my shoe. This assures your steps are counted!
There are so many ways to get your steps in every day, even if you have little kiddos.
Take More Steps as a Mom
Go for a walk before your kids and husband get up
Go for a walk after your kids have gone to bed
Go for an after-dinner walk with the whole family
Walk laps around the park while your kids play
Walk your kids to school
Take the dog for a walk
Push your baby (or babies!) in a stroller
When running errands, park as far away from the store's door as possible
Return your cart to the store instead of to a nearby corral
Park in between two stores and walk to both
Walk to nearby errands
Carry your groceries inside one bag at a time
Walk an extra lap around the store before checking out
Walk around the block while your kids are at their activities (soccer, gymnastics, etc.)
Vacuum or mop
Mow the lawn or rake leaves
Hang your laundry outside instead of using the dryer
Read a book (or ebook) while pacing around your bedroom
Pace while talking on the phone
March in place while your kids are brushing and flossing
Walk in place during commercial breaks
Buy a comfortable pair of shoes to wear all day so you don't have to put your shoes on to walk
Set an hourly alarm and take at least 250 steps
Walk around the block with your kids after lunch
Spend 30 minutes tidying up the house
Be inefficient putting away the laundry one item at a time
Dance with your kids
Dance by yourself!
Play hide and seek with your kids
Run around with your kids in the back yard
Get off public transportation a stop or two early and walk the extra distance
Find a walking buddy who has kids and walk together
Walk while listening to an audio book or podcast
Join fitness challenges and try and win
Set daily benchmarks, like trying to get to 5000 steps before lunch
Always take the stairs instead of the elevator or escalator
March in place while waiting for bottles to heat up or food to cook
Find a walking workout video on YouTube
Do Zumba (so many steps!)
Take a dance class with your kids
Join a charity walk
Sign up for a local walking tour
Visit the zoo with your kids
Go on a hike
Hunt Pokemon
Play a game like Ingress
Double up on stairs — walk down and walk up one extra time with each trip
Walk in short bursts on the treadmill — five minutes here and there
Keep a pair of walking shoes in your car
Invite a friend to lunch and then go for a walk afterward
Using a lot of these ideas, I've managed to walk at least 5 miles a day for two weeks. Most days I'm up closer to the 7 or 8 mile mark. I've lost a few pounds and regained some mental clarity by spending that time on myself — and it can't hurt my boys to be out in the sunshine either!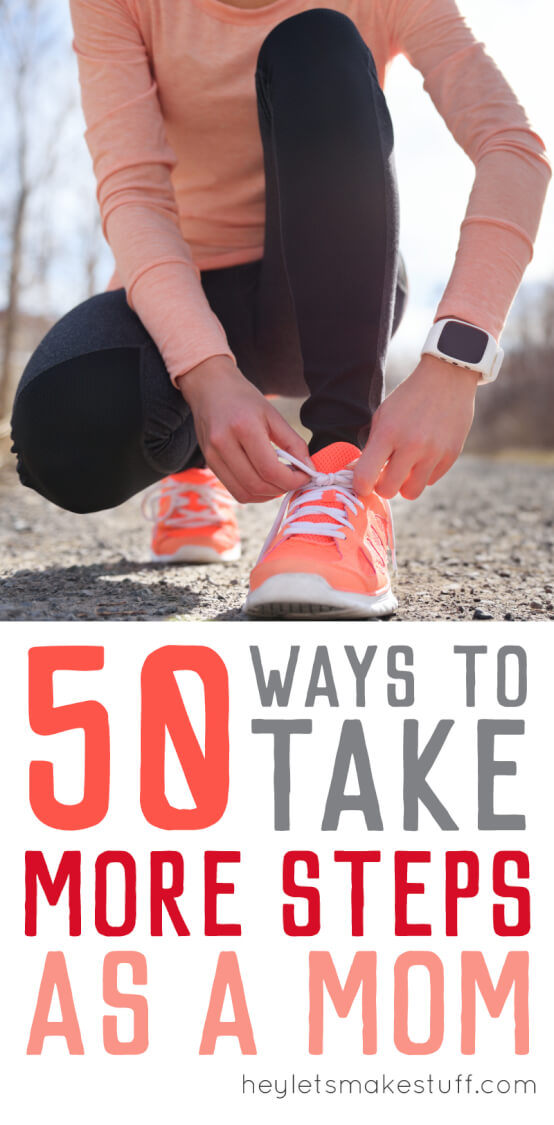 Other Posts You Might Like:
Latest posts by Cori George
(see all)