Last updated on February 27th, 2018 at 11:26 am
This cool California midcentury modern dining room plan is my blueprint for the Spring 2017 One Room Challenge. Get all the details for this trendy dining room and follow along in the ORC!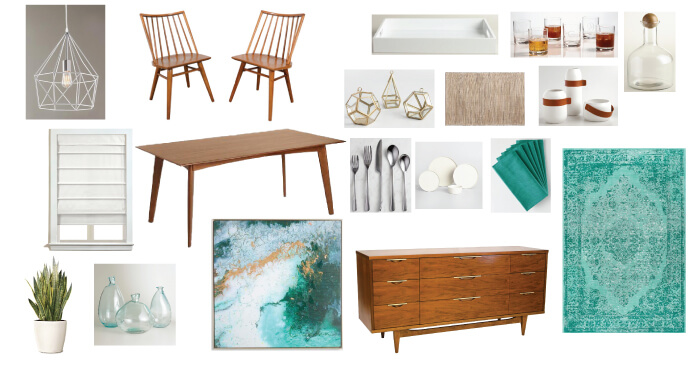 After we finished our kitchen renovation late last year, I promised the hubs I would wait a few months before tackling the next big project in our home. It's April, so I made it long enough! I'm ready to get my hands dirty in our next room.
I have two big reasons I want tackle our dining room. The first is that April 6th kicks off the One Room Challenge, hosted by Calling it Home. I've been admiring the rooms that have come out of the ORC for a few years (check out my friend Melissa's master bedroom transformation and Angela's master bathroom — both are stunning!) and I love the idea of a challenge that will keep me to a specific timeline. Considering I made my kitchen mood board last April and we revealed it in September, I definitely can use the accountability to get a room finished.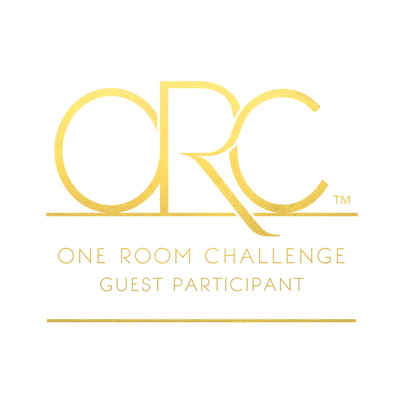 See Our Progress:
[the_grid name="ORC"]
The second reason is that my grandma recently moved to a new home and wasn't able to take most of her furniture with her. I inherited her six mid-century Conant Ball dining room chairs. I have always loved my grandma's style. She didn't have the typical "grandma" house. Her home was always a mixture of minimal mid-century style and pieces from her travels around the world (she lived in India for five years and traveled extensively after that), with a color palette of cream, sage, and teak. So stylish! And the chairs were no exception. Beautiful lines and sturdy construction (lest we forget I still have two toddlers).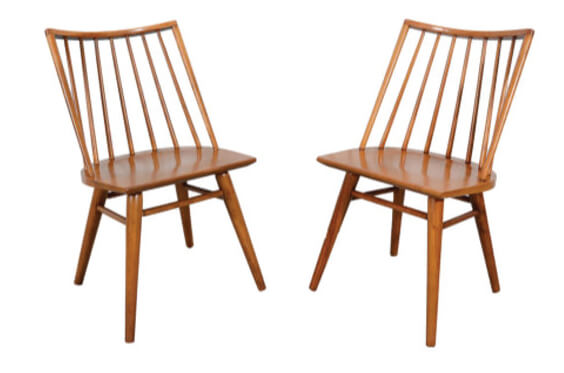 Getting these chairs has led me to re-think the style of our whole home (who knew chairs could be so thought-provoking?). I've been feeling that our home is a mishmash of things. They are all things I like, but it's not feeling cohesive to me. So one afternoon, I walked around the house and took note of my absolute favorite things. Things that I wouldn't hesitate buying or making again. The boys cribs and dressers. The mountain artwork over their cribs. Their deep teal rocking chair. Our gray couches. My geometric lazy-Susan. An antique chair from the 20s. Several pieces of artwork and several sets of curtains.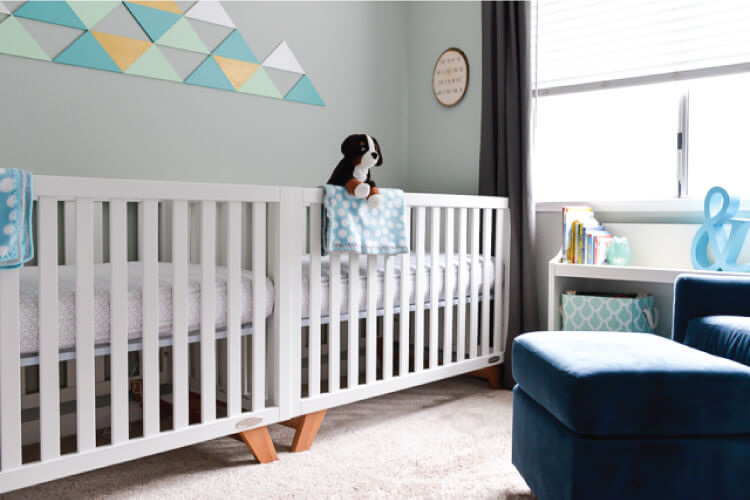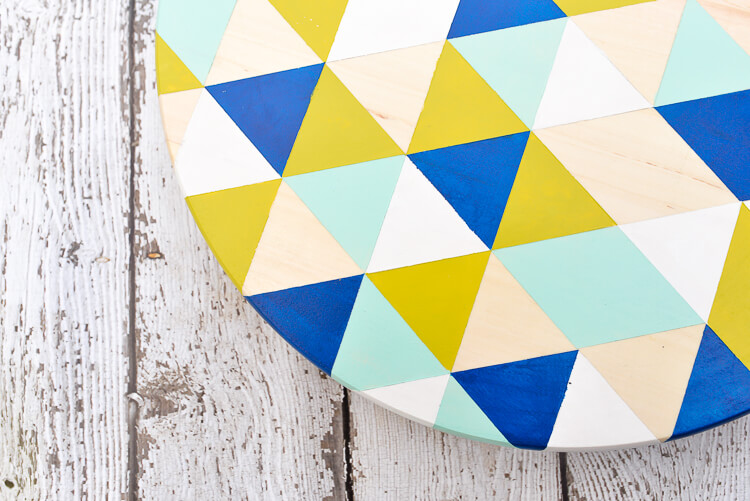 And lo and behold, I realized that everything I loved met one or more of three requirements: they were mid-century modern, geometric, or they were some shade of teal.
In the last few years, as we've filled in the empty spaces of our home, I think I've leaned too far into the rustic farmhouse trend that's been around for the last few years. I actually really love the rustic farmhouse look. I love the whites and creams, the gray-wash wood, the plaids and textured throws. It's so cozy and inviting. It looks so wonderful in so many homes.
But it's not me.
I like bold colors on the cool end of the spectrum. I also like white. I like clean lines and not a lot of fuss. I like shiny metallics. I like geometric patterns and stay away from most floral prints. I don't like clutter or tchotchkes or things I have to dust. Let's be real — I seriously love the color teal, which you'll know if you spend more than 3 seconds looking at my Instagram feed.
When I got these chairs from my grandma, I saw it as an opportunity to start steering the decor ship back in the direction I want it to go.
So let's get to the dining room plan, shall we?
First, let's see what we're working with. Our dining room is small — just 10′ x 9′. Our house itself is not huge — 1,680 square feet — and the tiny dining room is where you feel it the most. It seats four comfortably, six less so. We do have plans for a big renovation someday that will extend our home onto our back patio and increase the square footage of both the kitchen and the dining room, but that's not for another few years. So in the meantime, I'm working in this small space (don't let the wide angle lens fool you—I'm standing in the middle of the kitchen to take this photo!):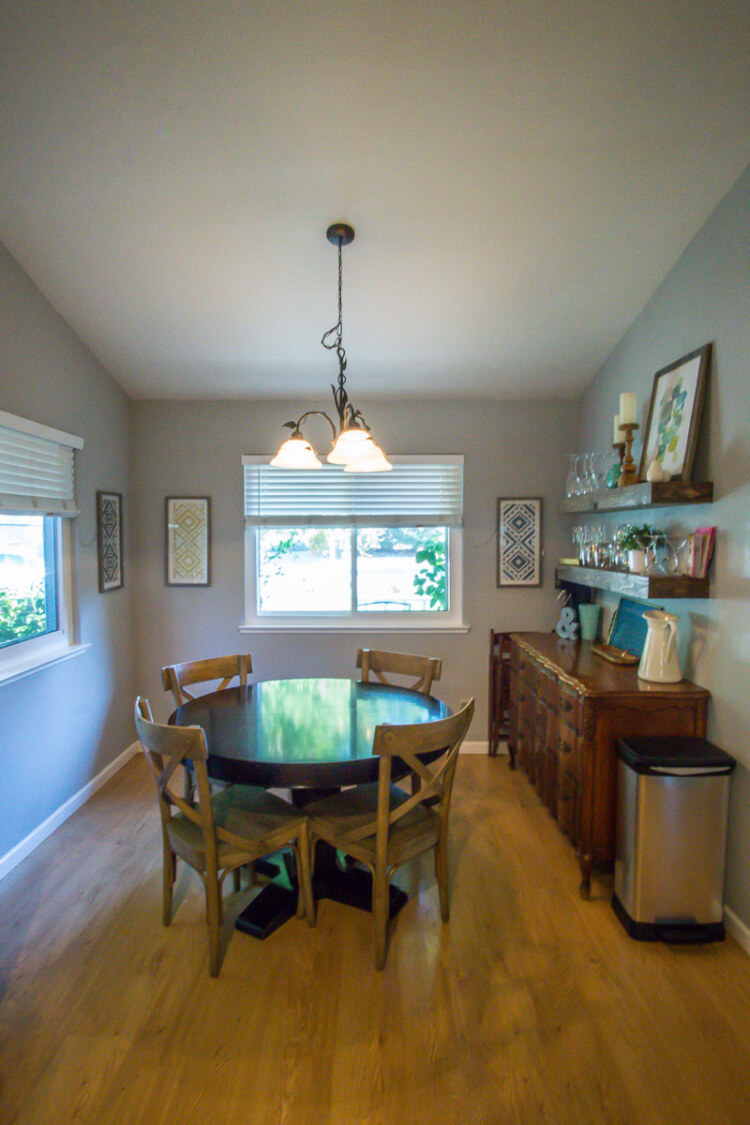 Well. If that wasn't a mishmash of every style and every wood stain, right? The modern-yet-still-traditional espresso table, the gray wash farmhouse chairs, the very traditional sideboard dresser, and the industrial floating shelves we built when we first moved in. Plus some geometric artwork, a trash can, a farmhouse pitcher, and a "Tuscan" light fixture to top it all off. And a frightening number of wine glasses, because #twinmom.
So I took the chairs as my starting point and started to build a mood board from there. I had recently picked up a coordinating table with the most beautiful bladed legs at the World Market Friends and Family Sale (hello 30% off + gift cards I'd been hoarding), and my mom found the sleek Kent Coffey sideboard at an antique mall. It's smaller in height and depth than the other dresser I had in the room and seems to hold just as much. I just love the shape and overall look of this piece. The legs alone are something to write home about!
After that I was floundering a bit until I found an abstract piece of artwork from World Market that inspired the rest of the space. Once I had that, everything else just fell into place.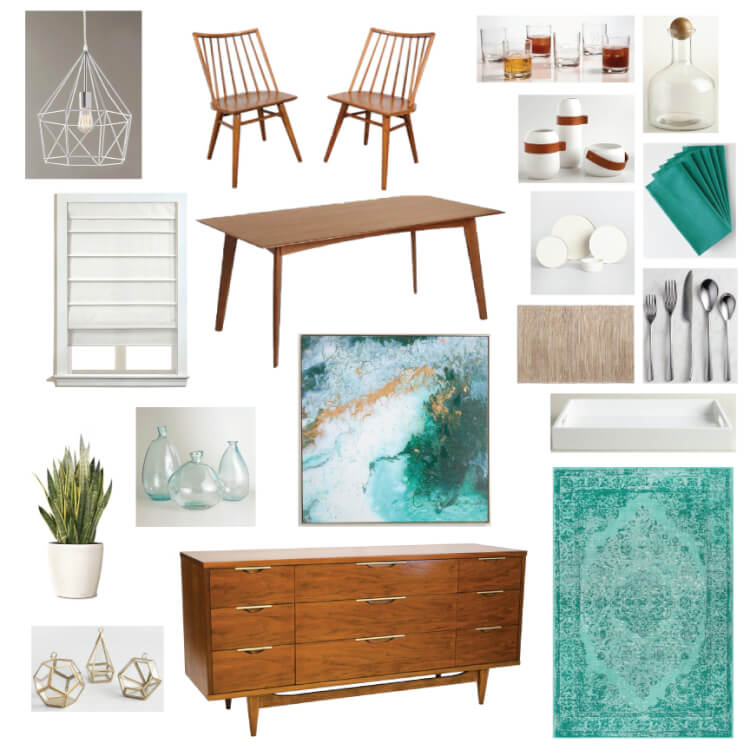 I love it so much. I'm calling it California Cool Midcentury Modern. It's clean, bright, modern, and effortless. It's going to be gorgeous. I think whole color palette will pair nicely with the updated kitchen, which is directly next to the dining room.
I've decided to take down the floating shelves and store our glassware in our kitchen cabinets and move some of the things in the cabinets into the new sideboard. I think the room needs less visual weight to make it feel bigger than its 90 square feet. We are also going to remove the builder-grade blinds and case out the windows like we did in the kitchen, to give them some more dimension (tutorial coming for that!). I'll sew white roman shades for the windows to soften the space a bit (tutorial for that as well). We will keep the same gray paint (Mud Pots by Kelly Moore) because if we decide to change the paint color, that means we'll be painting every common area of our house since they all connect. No thank you. I like Mud Pots just as much as I did when we first painted.
I already ordered the teal medallion rug, because it was a killer deal on Overstock. Even though this is a more traditional style, the well-worn look and bright pop of color will be lovely under the table and add a little texture to the space. And it's a complicated design that should hide food stains and dog hair well. Keeping it real, yo.
The pendant light was probably the most difficult piece to find — I wanted to stick with chrome to coordinate with the other metals in the kitchen and foyer. But lights that are mid-century and chrome and are able to be hung on a vaulted ceiling are hard to come by (unless you want a giant Sputnik-style light, which would just be too much for this space). I probably complained about my lighting hunt half a dozen times on Facebook. Then I finally found this simple geometric pendant light that should work perfectly. Like the glass pendants in our kitchen, it doesn't have much weight to it and it will be echoed in some of the styling in the room. The shape is similar but not too similar to the lights in the kitchen. And at $99, the price can't be beat.
The decor is still up in the air. I selected a few things I love to put on my mood board, like the big glass vases and the white tray, but that's all fluid as I shop for the space. I'm planning on incorporating several plants to bring life and fresh air into the room as well. I will probably DIY myself some modern planters to go with them that echo the colors in the artwork. If the artwork doesn't feel big enough on the wall, we'll add some other details—perhaps a set of sconces or some wall planters.
I'm also planning on re-stocking our dishes and flatware and replacing our current traditional dishes with something more modern and cool, and sharing my best tips for setting a mid-century modern table. This will be a good opportunity for me to go through all of our dishes, serving-ware, and other miscellaneous dining items and keep what I love and donate the rest. I'll also set a tidy little bar space to make it a bit Mad Men, with DOF glasses and a decanter with a wood stopper.
And there you have it! I am already chomping at the bit to get started.
Let's make a to-do list, shall we?
Order rug
Order dining room table
Relocate everything on floating shelves to somewhere else
Remove floating shelves
Patch wall and repaint
Touch-up paint elsewhere in the room
Re-paint baseboards
Remove blinds
Case windows
Paint casing and touch-up wall paint where needed
Sew roman shades for windows
Hang roman shades
Pick up dining room chairs from my mom
Shop for decor
Order pendant light
Install pendant light
Make planter
Hang planter (if hanging)
Shop for plants
DECORATE!
I can't wait to really get started!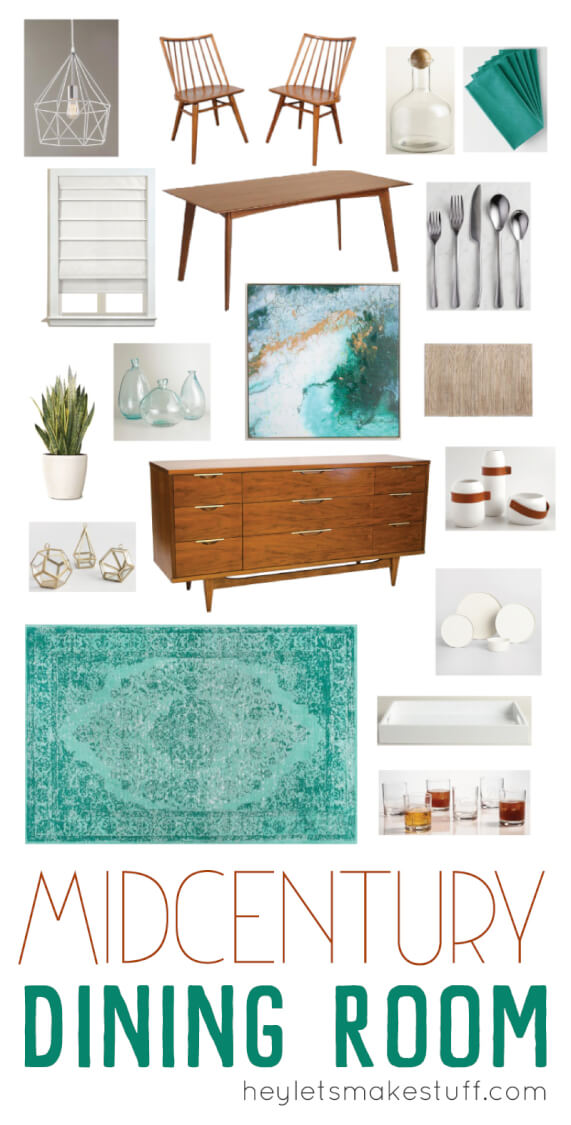 More from our home