Last updated on February 28th, 2018 at 02:29 pm
It's week three of the One Room Challenge! We're making slow but steady progress on our midcentury modern dining room makeover!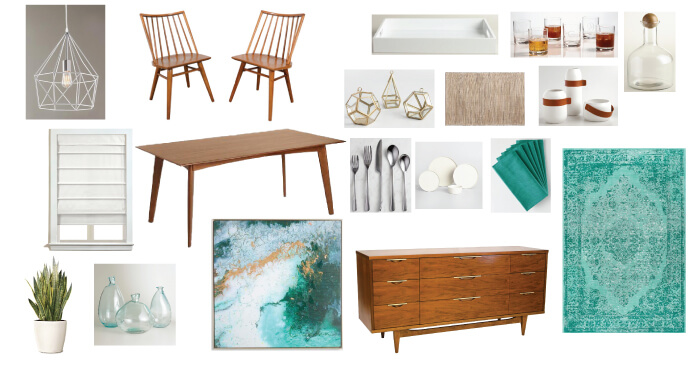 You don't really realize how quickly the weeks go by until you have a weekly project to keep on track! Even with our past weekend full of Easter fun, I've been slowing working toward the end of this makeover. I didn't even take photos this week because the progress isn't very visible, but trust me, we're getting there! Here are a few of the things I've been working on this week.
Chairs
We picked up the Conant Ball dining room chairs from my mom and oh my gosh, I just love them so much in this space. They are smaller than our old chairs and tuck so nicely right up to the table. When you're working with only 90 square feet of space, it's nice to have your furniture be beautiful AND unobtrusive.  All six chairs fit nicely at the table, though we'll probably keep only four our for daily use.
Planters
I found a few big ceramic planters in my garage, so I'm going makeover the biggest one. Right now the plan is to have it sitting on the floor, unless I can thrift a cool plant stand. I'm thinking a snake plant, like the one below, that stands tall and narrow is going to be my best bet in this small room. The key is whether or not my boys will leave the plant alone! If not, it'll probably end up in our master when all is said and done. #momhonesty
I also picked up a few glass teardrop planters to hang from the ceiling, out of the boys reach!
Paint
I also patched and painted the wall where the floating shelves used to be, and touched up the paint elsewhere in the room. We used flat paint when we painted the interior of our house, and it's got a little wear and tear over the last three years. The room feels cleaner and more fresh with a new coat of paint, even if it's the same color. I haven't painted the baseboards yet because I'm out of the trim color we use in our house. Have to pick up more this week! The baseboards were never repainted when we moved in and boy do they need it.
Window Treatments
As for the windows, I've decided not to do roman shades at this time. As much as I love the idea, they are going to be a) too expensive if I buy them and b) too time consuming if I make them. After a long discussion with friends on Facebook, I've decided to go with simple washable white curtains on a chrome rod. Maybe down the line we can do the roman shades once we have a little more in the bank. I do, however, still want to case the windows, so that's remaining on the to-do list.
Lighting
We also got our pendant light but haven't had a chance to install it yet — that's on the to-do list for Ryan while I'm out of town this weekend. It's bigger than I had imagined, which is awesome.
Here's where we are:
Order rug

Order dining room table

Relocate everything on floating shelves to somewhere else

Remove floating shelves

Patch wall and repaint

Touch-up paint elsewhere in the room

Pick up dining room chairs from my mom

Shop for decor

Order pendant light

Buy more trim paint

Re-paint baseboards

Remove blinds

Buy wood for casing the windows

Case the windows

Paint casing and touch-up wall paint where needed

Buy curtains and curtain rods
Install rods and curtains

Install pendant light

Makeover old planter

Hang glass planters

Shop for plants

DECORATE!
By this time next week, I'm hoping to have the light installed, the trim paint purchased and baseboards painted, and the curtains and rods purchased and installed. I'm out of town all weekend, so I think casing the windows will have to wait until the next weekend. Which is also my birthday weekend. That's how I know I'm getting older — I don't mind spending my birthday doing house projects. In fact, it's a great birthday present to me!
Stay tuned next week to see where we are!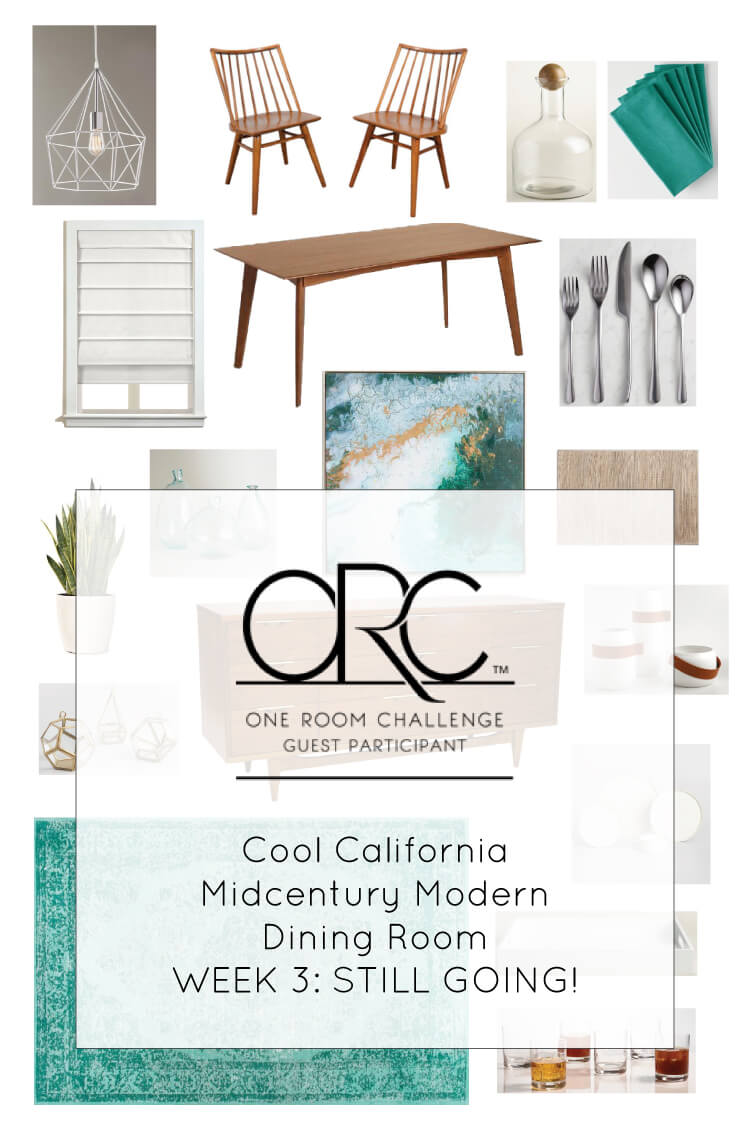 More from Our Home