Last updated on February 28th, 2018 at 02:24 pm
It's week two of the One Room Challenge! After sharing my plan for my midcentury modern dining room last week, here's an update on the progress we're making in this fun room makeover.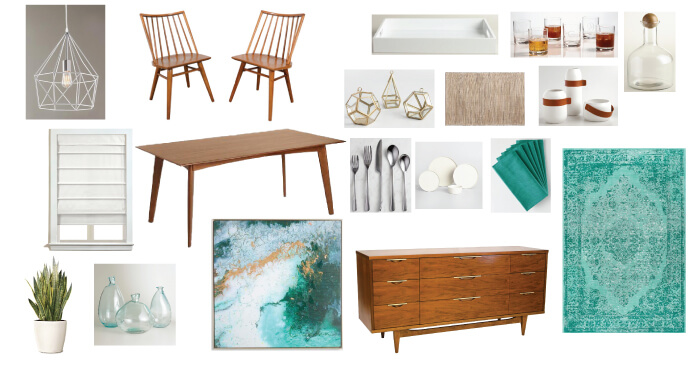 This last week has FLOWN by. We had one of the busiest weekends I can remember — a high-school reunion, a wedding, brunch with friends, and a bridal shower. This week we have stuff almost every single night. Somehow, though, we still managed to make some progress on our dining room makeover for the One Room Challenge.
Again, let's remember where we started: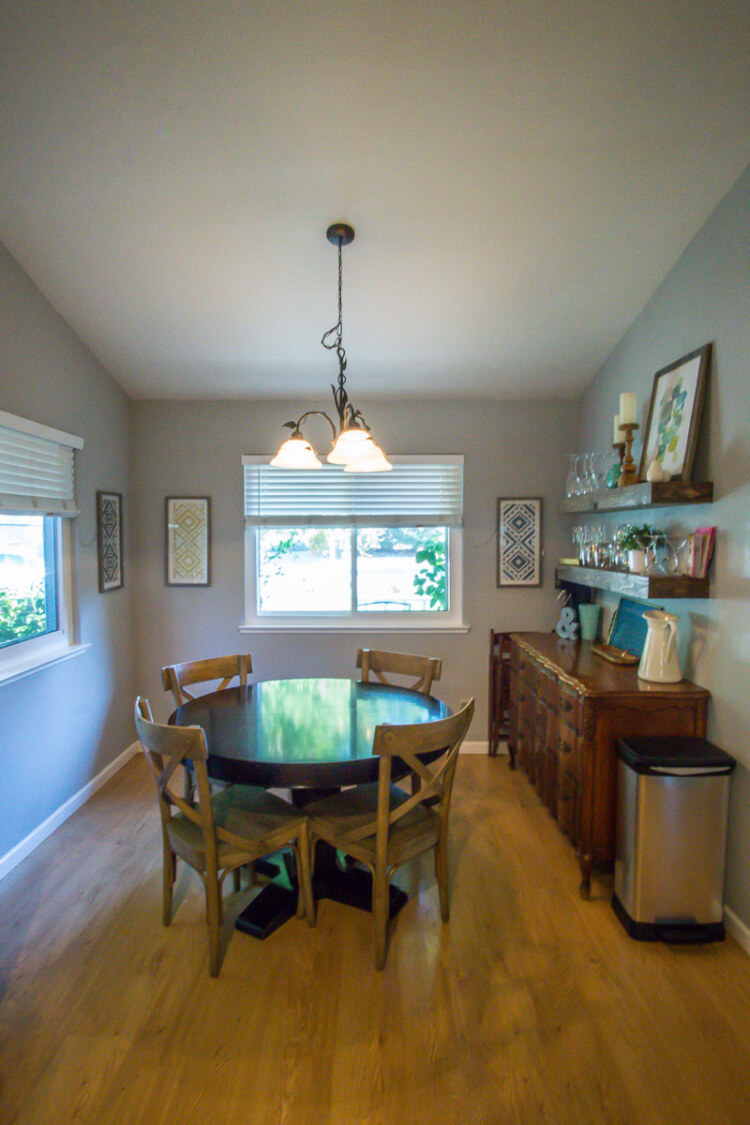 Lovely. Not.
You can see the complete plan here, and check out the mood board as well.
In my last post, I hemmed and hawed about taking down the floating shelves. We built them when we first moved in and they have provided great storage for us. But as I talked about in my room plan, they are just more rustic than I really want in our home. I thought about painting them white, but in the end I decided that if I could relocate/purge everything from the shelves, we would take them down. (I have a friend who wanted me to build her a set — now I'm just going to give her mine. Ha!)
So I reorganized some of our kitchen! The wine and champagne glasses now live in a cabinet, the trays in the beautiful sideboard. A few things went to the donate pile, and a few found new homes elsewhere in our house. Once they were down, the room felt significantly bigger! I didn't regret the choice at all, and I'm happy knowing I won't have to dust them any longer. Win!
We also took down the other artwork in the room, and finally sold our black dining room table. The World Market table I bought at their amazing Friends and Family sale last month is now in the room, but I haven't picked up my grandma's chairs from my mom yet (hoping to do that this Saturday) so we still have our farmhouse chairs in the room. The table is just a hair too long for the room, but we're going to make it work.
There's a smaller sideboard to the left of these photos and I think we're going to relocate it to make it easier to navigate around the table. This wouldn't be so much of an issue if I didn't have toddlers who like to push the chairs away from the table and to the window so they can look out. We end up pulling the table out a foot or two so they can do that. A little inconvenient now, but that'll get easier as they get older and aren't obsessed with everything going on outside.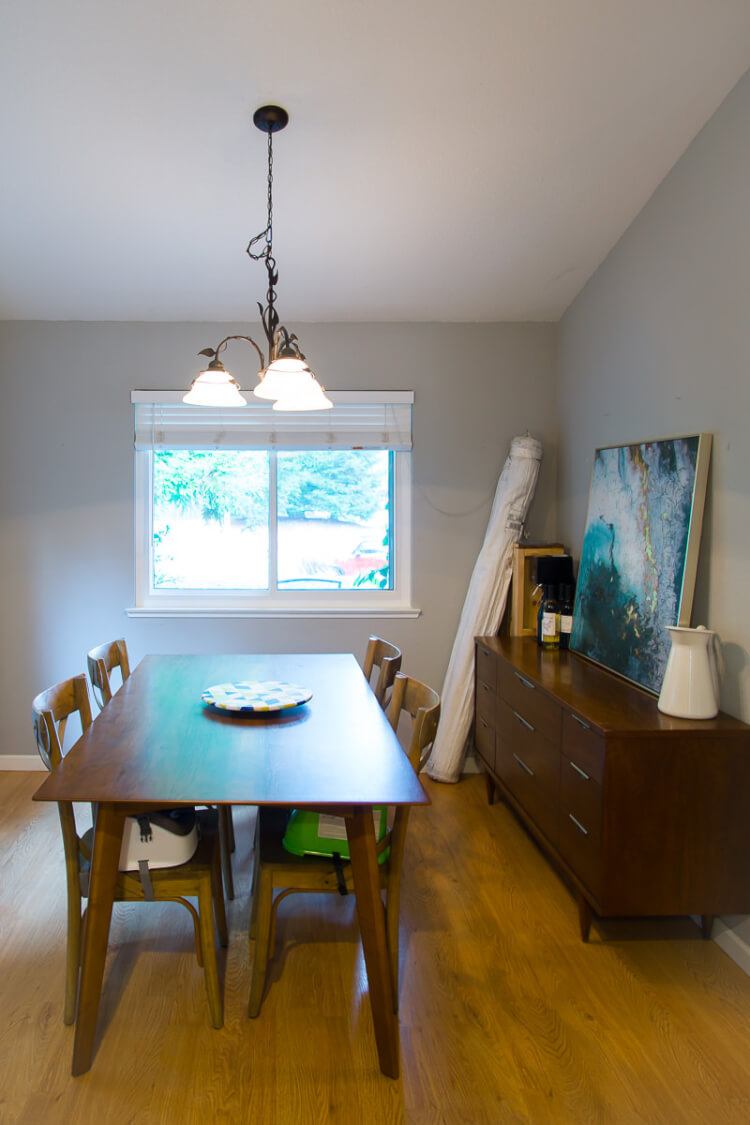 I also went SHOPPING! Yay! I picked up a bunch of things at my local World Market and ordered a few other things online. The artwork I wanted to get is huge and gorgeous and I am so happy with it. I also ordered our light fixture. Oh! And our rug came. It's still wrapped up because I am afraid to put it below the table until right before I take photos of the room reveal. I know it'll get dirty and stained (see the aforementioned toddlers), but I at least want it to be pretty for my photos.
For the windows, I was hoping to start casing them this week but we weren't able to get to it. I am also struggling with the roman shades. I love the idea of making them myself to save money and teach myself something new.
But I am so short on time lately (see yet again the aforementioned toddlers) that it might just be a sanity saver to buy simple white shades. If I buy, however, I might not end up casing the windows because that takes up about an inch of space in the window frame and a standard shade might not fit. I need to do more research all over and see what's going to be the best option. Because I really want to case those windows! I love how it looks in the kitchen: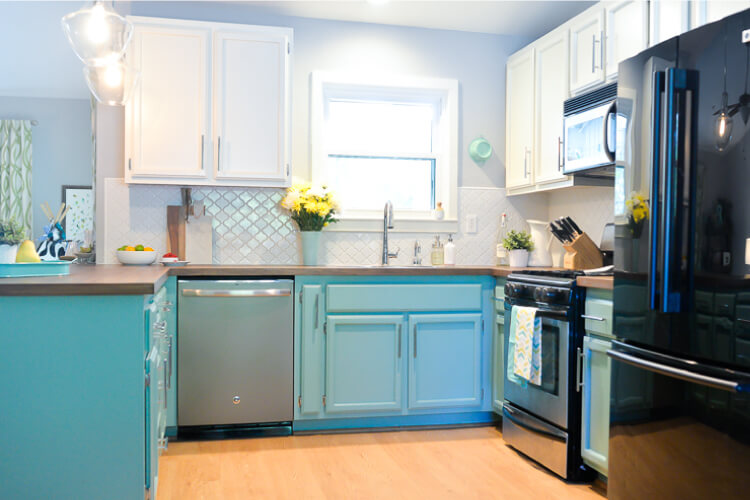 Anyway, that's something to decide this week and get crackin' on!
Let's take a look at my overall to-do list and cross some things off! Not doing these in any particular order, clearly.
Order rug
Order dining room table
Relocate everything on floating shelves to somewhere else
Remove floating shelves
Patch wall and repaint
Touch-up paint elsewhere in the room
Re-paint baseboards
Remove blinds
Case windows
Paint casing and touch-up wall paint where needed
Sew roman shades for windows
Hang roman shades
Pick up dining room chairs from my mom
Shop for decor
Order pendant light
Install pendant light
Make planter
Hang planter (if hanging)
Shop for plants
DECORATE!
Yikes. There's still a lot to do! This week my goals are to figure out what I'm doing with the windows and shades, touch up the paint on the walls and baseboards, and pick up the chairs from my mom. If the the pendant light comes before the weekend, I'll probably have Ryan install it as well — I am SO ready to get rid of the current bronze chandelier that's weighing down the space.
Come back next week to see the progress we're making!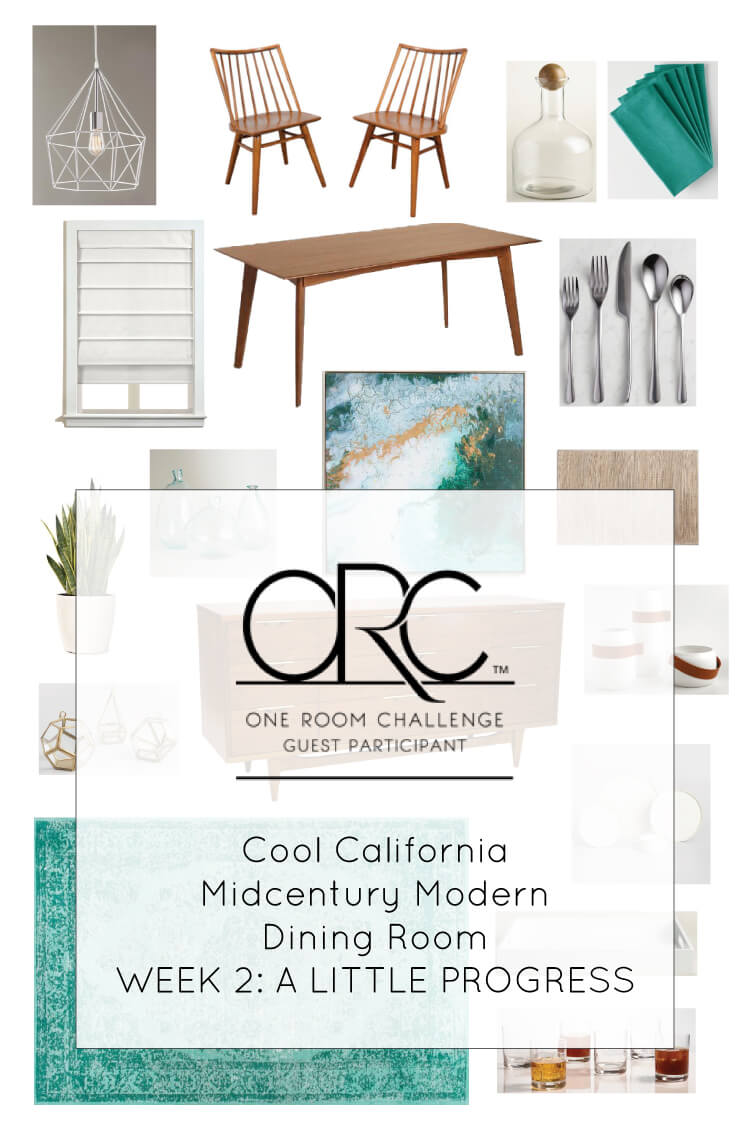 More from Our Home: