Last updated on January 19th, 2018 at 05:44 pm
You can easily organize your blog using Google Calendar. It's the perfect tool for creating and maintaining an editorial calendar, and it's great for organizing your life, too!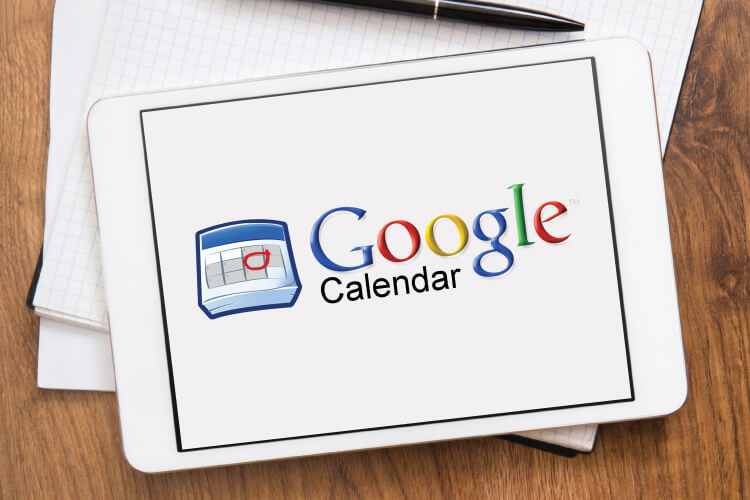 I'm taking a break this week from blogging about rebranding because I've had several people ask how I keep my blog organized.
I primarily use Google Calendar and have come up with a system that has both kept me on track and is flexible enough that I can move things around as needed. I also love that I can access Google calendar from any of my devices, anywhere in the world.
While this system won't work for everyone, I'm sharing it in detail to give you ideas on how you can best maximize your organization and workflow when it comes to your blog—and your life!
Overview
My Google Calendar system incorporates three key elements:
Color coding
Carats (> > >)
A moveable task list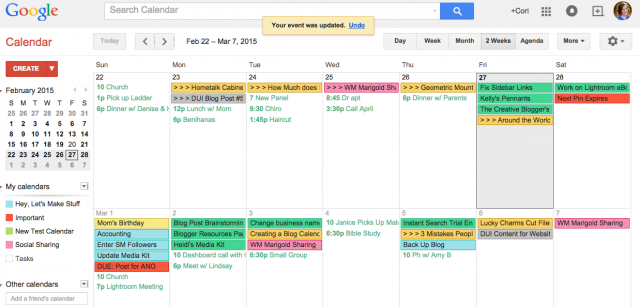 I'll break each one down and explain how each helps me manage my blog. I generally use the "show two weeks" setting in Google Calendar—the whole month is too much to look at and one week isn't enough!
Creating Calendars in Google Calendar
My system is based on having several calendars at once, each color coded.
If you're not familiar with how to create a new calendar, you can set up a new calendar by clicking the little drop-down arrow in the left sidebar of your Google Calendar next to My Calendars. Select "Create new calendar" and it will bring you to a screen that where you can name your calendar. There are other details you can add, but the name is most important.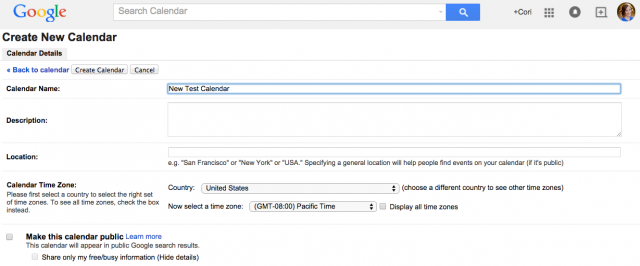 Click "Create Calendar" and it will take you back to the main calendar screen, and your new calendar will appear in the left sidebar.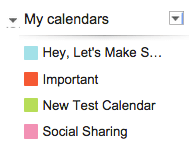 Using the drop-down arrow next to the new calendar name, you can select a different color if you choose.
Color Coding
Like I mentioned before, all of my Google calendars are color coded. The key to keeping a successful Google Calendar is to make sure you're color coding each event and task correctly. That way, if you need to know what's going on with your blog, for instance, you can turn off the other calendars and only things related to your blog will remain.
These are my calendar names. You, of course, will have different needs (such as an exercise schedule, contributor blog posts, or activities for your kids). I'll break my calendars down individually after the list.
Cori George
Birthdays + Anniversaries
Blog
Caffeinated Crafters
Freelancing
Hey, Let's Make Stuff
Important
Social Sharing
Cori George
This is my general life calendar and it is GREEN. All of our family events, appointments, etc. go on this calendar, even ones that repeat every week, like our church home group. (If it's not on the calendar, I'll schedule over it!) This is pretty much the only calendar I use to schedule things at specific times.
I used to put meetings for my blog on its respective calendar, but now I just put all meetings and appointments on this main calendar. That way, I never miss them, even if I have other calendars turned off.
I also use this calendar for my moveable task list (see the section below) because it's the default calendar and I don't want to spend time color coding items that are only going to be on my list for a short period of time.
Birthdays + Anniversaries
This YELLOW calendar is self-explanatory. Whenever I get a new birthday or anniversary for someone, I add it and then set it to repeat on that day every year so I won't forget.
Blog
This is how I track all of my blog posts—it is basically my editorial calendar. I use my ORANGE-YELLOW calendar to schedule all blog posts. When I brainstorm future blog posts, I add them to the calendar sometime in the future, and as the dates get closer, I'll write the posts and work out how to schedule them best.
Caffeinated Crafters
I have a group of bloggers I work with often, and this is our shared calendar for our blog hops and other collaborative work. It is ORANGE. I will often put these posts on my blog calendar as well so that I can turn this one off and not lose important information. But it's nice to have a calendar where we all see the same thing!
Freelancing
I do a little freelancing here and there. This is where I keep all of the information about meetings, due dates, blog posts I'm writing for clients, etc. I made this one GRAY.
Hey, Let's Make Stuff
This BLUE calendar is where I schedule all of the stuff that has to do with my business other than blog posts. For a long time, I had them in the same calendar, but I found that I really needed my blog calendar to be my editorial calendar only. So I use this calendar for other things relating to my business, like recurring events to remind me to do things like design and send my newsletter, send out payment reminders, do my accounting, and update my media kit once a month.
Important
This is RED and really stands out on my calendar of mostly cool colors. I use this primarily for due dates for contributor posts and blog hops, although I sometimes use it to make sure I see other important reminders. Often, a blog hop post is due (or at least a photo and link are due) several days before the post actually goes live. Having these due dates in red on my calendar makes sure that I see them and have my content ready to go.
Social Sharing
The blogging campaigns I work on often have a social sharing component, meaning that over a certain period of time I share different updates related to the campaign on social media. If I don't schedule these out on my PINK calendar, I will may forget until the end of the time frame — and then have to smoosh all the social sharing into a day or two and risk overwhelming my readers. It's much easier for me to have it on my calendar to make sure my shares are spread out evenly.
I know that's a lot of calendars, but I've been using them and refining them for a long time now and knowing which is which is easy! It just takes creating a system that works for you and sticking to it.
Carats
While I'd love to take credit for this method of checking things off my lists, I have to give my friend April at illistyle credit for introducing me to the magic of the carat.
Before I used the carats, I used to have a calendar for "blog posts to write" and "blogs scheduled." But it ended up being clunky with too many colors and calendars.
Now I just use a set of three carats to check things off my list: "> > >". Once a blog post is fully scheduled and ready to post, I'll add three carats to the calendar event, visually showing myself that I don't need to worry about it anymore. I use this carat technique for all of my calendars and it works perfectly!
You can see in the below screen shot my blog posts that I had written and scheduled this last week, plus my social sharing and freelancing projects that were scheduled and done as well.

Moveable Task List
Until recently I'd tried everything to have a workable to-do list. I used apps and websites, I tried pen and paper, I had an ongoing email list open—but nothing really stuck as a consistent and useable workflow for me. I ended up with half-lists everywhere.
Then I started using Google Calendar for my task list. Yes, there is an actual task list within Google Calendar (you'll see it in the list of calendars in your left sidebar), but even that didn't work for me. I needed to be able to shift things from day to day as opposed to just having a long list of things to do.
So now I just make events on my default calendar for my tasks. These are the green items in my calendar below. For example, today I wanted to work on fixing some sidebar link issues I was having, make some pennants for my friend Kelly, and work on my rebranding guide. Tomorrow I need to spend some time on my Lightroom project, and a few other tasks I've pushed out to Monday and later next week.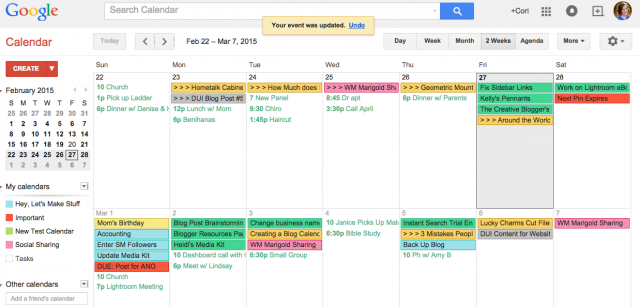 Instead of using carats to cross things off this list, I just delete these when I'm done. More than anything, I like to keep my calendar clean and I have so many task that they would clutter up my calendar more than I'd prefer.
The thing I love best about this method is that I'm able to move my tasks from day to day. Didn't finish what I wanted to do today? I can move it to Monday and it's right there waiting for me when I get into my studio. With pen and paper I found it too difficult to handle life's curve balls. Google Calendar makes it much simpler!
This also works very well as a brain dump. Every time I have an idea for something that I want to do, I just throw it on as an event in my calendar.
I hope you've found my Google Calendar workflow helpful for your own organization. As always, if you have any questions about how to do things, I'd be happy to answer them in the comments!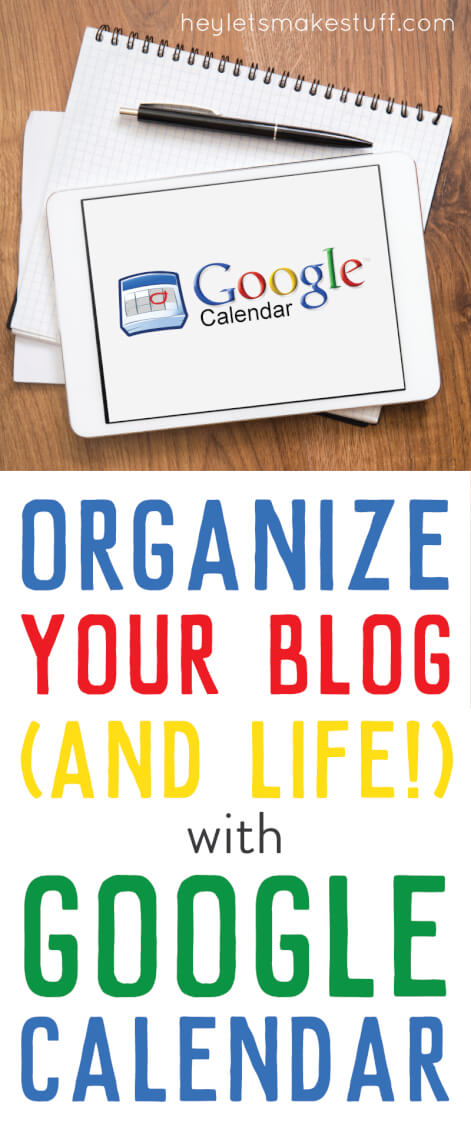 More tech tips for you: