Make paint touch-ups around your home a lot easier with this super simple trick! Save your spot and time with this easy tip!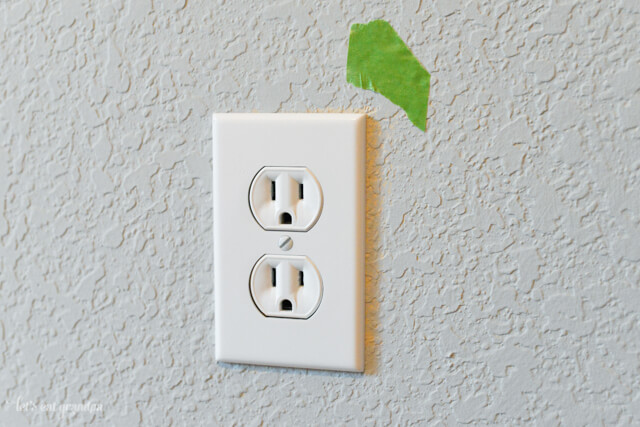 Today I have a quick trick that will help you with interior paint touch ups!
We're in the midst of painting the entire interior of our new house. Most of the house was painted a boring builder's beige, with two kid bedrooms — one sporting a castle and the other ALL THE PINK. So many gallons of paint later, we're adding the cooler colors we prefer — grays, teals, and blues. I don't feel like we can fully move in until we do.
With so much painting, we're bound to miss spots or have places where the paint didn't cover completely. Instead of finding and fixing touch ups constantly, I've come up with this quick trick to help making my paint touch-ups way easier!
A few times a day, I wander around the house, looking at the walls to see where I may need to touch up. I stare at the walls during different parts of the day, since the light reflects differently and I can see different places I may have missed.
Whenever I find a spot, I use a little piece of painter's tape to mark it. For instance, a bit of the beige showed through when I replaced the outlet plate in the photo above — must touch it up!
After a few days I can do all my paint touch-ups at once, rather than as I find them. Less brush-cleaning, less time, and less hassle.
What are some of your go-to painting tips and tricks?