Trying to figure out how to use the fruits and veggies in your community-supported agriculture box? Here are tips and tricks for making the most of your CSA box.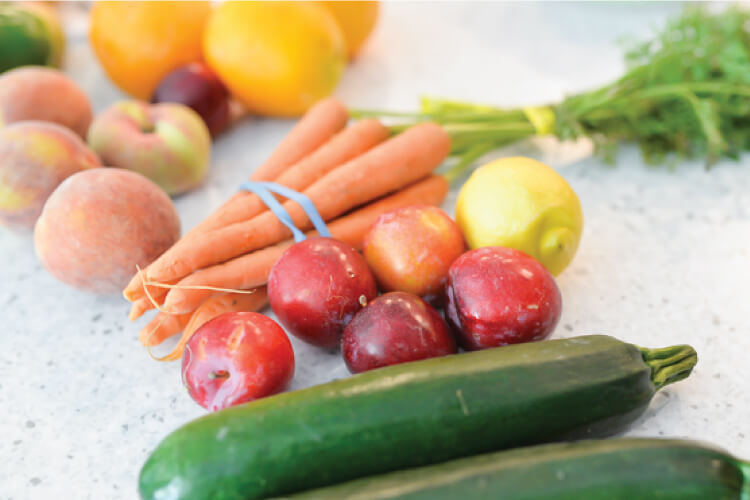 PIN THIS POST TO YOUR MEALS BOARD TO SAVE IT FOR LATER!
FOLLOW HEY, LET'S MAKE STUFF ON PINTEREST FOR MORE GREAT TIPS, IDEAS AND RECIPES!
In an effort to start eating more food from local sources, Ryan and I joined a CSA: Community Supported Agriculture. What is a CSA? Basically, we get a box delivered to our doorstep every other week, filled with fresh fruits and veggies from local farmers. It's a little expensive, but we're trying not to equate good with cheap, but instead be okay paying for better quality from local farmers — and far superior taste!
Our CSA allows us to pick and choose what comes in our box from what is available seasonally, plus we can add other local items, like honey or nuts. Living in California means we have so many wonderful options!
This was literally the BEST cantaloupe I've ever eaten. Cantaloupe from the grocery store is often pale, mealy, and tastes like not much. This cantaloupe was juicy, sweet, and absolutely bursting with flavor. Dear lord, I almost ate the whole thing myself that morning.
Fruits and veggies in a CSA box are picked fresh, so they go bad a lot faster than produce from the grocery store. More than once I've gone to grab something and found it was past edible. So unfortunate!
Since then, I've got it down to almost a science. Here are a few ways I stretch our CSA box, and make sure we are able to eat all of that fresh goodness before it goes bad!
1. Do your meal planning backward
Often, we make a list of what we want to eat for the week, and then buy our groceries accordingly. When you get a CSA box, you look at what you have, and then find the best recipes for your box.
Find zucchini in your box this month? Plan for a light vegetarian lasagna, fry it up as a side, or make a loaf of zucchini bread. You'll have to change the way you think about meal planning, but the fresh produce from a CSA is often so much better than what you can get a supermarket that it's completely worth it.
2. Supplement your meals
Many of you know I'm a big proponent of freezer cooking using the Once a Month Meals plan. The best use of our vegetables comes as using them as sides to our freezer meals. Using veggies as sides as opposed to using them as an ingredient in a main dish works very well for a CSA box and means we don't have to do a lot of that backward meal planning (though we still do some!).
We often have roasted or stir fried veggies as a side to our often meat-heavy Paleo meals. Kale is one of my favorites — just saute it in a little olive oil and add a bit of garlic salt — it's delicious!
I've started a Pinterest board for great veggie side dishes, too!
3. Prep your fruits and veggies immediately
When your CSA box arrives on your doorstep, it's so easy to just throw everything in a bowl on a counter or the crisper in the fridge. Doing this immediately places your freshly picked produce out of sight, which makes it out of mind.
Instead, prep prep prep. You know the day your box arrives, so schedule some time that day to prepare your produce for the week.
Cut veggies for snacks during the week, like we do with carrots. Sometimes we'll make them with dinner like I mentioned above, sometimes we'll freeze them for smoothies, and sometimes we'll keep them raw as a healthy snack.
But no matter what, I look at what we got in our box, what our upcoming week looks like, and then I prep accordingly.
4. Use produce bags to keep everything fresh
To keep fresh produce longer, we use produce bags
. The bags give me a few extra days for most veggies, especially when I want to keep the veggies fresh to supplement our freezer meals throughout the week.
5. Preserve extras
Because I do so much freezer cooking, I often freeze things out of our CSA box. A few weeks ago, we got a box the day before we were leaving town for five days. No way things would last while we were gone! So that day, I cut everything and froze it.
For food that might stick to itself in a big chunk in the freezer, I often flash freeze. I chop up the fruit or veggies and lay them in a single layer on a cookie sheet. I put the cookie sheet in the freezer for about 45 minutes, and then put the partially frozen food in a bag. It really helps keep things from sticking!
Frozen fruit is perfect for our smoothies in the morning (as are some veggies — carrots, for instance!), and often I'll use frozen veggies as ingredients in meals, since many frozen veggies aren't ideal to eat alone — they just tend to get a little watery for my taste.
Oh, and make sure you date everything in your freezer! Frozen food last for a loooong time, but taste definitely deteriorates after a while, so we try and eat everything within two or three months of freezing.
If you're so inclined, you can also can your extras. Our CSA box is rarely big enough to make an entire afternoon of canning worth it. But our CSA, for example, can be modified — I could add 30 apples to my box and make applesauce if I wanted (when apples are in season, of course)!
Are you a member of a CSA? How do you handle having so much fresh produce at one time? What are your tips and tricks for making your box last a long time?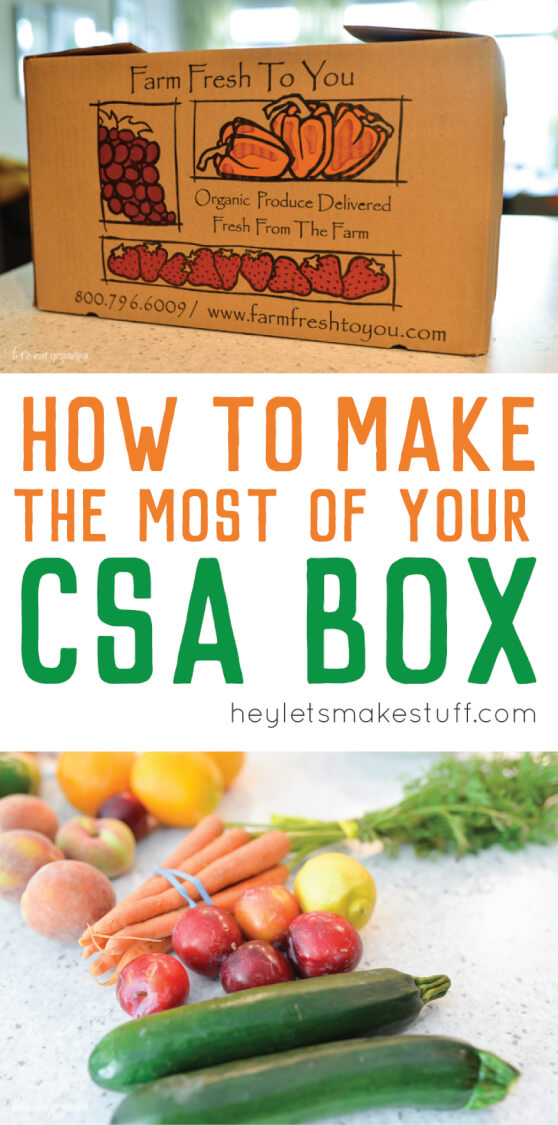 more food tips and tricks:
TODAY'S TOP TEN POSTS