The post-Christmas purge is an annual tradition in our house. Each year, we go through all of our Christmas decorations and make sure we only pack up the things we would be happy to unbox next year.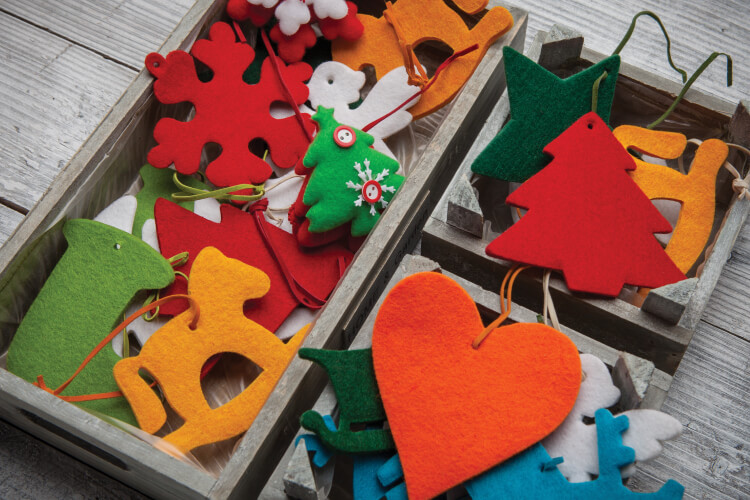 PIN THIS PURGE POST TO YOUR ORGANIZATION BOARD TO SAVE IT FOR LATER!
FOLLOW HEY, LET'S MAKE STUFF ON PINTEREST FOR MORE DECLUTTER AND ORGANIZING TIPS!
If my Facebook and Twitter feeds are to be trusted, most of my friends are bummed that Christmas is over. There's a lot of post-holiday crashing going on — no more parties, peppermint bark, shiny presents, family visits, or Elf marathons.
But I have a confession. We're moving into my favorite time of year.
Yes, I'm the crazy girl who loves the middle of winter. (Take that with a grain of salt, though — I live in Northern California, so our "winter" temperatures are in the 50s and 60s.). I love bleak and rainy days. I love boots and scarves and snuggles and hot cocoa.
And I especially love the new year and the fresh beginnings.
While I haven't made any "official" new year's resolutions, I do want to live more simply this year. This year I want to make space — physical, mental, emotional, and spiritual space. It's time to de-clutter and give us more room to breathe.
First up?
The Post-Christmas Purge
As I put away our Christmas decorations on New Year's day, I grab a trash bag and a box for donations. I really think about each and every thing that I put back into storage for the year. My more rustic ornaments made the cut and went into storage.
Everything that didn't make it went into the donation box or the trash bag. I also cleaned out the plastic bins (good Lord, glitter) and consolidated where I could so it would take up (much) less space in our attic.
Here's how I did it:
Christmas Ornaments
Unlike many newly married couples, we already have a full tree's worth of ornaments  — that's what you get when you get married in your 30s! My mom has been giving me an ornament or three a year since I was young, all of them shaped like food (guys, my tree is amazing). Plus I usually pick up and ornament wherever I travel. Add in ornaments given to us as gifts, and our stout tree, Gus, was fully decked out this Christmas.
But there were quite a few ornaments that didn't make it on the tree. If it's broken, ugly, or not my style — basically, if I don't love it — it's now in the donate box or trash bag. 
Christmas Decorations
Like my Christmas ornaments, there were quite a few Christmas decorations that never made it into my house this year. And if I'm honest, they haven't made it into my house in several years. Many of these were hand-me-downs from various family members and friends that just don't fit my style or that cause too much of a Glitter Disturbance in the Force.
I thought about how I want my home to look during the holidays: simple, rustic, outdoorsy, gold, silver, white, neutral, a little glam. I'm not a particularly sentimental person, so getting rid of the, um, Russian Orthodox priest (?) nutcracker wasn't a problem. If it doesn't fit the vision — it's now in the donate box or trash bag.
Christmas Presents
We didn't get a ton of presents, which I'm more than fine with. I love the things we got, but I wanted to make sure that I was getting rid of as much (if not more) than we were taking in.
I got six new books, so ten go into the donation box. I tossed in my old snow pants because Ryan got me a cool new pair that actually fits (I can't believe the old pair fit at one point — I'm so much healthier now than I was in college!). A couple new board games replace some we don't play anymore. Drank a whole bottle of wine to make room for a new bottle (okay, that didn't actually happen. But I wouldn't put it past me!)
And so it went, until my donation box was full. It really does feel good to have less now than I did on December 24!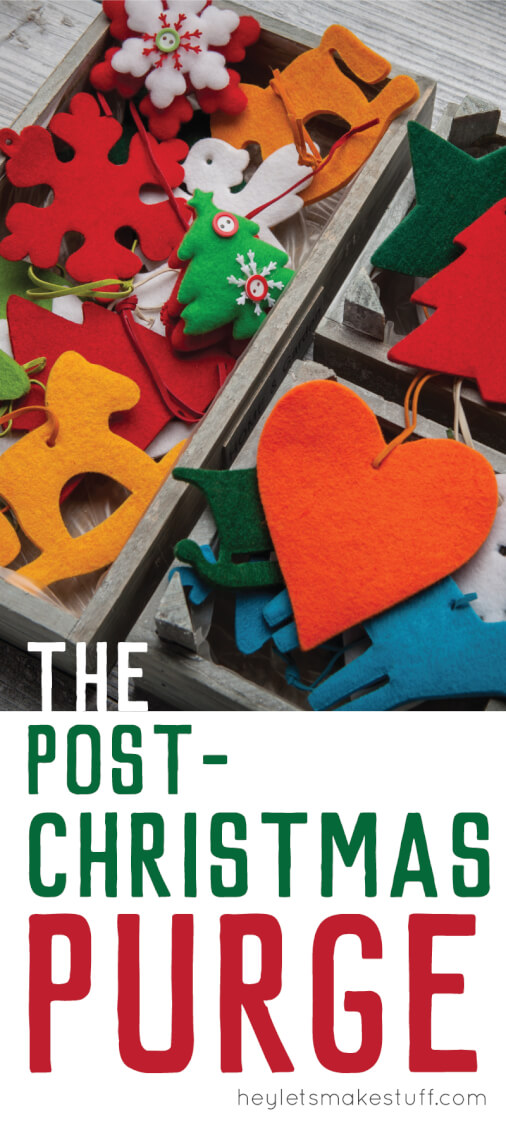 GET ORGANIZED IN THE NEW YEAR:
TODAY'S TOP TEN POSTS