Do you find tangled necklaces and lone earrings taking over your jewelry box? Here's how to clean out your jewelry box, declutter what you don't need, and wear what you love.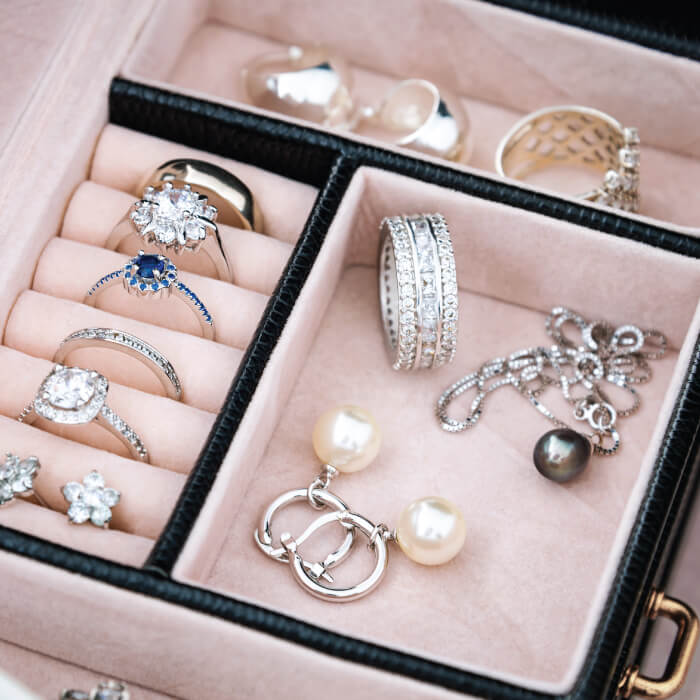 PIN THIS POST TO YOUR ORGANIZATION BOARD TO SAVE IT FOR LATER!
FOLLOW HEY, LET'S MAKE STUFF ON TWITTER TO GET THE LATEST TIPS AND IDEAS!
I'm on the hunt to continue de-cluttering our house! After tackling our closet, the Christmas decorations, underneath our kitchen sink, and my purse, I decided to go through my jewelry.
I thought my process might help you go through your own jewelry, with the goal to keep what you truly love and pass on the rest. As with my clothing, once I went through and organized and got rid of the excess, I found that I ended up wearing more things because I could actually see them — and every single thing I kept, I love!
Now, prepare yourself. It's about to get real up in here.
This is my jewelry…pile. It's on top of a tall dresser in our closet. It contains jewelry. And…everything else.
Like international change. And my great grandfather's pocket knife. (I'm named after him — Cory. I love that about my name.)
This poor ceramic elephant. I have him wrapped in chains. Animal cruelty, I tell you.
While cleaning out my jewelry, I remembered I have a jewelry box (I got it in India and it's meant to hold bangles). It has a bunch of my bangles, plus some other bangles that I couldn't tell you the origin. But they are mint and coral and gold — super trendy! Perhaps I'll wear them now that I remember I own them.
This jewelry box also contained a freakish number of fortunes. And four drawer knobs. And three flamingoes. And a tire gauge.
I took everything and laid it out on my kitchen counter. First I pulled out everything that wasn't jewelry. I had a poncho in there, for goodness sake.
I put those things in a better forever home. International change, for example, went in a sweet box (also from India) on our dresser. I remember going through my parents' change as a kid, and I'd like to keep it around for our future child-people. It also reminds me of how much of the world we've seen!
I also pulled out things that I love but that I don't wear. Things that have sentimental value that I'm not willing to part with, but don't need to be part of my everyday jewelry. A few necklaces, my Indian bangles (which I can't get over my hands — I got them when I was 15), my Tough Mudder headband. These went in a box and into my hope chest, which is full of all sorts of memories.
I also boxed up my hairpiece from our wedding. I don't presume to think my future daughter would want to wear my old fuddy duddy wedding dress (I'm trying to think from her perspective in the year, oh, 2040), but perhaps she'll love my flower. I love it so very much.
Then I was left with just jewelry. Lots of it.
I started to pull out the things I love and wanted to keep. For the most part, everything I kept was high-quality and doesn't turn my skin green or make my ears itch. For years I wore cheap jewelry, but no more. I'm a grown-up. I can have nice things. I'm learning I'd rather have fewer beautiful things than a mishmash of cheap stuff.
The bracelets I kept went into my jewelry box, since it's meant for bracelets! I put the jewelry box on my dresser, so I'd remember it actually exists.
Then I started on the necklaces and earrings. My Flawed Perfection earrings, for example, are a perennial favorite of mine. I love the argon Swarovski crystals, and they go with everything.
A few of the other things I kept include my Casablanca necklace from my friend Tom, my (tarnished) silver cross, my Ash Jewelry Studio porcelain necklace (I've never received more compliments on a piece of jewelry), my handmade "ink" scrabble tile which I ended up taking off the ribbon and putting on a chain, my scissors and sewing machine necklace, and my Charmed Collections "forward" necklace from SNAP.
I also kept my coral pearls from Hawaii, my pink necklace (designed by my friend's daughter for Monkeyland Originals), and my big coral statement necklace that always makes me nervous to wear but always ends up being awesome.
I had quite a bit of silver jewelry that was tarnished, so I gave it a quick dip in my jewelry cleaner. 


To store it all, I recently got this sweet mint and gold tray from One Kings Lane (affiliate link). It has a nice round edge, perfect for hanging my earrings, but it's not as tall as the canvas box I had before so it's easier to see the contents and keep them organized.
The tray even holds some of my post-back earrings, like these, which I wore for our wedding.
I put my safety pins in this little gold box my grandma recently gave me — tucked away, but still accessible should I need one.
You can see how much less I have now. Just a few key pieces that I love and wear often.
For my necklaces, I just hung them on the wall with thumbtacks for now. A much better and less-tangled solution than piling them on top of the dresser!
At some point, I might make a more sturdy jewelry holder out of the four drawer knobs I found (they were a gift from my Boston roommates) — I see a fun DIY project in my future!
It feels so much better to have my jewelry organized and de-junked. How about you? Is this something you need to do?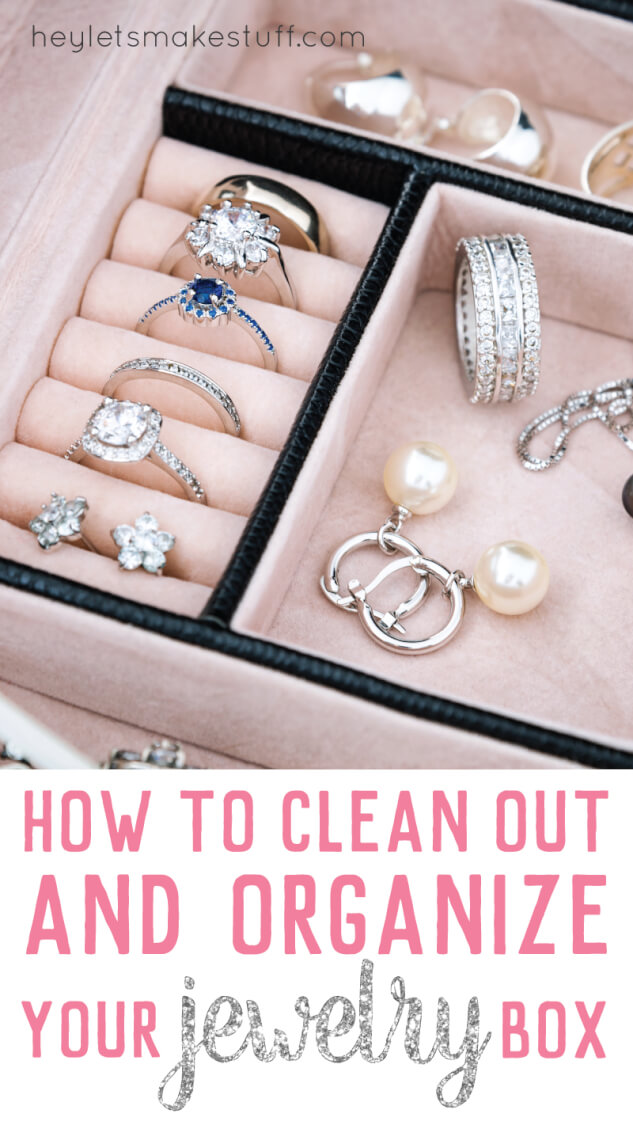 Keep Everything Tidy:
TODAY'S TOP TEN POSTS