Looking for kitchen faucet ideas? Kohler has you covered with three beautiful kitchen faucet options for any style kitchen.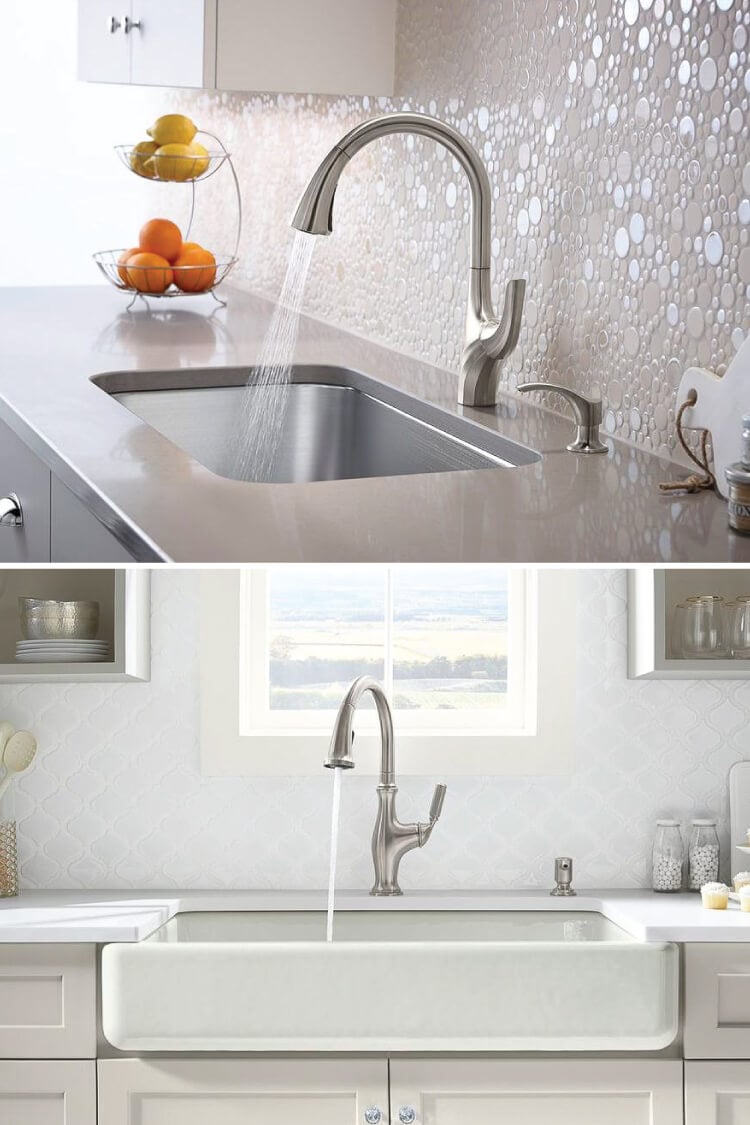 This is a sponsored post written by me on behalf of Kohler. All opinions are 100% mine.
The other night, as Ryan and I were waiting for friends to come over for dinner, we talked about our future kitchen renovation. It's an extensive project. We want to put an addition onto our kitchen and dining room, extending the house out five feet and enclosing our back porch into more living space. We will swap the kitchen to the front of the house and put the dining room in the back. We think that adding function and square footage to the house is both good for our family (we can have more than four people in our dining room!) and good for resale, since we live in a highly desirable area.
(Not that we're planning on moving any time soon. I want to do a renovation on a house that I live in, so I can actually enjoy it, instead of moving right as we're finishing it up, like last time!)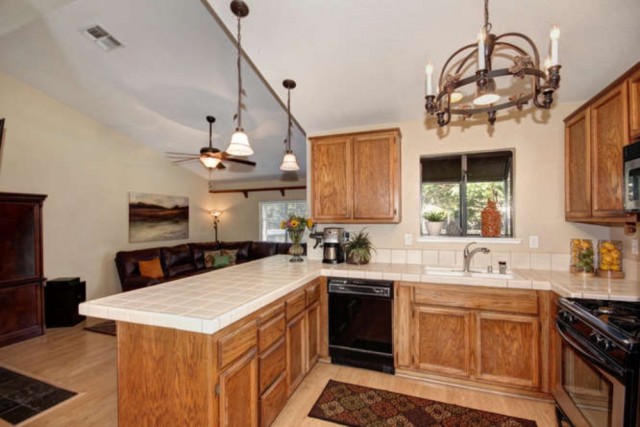 We are both dying to get rid of the 1989 kitchen, as seen in the realtor photo above. The cracked bone tile countertops, oak cabinets and floors, mismatched appliances, chipped porcelain sink, and grimy faucet are just begging for a makeover. So we're starting to make a list of potential ideas for our new kitchen. UPDATE: we finished our interim kitchen renovation! And went with a Kohler faucet, of course. Read all about what we chose.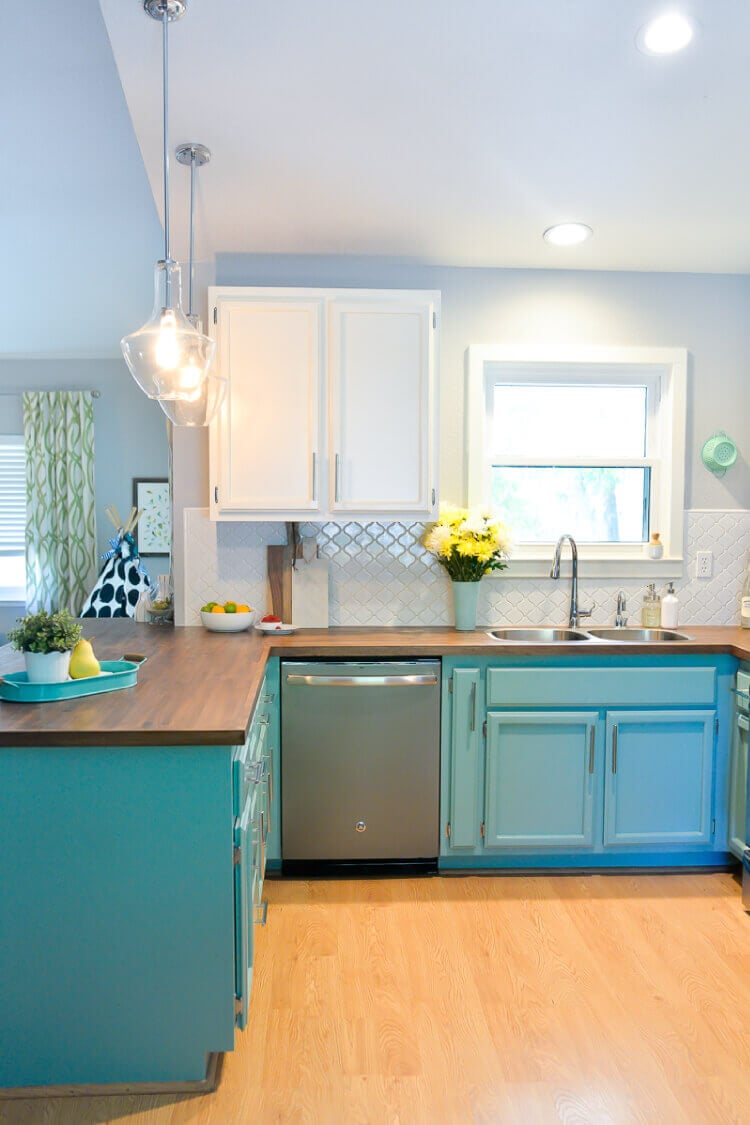 Today I thought I'd share a few Kohler faucets we're looking at, depending on the design style we end up going with in our new kitchen.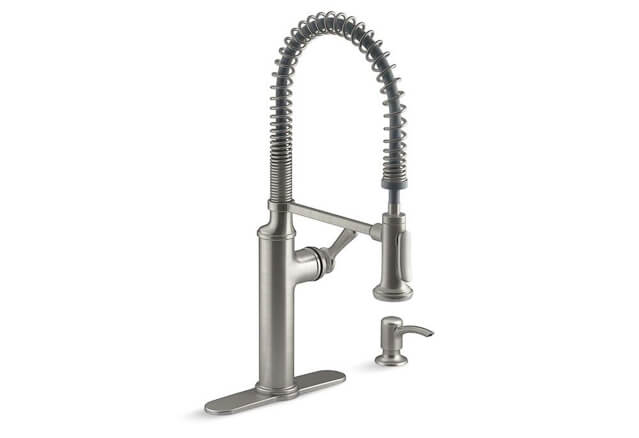 One of our ideas is to go completely Master Chef-style in our new kitchen and deck it out with high-end appliances and finishes. If we go that direction, the Kohler Sous Kitchen Faucet is the perfect faucet for a professional kitchen. The high arch and exposed-spring design will make it so easy to wash the biggest of our pots and pans, plus it docks magnetically to hold the faucet head in place (our current faucet head hangs limply out of the handle and drives me crazy.)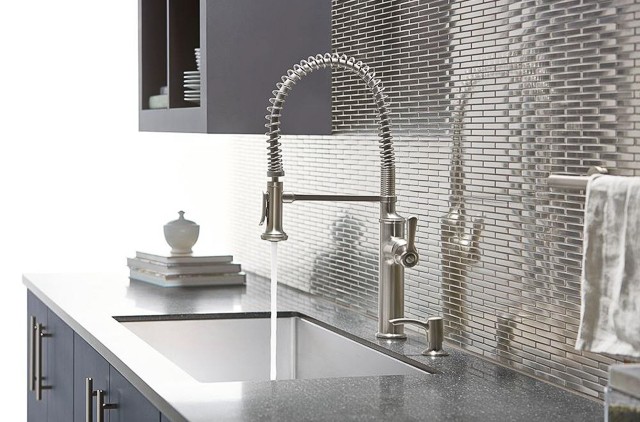 The Sous also has a double-spray feature, so it both streams like a normal faucet and sweeps a forceful spray that makes cleaning a snap. Plus the spray head comes apart to make cleaning the faucet itself easy. Even though it's a professional-style faucet, it's perfect for us DIYers, thanks to flexible hoses and quick-connect fittings. We'll have it installed in a snap!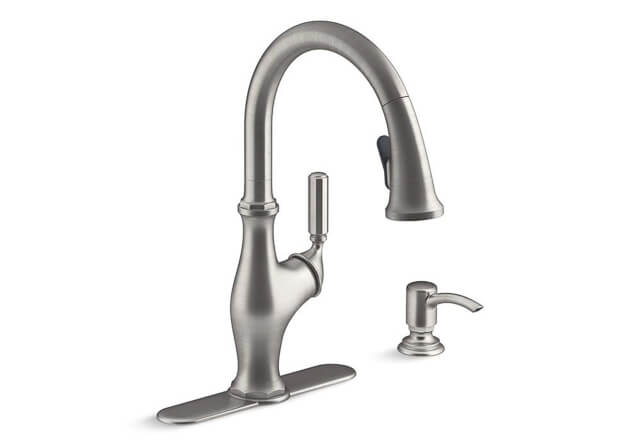 If we go with a more vintage kitchen, I love the Kohler Worth Kitchen Faucet. The details on this faucet are beautiful, like the facets on the neck, handle, and base. I like that it's not too traditional or country, but would be right at home in a vintage kitchen. Imagine it with a big farmhouse sink, open shelving and white cabinets and quartz counters—gorgeous!
Like the Sous, it has a magnetic docking spray head (yay!) and with ProMotion technology, it makes it easy to control the spray head.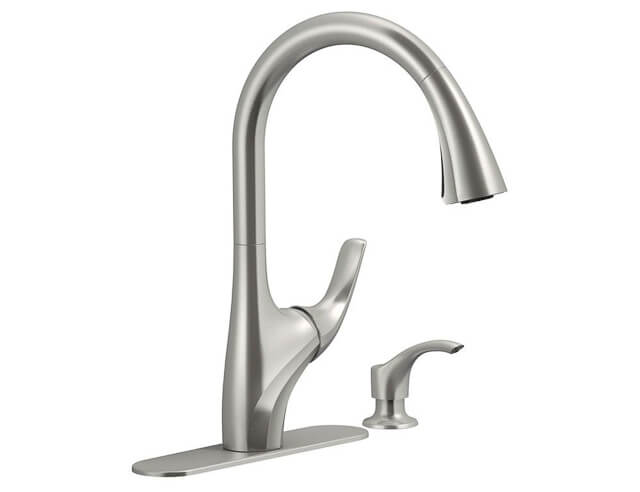 If we go more modern in our kitchen, I'm looking at the more contemporary Kohler Trielle Kitchen Faucet faucet. I really love the lines of this faucet, so simple and clean. The Trielle would go beautifully with sleek cabinets with brushed nickel hardware, a modern waterfall countertop, and fun backsplash.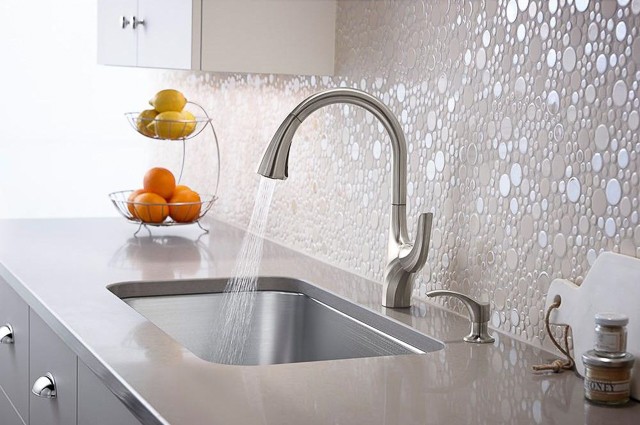 Like the other Kohler faucets above, the Trielle has a magnetic docking handle as well as a two-function spray and sweep head (making doing dishes so easy!) and it's DIY friendly.
* * *
As I've been writing about each design style, I've wanted to do this renovation more and more. The only thing stopping me from going out right now and getting one of these three faucets to install right now is that I don't know which design we're going to go with! Dreaming about a new kitchen and dining room is my new favorite pastime and I can't wait to actually get started soon. Look for more of our kitchen ideas and inspiration in upcoming posts!


More Home Decor Ideas
Latest posts by Cori George
(see all)