We're doing a kitchen renovation on our 1989 kitchen! Here is our inspiration board: white, teal, chrome, and walnut. Light and bright!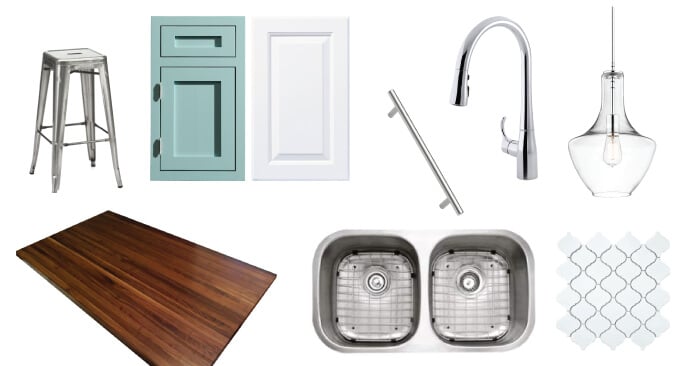 This post and our kitchen renovation is sponsored by Build.com.
When we bought our current house, we were just finishing up the kitchen renovation in our old house (literally, we had to finish the backsplash to rent it out!). We barely had any chance to enjoy our new kitchen before we were right back in 1989 in our new house. Since the day we've moved in (in September 2014), I've wanted to do a kitchen renovation to bring the kitchen up to date!
We're considering this kitchen update as an interim fix. We have BIG plans to do a huge renovation down the road (building an addition and swapping the kitchen and dining room). But in the meantime,
I have GOT to make this 1989 kitchen prettier! So let's take a look at what we're starting with. First, the bad: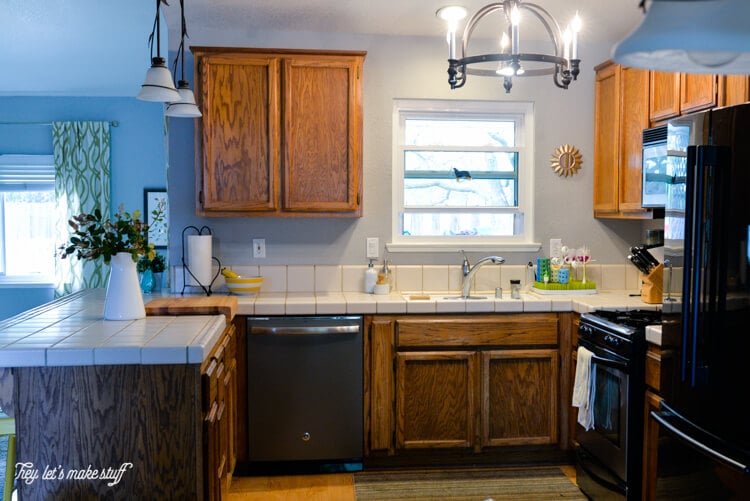 Not so great, right? Thankfully, even though they are dated, the cabinets are in pretty good shape. By the sink, the finish is coming off, but that just means less sanding for me when I paint them! We'll also have to fix a few drawer rails as well, but that's easy.
The countertop is, by far, my least favorite thing in this entire kitchen. There's no way around it—it is gross. There's no restoring this bone-colored, stained, chipping tile countertop. I scrub and scrub and it's always gross. Whoever invented tile countertops should spend eternity scrubbing grout, thankyouverymuch.
The sink is not in great shape either—it's porcelain and stained and starting to chip. The faucet could also use an update—it's not very tall so washing pots and pans is a pain.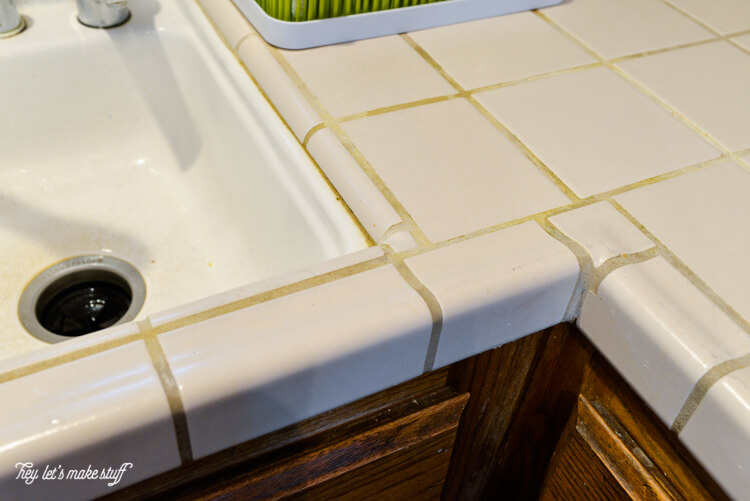 The lighting isn't horrible, but it's definitely not my bright modern style. I also don't really get the chandelier over the stove. It's like standing under a heat lamp while you make dinner.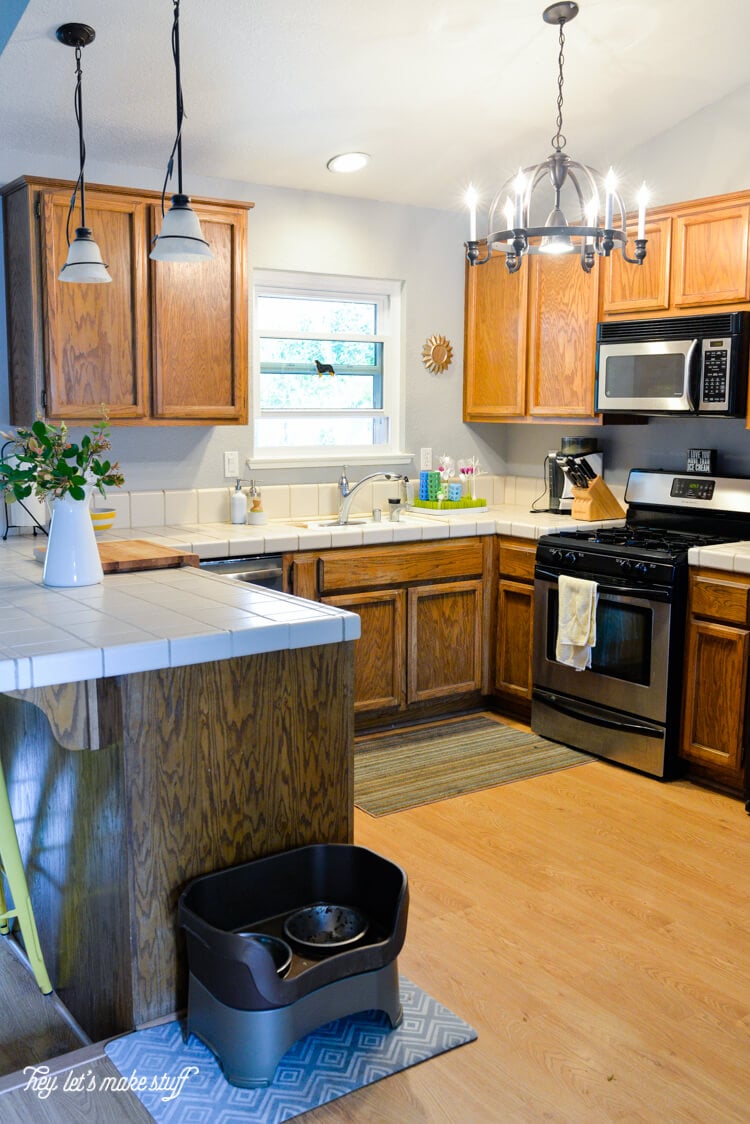 The good: Not much, but we do have a new Slate dishwasher which is lovely (we want to replace our other appliances with Slate appliances someday). The floors aren't my favorite, but they are in good shape and will look better once we do the update. The window is my favorite part of the kitchen — it overlooks our backyard and brings in a ton of light.
I've created an inspiration board for our renovation, with a huge thanks to my friends at Build.com for helping us out with some of the updates we're doing—including a new sink and faucet, as well as pendant lights and hardware for our cabinets. Working with Build.com is always a joy—a huge selection and awesome customer service! My absolute favorite place to find products to update our house.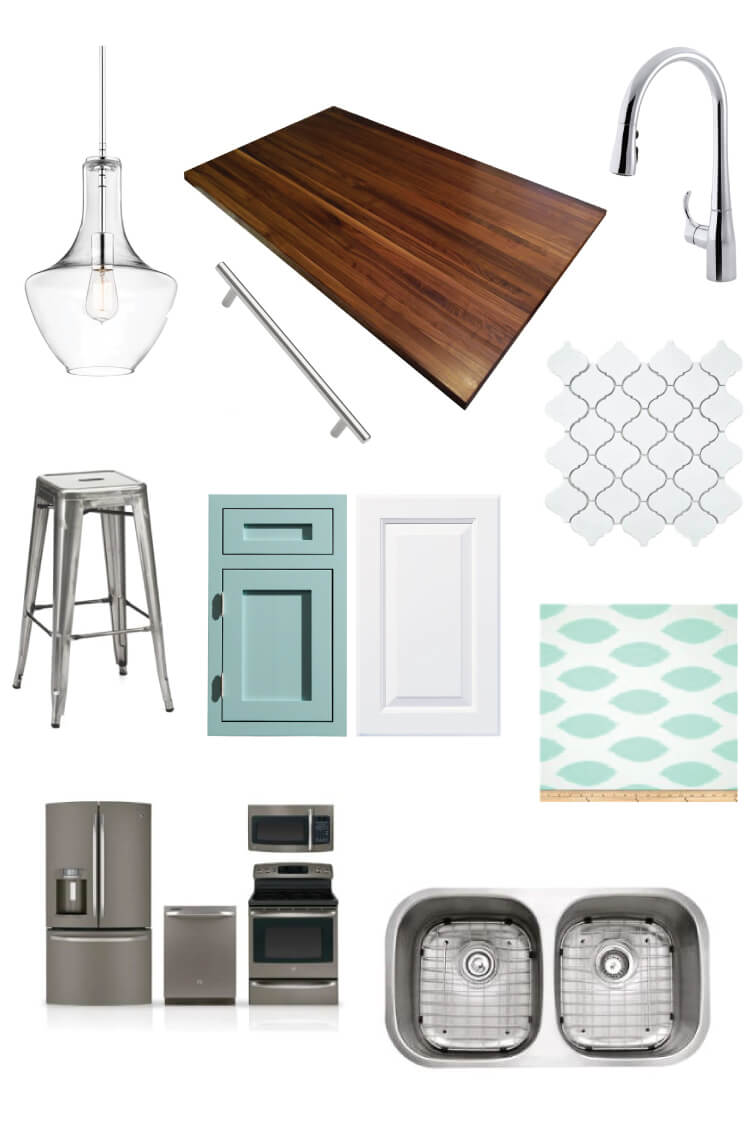 I started out wanting to paint the bottom cabinets gray, but thought that the last time I took a risk painting my cabinets a fun color, I LOVED them. So a light teal it is! I'm going with white on the top to help bring in even more brightness. Chrome Liberty Hardware handles will help mitigate the hand marks we have now from opening the cabinets by the doors themselves.
The new countertops will be butcher block, mostly because we found it to be the most economical for our "interim" renovation. We'll stain them a pretty walnut to match the shelves we made last year in the dining room. We'll be putting in a simple (and deeper!) Kraus stainless steel sink and a beautiful, simple chrome Kohler faucet.
For lighting, we'll get rid of the chandelier and replace it with a regular can light. We're a little afraid it's not going to be bright enough, so we may install another two can lights. We'll have to see as we go along. The current "Tuscan" pendant lights will be replaced with two gorgeous Kitchler glass and chrome pendant lamps that I chose because they'll add to the light and bright feeling of the kitchen.
We're looking at doing a backsplash with arabesque lantern tile in a simple white (gray grout? white grout? I'm not sure yet.). I am considering casing the window so that the tile will look better (and the window will stand out!). I plan on making a simple valance or Roman shade out of a light teal fabric to help soften everything. Our current bar stools are bright yellow, and I am considering replacing them with simple metal ones, depending on how everything looks together.
And there you have it! I've started sanding cabinet doors, so we're on our way!
UPDATE: We finished the kitchen! And I think we stuck to our original plan quite well, don't you think?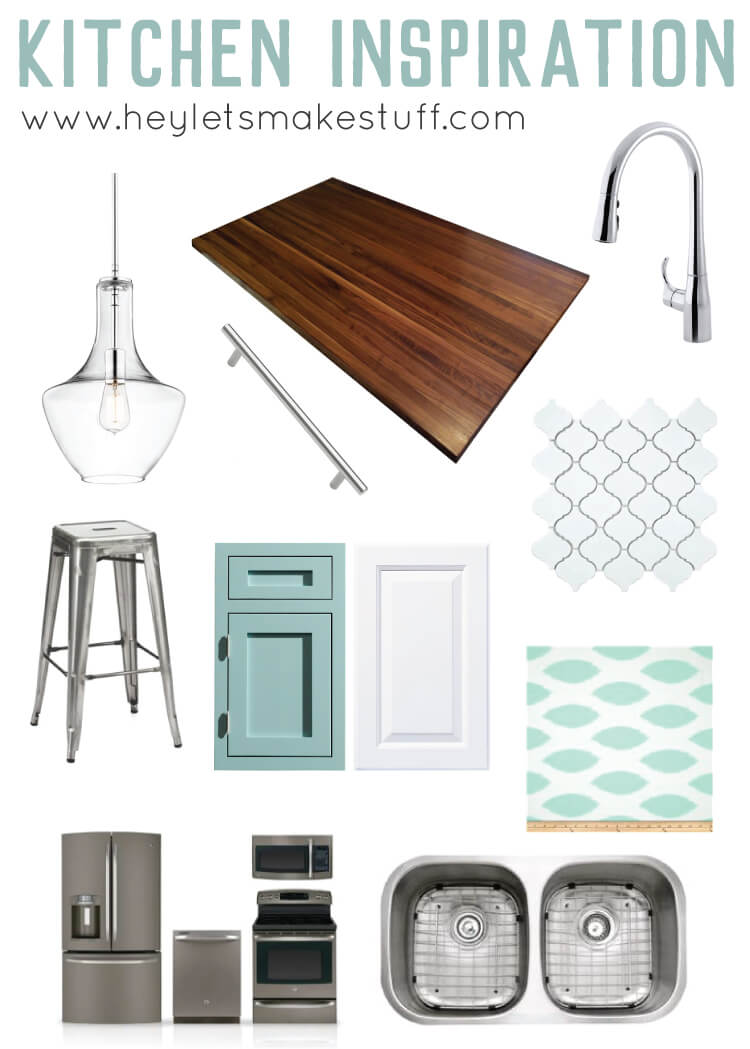 More Home Posts
[ess_grid alias="craft_room"]