If you struggle to keep your house tidy, these tips and tricks will help you keep things clean, without really noticing that you're doing it!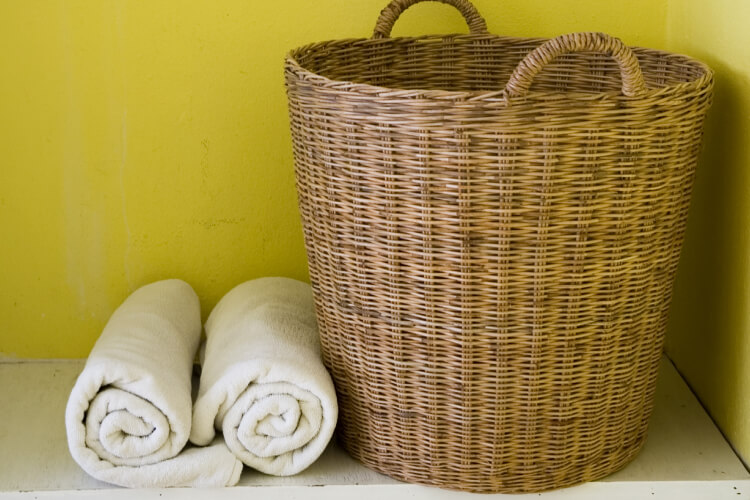 Our house is usually tidy. We're not clean freaks, but for the most part, our house stays neat (of course, we all have our moments!). I chalk it up to a method of cleaning that I invented for myself years ago. Basically I play an all-day game to keep the place tidy and chaos at bay.
This method is for keeping things put away and neat, as opposed to deep cleaning. This approach is more about maintaining control over the chaos so that when you need to deep clean, it's a lot easier.
First, a few things are important for this method to work:
1. You Can't Have Too Much Stuff
Clutter is the enemy of keeping your house neat. The more stuff you have, the more you have to put away. While I wouldn't call us minimalists, we definitely purge often and don't have a lot that we don't use on a regular basis. Our house isn't enormous and what we have fits nicely into our space. If you have too much stuff, do something about it. Trust me, you'll be a lot happier.
2. Your Stuff Has to Have a Home
If you don't know where to put things, you're going to hit a serious wall trying to keep everything neat. There's no possible way to put things away if they have no "away"!
For example, the hardest thing for me and Ryan to keep neat is our mail/paperwork. I have yet to work out a good system for controlling it in our new home, so often I don't know what to do with everything and it can take over the kitchen counter. I'm currently working on a system to give our paperwork a home and reduce the clutter.
3. Kids Make Things Harder
Our kids don't make a mess…yet! Our house isn't under constant attack from toys and kid mess right now. So we'll see how things go once they get older. The good thing about this method is that it doesn't really take much extra effort — and it's so ingrained into my daily routine — that I should be able to continue it in some sense once the boys start to make a mess. Plus, growing up we always had a neat and tidy home and my parents made sure to involve us in keeping it picked up, when it was age-appropriate.
UPDATE: We now have two SEVEN-year-olds! And yes, things are more difficult. But using these methods all day, I keep our house relatively clean and tidy even with two Tasmanian devils destroying everything!
Okay! Let's see how I keep my house tidy!
How to Keep Your Home Tidy Without Really Trying
The best part approach is that you can sort of make it a game. I have always thought of it as a game and somehow I even enjoy it sometimes! Crazy, right?
1. Take One Thing
I rarely leave a room without something in my hands that belongs in the room I'm going to. Shoes sitting by the couch? I drop them in the closet on my way to the bedroom. Cup by my bedside? It goes in the dishwasher when I walk back to the kitchen. Kleenex box
sitting on the dining room table? That goes with me to the bathroom. Because I'm constantly moving around my home, I'm constantly taking things with me when I go and putting them away.
And note that I put them away. I don't put the glass on the counter, I put it in the dishwasher. I don't put the shoes on the floor in the closet, I put them on the shoe rack
in the closet. It takes no extra time to actually put things all the way away.
Since I've been doing this for a while, I often take up to three things with me and deposit in different rooms as I pass them. And sometimes, I can't find anything to take with me — and that's an awesome feeling!
2. Five at a Time
I don't like spending a lot of time on one chore, so often I break it down and do five things at a time. The best example is laundry — I'll dump all the clean laundry on the bed as I do it, and any time I enter the bedroom I have to fold five things. Just five. But I am always surprised how often I go into the bedroom, so the pile tends to get folded pretty quickly. Then I just put the folded clothes away (hanging five things at a time in the closet, instead of the whole pile at once — because I hate hanging things up!).
I also do this with the dishes, both putting them in the dishwasher (though I usually try and do this right when we use them — but it doesn't always work that way!) and putting the clean dishes away. I'm sure I'll be doing it with toys soon, too, as will my boys, when they get old enough (update: sure enough — two years later and I do this all. day. long!)
3. Thirty Seconds is More Than You Think
While I agree that sometimes we just need to space out, I often spend the 30 seconds (or so) waiting for things to happen to tidy up around me. Waiting for my iron
to heat up in my craft room? Put away some sewing supplies I'm not using. Making toast? Put a few things from the dish drainer
into the cabinets until the toast is done. Waiting for my computer to boot up? I toss the dog's toys
back in his basket and re-fold the blankets on the sofa. Those 30-second bits of tidying up make a difference day-to-day.
4. Ten Minute Madness
When I do need to do more than just put things away, I'll set my timer
for ten minutes and do a quick clean. Wipe down the counters, sink, and stove, for instance. Dust the living room or Swiffer
the hardwood floors. Nothing crazy — this is quick cleaning. Because my house remains fairly tidy, doing these quick cleaning sessions is easy. Some days I do a bunch of these little cleaning sessions, other days I skip them entirely. Really depends on what I have going on. But ten minutes here and there should be manageable for most people.
And if it's not manageable for you, having a tidy house makes it a lot easier if you have a housekeeper! (Oh, to dream!)
I know this method won't work for everyone, but I wanted to share my method since it's bound to resonate with someone. Overall, I may actually spend more time tidying than if I did it in large chunks, but since it doesn't feel like it, it's worth it to me!