Last updated on June 8th, 2017 at 08:19 pm
Learn how to hang artwork to disguise an oddly shaped wall and make a statement anywhere in your home!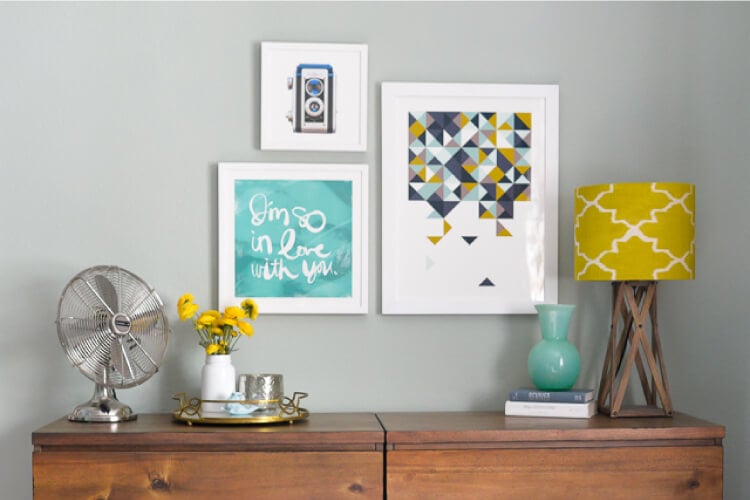 Minted provided the artwork in exchange for this post. They're one of my favorites!
I've been slowly working on remodeling and decorating our house since we moved in October. The dining room, living room, guest bath, craft room, and nursery have all been transformed, but our master bedroom has been virtually untouched other than a coat of paint. The original paint colors were beige and brown — we've updated the look with a soft green/blue/gray called Manzanita Leaf by Kelly Moore.
The ceilings in the bedroom are vaulted, but not in an awesome 1800s farmhouse sort of way. More in a 1989 "architectural detail" sort of way (we also have "decorative ledges" — I'm still trying to figure out what to do with them). I am thankful for the high ceilings, but they feel a little dated. The room is shaped so that it's difficult for me to get the whole angled ceiling in a photo, but you get the idea.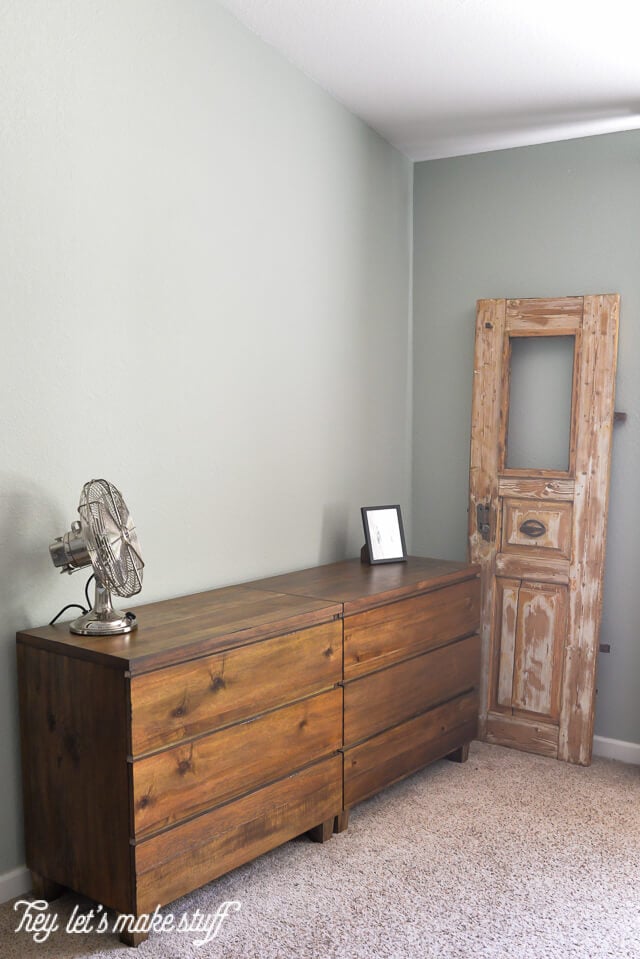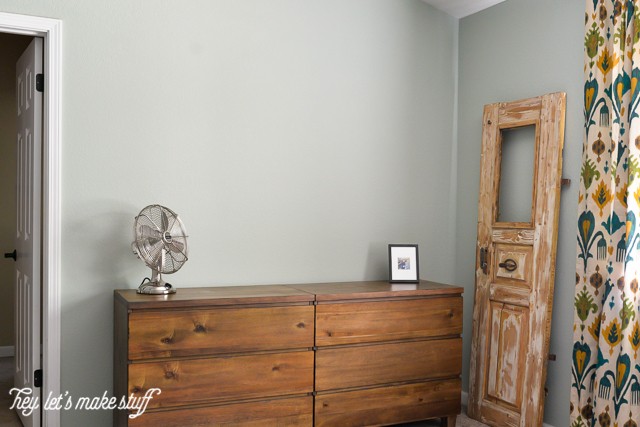 My goal in the bedroom is to bring everything to eye level and allow the high ceilings to just disappear. You can feel the open space, but you don't actively notice it. But how can I keep everything at eye level? Until recently, the walls were bare. The dresser was almost bare. It was a sad, empty space.
Minted to the rescue! You may remember some of the great geometric artwork I got for our living room a while back. This time I went looking for a few pieces from their independent artists that could work for a small gallery wall. The layout of the artwork served a few purposes:
First, it echoed the vault of the ceiling, but was subtle enough that it didn't bring extra attention to it. By thinking outside the traditional square layout, I was able to give the illusion of the artwork filling the shape of the odd wall.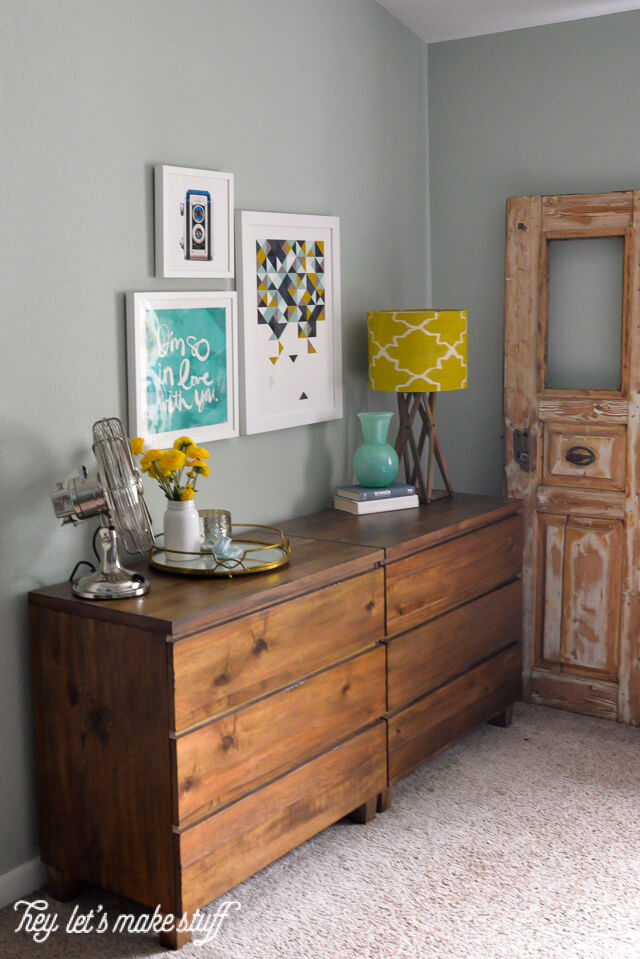 Second, it created the illusion of a larger piece of art using several smaller pieces. Often large art is outside the budget, but you can group several smaller pieces to create the effect of having a larger piece of artwork.
The artwork itself is gorgeous. It took me a long time narrow it down to three pieces, but I am so happy with what I chose. I used the "my boards" feature on Minted to virtually see how the pieces would look together.
The large piece is called "Picking Up the Pieces" by Jennifer Postorino. I love it because it reminds me of a quilt (I might make a mini quilt of it someday!), plus it echoes a lot of the geometric patterns I have throughout the house. And it's all my colors, too!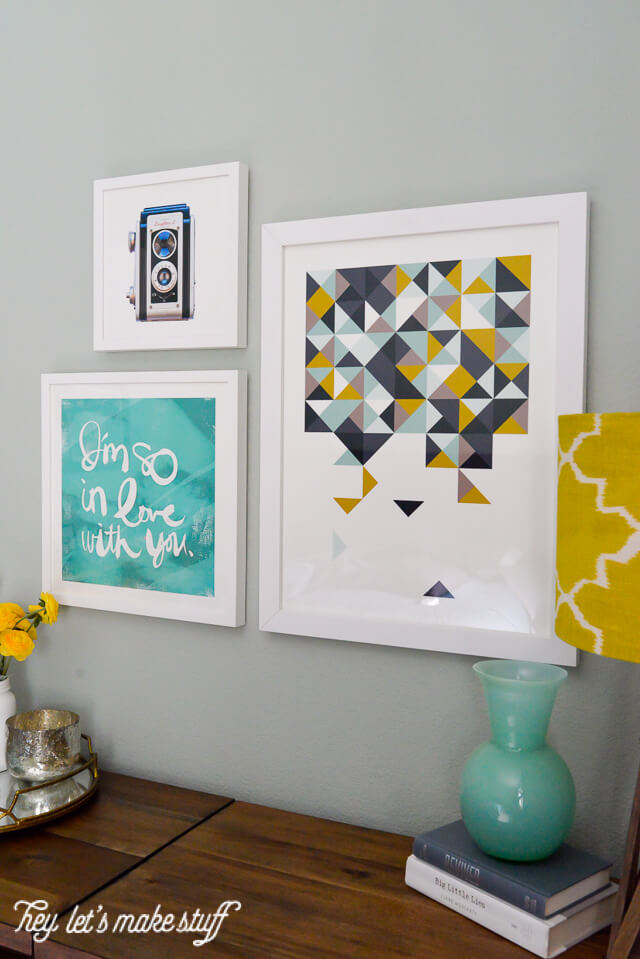 My husband likes photographs and cameras, so the top print, "Mid-Century Moments" by That Girl Studio, is for him. I also love how it works with the other two prints, both in color and retro feel.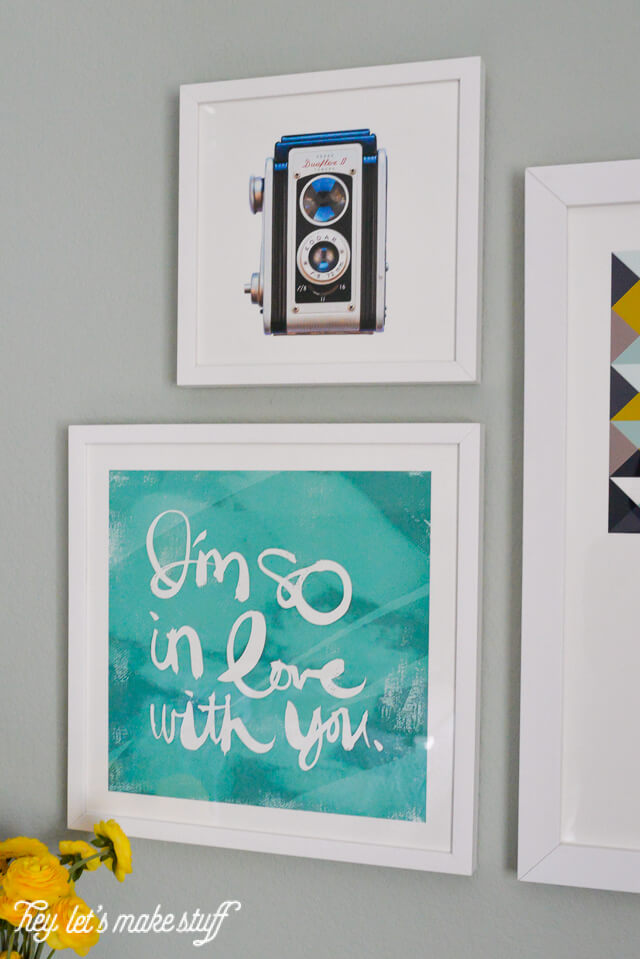 The bottom print is a little nod to our marriage. "So In Love" by Stacy Kron is sweet but not too sappy and rounds out the collection of prints perfectly. I chose to frame everything in white (Minted has a ton of framing options!) to help bring some lightness over the heavier furniture.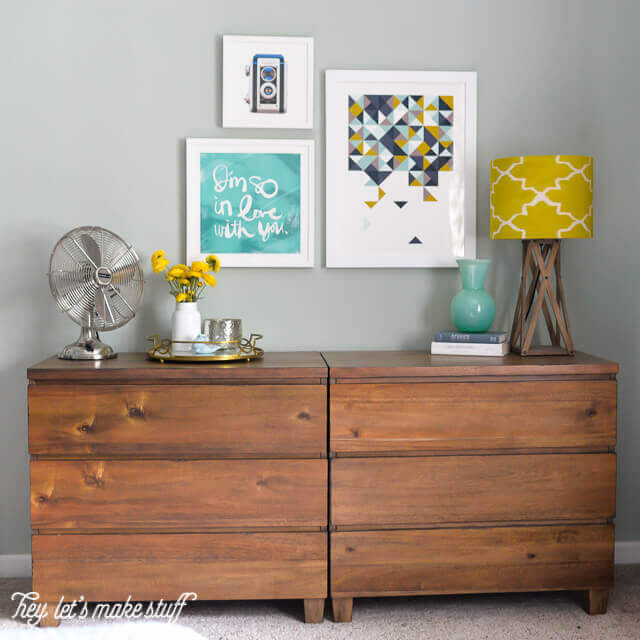 I also dressed up the dresser itself. The fan had to stay since we use it daily, and I added a lamp on the other end to balance it out. A tray with flowers and a vase stacked on some books round out the look.

When I look at the finished wall, all I can think is that it is SO me. I love that Minted has such a large collection of artwork that anyone can find something that is perfect for them! Browse their art selection and let me know your favorites in the comments!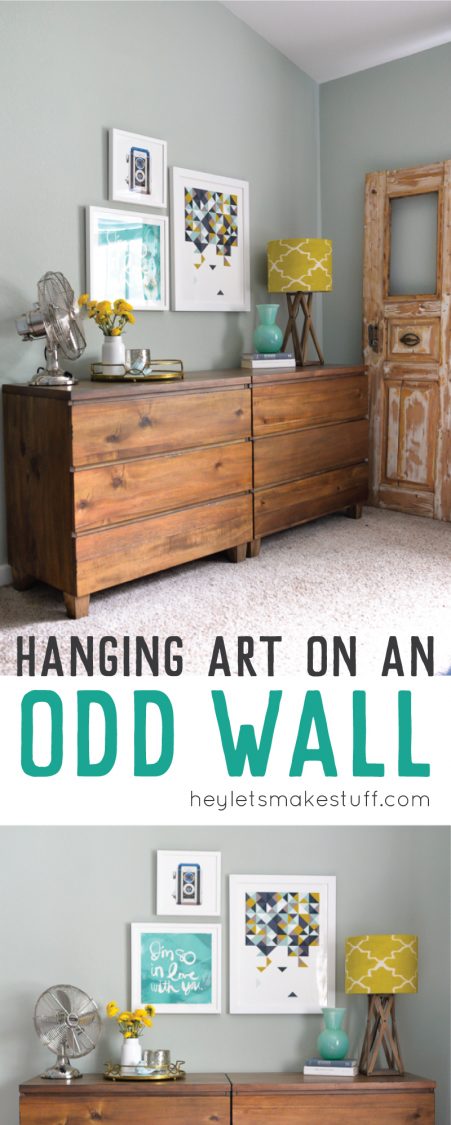 Love this artwork from Minted? I also have some beautiful pieces in my living room!