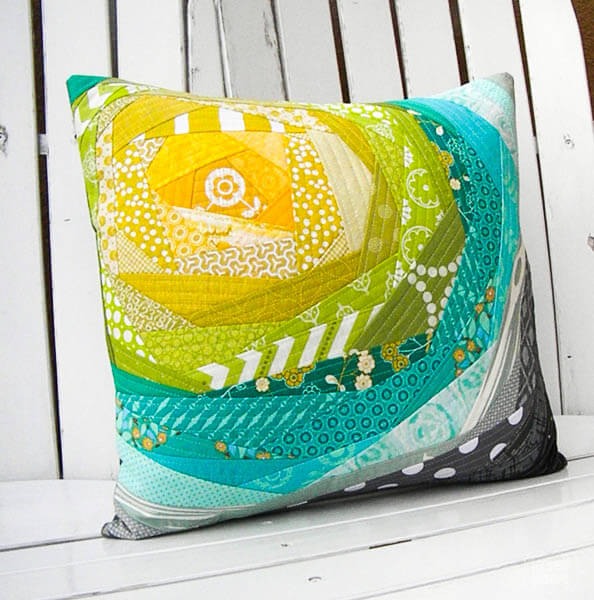 As the deadline for the Newtown Auction approached, I had no idea what I was going to donate. I thought about a mini quilt, or maybe a bag — I didn't have a ton of time to make anything much larger than that.
On Sunday morning, I had an idea to continue my foray into quilt-as-you-go, but using a much less linear, more improvisational style. I hadn't seen anything like it before, so I was hoping it would work out. I had to use quite a bit of mental geometry to figure it out as I went.
I started with gold and had the idea to work my way out to navy blue. But as I laid out my stash fabrics, I realized that gray and black were a better choice. Together, the colors look a little etherial and spacey. I quilted each piece as I went, using straight lines.
The size is about 17.5″ x 17.5″. I used an 18″ pillow form, which worked out nicely. I think it would also work with a 16″ pillow form.
It's backed in gray Madrona Road Haystack, which is also in a few strips on the front. I love this fabric — I need to order more of it for future projects.

I also ordered some labels a few months ago, and for once I remembered to use one! I think they're cute.
The Newtown Auction is Jnauary 14 through 18. I'll post more information as it gets closer. There will be a bunch of beautiful items up for bid, and all proceeds will benefit the Newtown Parent Connection. Hope you'll join us to support the Newtown community!
TODAY'S TOP TEN POSTS