Our budget bedroom makeover was a combination of DIY projects, thrifting, and savvy shopping. This is a total transformation for less than $200!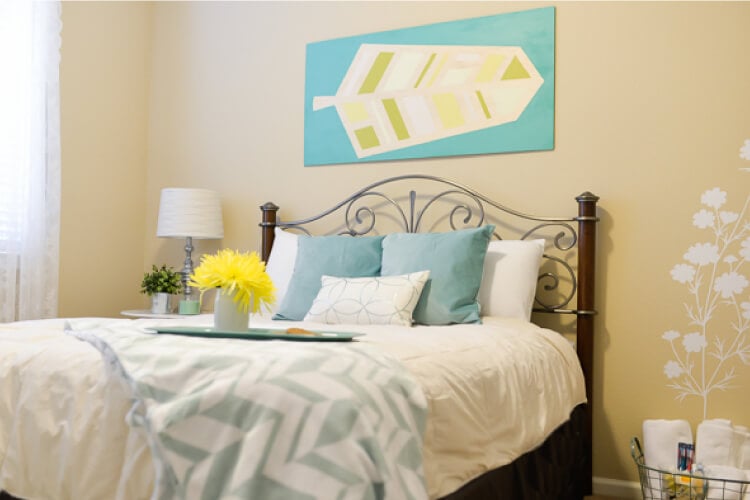 My best friend Amy recently asked me to help make over her guest bedroom. She and her husband got married last April, and this room has been a little neglected while they've spent time investing in the rooms of their house that they use more often — the living room, their bedroom, and so on.
She originally gave me a budget of $150, but we upped that to $200 since this bedroom really had nothing but a bed and nightstand to work with. We used a combination of store bought items, DIY projects and hacks, thrifted finds, and shopping Amy's house for things she didn't need in other rooms. I am SUPER excited to share this with you guys today — I love, love, love how it turned out (and so does Amy, which is what really matters!).
The room was pretty much a blank canvas, with just a bed, linens, and a small side table. Here's the before: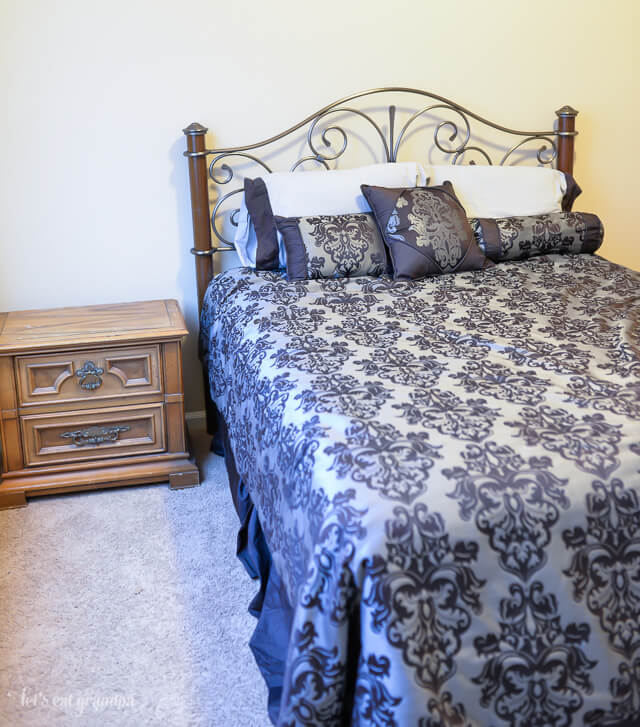 Here's what we ended up with!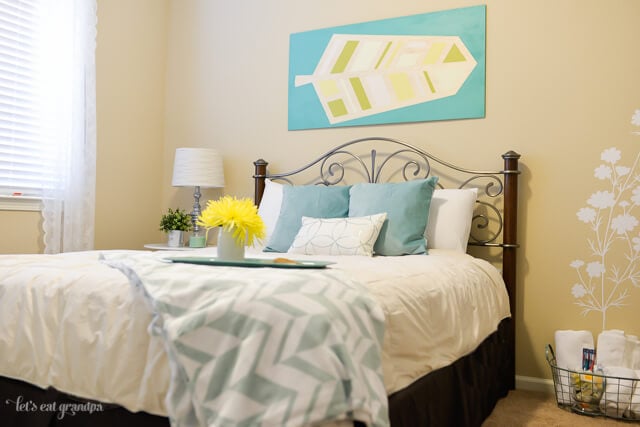 We thought about painting the bed frame, but once we started adding all the lighter white and teal touches, we realized it actually did a good job of grounding the bed. We also kept the brown bedskirt because the budget didn't have room for a new one. Because the house is only a few years old, we kept the neutral paint as well.
Amy found a white comforter in a closet, and we added two teal IKEA pillows ($8 for two pillow inserts) and cases ($14 for two cases). The white sequined pillow was from HomeGoods ($18 — a splurge!). We also had to buy two white pillowcases for the regular pillows ($6) from HomeGoods.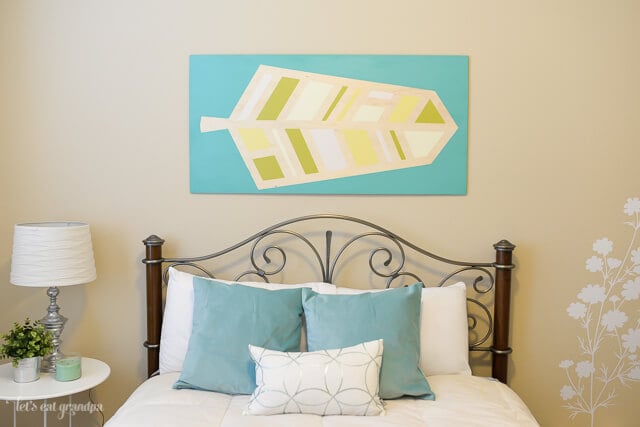 The modern feather artwork over the bed was done by yours truly, out of supplies I already had on hand (you probably have a lot of them on hand if you're a crafty person, too!). I can't tell you how much I love this piece. It turned out exactly as I'd hoped.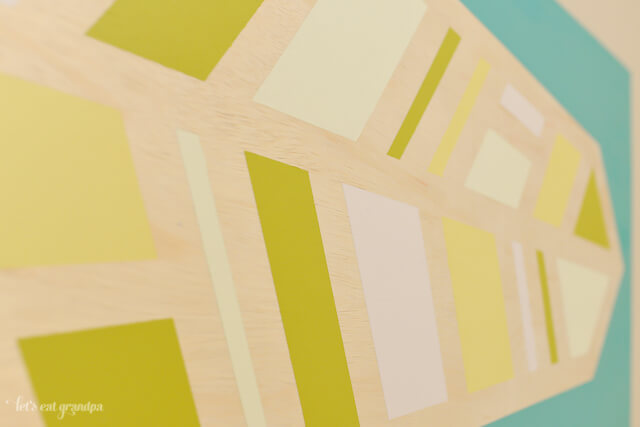 We wanted guests to really feel loved, so we picked up the tray at IKEA, but it looks like it's sold out now. Here's a similar teal tray.
Our local Safeway supermarket gives out free samples of cookies (Amy taught me that — how did I not know there were FREE COOKIES at my disposal?!) and the little white plate was one Amy already owned. The tray sits on a fabulously soft blanket we picked up at Target ($21).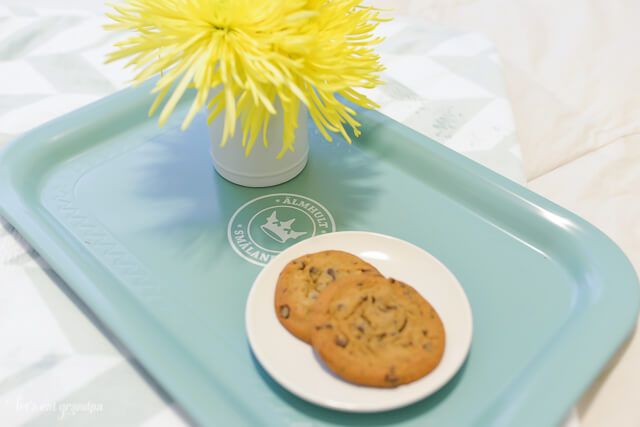 We considered re-painting the side table Amy already owned, but it was so low to the ground and neither of us was particularly enamored with it. So when we found this white metal table at IKEA for only $20, we knew it was perfect. The lamp was an ugly chipping brass number we picked up at Goodwill, and Amy spray painted it silver with paint leftover from her recent wedding. The lamp shade was from Target and we had a Cartwheel coupon so it was $16.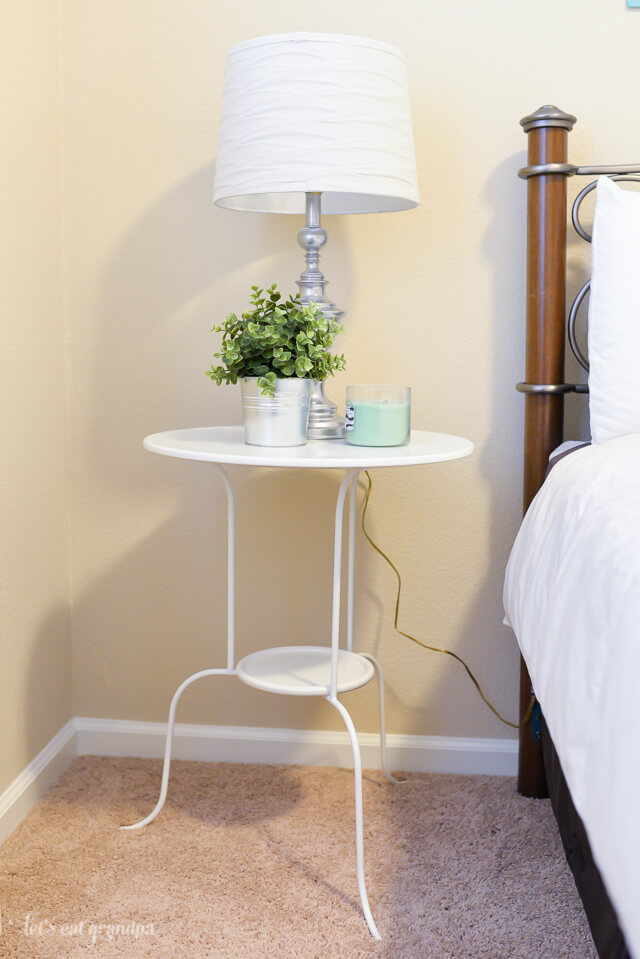 We also made a little console table! Buying a regular console table proved difficult — everything was too expensive and most pieces were too big to comfortably fit next to the bed. So we decided to IKEA hack a table! I'll have a post about how to do it next month, but we were so happy with the result — and the fact it only cost $22!
The artwork above the table was from Amy's little library room — she replaced them with some other artwork she already had. I like the little pop of color they bring, but so many of the blues, grays, and whites coordinate nicely with the other things in the room.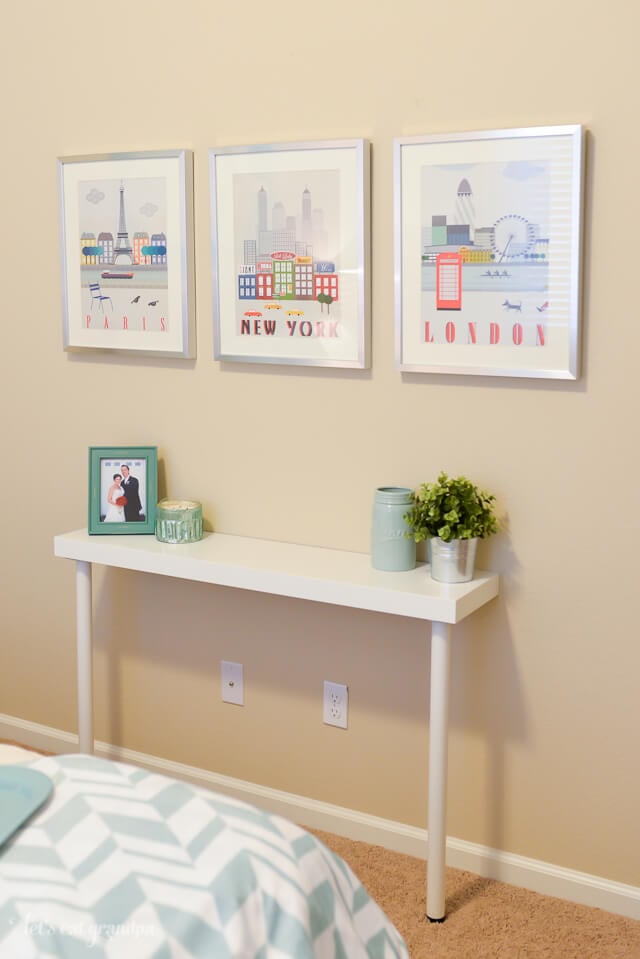 Amy also wanted a basket full of guest room goodies so that her guests would feel like they were at a little hotel. The basket was a great find at HomeGoods for ($17) — I may have bought one for myself too — and the goodies inside were all things Amy already owned.
Above the basket we used a super cute Wallternatives decal (the other half to the one I used on my IKEA bookshelf hack a while back). This was provided to me by the company. I love how it's "flat" like the other artwork in the space. Keeps everything from feeling a little more country than I'd like.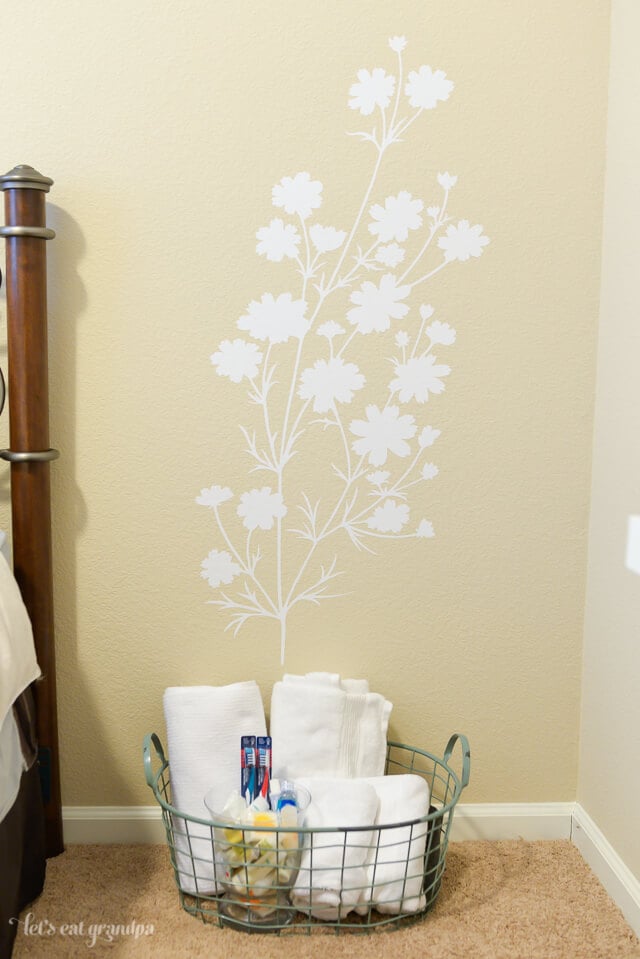 Near the entrance to the room we hung a little mirror, so their guests could make sure they were lookin' fab. The mirror was actually in my Goodwill pile, so I gave that to Amy, and the "M" initial was already something Amy owned, as were the plant and bucket. The rug at the foot of the bed was from Big Lots ($19). The romantic lace curtains were a steal from IKEA at $10.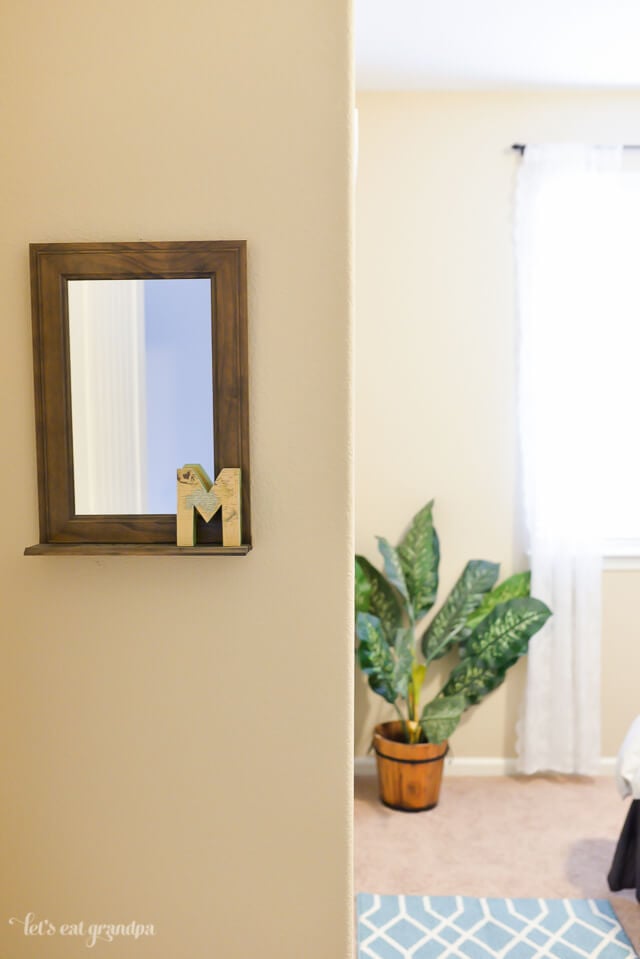 As for the little decor items that dot the room, we picked up the mason jar below (and the white one holding the flowers on the tray on the bed) from World Market ($15), and the little plants in galvanized buckets were from IKEA as well ($12). The rest of the decor items were from elsewhere in Amy's house.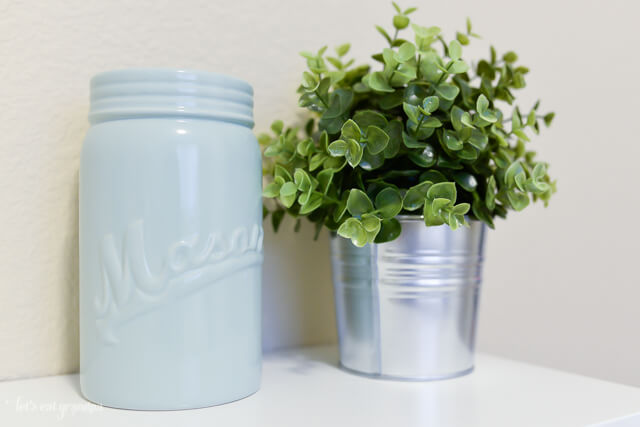 And that's it! What do you think? Did we get the bright and welcoming bed and breakfast look we were going for?