This makeover of a 1980s oak bathroom is stunning! Dark teal cabinets, modern lighting, and fun details make this bathroom makeover a showstopper.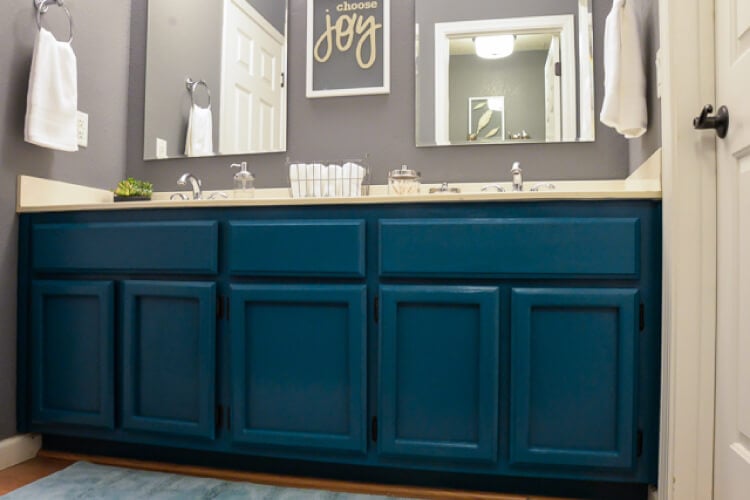 Today I'm super excited to share the first of what I'm sure will be many room makeovers in our new house! We've done little bits in every room, but our new guest bath is the first room we've finished, top to bottom. I'd like to give a big thank you to Overstock.com for helping us out with the renovation. They have such an amazing selection so it's easy to find great ideas for whatever room you're re-doing — plus, their prices can't be beat!
Our guest bathroom had been slightly updated since it was built in 1989, with a new light fixture, towel bars, faucets, and hardware. But it was so very, very beige and brown — really not my style.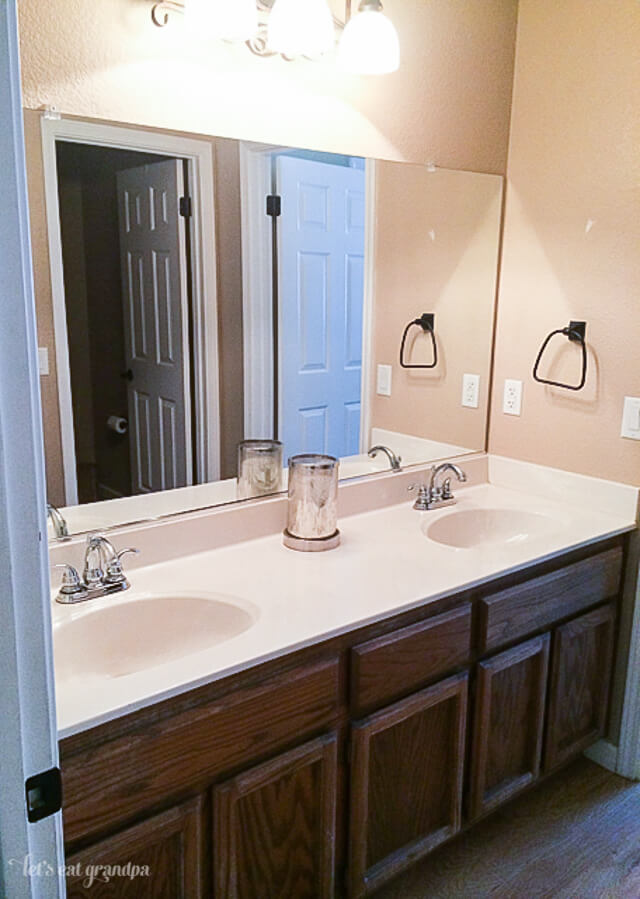 It was ready for a makeover, and stat!
The bathroom is an odd layout. You walk through it to get to our guest bedroom / office, so it has a door on each side. Plus an extra door to get into the water closet where the toilet and shower are. That's three doors in a small space! But because it had three bright white doors, I thought we'd paint the walls a deep gray (Mt. Rushmore by Kelly Moore). Such a dark color might be a little heavy in other rooms, but with three doors and bright new lighting, I absolutely love how it adds some drama and sophistication to the space.
Replacing the worn 1989 oak cabinets and solid-surface countertops wasn't an option for us right now. Thankfully, although they looked a little worse for wear, the cabinets were in fairly good shape underneath. I decided to go bold and paint the cabinets a dark teal (Caribbean Dream by Kelly Moore). I learned a lot of lessons while painting the cabinets — I'll share my mistakes soon so you don't have to make them yourself! But despite some setbacks, I LOVE how they turned out. I also spray painted the brass hinges an antique bronze to match the door hardware.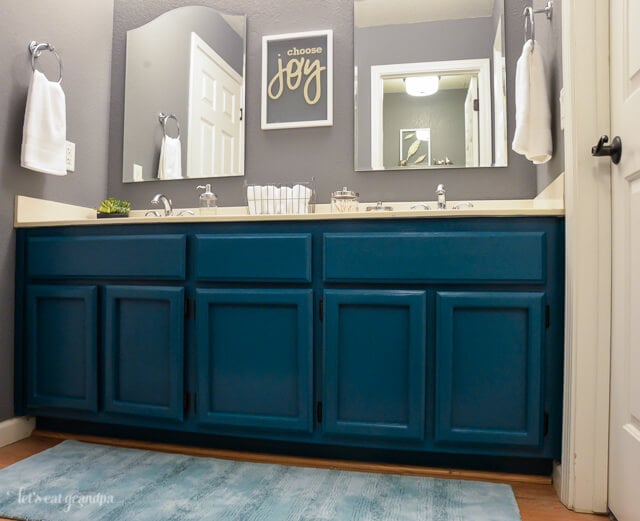 I think a lot of people would think of painting the walls a bright color like this, but having it on the cabinets makes it more of an accent color instead of an overwhelming shade on the walls. We are planning on adding antique glass knobs to the doors, but haven't found new knob screws that work with them just yet.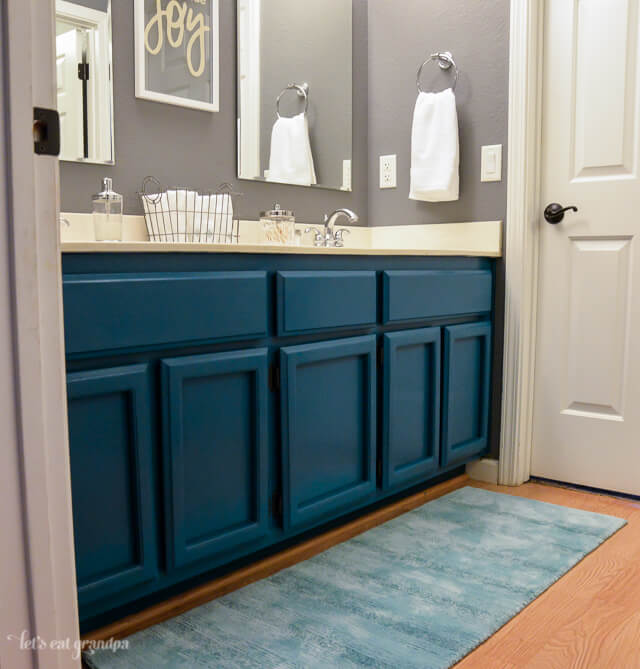 We removed the large 1989 mirror (I have something fun planned for it!) and replaced it with two gorgeous frameless mirrors with beveled edges.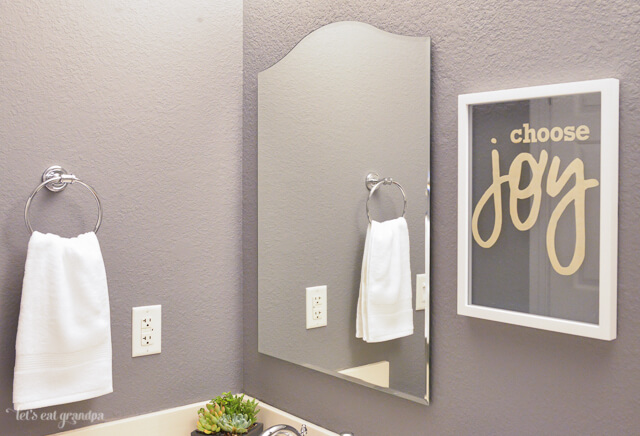 I love how much more modern and updated the two mirrors look instead of the one big mirror. The delicate arch on top ads extra style, too. It takes the 1989 right out of the room.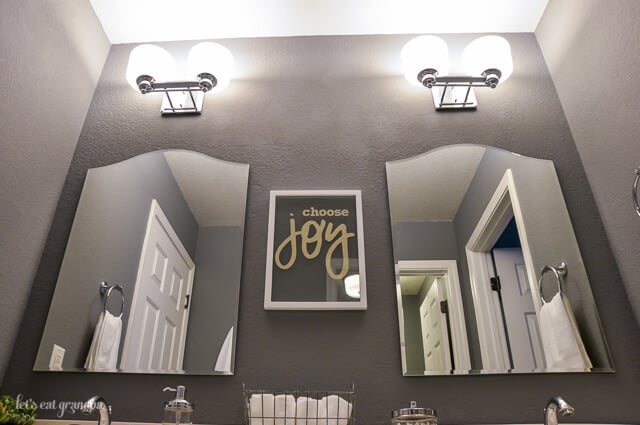 Having two mirrors also gave me a little space to hang some floating art I made — there's one that says "choose joy" between the mirrors, plus a similar one with feathers on the shelves above the toilet. See how I made this floating artwork with my Cricut Explore, making artwork like this is a snap!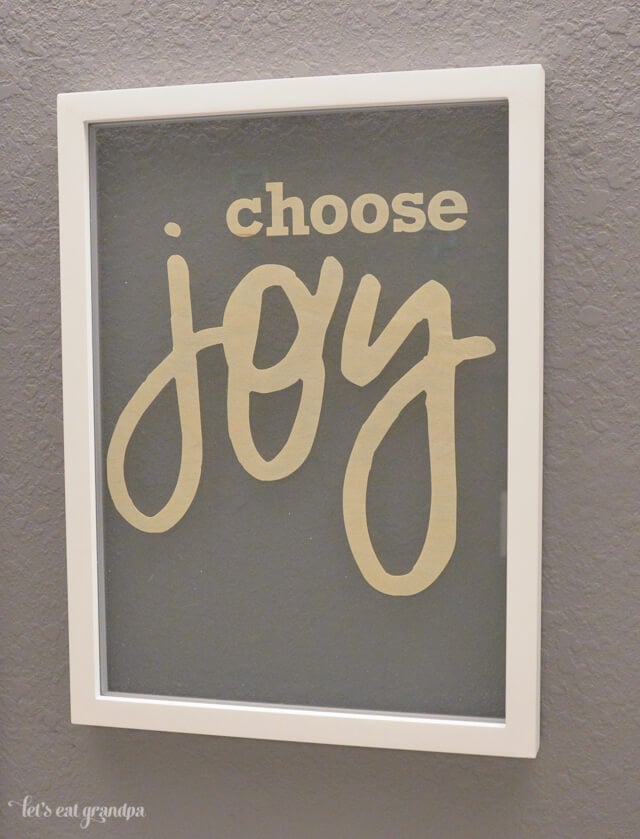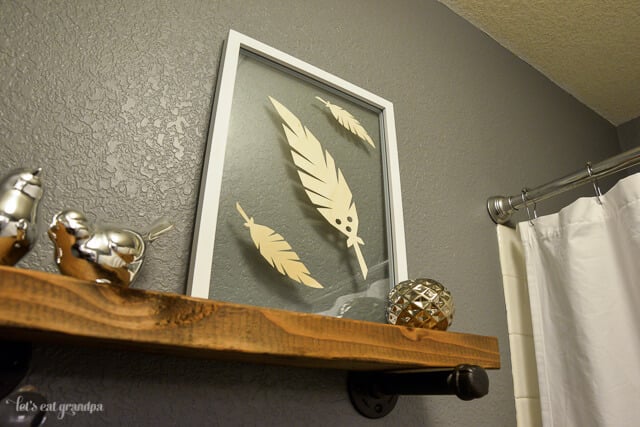 We also replaced the bronze Tuscan-style light fixture. Originally, there was just one light, but I loved the idea of a light over each mirror, so Ryan, who is all sorts of handy, rewired the one light into two lights. Our friend Josh patched the wall for us — it really wasn't hard to turn one light into two!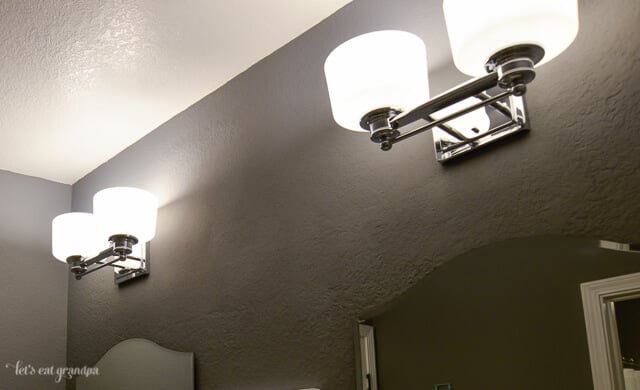 I chose some gorgeous modern chrome light fixtures to match the existing chrome faucets, which were in great shape. In addition to the two over the mirrors, we also replaced the flush-mount fixture in the water closet. So much better!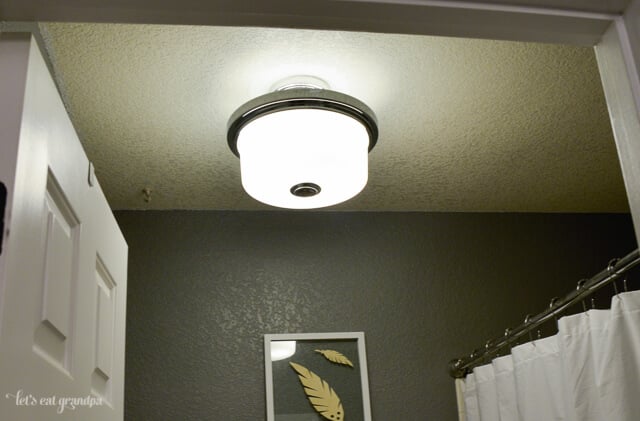 The rest of the fixtures, like the towel bars and toilet paper holder, are a nice chrome to go with the lighting and faucets.
Behind the door in the main part of the bathroom was sort of an awkward place for a towel bar, so instead we hung two hooks for towels or robes. I like that it brings in another little pop of teal and really matches the bath mats. There's also a chrome towel bar behind the door in the water closet.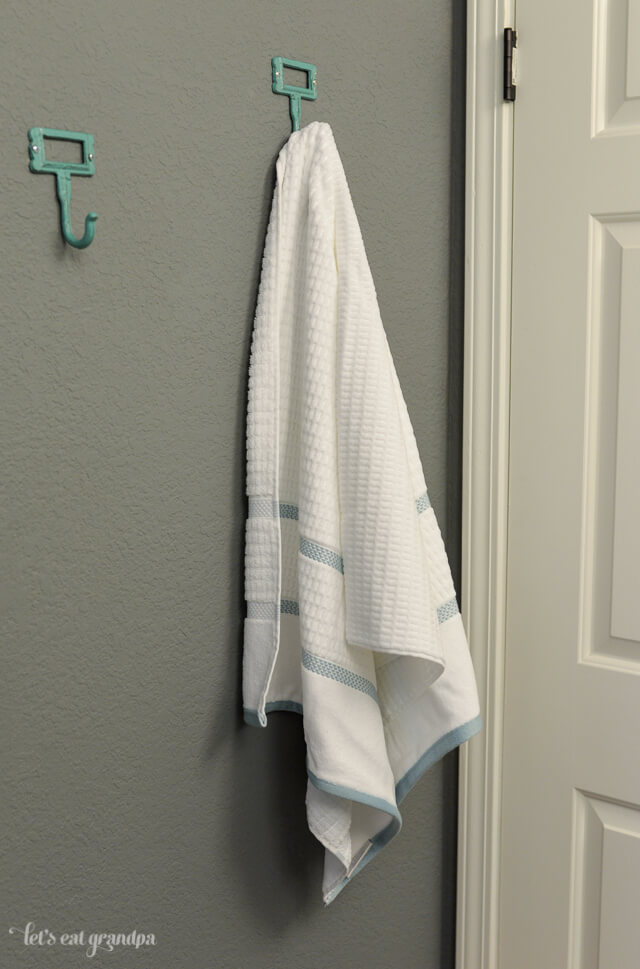 Speaking of bath mats, I found this extra-long runner in a lighter teal shade than the cabinets that is perfect in front of the sinks. A matching bath mat in front of the shower adds a nice touch of teal in the water closet.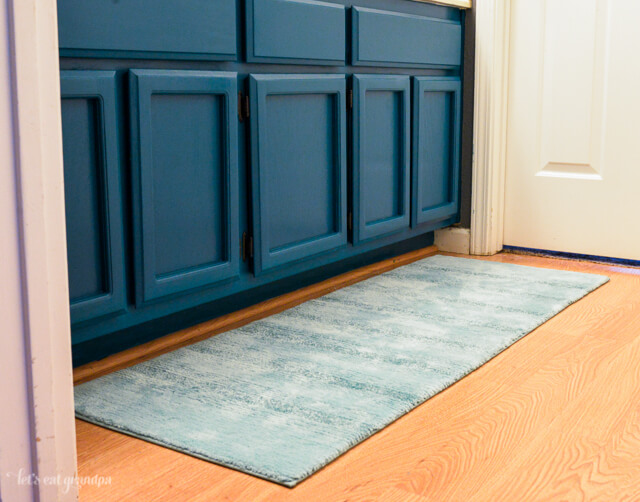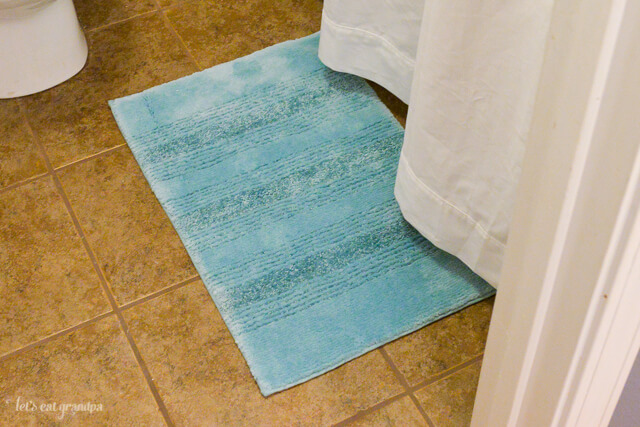 For the shower curtain, I saw a ruffled shower curtain online a while back, but couldn't actually figure out where it came from. So I decided to re-create it using a flat sheet and some trim. See my DIY shower tutorial from a sheet.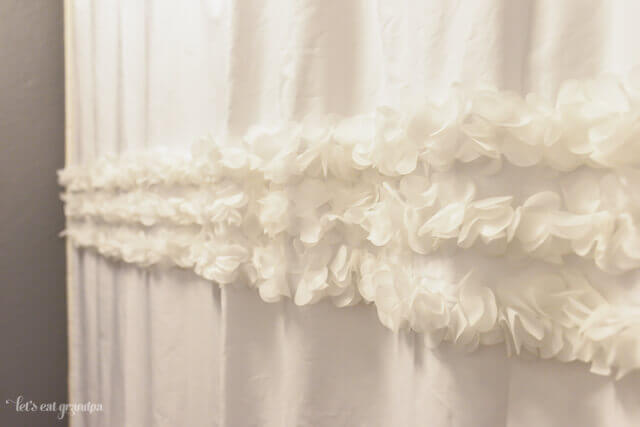 Over the toilet, we installed some simple rustic shelves. SO simple and easy to do, and they look like we bought them at a high-end store. I am definitely installing these shelves elsewhere in the house — I love the look. And the aged bronze hardware goes well with the hardware on the doors and cabinets.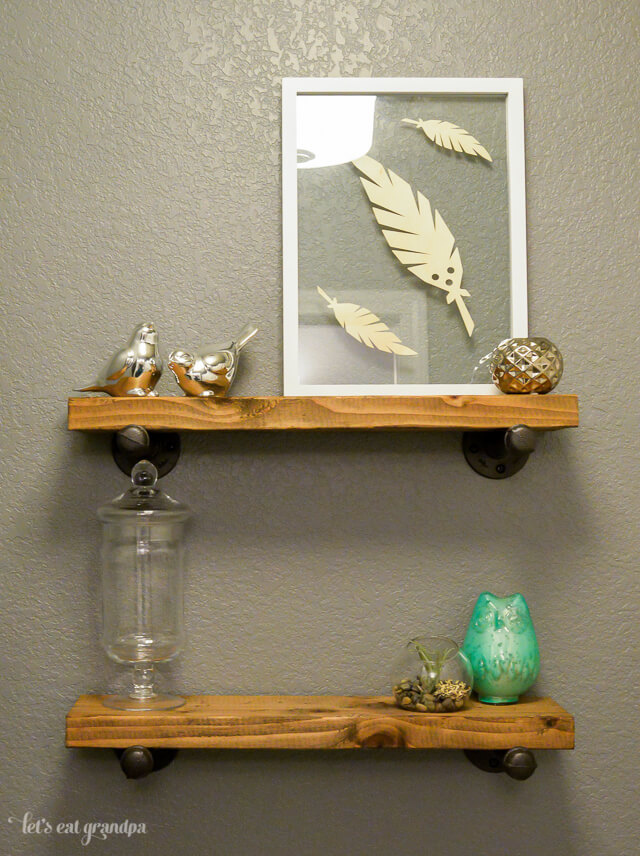 To bring in some of the teal into this room, I brought my favorite owl in from our unfinished office to hang out in here for now, as well as my chrome birds. I also added a tiny air plant to bring a little life to the space.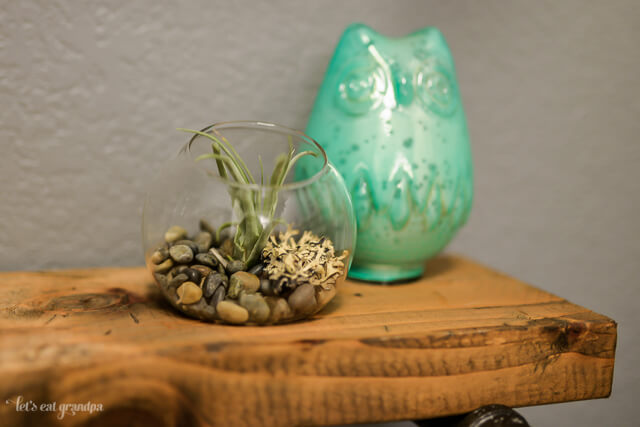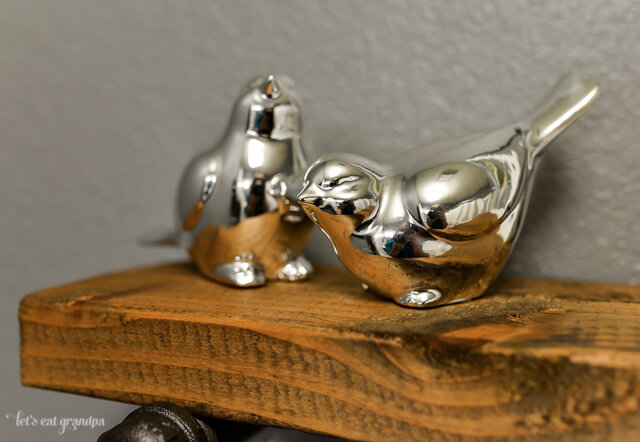 A little succulent on the sink echoes the plant in the water closet, and adds an organic element.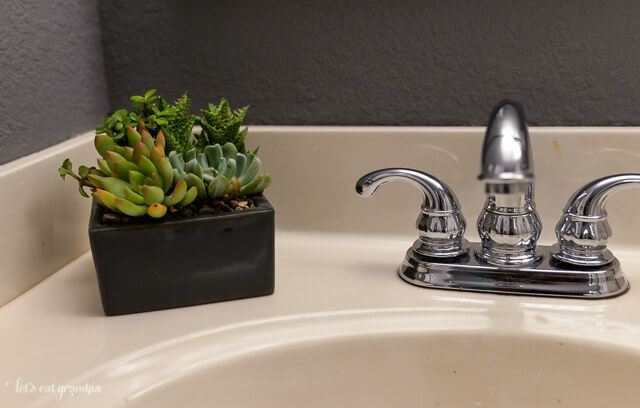 Also on the sink are small jars with cotton balls and Q-Tips for guests — I think they'll really appreciate this detail.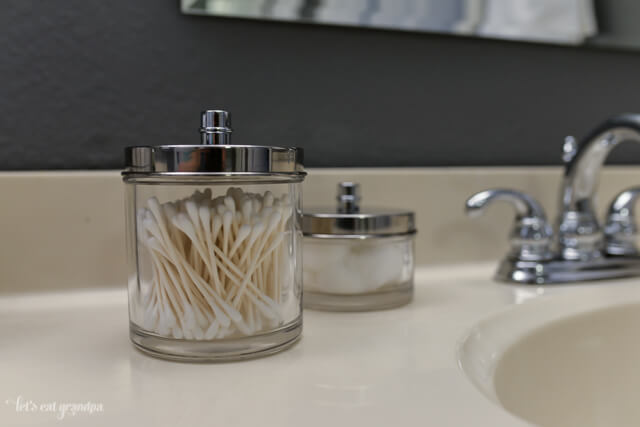 I wanted to create a basket for my guests with towels and toiletries, so I got these two rustic modern metal baskets. Right now the small basket just holds extra washcloths, but I am working on filling it with everything a guest might need — I'll share my completed basket soon!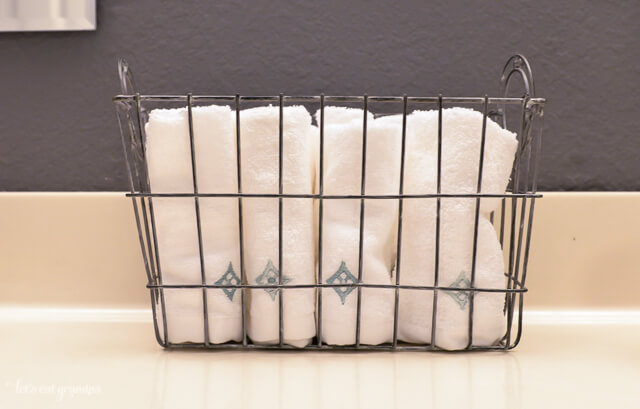 The larger basket is perfect for extra toilet paper — you never want your guests to run out!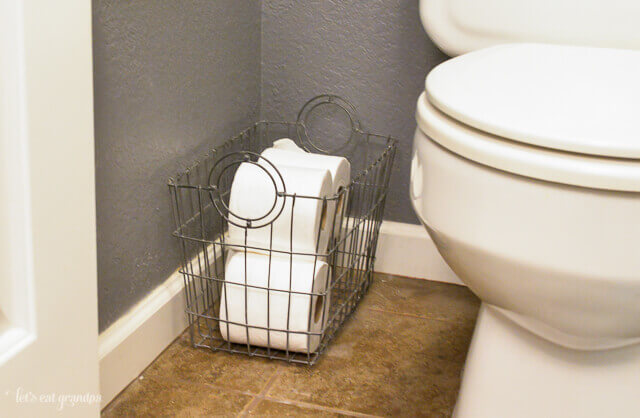 Hope you enjoyed our bathroom makeover — we sure did! Subscribe using the bar at the top of this page to get updates on the tutorials for some of the projects in this post, and make sure to visit Overstock.com for all of your remodeling needs!
Love this budget DIY? Check out my Modern Entryway Makeover and my Bright and Happy DIY Kitchen Renovation!