Last updated on December 17th, 2018 at 09:30 am
Use your Cricut Explore and basic sewing skills to make this beautiful set of fabric pennants to celebrate the Christmas Season.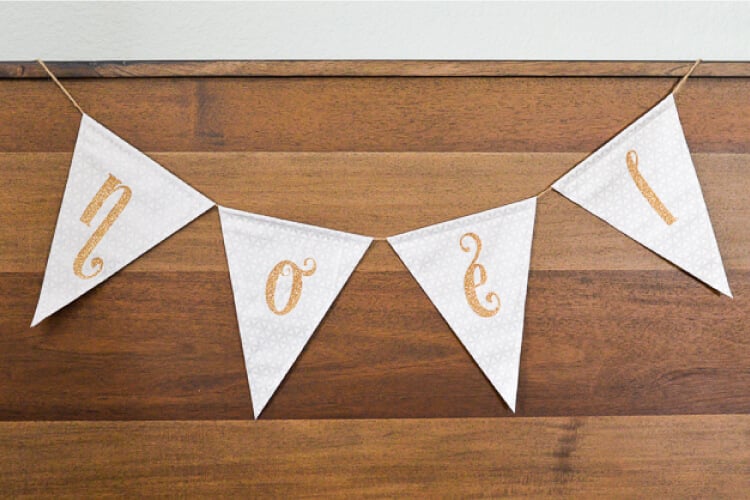 I was given materials by Cricut for participating in the Secret Santa exchange.
This year, I joined the Cricut Secret Santa gift exchange. We were given a name and created a gift for that person using the Cricut. Being a new mom with teething babies, I waited until the last minute to see who my partner was—Jessica, from Happy Together!
First of all, can we talk about how fabulous her blog is? I didn't know of it before this exchange, but I'm definitely a little obsessed now. She's got a great mix of DIY projects, sewing, and crafts—all the things I love! Second, she's adorable.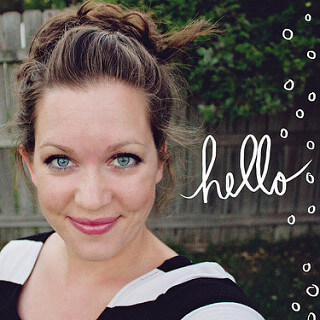 After looking through her posts, I decided to sew her a set of Christmas Noel pennants, with "Noel" cut from my Cricut in sparkly gold iron-on vinyl. Because sparkles.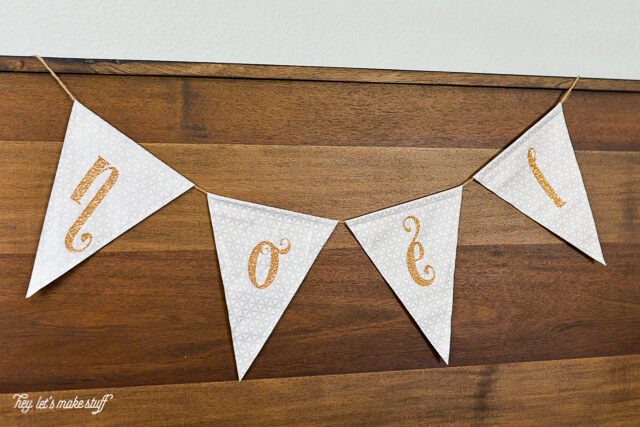 Noel Pennants Supplies & Tools
Half-yard of fabric (I used this—it's silver metallic)
Coordinating thread
Gold glitter iron-on vinyl
Jute twine
NOEL cut file (.svg download)
Cricut Explore
Iron
Cutting mat
Ruler
Rotary cutter
Sewing machine
Noel Pennants Directions
I make pennants all the time, but I modified these from my normal pattern. I usually connect the pennants using bias tape, but I wanted them to be more elegant, so I connected them with jute twine. This changed my construction method a little, as you'll see.
Cutting pennants is easy if you have a half-yard of fabric. Fold it in half lengthwise so you have a 9″ wide strip (note: you can trim yours to be exactly 9″ wide—I've been cutting these long enough I know how to compensate for a little extra width when I'm cutting). Trim off the selvage.
Place the fold at the top. Line up your ruler with the top corner, and then measure in 3.5″ in from the bottom edge. Cut using your rotary cutter.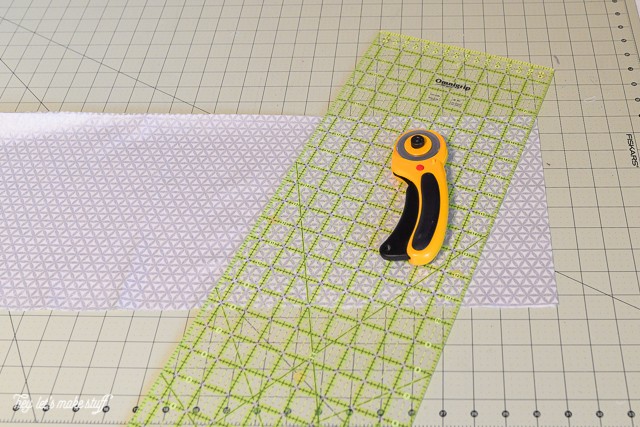 Then flip the ruler around and measure 7″ from the top edge and line the ruler up with the peak of your triangle at the bottom. Cut. You'll end up with a two-sided pennant connected at the top with a fold.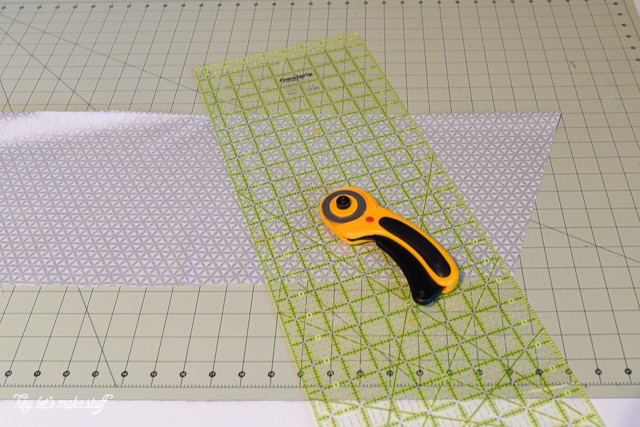 Flip the ruler back around and measure in from the bottom edge 7″ and line the ruler up with the peak of your triangle at the top. Cut. You'll notice that this pennant doesn't have a folded edge. Normally this is fine, since I place that edge inside the bias tape when connecting the pennants. Instead, I set the ones with the cut edge aside to use in a future project, and worked my way down the fabric, flipping my ruler back and forth, until I had four 7″-wide pennants with a folded edge.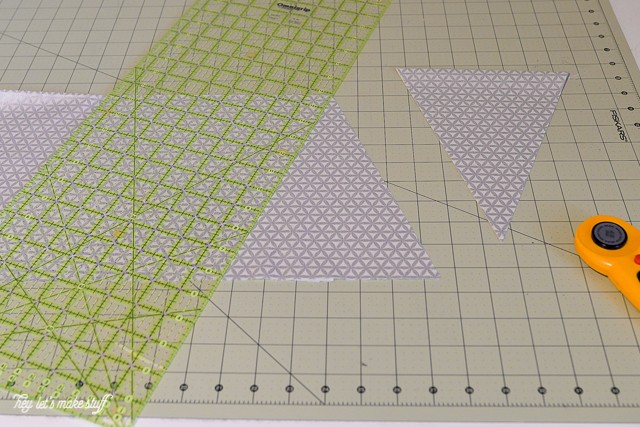 Download the NOEL cut file and cut it out on your Cricut. Make sure you mirror the image because you're using iron-on vinyl. Weed the negative space and cut the letters apart so that you can iron them individually to the pennants.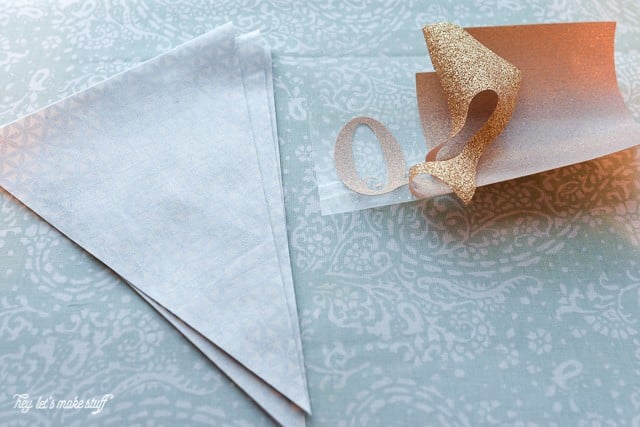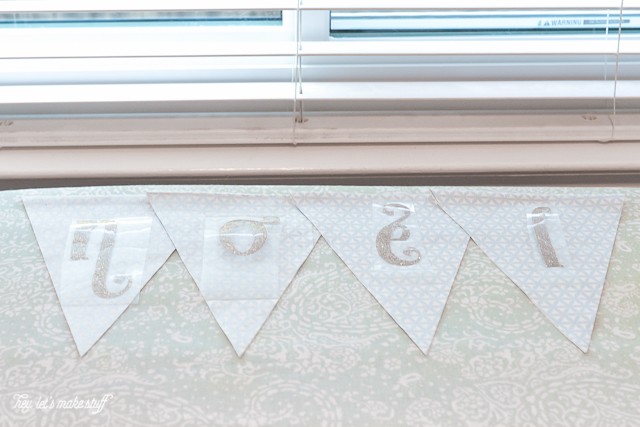 Adhere your vinyl to your pennants using a hot iron with a piece of scrap fabric between your iron and the letters. Let cool and peel off the plastic backing. I LOVE how sparkly this vinyl is! The photos do not do it justice. It's like a glitter bomb without the glittery aftermath. Paired with the shimmer of the metallic fabric, it's so pretty!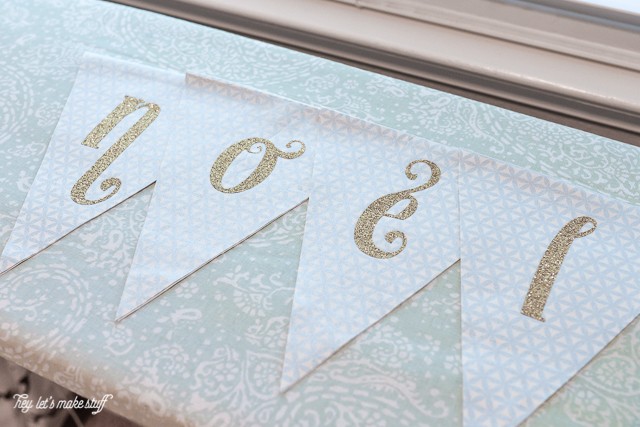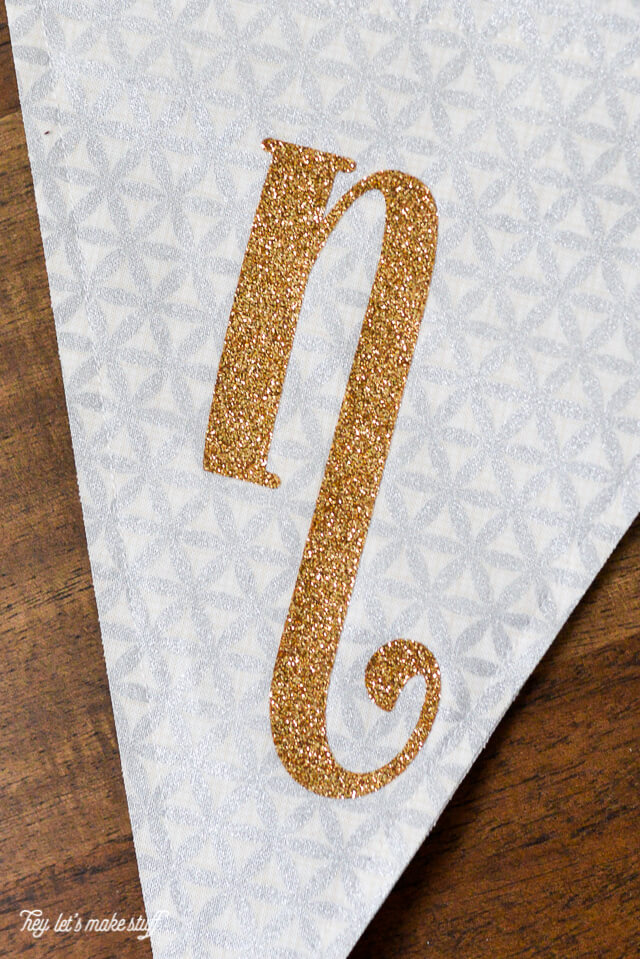 Cut a piece of jute twine that's long enough for four pennants plus a little for hanging on each end. Tuck it up into the fold in between the two layers of the pennant.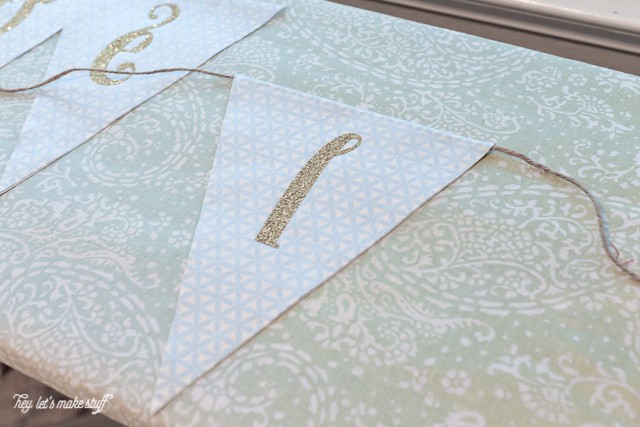 Now you're basically going to sew a triangle. Starting at the top of the pennant, back-tack and sew along the top edge, creating a pocket for the twine.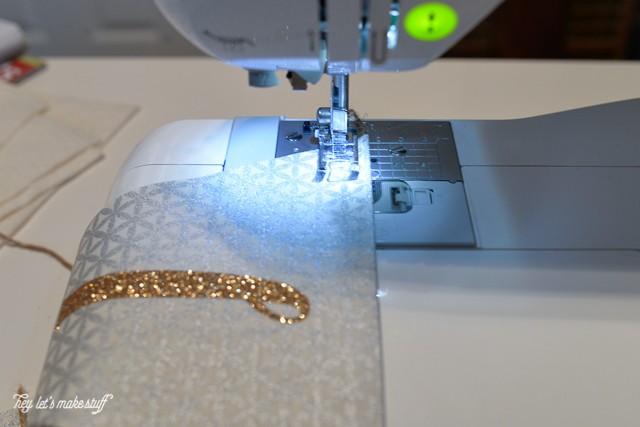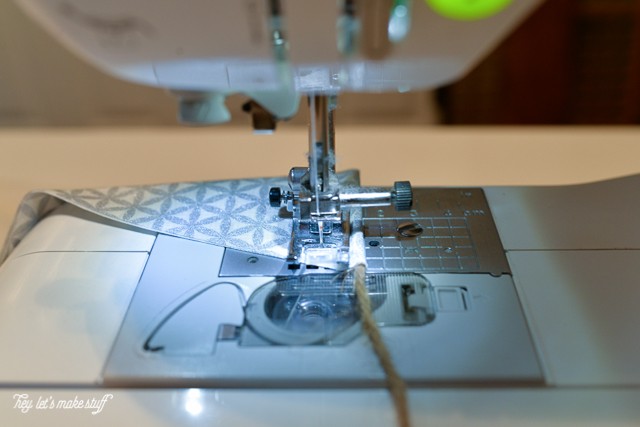 When you get about 1/4″ inch to the edge, stop with your needle down and turn your pennant. Sew down the right side of the pennant, and then back up the left side of the pennant. Secure your stitch with another back-tack.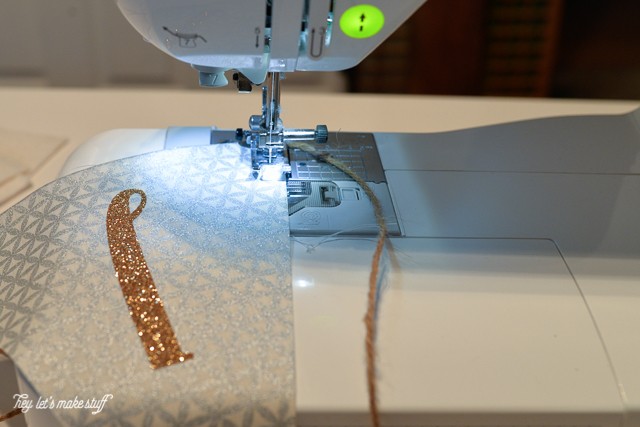 Repeat with the other three pennants and you're done!
I love how the jute twine is so much more delicate than my normal bias tape—I think it worked great for this project! I'm having a hard time letting these go. I hope Jessica loves them!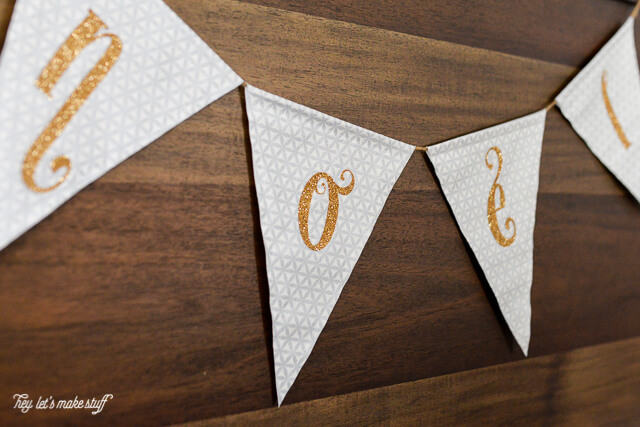 PS: If you like this font, Afatar, you can get it at the Creative Market. It has a lot of glyphs (different versions of each letter) so you can really customize it. And it's only $11 right now!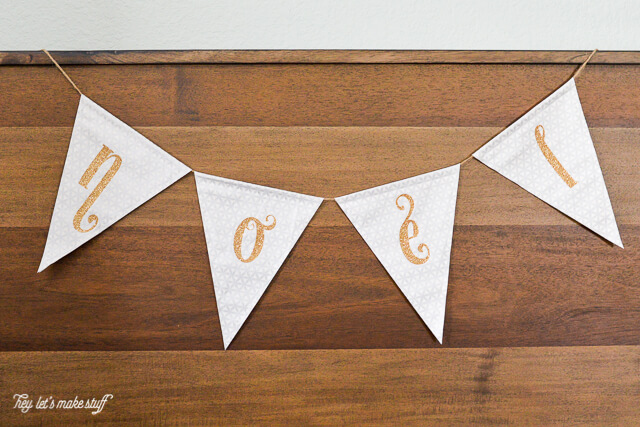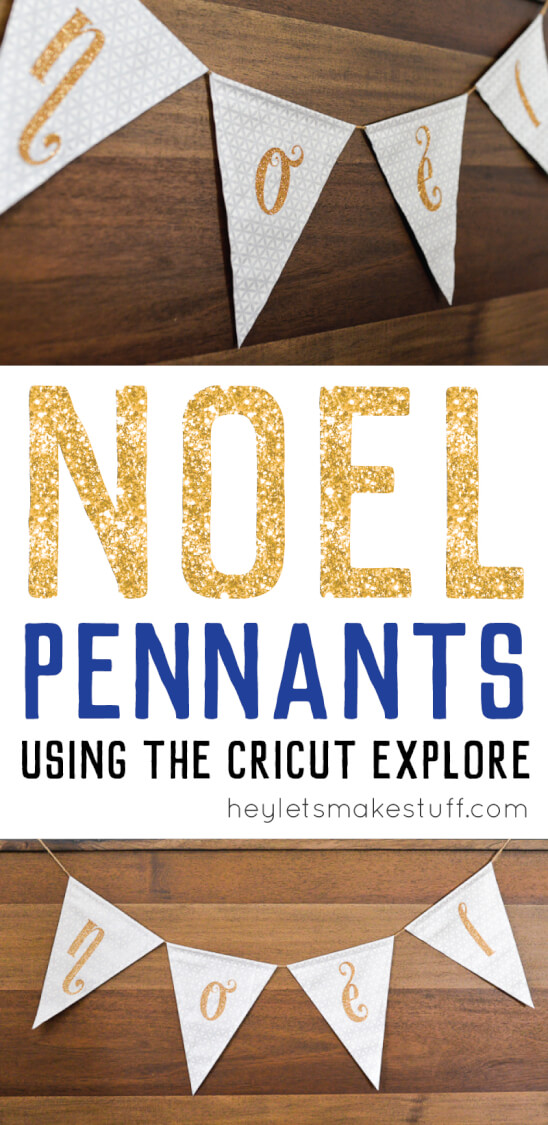 More Christmas Fun