Last updated on January 19th, 2018 at 02:03 pm
It's easy to make DIY modern art using Frog Tape! A great way to create art for a large wall in your home.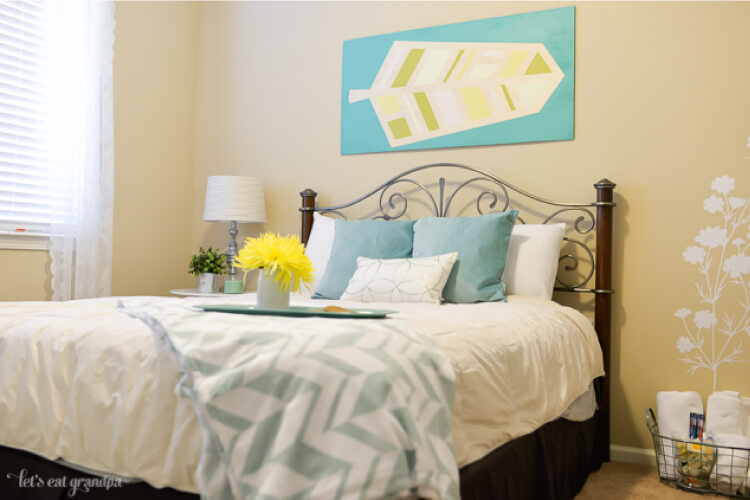 Big walls need big art. A gallery wall is great, but unless you have twenty coordinating pieces of artwork and photos, it's hard to really fill a big space.  And big art can be expensive. I'm all for supporting artists, but I don't have a grand to drop on a really great big piece of art. So here's a quick way to make a statement piece that looks great with your decor! 
I created this piece for my friend Amy when we remade her guest room. You can check out the full reveal here!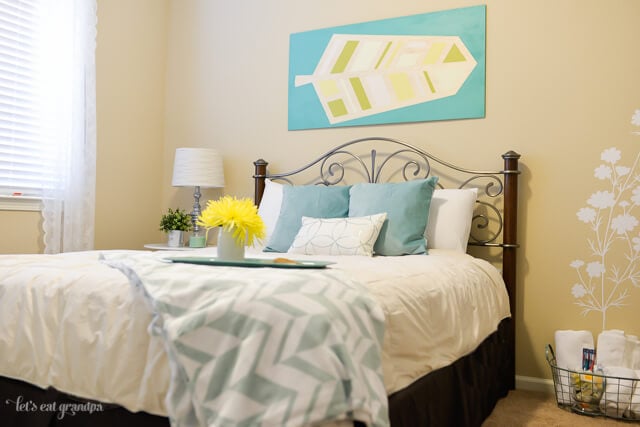 Supplies
Large piece of wood sheeting (mine is about 4′ x 2′)
Four colors of paint (I used the Valspar sample containers from Lowes)
Paint brush (I usually have more than one on hand — that way I don't have to wait for the brush to dry after I wash it out between colors
Command Strips for hanging
Directions
I started out by masking off a feather shape using Frog Tape. I like Frog Tape over traditional painters tape because it really helps keep the paint from bleeding. I freehanded the shape, based loosely on some quilt blocks I've seen.
Make sure to press down the tape along the edges very well. It'll help keep the paint from bleeding.
Start painting! I used four colors in my feather. I'd recommend a bigger brush than I used! But this was all I had on hand, and it worked just fine — just took me a little longer than I would have liked.
You can also dry-brush the edges around the tape to help keep the paint from bleeding (found my bigger brush!). Get a little paint on your brush and lightly brush over the edges, brushing away from the edge (so you're not shoving paint under the tape). Once it dries, you can paint a heavier coat and your edges will be crisp!
I put on two coats of each color, and let them dry.
Then I peeled off the Frog Tape! Look at those crisp edges. Magic.
Super easy, right? As I was painting this, I could just imagine how many great designs you could make, just using tape! And once again, I realized I need more walls!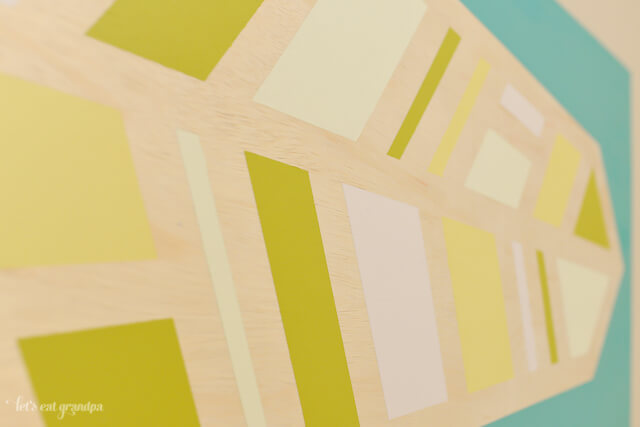 We hung the artwork on the wall using four of the big Command Strips instead of installing hardware on the back. The wood sheeting is fairly light, so we expect it will hold just fine.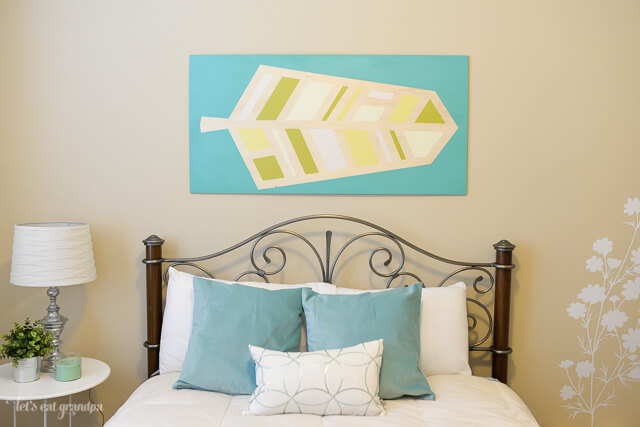 When you are hanging your artwork, my recommendation is to hang it low. No one will notice the space above a piece, but you will notice the big blank space below the artwork and above the furniture. I think people often hang their artwork too high. A good rule of thumb is to hang your artwork so that your eye level is 2/3 of the way up the piece. If you're looking at the bottom of a piece while standing in front of it, it's too high! This piece is a little higher than that because of the bed, but you'll notice I didn't leave much space between the bed and the bottom of the artwork.   I also hacked an IKEA table for this room makeover. Check it out here.

Check out these other home decor projects: