Last updated on September 25th, 2017 at 03:22 pm
Dress up your pumpkins for Halloween with this easy fun project — painting them to look like fruit!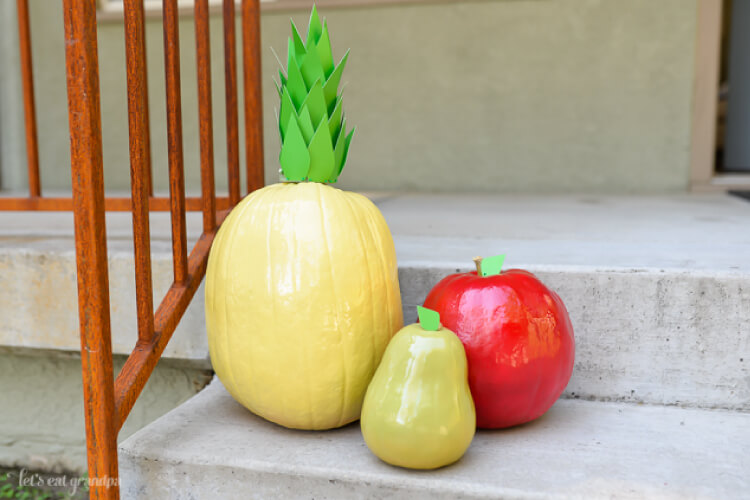 Is your porch still bare? It's nearly Halloween so today I am sharing an easy no-carve pumpkin project you can do this afternoon to be ready for the big haunt tomorrow!
This project actually started out as a joke. My mom and I were having a laugh about the myriad ways people have dressed up their pumpkins since the advent of Pinterest. We were shouting out random things, when she said "pineapple!" We both went quiet. That was how fruit pumpkins were born.
This project came together really quickly. The hardest part was finding pumpkins that were shaped like fruit! I ended up with a tall orange pumpkin for the pineapple, a round white pumpkin for the apple, and a butternut squash for the pear.
I taped off the tops of the squash and smaller pumpkin, so their stems would remain natural (I didn't with the large pumpkin because I was going to cover it with the pineapple crown).
It took several light coats of spray paint to fully cover each one. I let them dry fully before bringing them inside to finish up.
To make the leaves, I used my Cricut Explore. You could also easily cut these by hand. It took about 36 poky pineapple pieces to make the pineapple top, as well as a leaf each for the pear and the apple.
To make the pineapple crown, I used a foam cone. Working my way from the top down, I used straight pins to affix each piece. Since this is just a sort-term project, I can easily take this apart and use my pins again. You could also hot glue the pieces if you want. When I got to the base, I used green straight pins to disguise them a little more.
Before I got to the bottom, I used a spoon to hollow out the base of the cone. That way, it would sit nicely on top of the pumpkin's stem.
And that's it! I used a little craft glue to hold the pineapple crown in place on top of the pumpkin, and to adhere the leaves to the pear and apple.
I love that it feels like the pumpkins got dressed up to go trick-or-treating!
Hope you all have a happy Halloween!!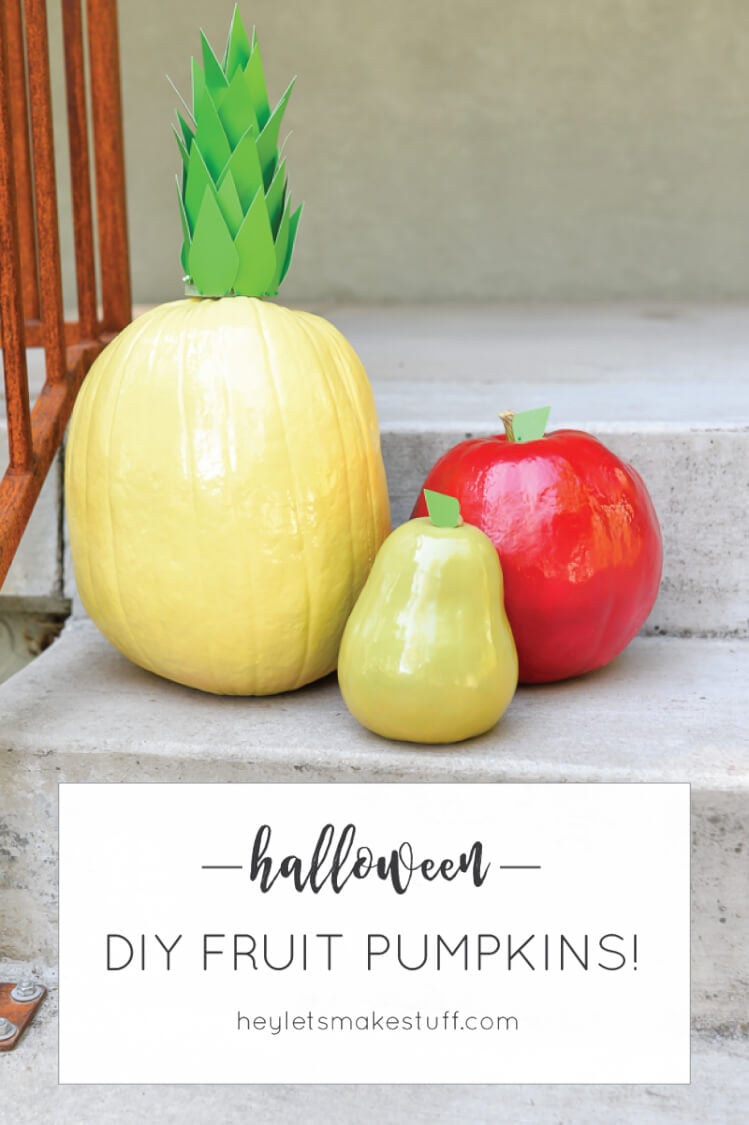 [wpp range=daily header="TODAY'S TOP TEN POSTS" limit=ten order_by=views stats_comments=0 wpp_start=<ol> stats_views=1 wpp_end=</ol>]