Last updated on November 22nd, 2015 at 03:49 pm
Hello my friends! You may have noticed it's been a little quiet around these parts. So today I wanted to take a moment to fill you in on what's going on and what you can expect from me in the next few months!
If you buy anything through the affiliate links in this post, I earn a small commission of the sale—with no price difference to you! This helps keep the blog up and running so we can make even more stuff!
Life Update
First of all, the boys got their first cold. And then Ryan and I got it too. Then Ryan went out of town. And then there was a thunderstorm overnight and Gunnar thought it was the apocalypse. Oh boy. It's been a rough week and a half, but I think we're finally on the mend. Projects and posting have been on the back burner while we all try and get better, with many naps and snuggles! The boys are five months and are so cute I can barely stand it. Seriously, guys. Seriously.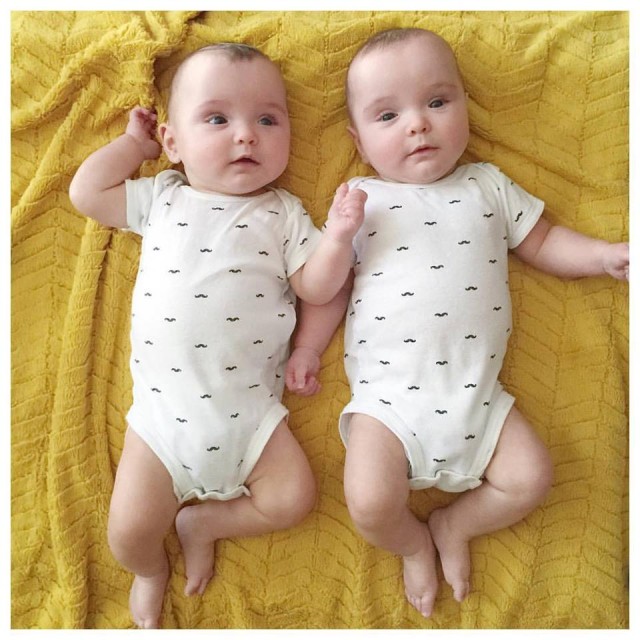 I recently read For the Love by Jen Hatmaker. I. Loved. It. Best book I've read in a long time. She's always asked how she finds a work-life balance. In the book she talks about how there isn't such a thing as balancing it all. If you try and shove too many things into a balance beam routine, you'll just fall off the beam. So you have to decide what stays on the beam and what you're chucking off the beam so that you can stay upright.
So, for me, some of the things that are staying on the beam are my marriage, my boys, family time, getting outside every day, blogging when it feels right, writing a book, and brunch with friends. Things I'm throwing off the beam are being adventurous in the kitchen, forcing myself to do a workout routine, saying yes all the time, playing games on my phone, and being a Pinterest mom. Maybe I'll throw being sick off the beam, too, just for good measure.
Blog Update
Being a stay-at-home mom to the boys is definitely (and rightfully so) cutting into the time I'm spending on my blog. But instead of being discouraging, it's actually forcing me to make some tough decisions and sharpen my focus. For the first time in a long time, I feel like I have direction and a renewed sense of purpose.
So what stays on my blog beam, and what do I chuck off? Things I'm keeping on the beam include designing for my Cricut, DIY projects, home projects, sewing, Instagram, and Pinterest.
But I'm saying goodbye to recipes, cheap crafts, forced holiday content (Why don't I like doing holiday posts? I have no idea), forced sponsored content, Facebook, Twitter, and G+.
I can only focus on a few things right now—so I'm making them the things I just LOVE to do and I'm not wasting my time on doing things because I'm "supposed" to be doing them (hello, posting to Facebook). I want invest in things that make me feel good and give me a good return on that investment—not just money (though that's nice!) but things that feed my soul. I'm finding that the constraints are making me even more creative.
And if you're not following me on Instagram, come join me. I'm having a ton of fun over there!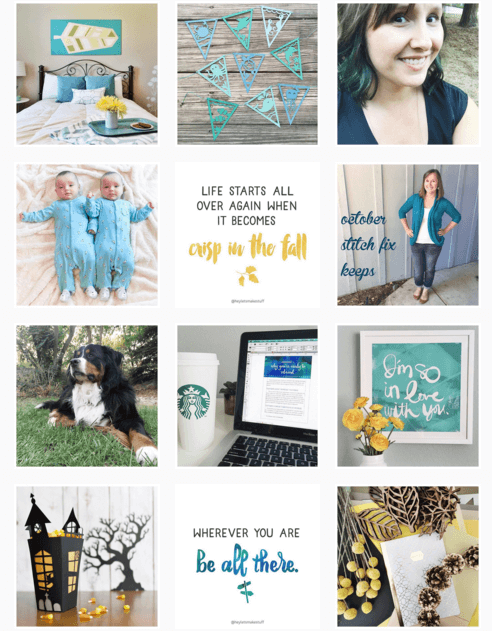 eBook Update
If you've been following along on Instagram, you might have seen that I finished my ebook, The Blogger's Guide to Rebranding. I started working on it before the babies were born, and then took a much needed break.
But I came back at it with a renewed sense of passion in the last few weeks and finished it up. I have a master's degree in publishing, so I've been having a ton of fun working on it. Writing, editing, design—I love it all!
As of today, I'm putting the final touches on the design and starting to plan out how to sell it, as well as set up an affiliate program. If you're interested in being on my promotional team, please email me at [email protected] I'm hoping to launch November 5, which is the day I found out I was pregnant last year. Feels fitting to launch my newest baby on that day.
– – –
And that's what's going on around here! I do have some great blog posts planned for the rest of the year that I'm really excited about, plus some great new digital cut files in my shop. And how are you doing? Let me know in the comments—I love hearing about you guys.
[wpp range=daily header="TODAY'S TOP TEN POSTS" limit=ten order_by=views stats_comments=0 wpp_start=<ol> stats_views=1 wpp_end=</ol>]