Last updated on July 4th, 2017 at 09:41 pm
These are helpful tips and tricks to make your entire day of freezer cooking
go much more smoothly!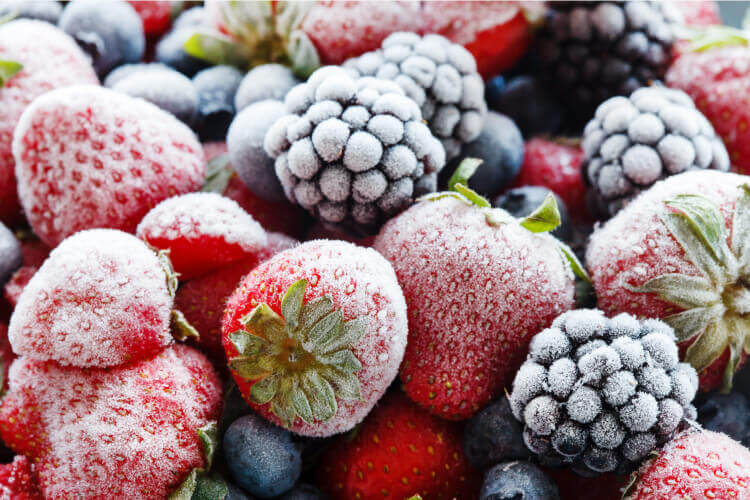 PIN THIS FREEZER COOKING POST TO YOUR RECIPE BOARD TO SAVE IT FOR LATER!
FOR MORE COOKING TIPS AND TRICKS, LIKE HEY, LET'S MAKE STUFF ON FACEBOOK!
With my surgery tomorrow and our upcoming kitchen renovation, I thought it would be a good idea to get some easy-to-make meals prepared ahead of time. Stuff we could just stick in the oven or microwave, or throw in the crockpot. Ryan does cook, but I thought this would be helpful so he doesn't have to add cooking all our food and grocery shopping on top of his full-time job, a kitchen renovation, and taking care of his sofa-bound wife.
And after my recovery, I'm hoping to continue doing this — I don't love cooking (though that might change when I have a beautiful new kitchen!), so I'd rather spend one crazy day cooking than having to figure out what to do for dinner every single night.
Once a Month Meals
I got together with my sister-in-law Alicia and friend Katie last Friday, and the three of us cooked all day. We used the January Paleo menu from Once A Month Meals. Because we plan on doing this monthly, we bought the membership which allows us to customize our menu for the number of families we are cooking for. This month, Alicia was in charge — she chose what we'd cook and she did all the shopping. Next month Katie will take on the responsibility, and once I'm better, I'll take the lead.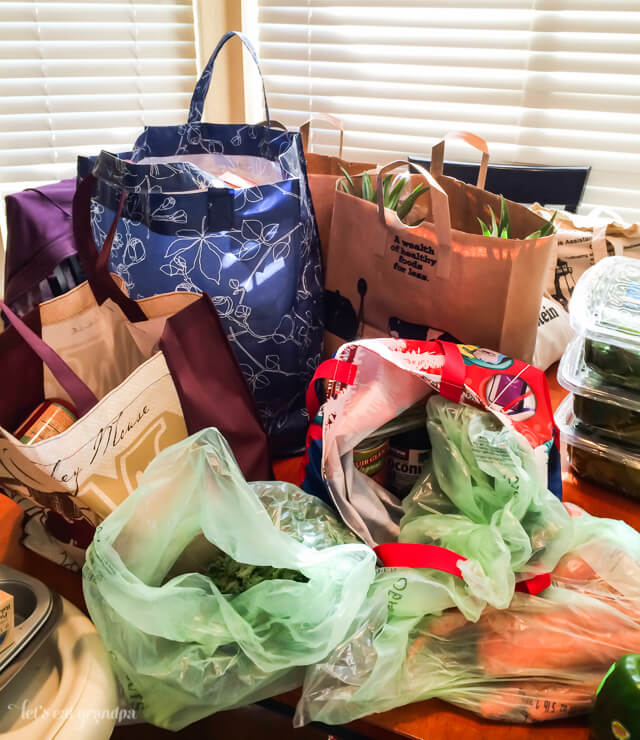 Cooking for three families is quite an undertaking — we used every pot and pan Katie had, and I think had four crock pots going at once. Because of our schedules, we didn't do any prep the day before, as recommended. We fit everything in one day. There was one point where Alicia chopped 24 onions (get a plastic onion chopper — you won't regret it!). Katie was cutting carrots for a half hour. Bowls and bowls of chopped veggies and meat, all ready to become yummy freezer meals.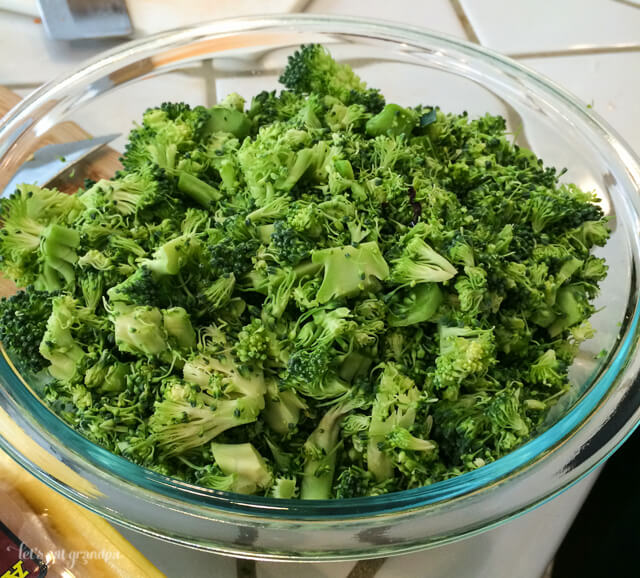 We started around 8:30 and ended about 7:00 — which is a long day, not to mention we spent some of that wrangling their three kids (we did have some husband help — thanks guys!). I was sore from standing all day, but knowing that we made eight dinners, five lunches, and two breakfasts was worth it.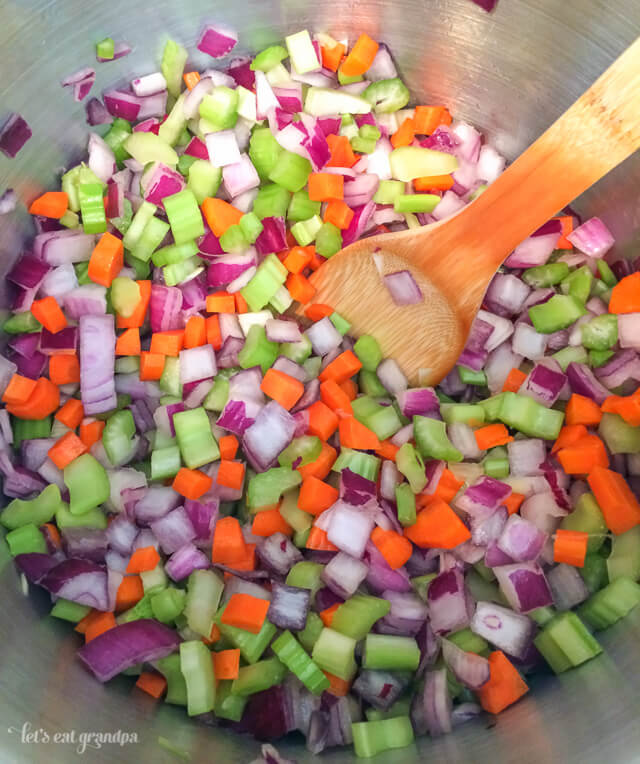 And it ended up being about $3 a serving. And almost all of our ingredients were organic!
Freezer Cooking Swap
Additionally, I started a freezer cooking swap with a few friends. We each cooked six two-person servings of one dish, and then swapped, so we ended up with six different freezer meals (no one in this group has kids). I made the Zuppa Toscano recipe from Fabulously Frugal. It was delicious and easy to make six meals using three dutch ovens / stockpots. And in return, we got things like cheesy enchiladas, pot pies, and ranch chicken sandwiches. Nom!
If you're looking to do a freezer cooking day, here are a few tips that I think make it an easier undertaking.
Tips and Tricks for Freezer Cooking
1. Cut things that aren't as important: You don't have to make everything on the menu. Planning ahead, Alicia decided to cut a smoothie recipe, since we all make our own smoothies every morning and don't need an extra freezer version. We also cut out a beer-basted bacon-wrapped bratwurst recipe, since beer, bacon, and bratwurst are all pretty pricey, plus each had to be individually wrapped and stabbed with a toothpick — too time intensive. You can also cut out recipes if they just don't seem like something you'd eat, or modify them to suit your tastes.
2. Buy pre-made to save time: Katie and I did a freezer cooking day a year and a half ago. We did everything on the menu, including making our own cream of mushroom soup for a recipe. After that experience of cooking from 8am to 10pm, we decided that if there were shortcuts, we'd consider taking them. The recipes this month included making marinara from scratch. We were able to buy organic marinara in a jar instead, without much of a price difference. But the time-savings was well worth not making it from scratch.
3. Return what you don't use: For some reason, the ingredient lists aren't always accurate. We ended up with three extra jars of tomato paste, a bunch of extra potatoes, and some sea salt, among other things — we returned everything, saving us about $16. Doesn't seem like much, but doing this once a month will save us money in the long run.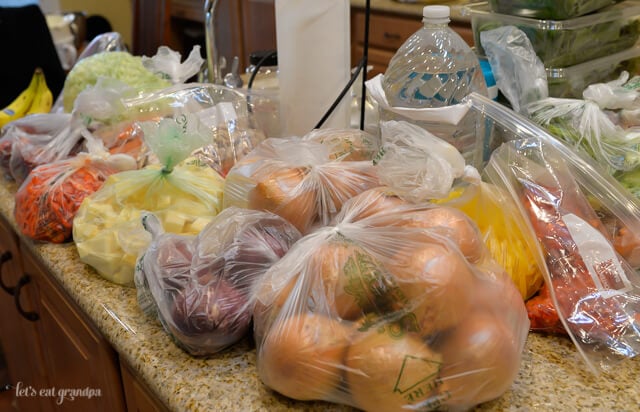 4. Use crockpot liners: They saved us a bunch of clean-up time, especially because we were crockpot-ing pounds and pounds of ground sausage and ground beef. Not having to clean out those crock pots was such a timesaver.
5. Assign one person to dishes: Yeah, it's no fun to do dishes all day. But keeping ahead of the mess makes it clean up a lot easier, plus the most-used dishes and tools are clean when you need them (stock pots, skillets, measuring cups, mixing bowls, etc.). Katie did a lot of the dishes (she was baby-wearing so it was better to keep her away from the hot stuff) and it made it so much easier for me and Alicia to have access to clean dishes and tools. She wasn't doing dishes exclusively, but her hands were soapy more often than Alicia's and mine.
6. Let food cool: Before putting everything in your freezer, let it cool. There's no point to pay for the extra power required to cool down hot food in your freezer, when the ambient air will do it for free. It will also help limit freezer burn.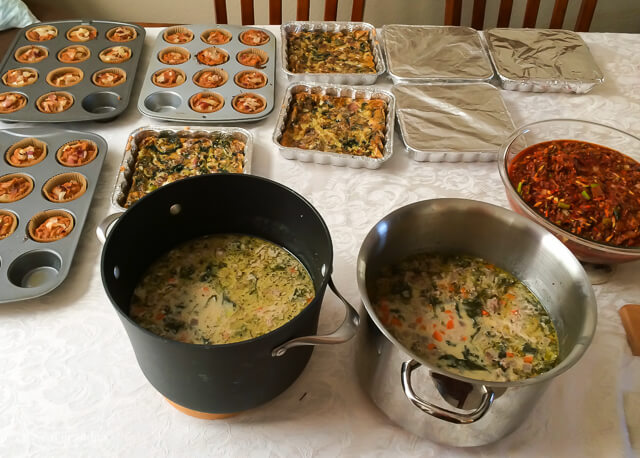 7. Freeze things flat: While we do have a separate freezer in our garage, it's possible to do this without a ton of extra freezer space. Most of what we cooked ended up in freezer bags that freeze flat, and then can be stood on their ends to fit in the narrow freezer. We also used disposable aluminum trays, though I'd like to splurge on some glassware for our future freezer cooking months.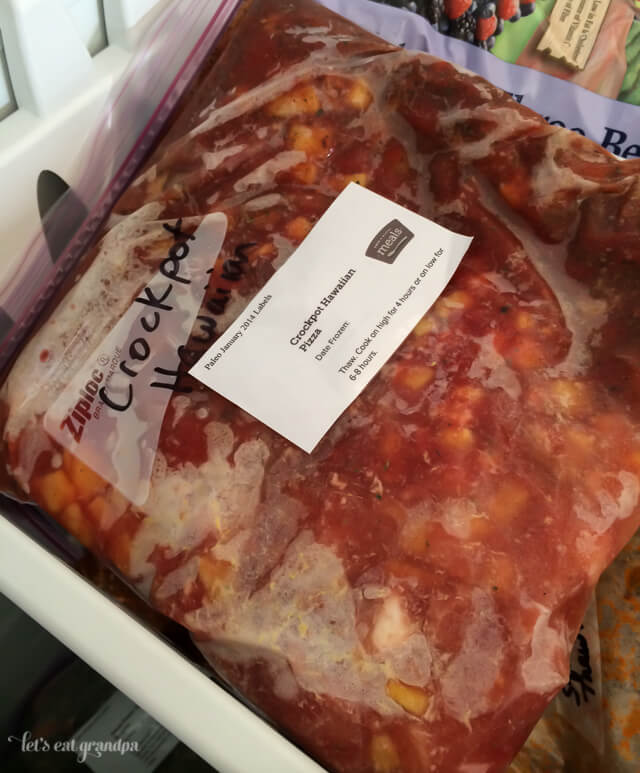 8. Freeze leftover ingredients: We ended up with several cups of chopped onions left over, as well as some shredded carrots and other ingredients. Inevitably we'll need these ingredients next month, so we just tossed them in the freezer (labeled, of course) so we wouldn't have to buy as much next month.
9. Label your food clearly: Not only label what's in the package, but how to cook it. That way you know right away how it needs to be prepared, and whether or not it needs to be thawed or put in a crock pot, or you can just stick it straight in the oven frozen. Adding the date is probably a good idea as well (I went back and did that after I took these photos!).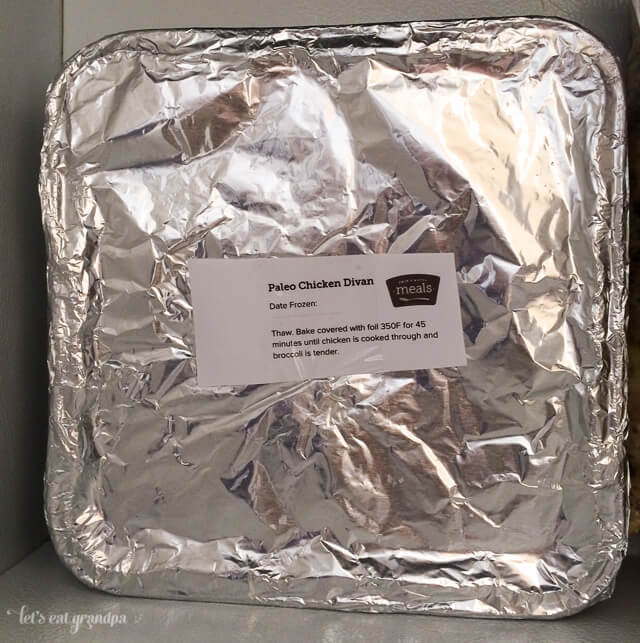 10. Order pizza that night: The last thing you're going to want to do after cooking all day is cook another dinner. Order some pizza, put your feet up, and relax, knowing you're saving yourself hours and hours of cooking time later in the month!
Are you a freezer cooking fan? Share your tips and tricks in the comments! If you're thinking about doing a freezer cooking day for the first time, what do you find the most intimidating? Anything you want help figuring out? Let me know in the comments and I'll see if I can help!
=
If you found this post useful, definitely check out Freezer Cooking Tips & Tricks #2 and Freezer Cooking Questions Answered.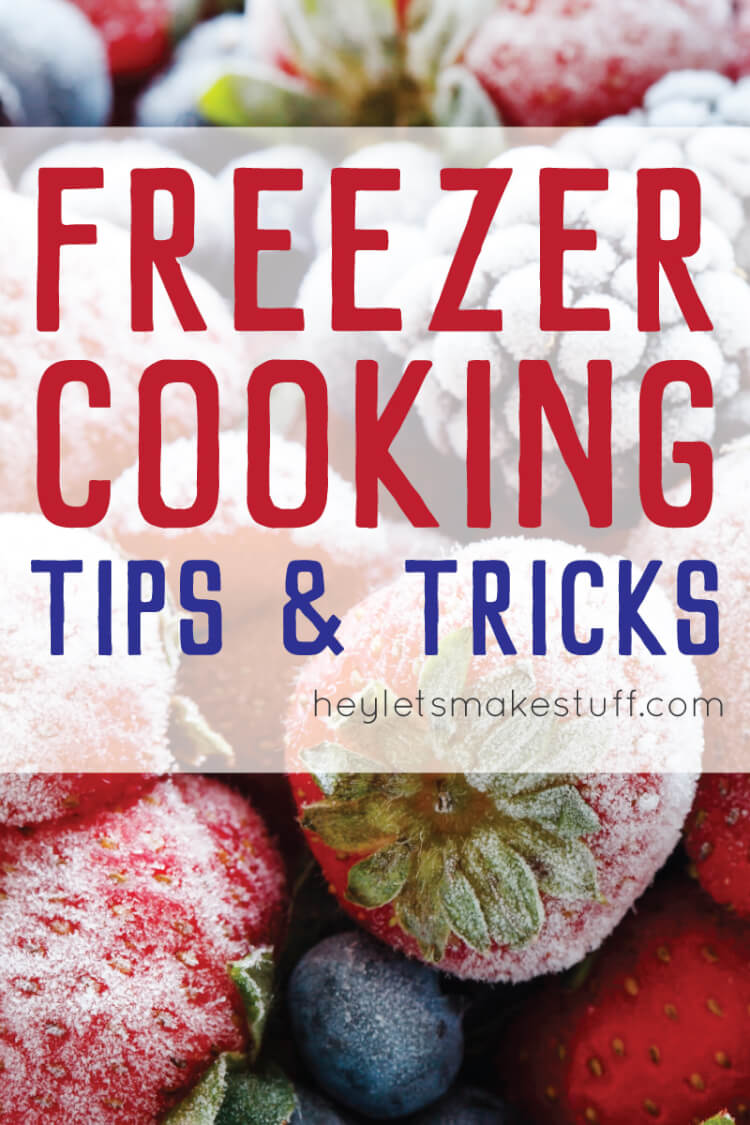 More Cooking Tips: