Last updated on December 22nd, 2017 at 04:03 pm
Have questions about freezer cooking? Here are answers to common questions asked about freezer cooking and tips for making freezer cooking easy.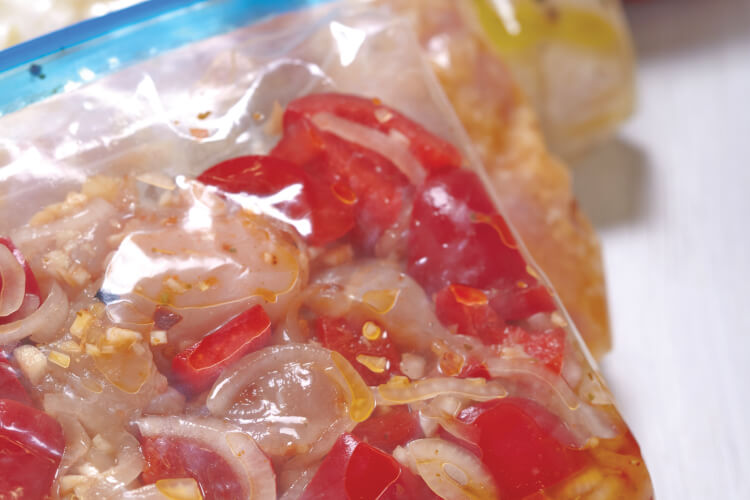 Now that we've been freezer cooking for several months, and I've posted some of my favorite tips and tricks (see my posts Freezer Cooking Tips and Tricks #1 and Freezer Cooking Tips and Tricks #2), I thought I'd share my answers to the most common questions I get about freezer cooking.
Hopefully this will help you decide if freezer cooking is right for you and your family. Have further questions? Leave them in the comments and I'll answer them in a future post!
What method do us use for freezer cooking?
There are many methods to freezer cooking. Some people cook double — make a casserole for dinner, make one to freeze for another night. Some people have their favorite recipes and just cook for a week. Some people make 12 lasagnas on a weekend and eat the same thing quite a bit. Some people make six of the same meal and swap with five friends.
Cooking along with my SIL Alicia and friend Katie, I use the Once A Month Meals (OAMM) Paleo Menu, so that is the method I am most familiar with. It is probably the most labor-intensive of all the ways to freezer cook — we make between 15 and 20 different meals in one day, enough to feed four families. I prefer this method because it takes one big (BIG) effort and I have most of our meals for the month.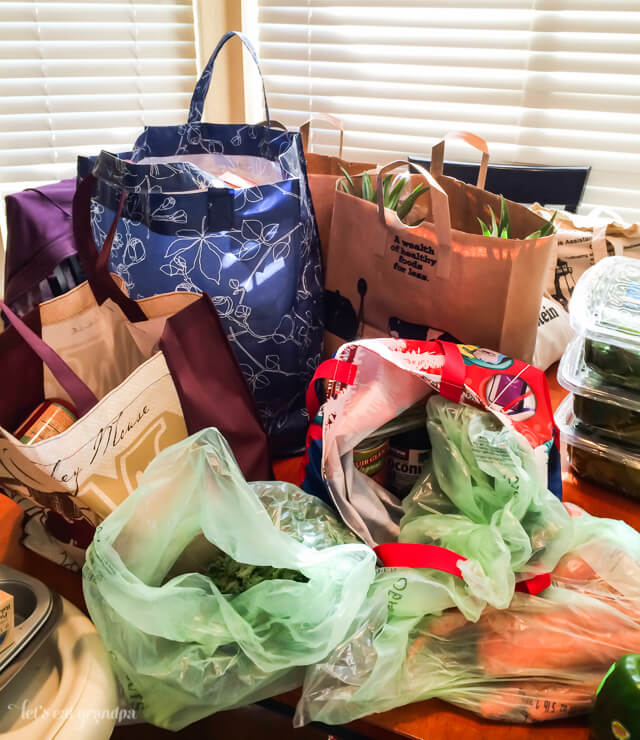 OAMM is particularly great because the recipes can be scaled, it creates a shopping list, prep list, cooking instructions, and day-of instructions within the system. They have a ton of menus (including mini menus if you want something less intense), and if you have their Pro membership, you can swap out recipes.
You'll need to figure out what works best for your family. Try doing a few meals and see how it goes. If you think you'd like to tackle OAMM, definitely read my tips and tricks, referenced at the top of this post.
Does the food taste . . . freezery?
For the most part, no. Of course it's not going to be as fresh as, say, a green salad, but most of the recipes taste like I made them that day. Sometimes a recipe will be a little watery or a bit bland. I often add salt or other spices the day of.
That being said, I'm not a fancy chef type person. It's not gourmet. We're feeding our families, not running a restaurant. If you consider yourself a foodie and want perfectly prepared meals every day, freezer cooking might not be for you.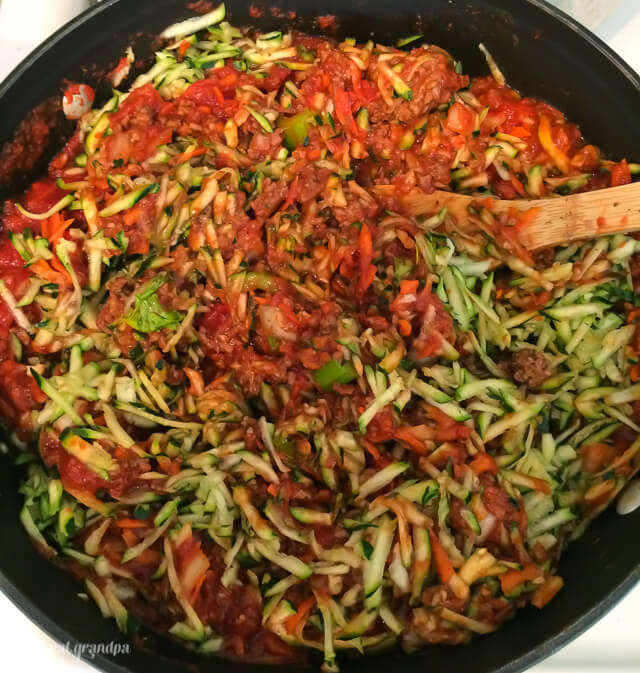 How can I make this work when I have kids running around?
Alicia has a toddler and Katie has two kids. Each time we freezer cook, their husbands help keep the kids out of the way. There have been days when all the kids have been running underfoot and days when they have been off somewhere else. Katie often takes time to breastfeed as well. We just…get it done.
I would say it's worth it to find someone to watch your kids while you do this for a day. It means that 15 to 20 times a month, you won't have to spend much time in the kitchen preparing dinner, and more time with your family. Katie says she often goes to the park when other moms are slaving away over the stove — she sets the crockpot and heads out to have quality family time!
What if you don't want to eat the same thing over and over and over?
The beauty of OAMM is that you cook a ton of different dinners. Other freezer cooking methods may have you eating the same thing more often. We do like the swap feature from OAMM — for instance, they have a buffalo chicken muffin recipe that we swap in pretty much every month because we all like it so much. I like it so much I've made it on my own when we've run out!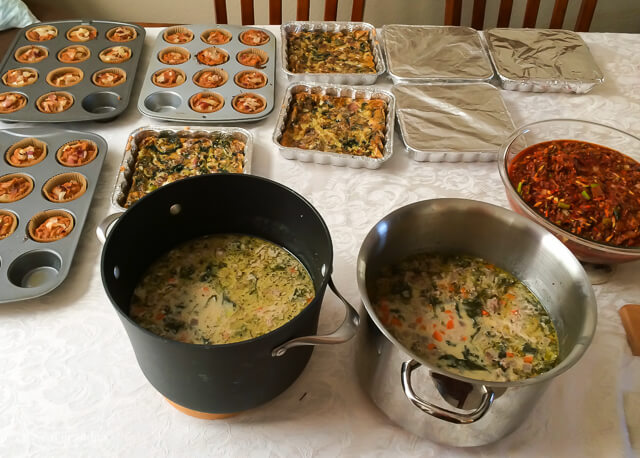 But if you want different meals every month, OAMM does that. Swapping with friends would also be a good method to get a variety of meals.
How much does it really cost?
Each month, we spend between $140 and $200 each, and we get 15 – 20 meals. Depending on the month, that's $7 to $13 per meal. We try and buy as many organic ingredients as we can, and our menu tends to be on the more expensive end of the spectrum because it's Paleo and uses a lot of meat. My guess is the regular and vegetarian menus might be even less expensive. We also split the $16-a-month OAMM fee.
Ryan and I also often have leftovers since there are just two of us, but families with kids will probably finish off a recipe in a night.
How long does it take to do it each month?
This is where it gets real. Cooking 15 to 20 meals for four families is no easy feat. Yes, it's called "Once" a Month Meals, but we find it actually works better for us to break it up into two days. We trade off taking the lead each month. So last time it was my month, I took Saturday to make the lists, swap out recipes, go shopping (it's generally two carts!) and prep, prep, prep. It takes a lot of time to chop all the veggies (24 onions!!) and meat, and the cooking day goes so much more smoothly if the majority of that is taken care of ahead of time. We also often cook meat ahead of time — 8 lbs of ground beef can easily cook in a crockpot the day before, for instance.
Then on Sunday, we generally work from 8:30am to about 6pm. We've had nights go as late as 9:30pm, but that was before we learned the benefits of prepping as much as possible beforehand.
BUT, if you are doing it just for your family, I don't see why it can't be accomplished in one big day. My friend Brittney recently did June's menu in one day herself, and she said it wasn't too bad.
How much space do you need in the freezer?
We have a chest freezer in the garage, so we have more than enough space. You'd be able to fit it in a standard freezer with a few caveats.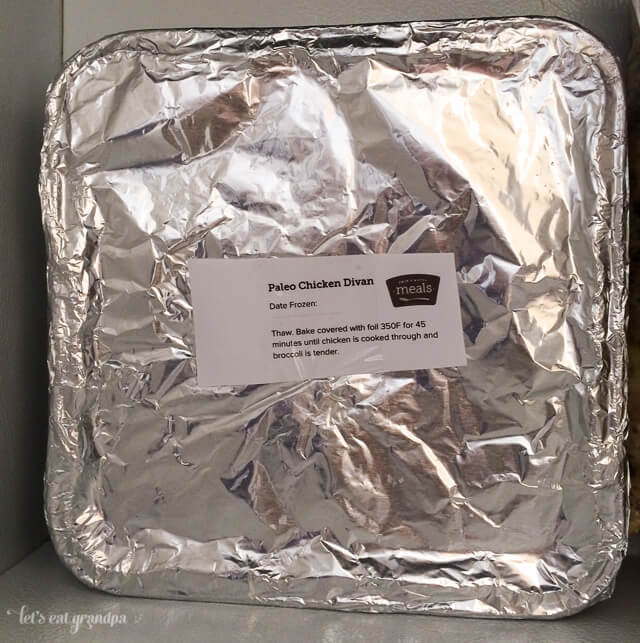 First is that you don't have a whole bunch of other frozen food — waffles, ice cream, ice packs, etc. etc. etc. You'll need as much space as possible.
Second, you MUST freeze flat. Most of your recipes will be put into plastic bags — put them on a tray on their sides and freeze them flat (make sure to use a tray or plate, or the bag may freeze around wire shelves in the freezer).
All the freezer cooking I've done in the past has been cheesy casseroles and lasagna. Is it possible to freezer cook and be healthy?
Yes! Many freezer recipes are healthy — check Pinterest! OAMM has meal plans that are Paleo, gluten-free, dairy-free, vegetarian, and vegan. We are eating more healthfully than ever before because we're freezer cooking.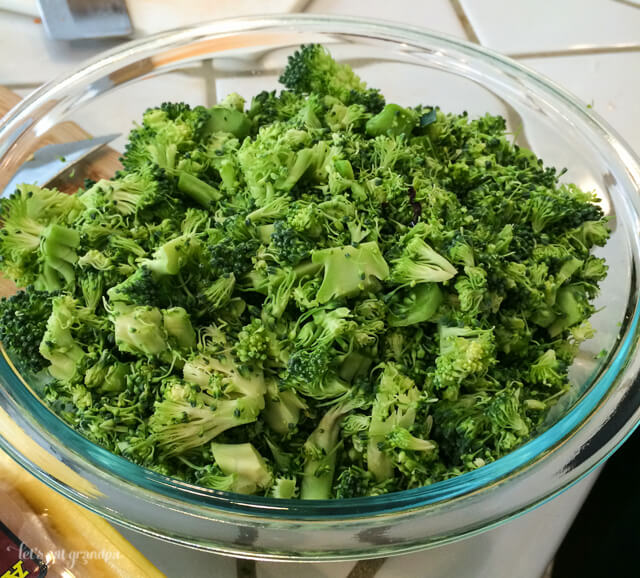 What sort of prep is required the day you want to eat a meal?
Some recipes require very little prep. Throw a thawed (or in my case, half-thawed-because-I-forgot-to-take-it-out-of-the-freezer-in-time) bag of stuff in the crock pot, or put a casserole in the oven for 45 minutes. Others require a little more. I made pork chops with shallot and pear sauce the other night, and I had to bake the pork chops for 10 minutes and sauté the sauce before drizzling it over the pork chops. But it was still very little effort for such a delicious dinner.
Sometimes I'll make a veggie for a side — we had sautéed kale with our pork chops. But many of the Paleo meals, at least, contain a lot of veggies in the recipe.
How long can you store freezer meals?
The USDA says most foods can be frozen indefinitely, though over time the quality and taste of food deteriorates. You can read more here. On average, I try and cook our meals within three months of freezing, just so that we're cycling out the oldest meals before eating the newest meals. But recently I cooked a crockpot of soup from 2011 — it tasted just fine!
Hope these were helpful! Again, if you have further questions, please leave them in the comments and I'd be happy to address them in a future post!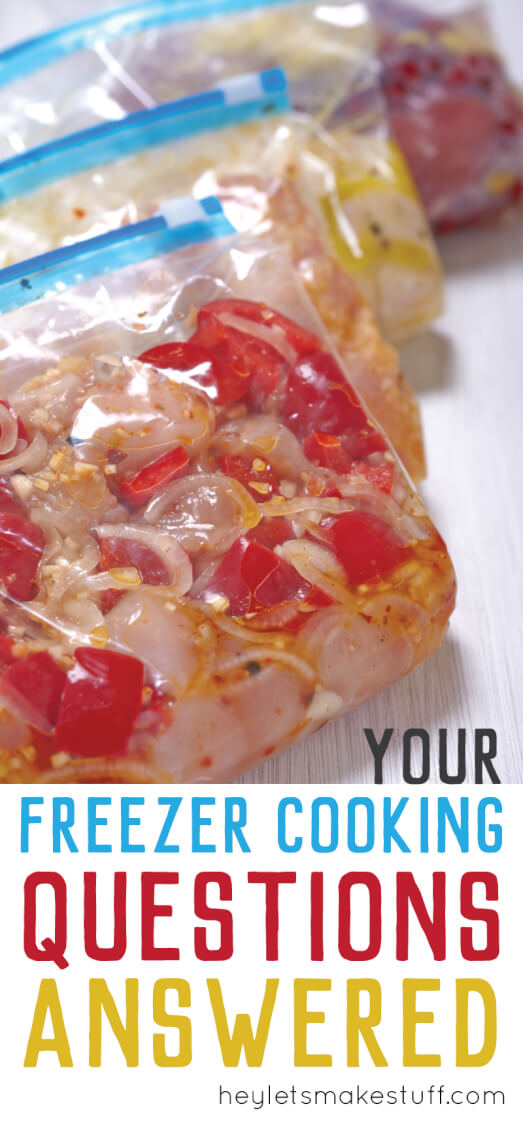 NEED MORE COOKING TIPS AND TRICKS: