Last updated on April 18th, 2017 at 05:41 pm
This easy DIY art crate is a fun project using Duct Tape! Put it together quickly and make it say whatever you want.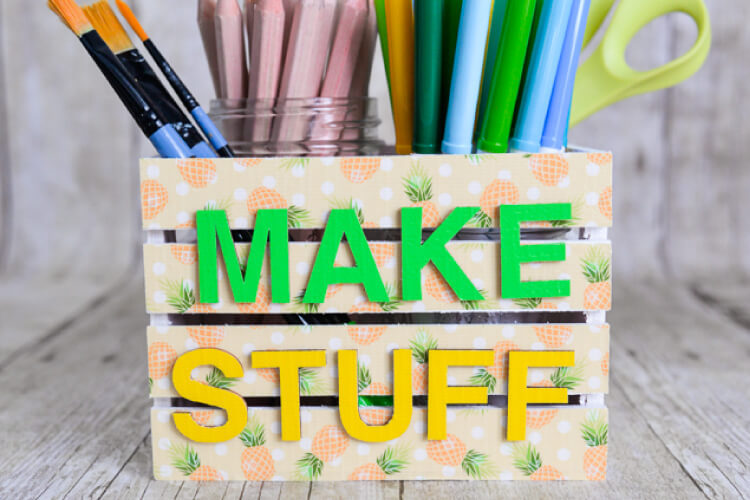 Don't forget to pin this Duck Tape crate to your craft board.
Receive more crafty ideas from Hey, Let's Make Stuff delivered right to your inbox.
One of my favorite things about going back to school in the fall was getting organized! There was nothing better than getting my supply list and then putting everything together in my backpack and on my desk at home. Today I'm harkening back to my school days by making this awesome art supply crate with fun, printed Duck Tape! Duck Tape is a great way to personalize your or your kids' school supplies and accessories.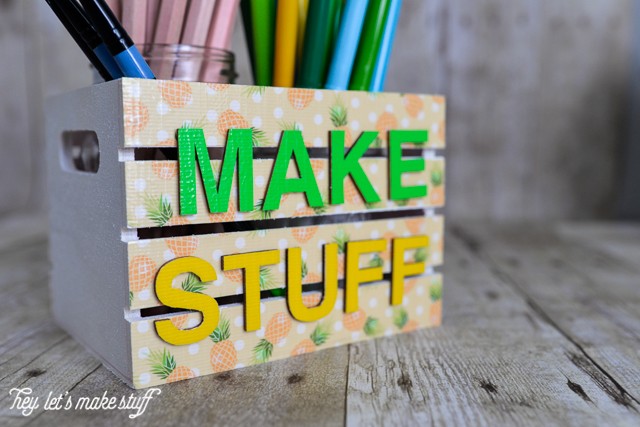 Supplies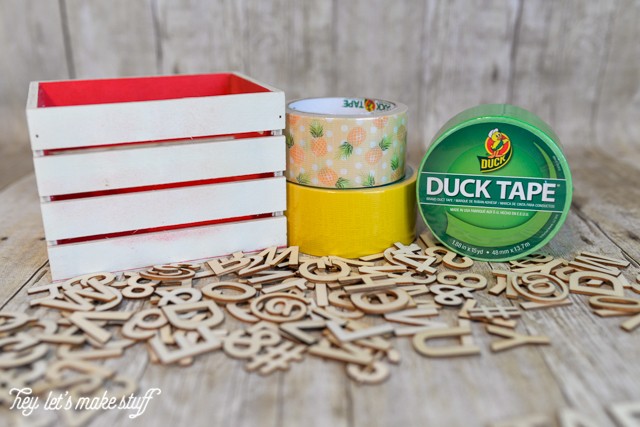 Printed and colored Duck Tape (there are more than 200 prints and colors!)
Small crate
Spray paint (optional)
Wood letters
Craft knife
Craft glue
Directions
I didn't love the red interior of my small crate. It didn't work well with the adorable pineapple Duck Tape, and to be frank, I don't have a lick of red in my entire house. So I spray-painted the crate white.
Choose what you want your box to say — I went with MAKE STUFF as a nod to my blog. You, of course, could make it say whatever it wants!
To cover my letters, I placed them face-down on a piece of Duck Tape. Make sure you have them face down, or your letters will be backward when you flip them over!
Using your craft knife (and scissors if you find them easier for the outside edges), cut around the edges of the letter. Be careful not to cut yourself!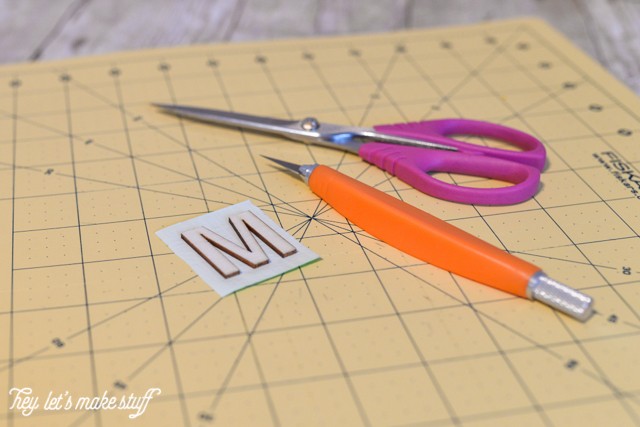 I actually found this to be much easier than expected — the craft knife gets into those small corners! The curves were a little tricky but not too bad. I love how bright the Duck Tape is, and it's awesome because it doesn't require additional steps, like glue or staples, to get it to adhere to the letters.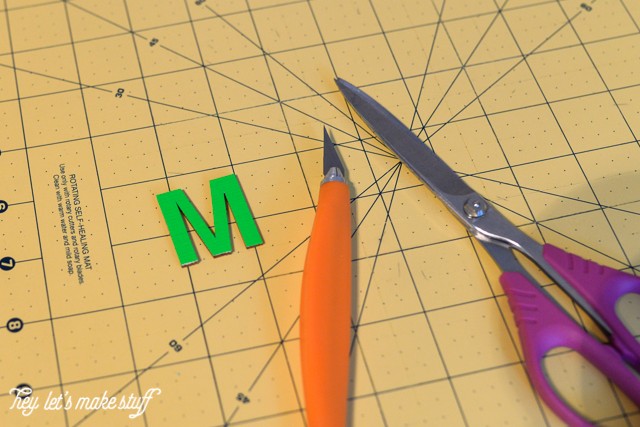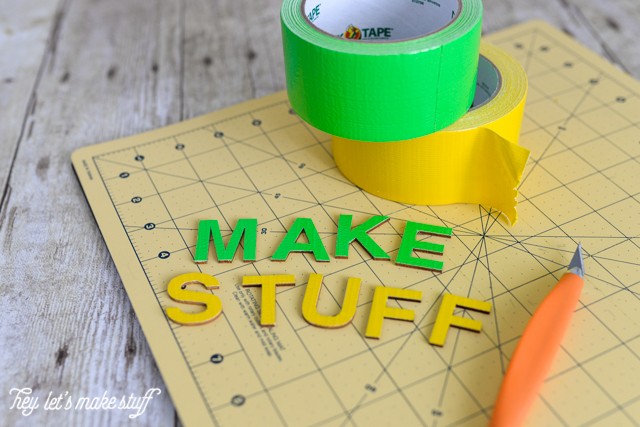 To cover the box slats, I used my quilting ruler and craft knife to cut the right size pieces of Duck Tape.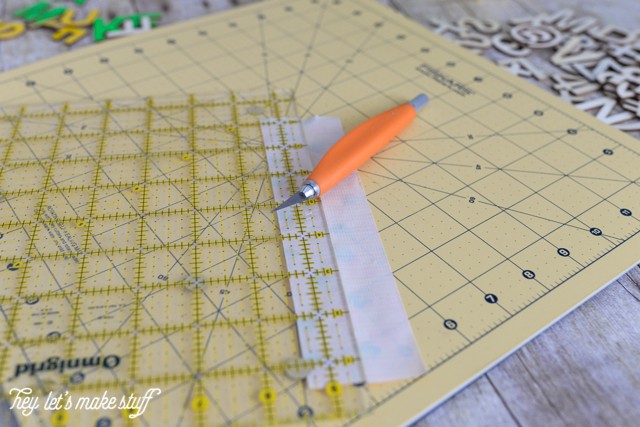 I can't even tell you how much I love these Duck Tape pineapples. I want to cover everything in my craft studio with them!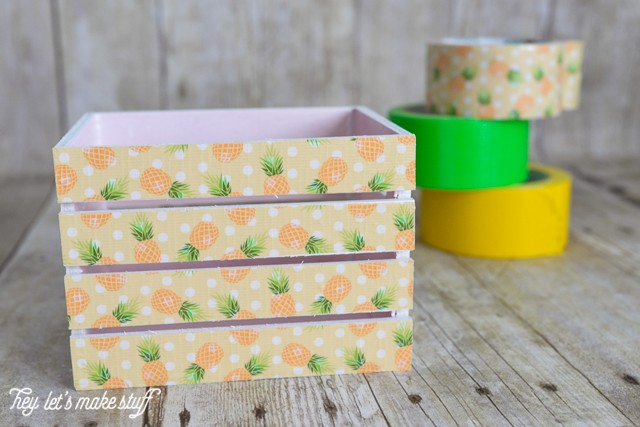 I used a little craft glue to adhere my letters to the crate.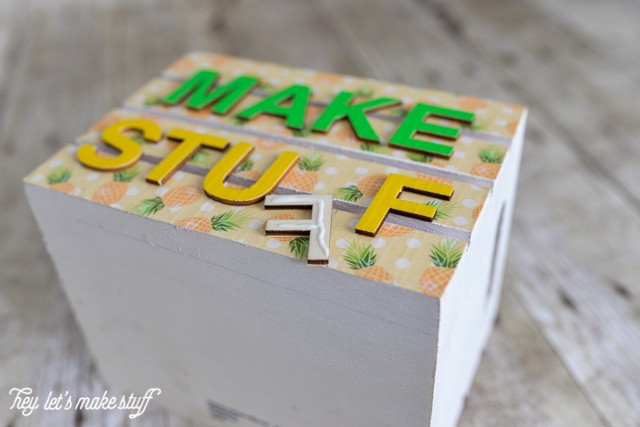 Easy! Using a couple mason jars, I organized some of my favorite art supplies. This would be so cute to sit on a kid's desk to hold their school supplies. Duck Tape is a great crafting medium for kids of all ages, so get them involved!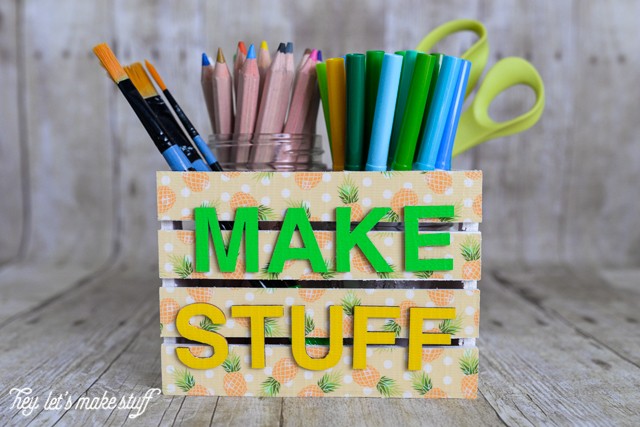 Can't get enough Duck Tape? Me neither! Visit them on Twitter and Instagram, and check out their awesome School Craft board on Pinterest! And want to get some pineapples for yourself? Find Duck Tape here!
Have you done any fun crafts with Duck Tape? Leave me a comment and let me know what you've created.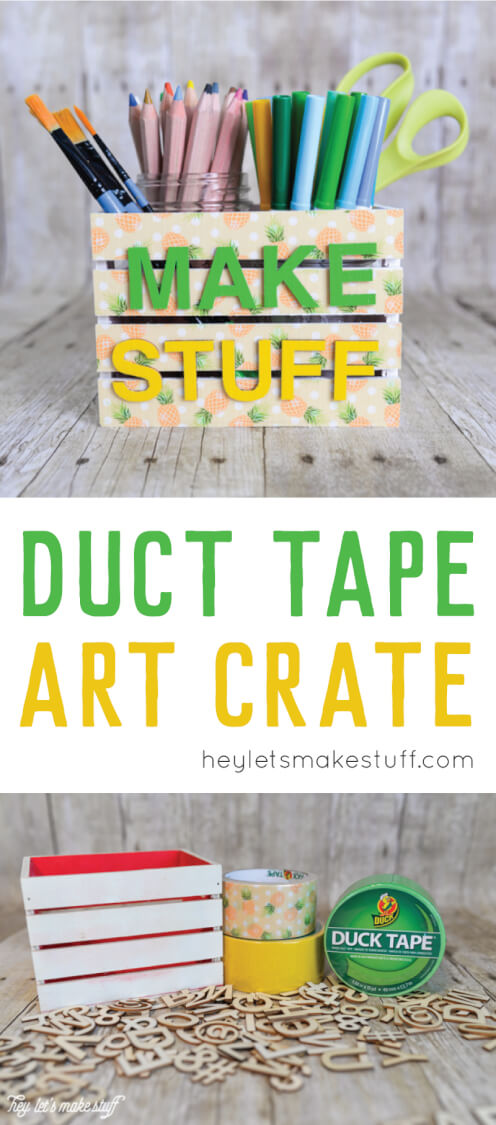 MORE EASY CRAFT PROJECTS FOR YOU :
[wpp range=daily header="TODAY'S TOP TEN POSTS" limit=ten order_by=views stats_comments=0 wpp_start=<ol> stats_views=1 wpp_end=</ol>]