This DIY paint chip artwork is a fun way to use paint chips after you're done using them to choose paint colors. An easy craft that makes modern home decor!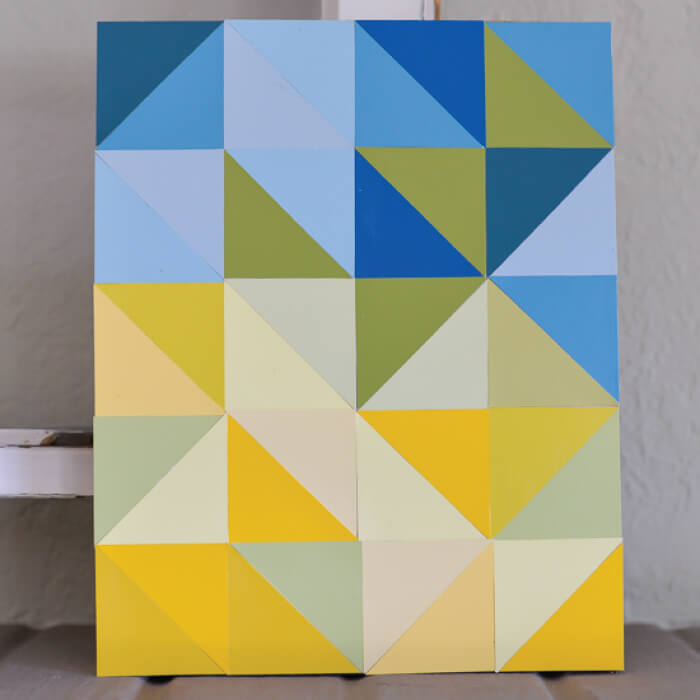 PIN THIS PAINT CHIP ARTWORK TO YOUR DIY AND CRAFTS PINTEREST BOARDS!
FOLLOW HEY, LET'S MAKE STUFF ON TWITTER FOR MORE DIY PROJECTS!
I have a serious problem. I can't stop making stuff to hang on my walls! And we don't have all that many walls in our little house. But I'm sure this color block paint chip art will find a spot — I love how it turned out (and it's not very big!)! It was pretty darn easy to make, as well, and I think it really makes a statement.
Supplies
Various paint chips
Piece of wood for backing (I got one similar to this one from Joann)
Gold paint
Paint brush
Mod Podge

Foam brush
Spray Glue

Rotary cutter, ruler, and mat (you can use scissors here, but I find a mat makes it about a million times easier)
Directions
I decided I didn't like the plain wood look of my piece of backing wood, so I painted it gold. Ooh, fancy! Two coats did the trick.
You'll want to make sure you calculate how big you need to cut your paint chips so that they come out evenly. My backing board was 8″ x 10″, so I cut my squares 2″ tall — I'd have four across and five down. You don't want to end up with half a triangle, so doing a bit of math is key here.
Cut your paint chips into the correct size squares (in my case, 2″), and then slice in half.
As you cut, start laying out your pieces to see what sort of order you find the most pleasing. To start out with, I tried a completely random order:
But it was a little too mish-mashy for my own personal taste, so I tried color blocking — putting more of the blue at the top and the yellow at the bottom and working my way to the middle with the greens.
Much better!
I used the spray glue to adhere the paint chip triangles to the board. Make sure you're spraying on a scrap piece of cardboard or something so you don't end up with a sticky mess:
Start in one corner and work your way to the opposite corner. Be as precise as possible, lining up your triangles with the edges. I ended up trimming my bottom triangles ever so slightly so they wouldn't hang over the edge.
Let the glue dry, and then add two coats of Mod Podge to seal everything tight!
I love how this has a sort of modern quilt feel — it's going to look fabulous in our living room!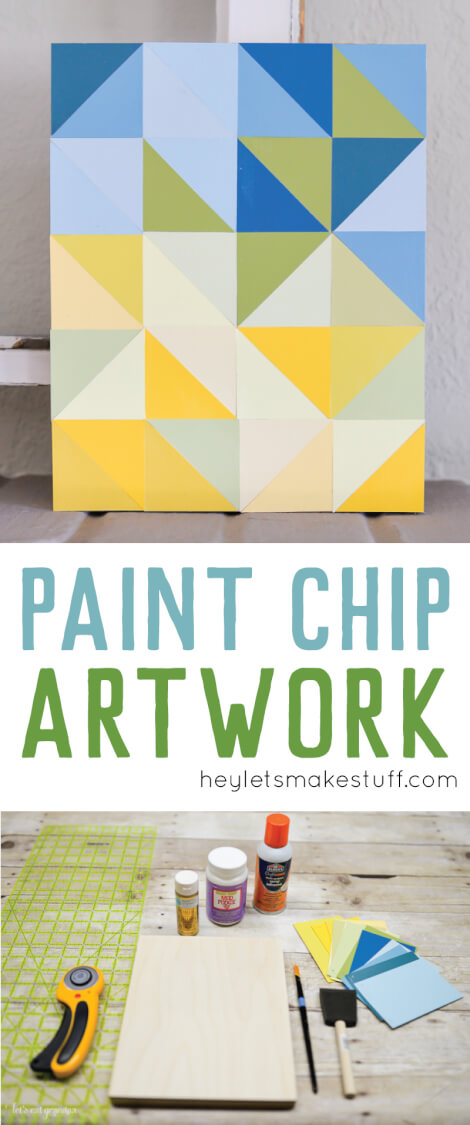 Now that you've got those creative juices flowing:
TODAY'S TOP TEN POSTS