Clean out under your kitchen sink and learn all of the legal ways to dispose of any toxic chemicals you don't want in your home anymore.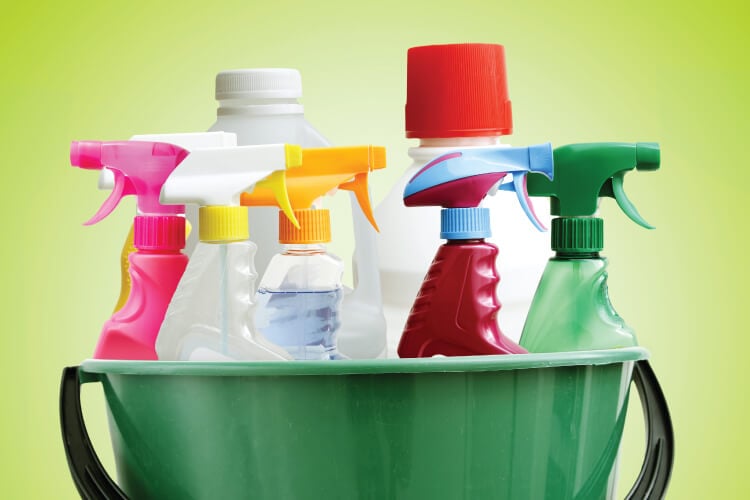 PIN THIS POST TO YOUR HOUSEHOLD BOARD TO SAVE IT FOR LATER!
FOLLOW HEY, LET'S MAKE STUFF ON TWITTER FOR MORE HOME TIPS!
There are a lot of things that people forget to tell you when you get married, especially if you get married later in life. One of those things is "you will end up with more household cleaners than you ever imagined possible."
(Also, cling wrap. We have seven rolls of cling wrap. I don't even understand that math.)
We have, to say the least, an abundance of household cleaners. And only 1,200 square feet.
For the first five months of our marriage, they have been jam-packed under our kitchen sink and in our guest bathroom. They take up valuable space. We don't even use most of them, having moved to more natural cleaners. Most of our natural household cleaners are purchased, but I'm hoping to make my own when we run out of what we have. My friend Hannah makes our laundry detergent (we barter) and we love it.
In my effort to live a life more simple, the toxic ones have to go. We are weeding out the things that are harming our bodies, including these toxic-chemical-packed cleaning products. But where do you dump a whole bunch of toxins? For years I've been more and more aware with what I do with my household waste. I did a bunch of research and learned the following about disposing your household cleaners.
DO NOT pour household cleaners down the drain, flush the down the toilet, or pour them in the gutter:
Household cleaners are meant to enter our water systems in the small amounts used when we clean. But pouring them down all at once can be too much for our water cleaning systems to handle, so they end up polluting our local water systems — poisoning plants, animals, and people.
DO NOT throw household cleaners away in your trash or recycling: 
Household cleaners are considered hazardous waste — and it's illegal to throw away hazardous waste in your garbage or recycling. You can recycle empty bottles, but make sure they have the proper recycling symbols on them.
DO visit earth911.com and try their recycling search:
I typed in Household Cleaners and my zip code and learned that Placer County has free drop off of hazardous waste for its residents. Free!
DO participate in town clean-up days:
A few months ago, we had a city clean-up day. We were able to bring all of the things we wouldn't normally put in the trash (an old broken desk, some various pieces of wood, an old satellite dish, car parts, scrap metal <– these are all the things you end up with when you marry a boy). It was also free! There was also a medication disposal (more stuff you can't dump) and a hazardous waste dump. We didn't think to drop the household cleaners off then, but it would have been a great option.
So what did we end up doing?
I've had a "hazardous waste" plastic bin in my garage for a few years. I put in everything that shouldn't be thrown in the regular trash, like lightbulbs, batteries, motor oil (Ryan does our oil changes), paint, medication, and random electronic waste. Whenever it gets full, I take it to the free hazardous waste drop off or the town clean-up day. The cleaners made more than a full box, so off to the hazardous waste drop off it is!
These are the few household cleaners we have left. As these run out, I plan on tackling vinegar and baking soda concoctions. Better for the budget, better for the environment!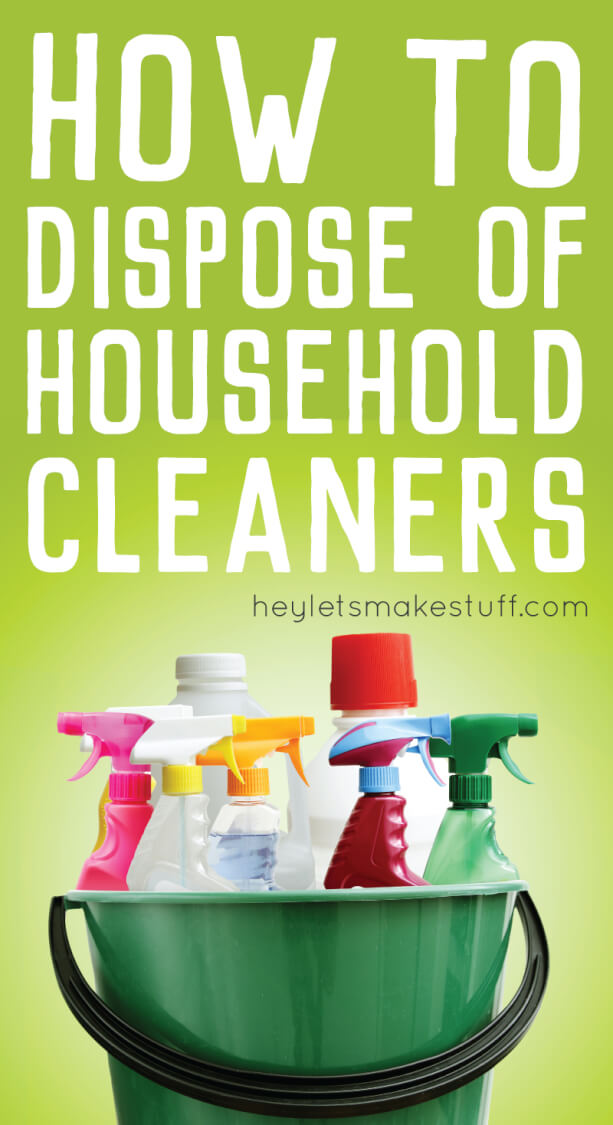 Here are some more ways to get organized:
Tidy your home with these tips:
TODAY'S TOP TEN POSTS