Decorate for your Dia de los Muertos Party with this fun candy bar! Take Sugar Skulls to a whole new level with this fun, colorful Dia de los Muertos Party Candy Bar!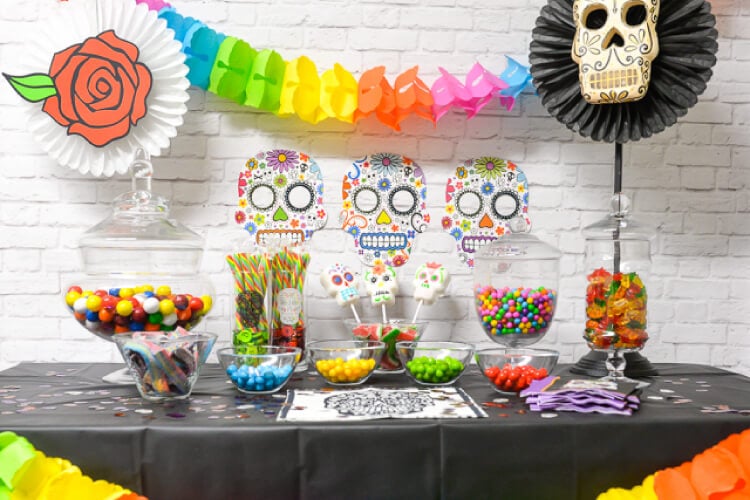 We all know about Halloween, but have you heard of the Dia de Los Muertos? Also called the Day of the Dead, it's a holiday observed throughout Mexico and other parts of the world at the beginning of November.
People gather together on the holiday to remember friends and family members who have died. There's nothing more iconic to Dia de los Muertos than the brightly colored sugar skulls! I've been fascinated with the skulls for a long time. I love the contrast of the skulls with the flowers and geometric shapes, the macabre paired with the whimsy.
I thought it would be so fun to use a candy bar as one of my Dia de los Muertos decorations!
Everything about this candy bar was a blast to put together! The hardest part wasn't eating it before I was finished! There MIGHT have been more gummy bears at the beginning of set-up than at the end.
My first pick was a set of these Dia de los Muertos cloth napkins. I got a whole set, but just used one as the centerpiece of my candy bar.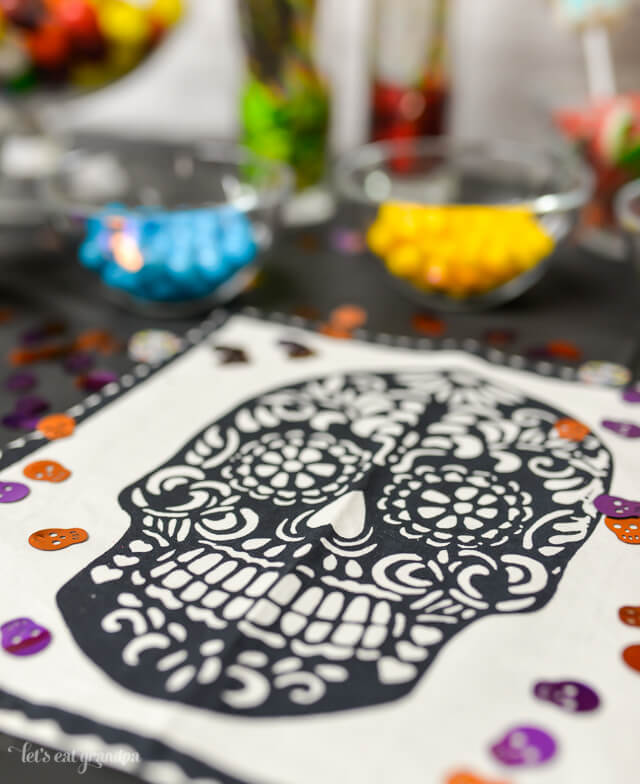 I love how it looks like he's dreaming of candy. Dream on, happy skull.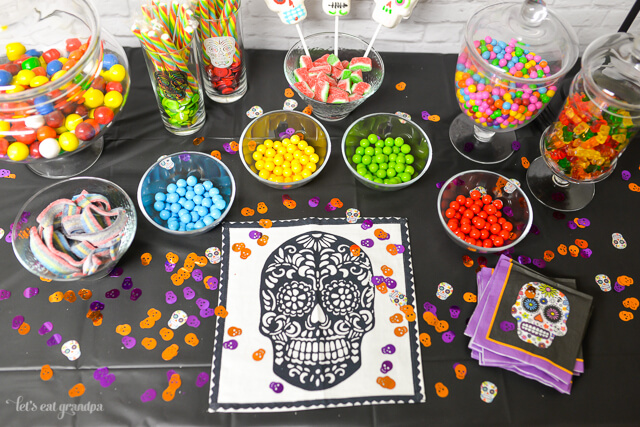 There's a huge selection of apothecary jars that you can sue for candy buffets. I picked up an apothecary jar set for some Sixlets and gummy bears. I love the varying heights of these jars — they are so versatile and will probably end up on the sideboard in my dining room.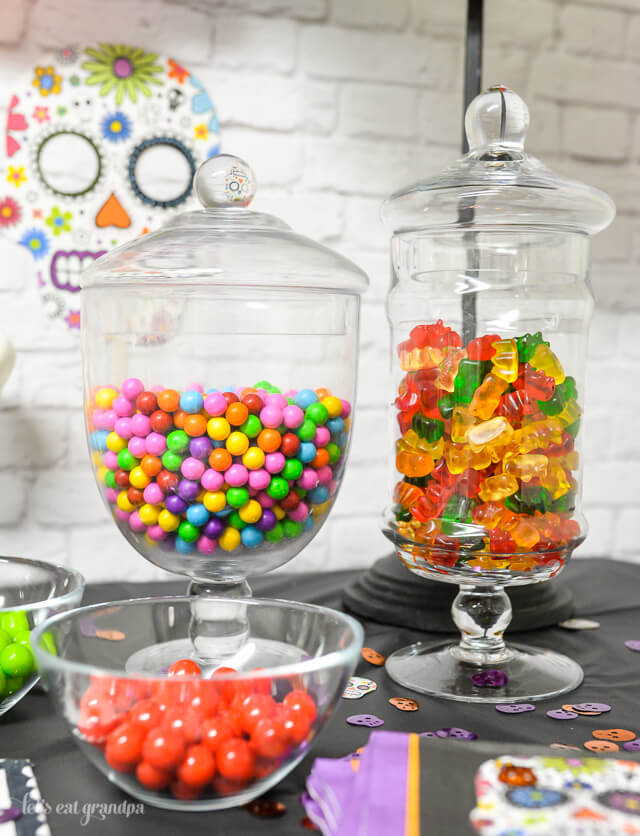 And then there's this mamma jamma round apothecary jar. I LOVE this beast of a jar. It holds so much (that's a full yard of gumballs!) and will be perfect for decorating throughout the year.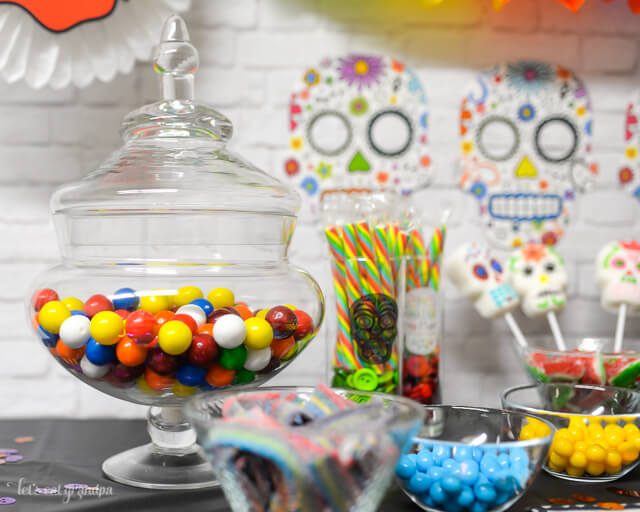 These two traditional Dia de los Muertos highball glasses make a perfect holder for rainbow candy sticks. Some colorful buttons add to the look and make the candy more accessible!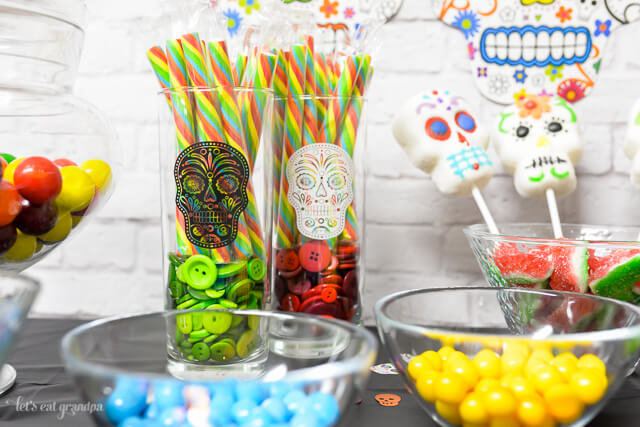 The jars are set against a back-drop of these festive skulls, which are actually masks! Perfect for an instant disguise or party favor. They pull double-duty for my candy bar, providing a bright background for all the sweet treats.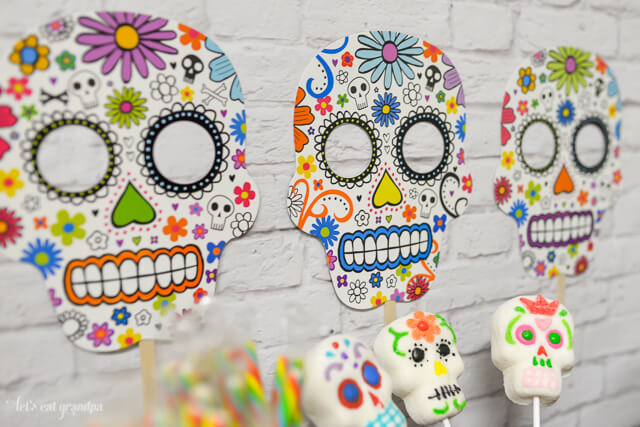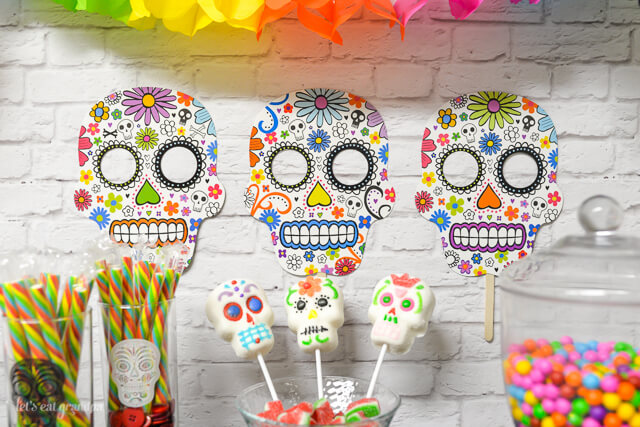 Keeping watch over the festivities is this wooden skull wall decor. I hung him against a tissue paper fan to make him really stand out.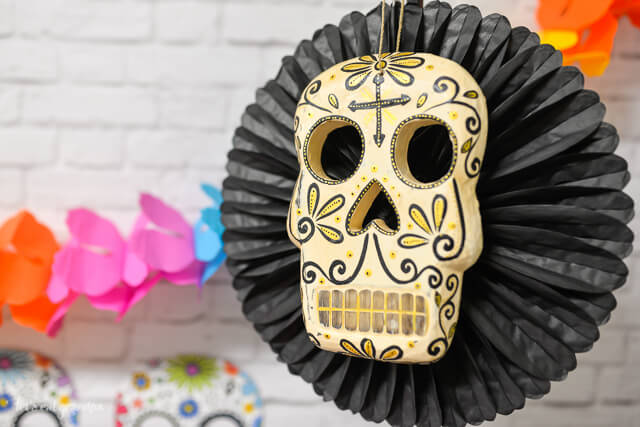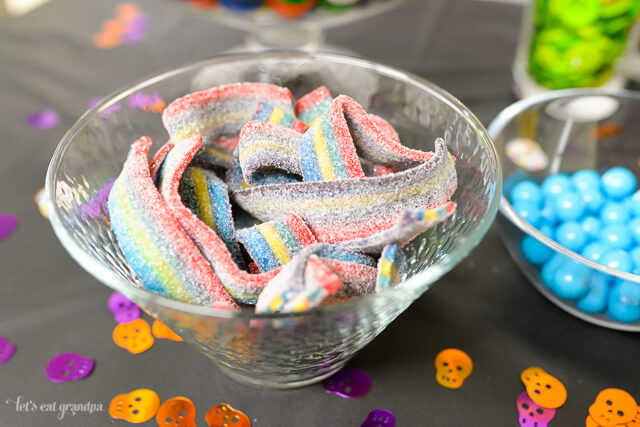 Nestled within these sweet watermelon slices are three marshmallow sugar skull pops. I wish I had a smell-o-blog because the delicious marshmallowy aroma that filled the room was incredible. I ate one of them after I finished my photos. One word: ZOMG.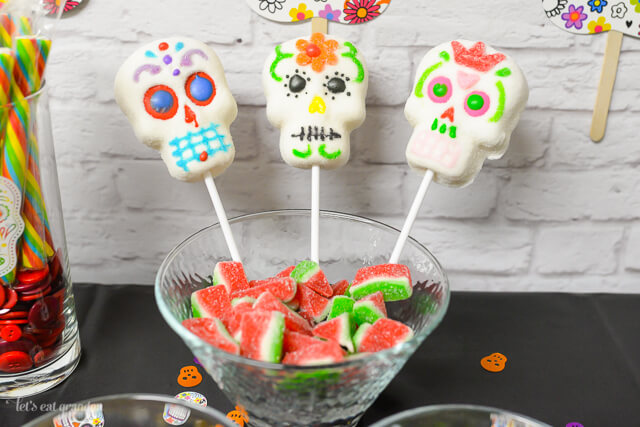 Across the table I sprinkled some skull confetti — I love that it has both metallic and paper pieces. Fun and festive!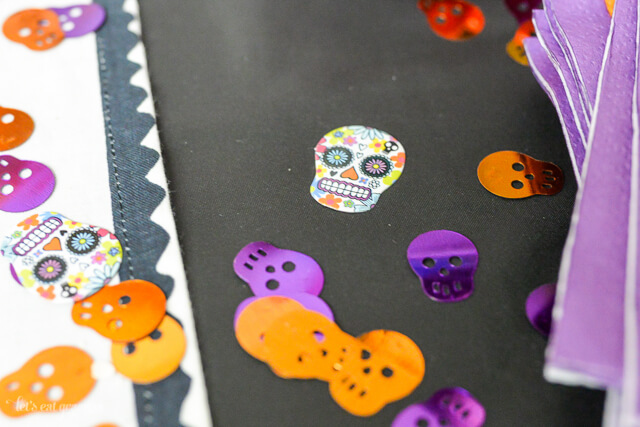 Put together, everything is so colorful and fun!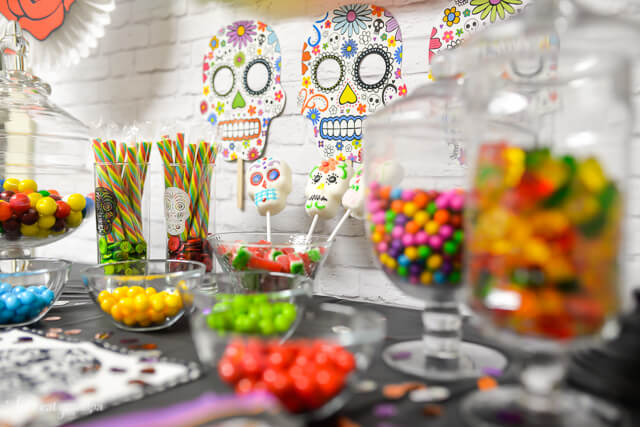 So grab a sugar skull napkin and get snacking! You can find even more ideas to decorate your party with these Dia de los Muertos projects and SVG files.