Set a beautiful winter table for any holiday meal with these free printables and Chinet Cut Crystal plates and cutlery!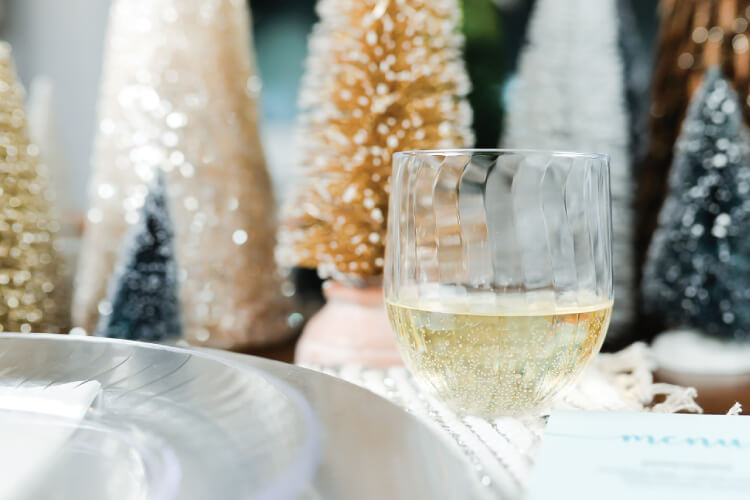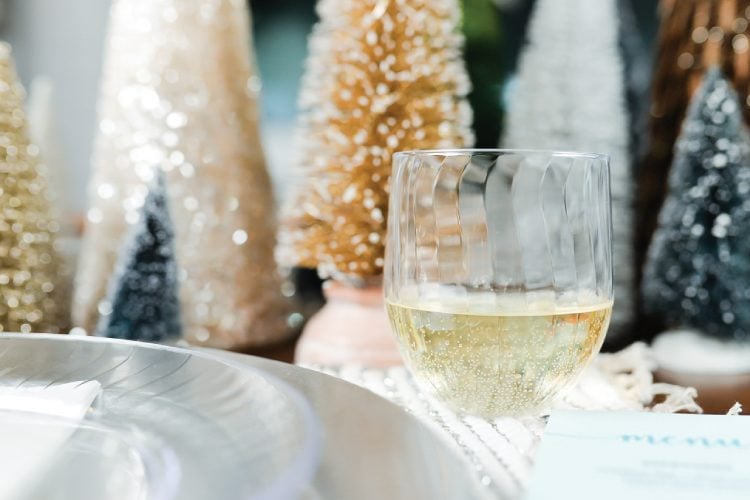 This post is sponsored by Chinet.
Every year, for almost every holiday, a new theme emerges in my home. For autumn this year, it was fall leaves. I couldn't get enough of them!
And as we're rolling into the Christmas season, I'm a little obsessed with snow-covered trees. I'm just obsessed with the glittery whites and silvers this year, combined with wood and a little bit of modern aqua. Maybe it's the fact we never see this sight outside our house here in California, so I need to recreate it inside!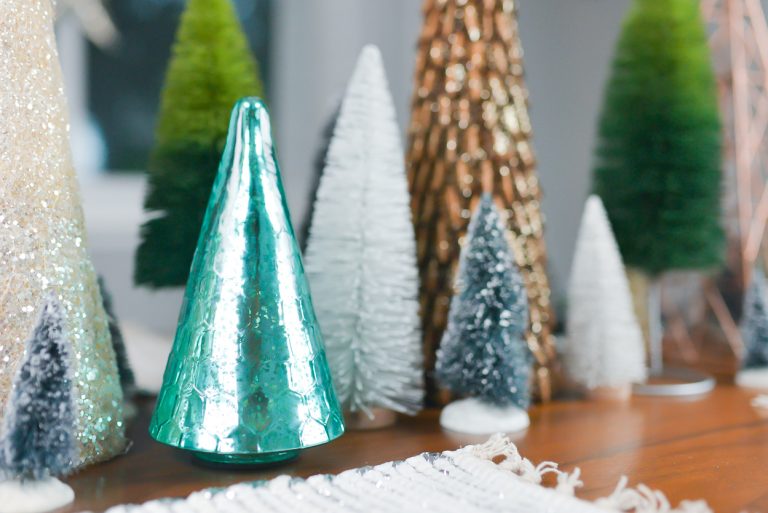 Winter Trees Christmas Table Centerpiece
This year my holiday table is all about these glittery colors. I started by lining the center of the table with all of my modern Christmas trees (I buy one (or more!) a year to add to my collection), plus bunch of bottle brush trees to fill in the gaps. For the actual meal I'll remove the tallest of the trees to make conversation easier, but the shorter ones are still festive down the center of the table.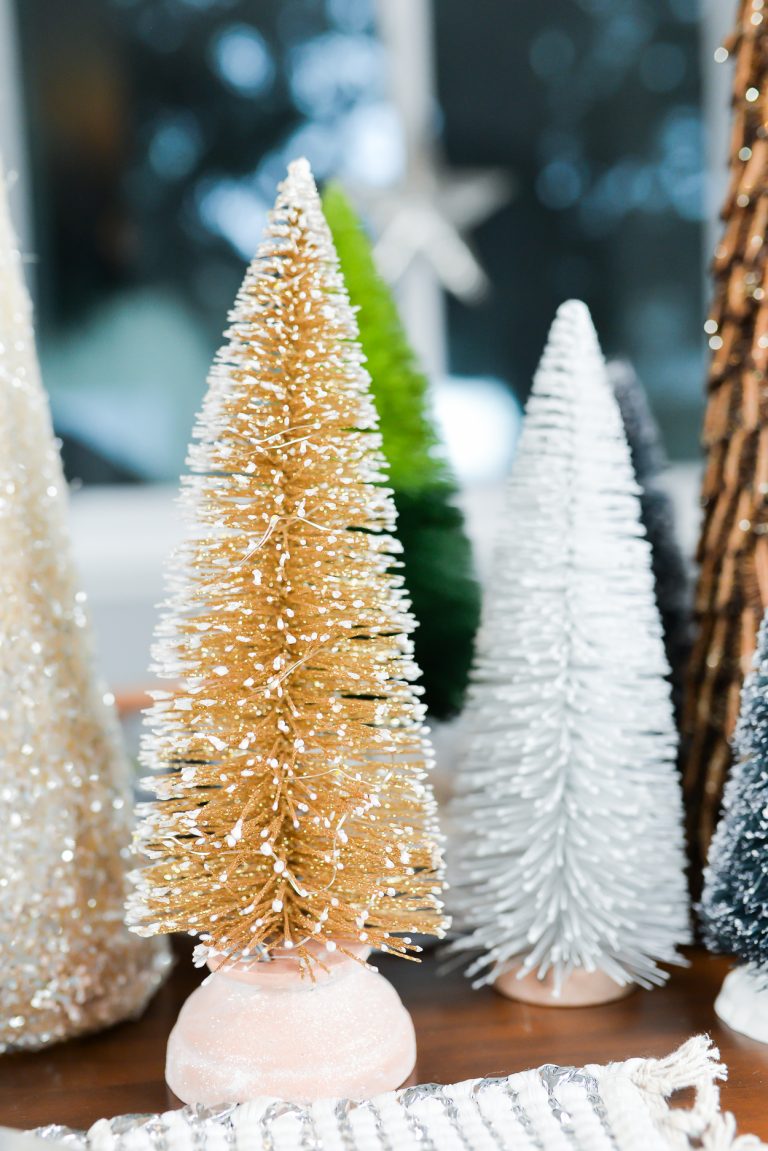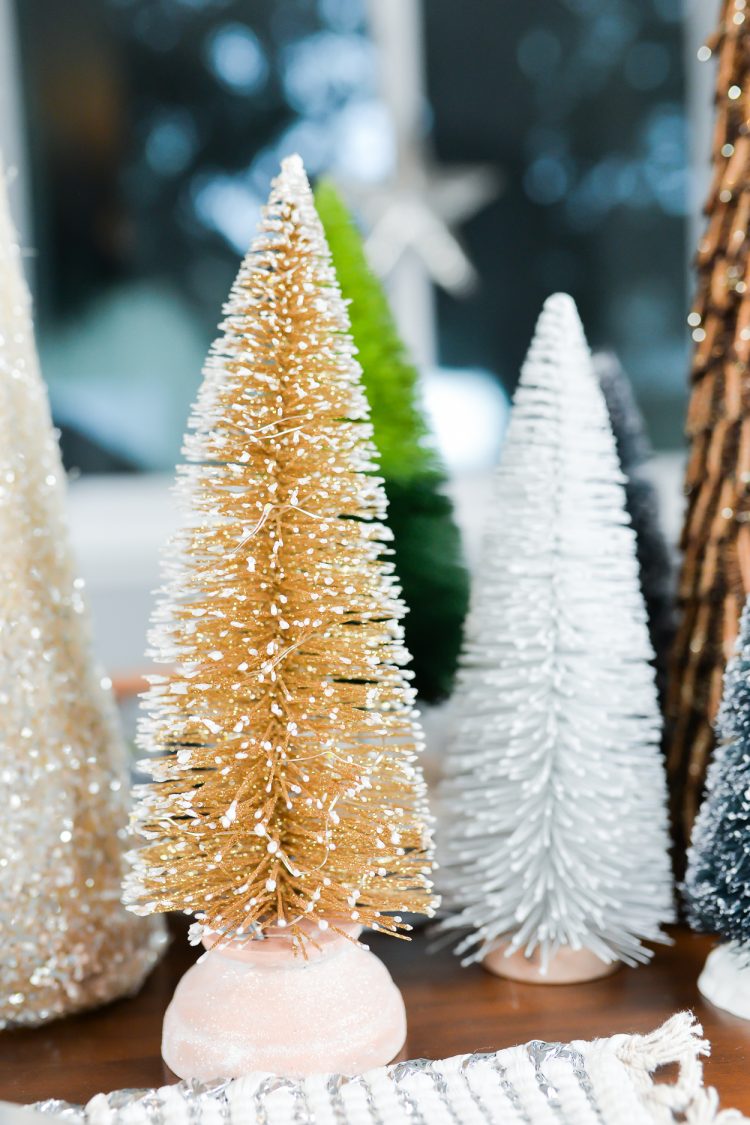 Setting the Winter Trees Christmas Table
For each place setting, I turned to my favorite Chinet® Cut Crystal® plates, cups, and cutlery. They coordinate perfectly with my winter tree theme—I love how the light reflects off them! They are so elegant, yet are disposable so cleanup is a breeze! Dishes have long been my least-favorite chore (seriously, my mom tells stories of me trading away dish duty at Girl Scout Camp when I was a kid), so not having to worry about an enormous pile of dirty dishes after Christmas dinner is a dream. It means I get to that time with my friends instead of confined in the kitchen at the sink.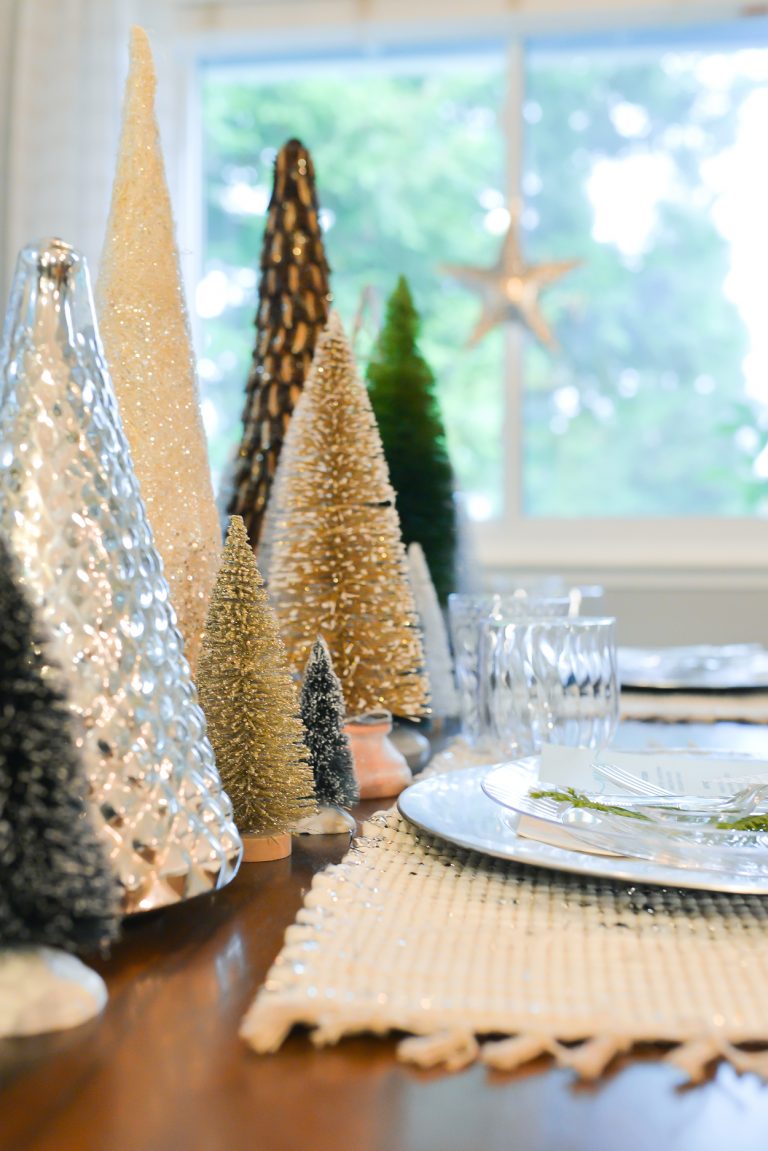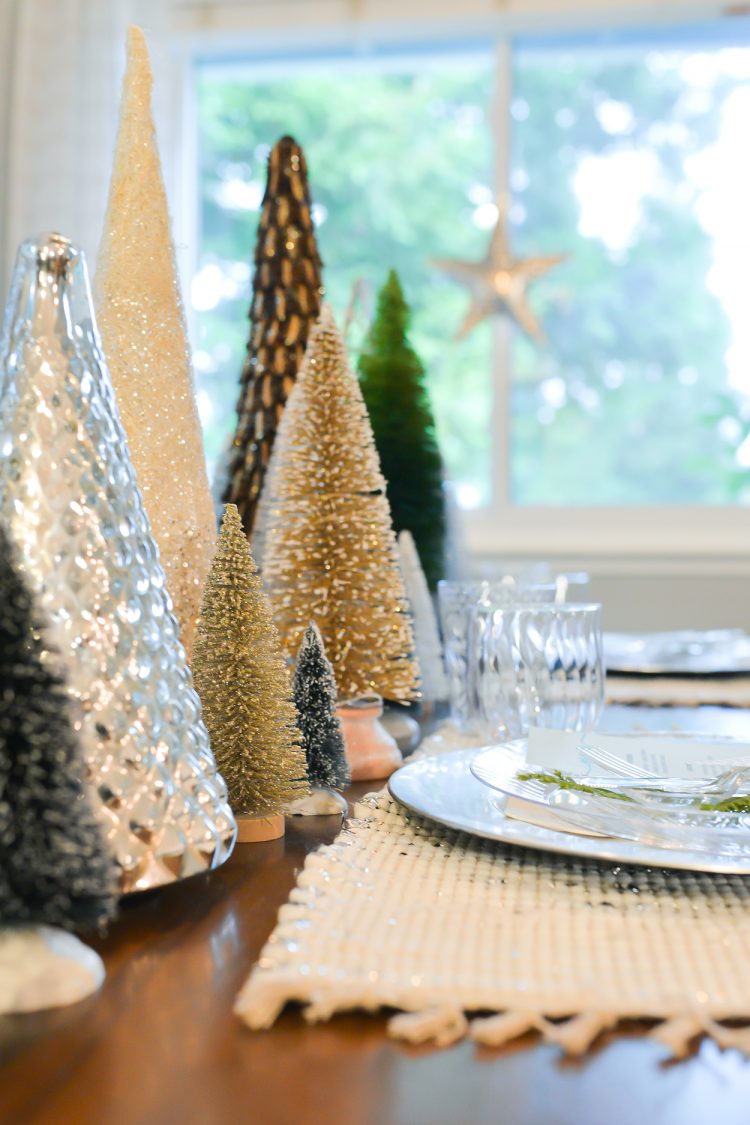 Each place-setting starts with a glittery white placemat (picking up the silver in the trees—so pretty!) and a silver charger. Then a simple white Chinet napkin (love that they are both elegant and heavy-duty) and a Chinet Cut Crystal dinner plate and salad plate. On top of that, I cut a little sprigs from our redwood and placed the Chinet Cut Crystal cutlery on top. You could tie with a bit of twine if you'd like. I also added the day's menu and a little paper place card. These are available below as a free customizable download!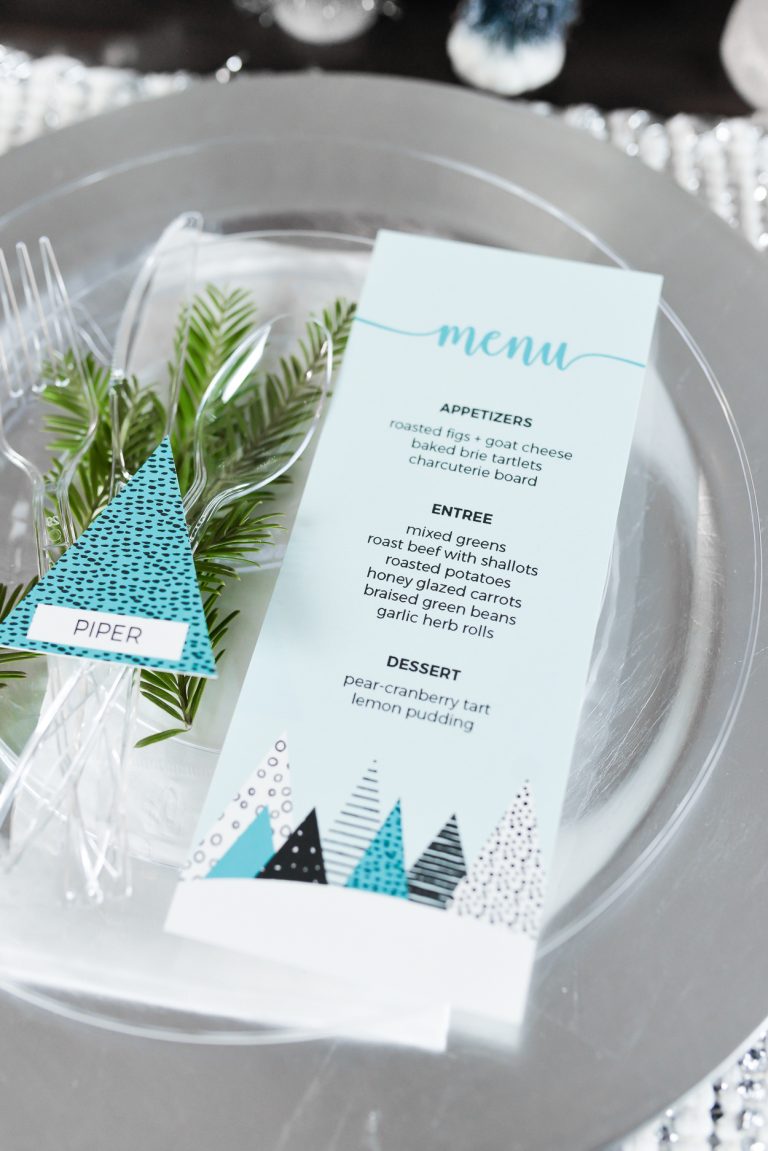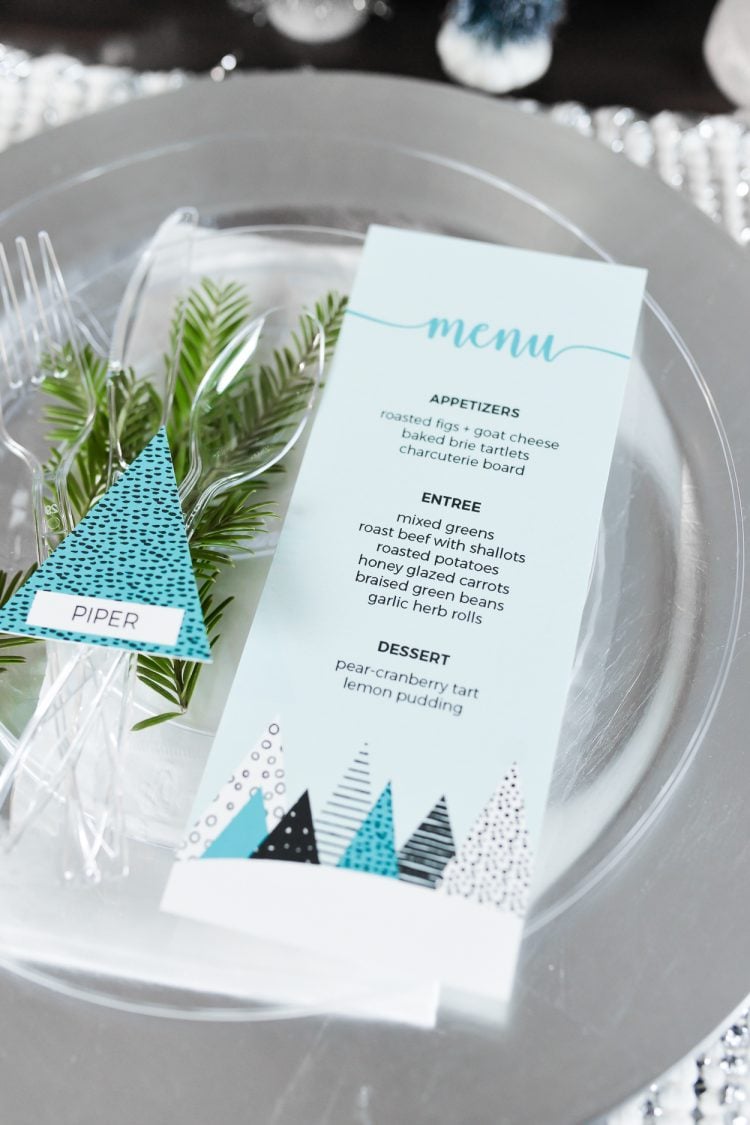 If you decide to do this as a buffet, I particularly love that the cutlery comes in a "hostess-ready" container — just open and leave out for your guests to grab what they need! I'm all for things that make my job as a hostess that much easier!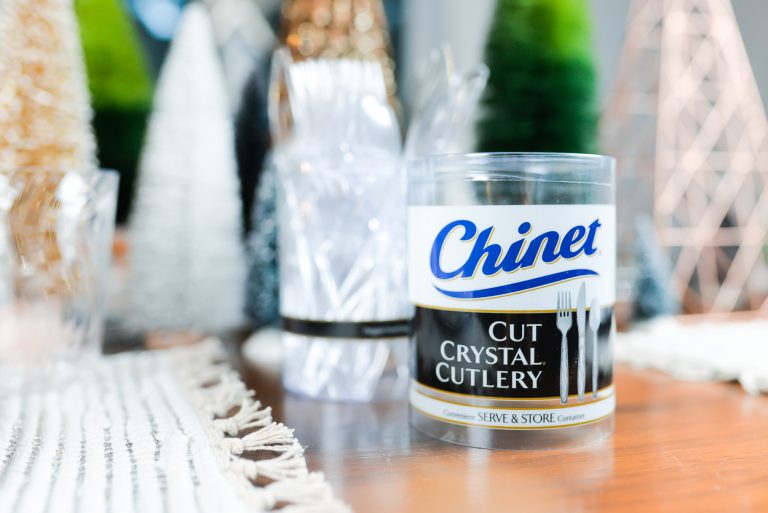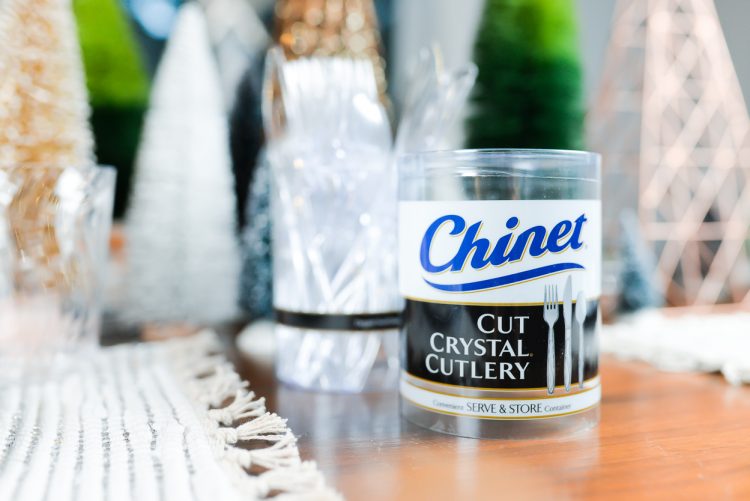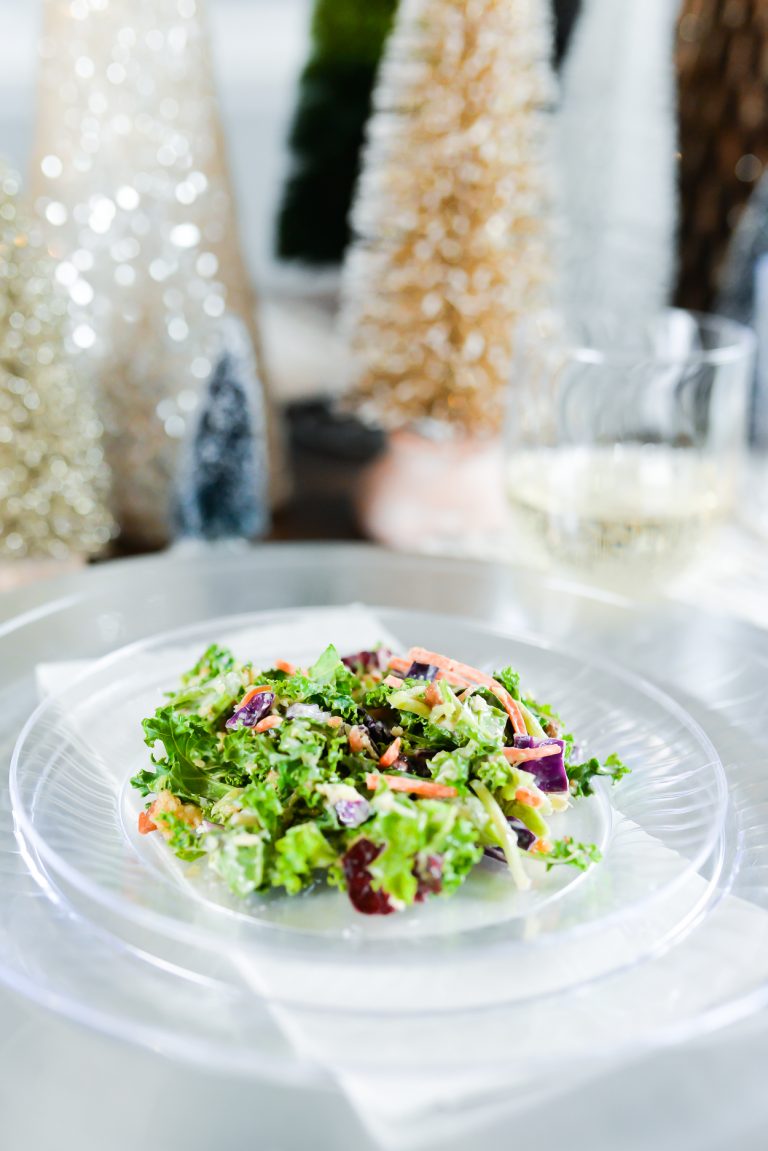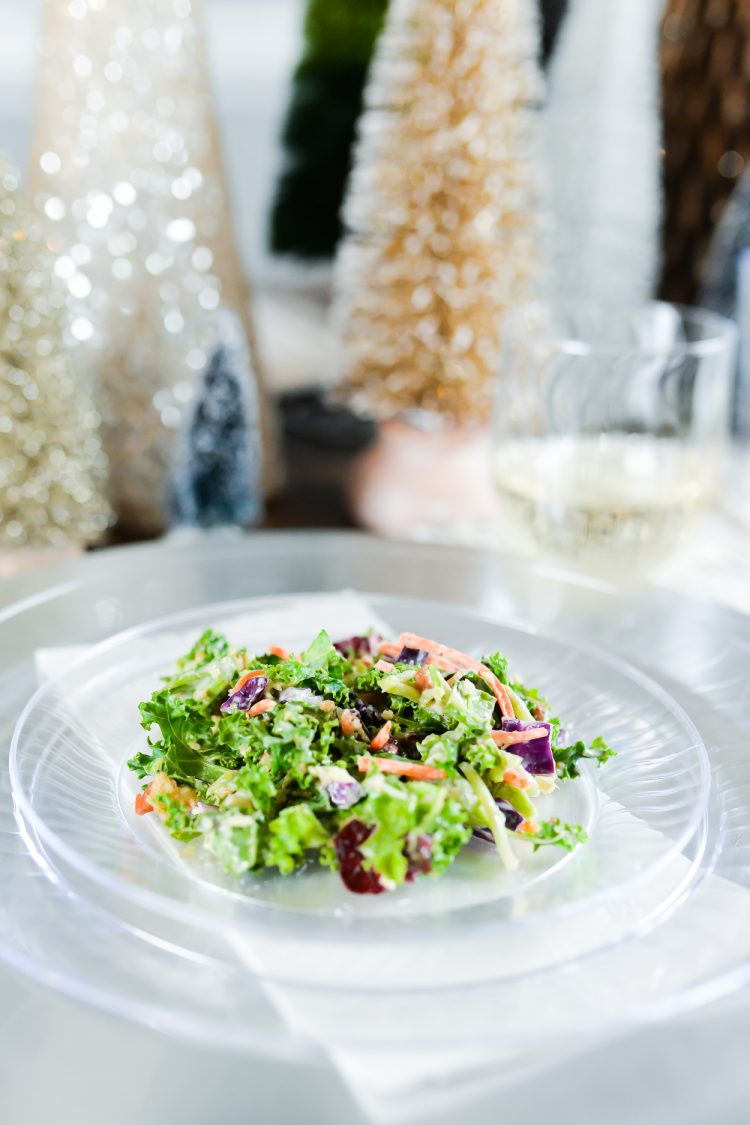 Each place setting also has a stemless wine glass and a water cup. I am in love with these stemless glasses! I have toddlers and a dog with a big swishy tail, and I can't tell you how many glass wine glasses we've broken over the years. The Chinet Cut Crystal stemless glasses won't break and are less likely to tip than a stemmed glass. Perfect for parties at my house, and I'm guessing yours, too!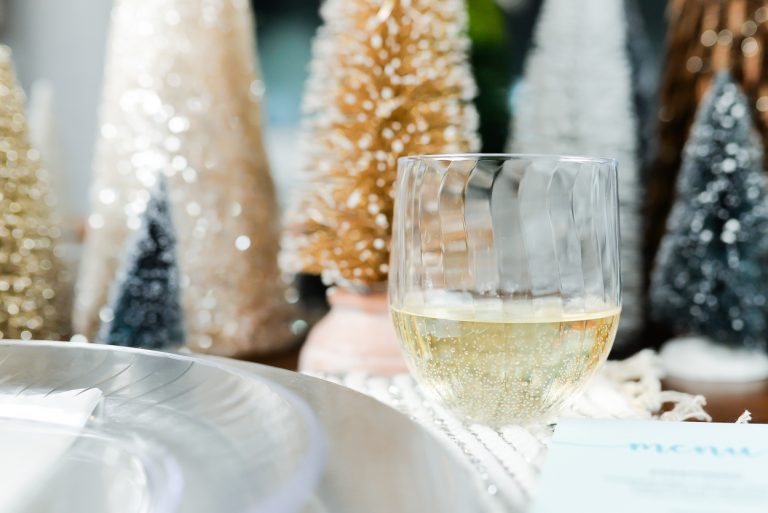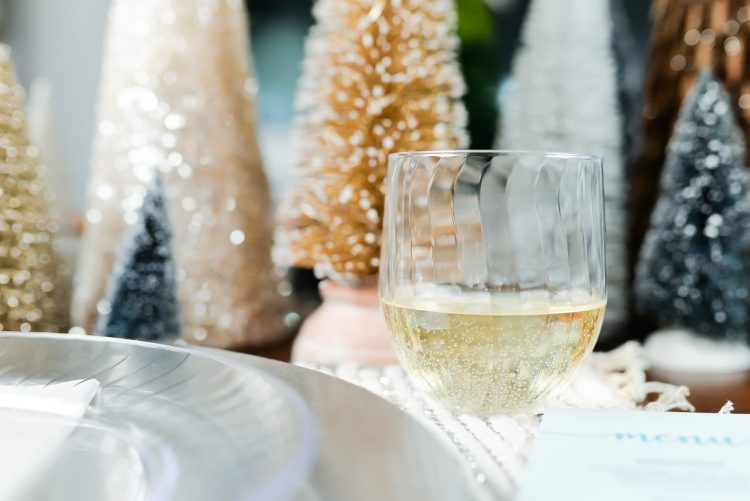 Winter Trees Printables
I've designed a set of winter tree printables that you can customize for your holiday dinner. They all play on this same modern tree theme, with three colorways! Teal, like I've used, gold, and a more traditional red and green. All three colorways are available in the downloaded file—just print the ones you want!
Enter your first name and email address in the box below for access to this freebie, along with other fun free files in our email newsletter! If you have already received a freebie from my site, just enter your information again—you won't be added to any additional lists.
This freebie is for personal use only. You can learn more about our commercial license.
The first printable in this bundle is a customizable menu. Download the Montserrat font (it's free!) and then open the PDF file in Adobe Reader. From there, you can enter your own text! It's an easy way to make a big impression with your guests—without a lot of money or time to invest!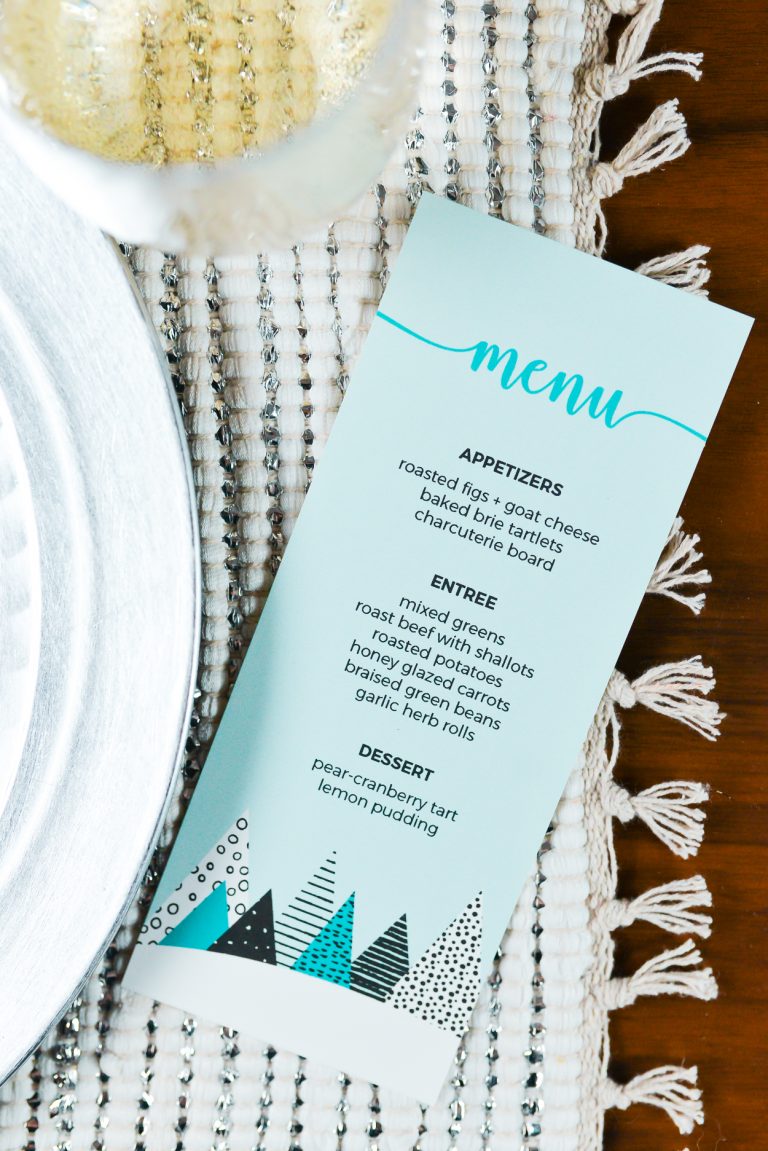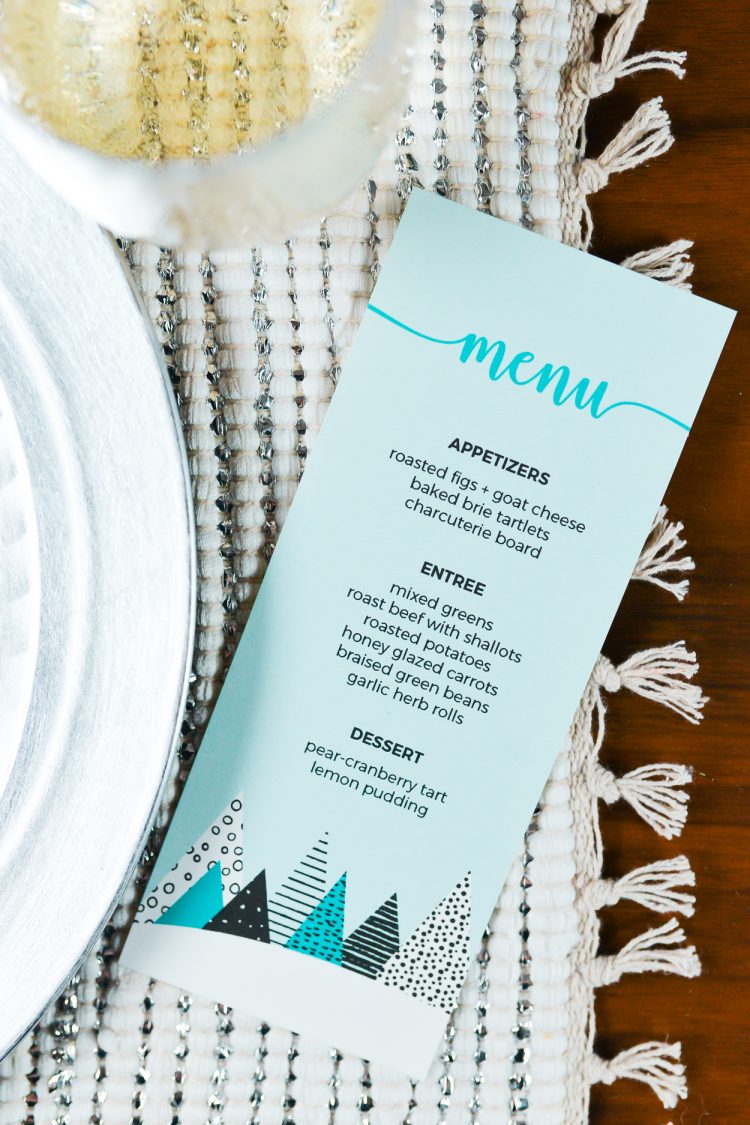 Also customizable are these little tree placecards. Again, open in Adobe Reader and type in the names of your guests. There are six different place cards—if you have more guests, just double up.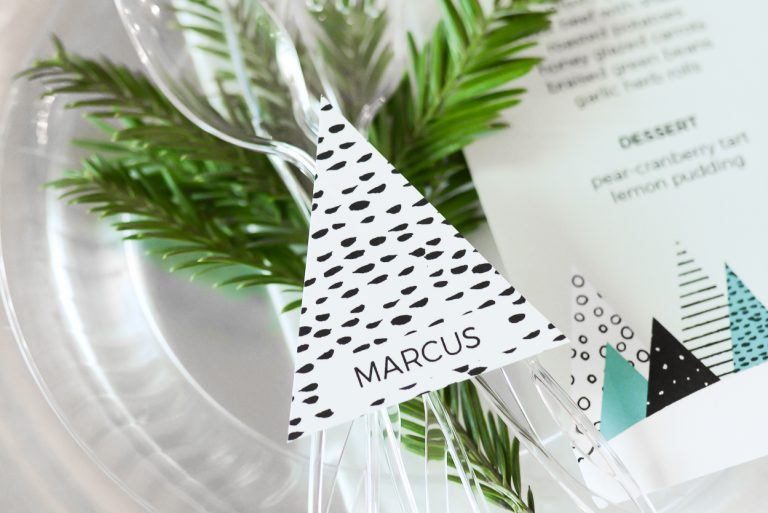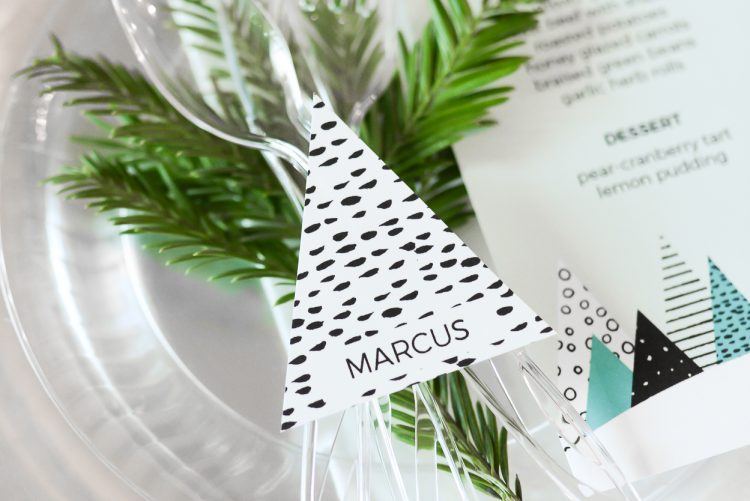 One thing I love to do is have everyone fill out a gratitude printable. You might think that's just a Thanksgiving idea, but it works well for the holidays too. It's important to remember what we really value in the midst of the hustle and bustle of the season.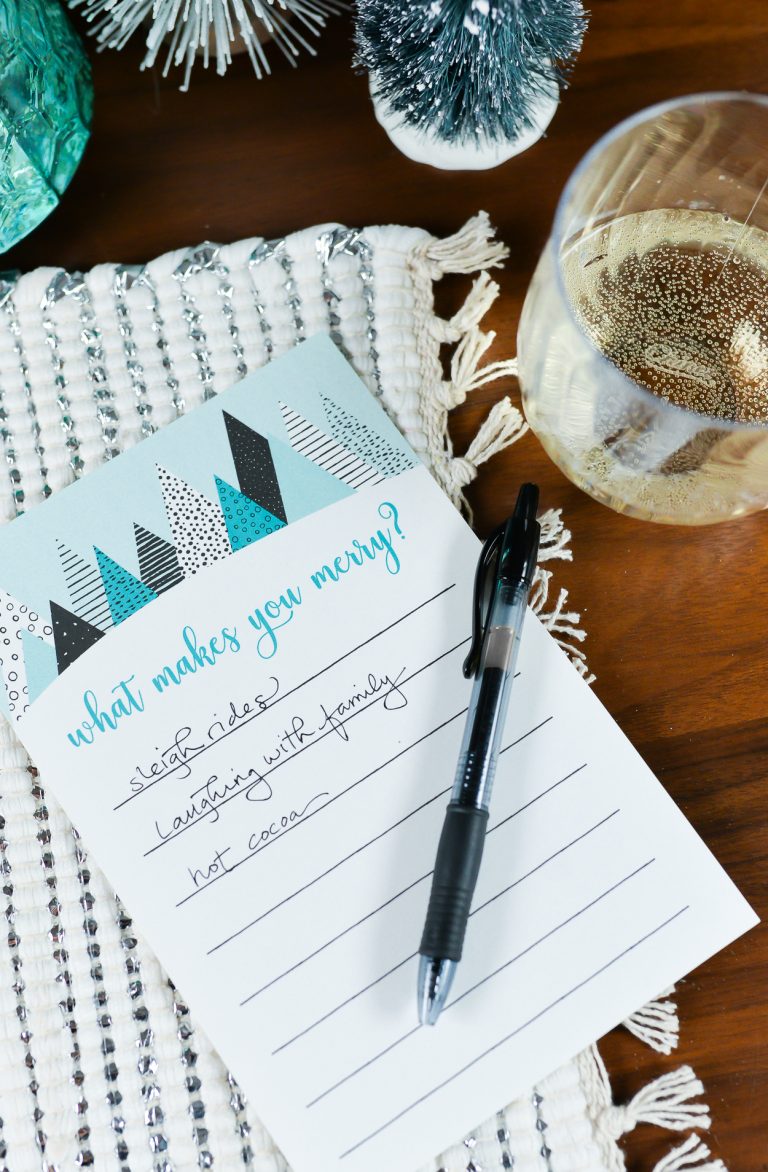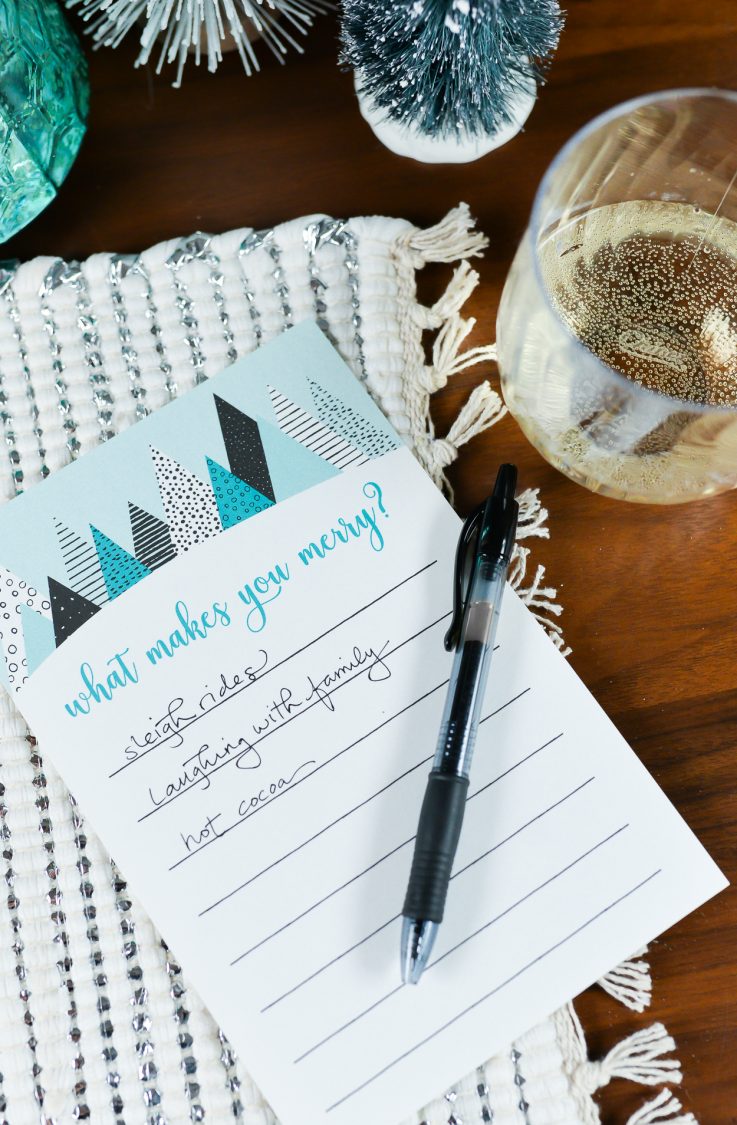 You can also print this fun coordinating fa-la-la-la banner. We hung it above our sideboard (this is where our buffet will be set), but it would be adorable on the front door or strung across the mantel as well.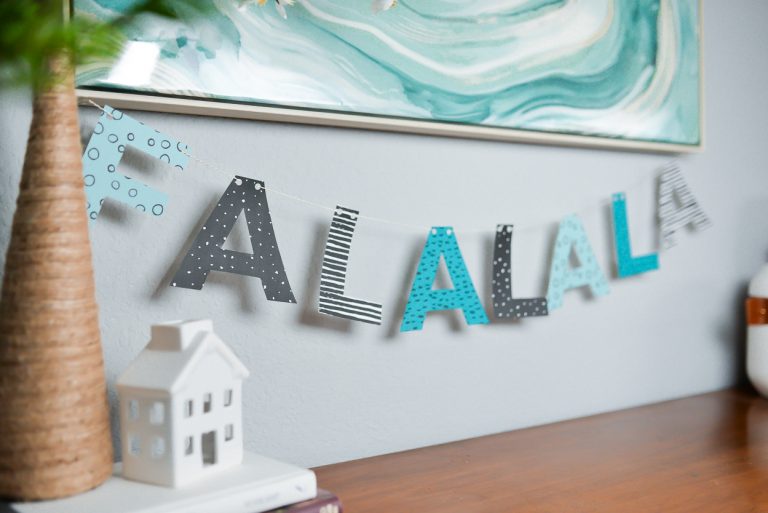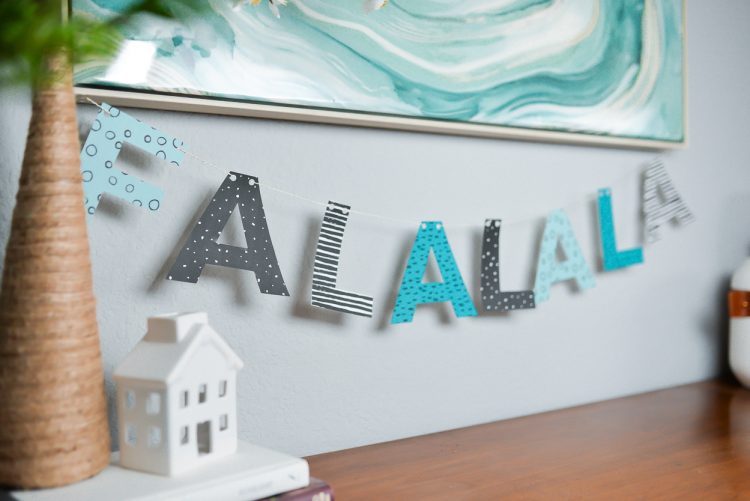 At the end of the night, it's always nice to leave your guests with a little treat as the head out on their way. Put a few Christmas cookies in a treat bag and use these little merry & bright tags as an accent! So cute, and it gives your guests something to snack on while they head back over the river and through the woods (or, if you're in California, down the highway and through the suburbs. Ha!).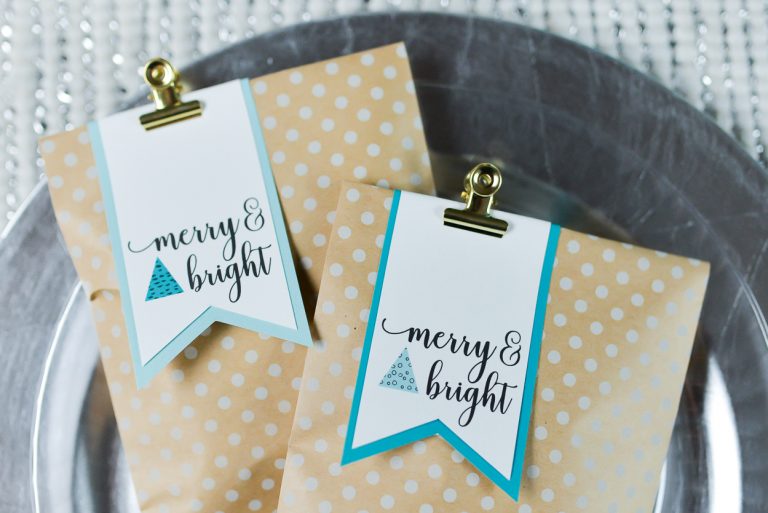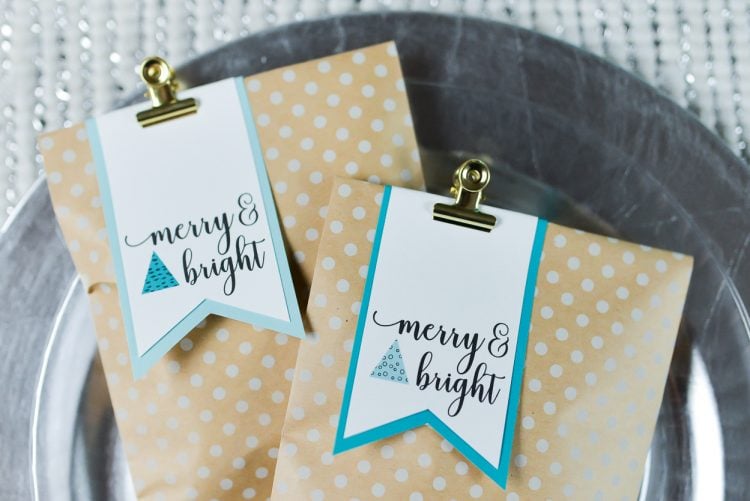 Hope you've found this table inspiring for your holiday this year! And visit Chinet to learn more—and get inspired decor, craft, and recipe ideas to make your next gathering perfectly coordinated!