Last updated on May 1st, 2017 at 11:05 am
I know this comes as no surprise, but kids, dogs, and a love of crafting equal quite the mess! So when Dyson asked me to try out their V6 Absolute vacuum, I knew I'd put it to the test on my toughest messes.

First Impressions
When Ryan and I pulled the Dyson V6 Absolute out of the box, we were a little skeptical. It was very light and battery-powered. Could it really clean up all the messes we make? But we liked the fact it came with a bunch of attachments, including a Motorhead brush bar for carpets and a soft roller cleaner head for our laminate, both of which you use with the wand attachment. And there were several smaller tools to connect directly to the handheld unit for use in smaller clean-ups.
My favorite part is that it's cordless. With twins at home, I need something that's quick, and being able to grab the Dyson off its wall mount and use it quickly is a lifesaver for me. Plus, for a vacuum, it's not particularly loud. My boys slept right through our mess tests.
We decided to tackle some of the messes in our house that we deal with most often.
Dog Hair
By far, the bane of my cleaning existence is dog hair. Dealing with Bernese Mountain Dog fur is par for the course when you have one of the most awesome dogs in the world.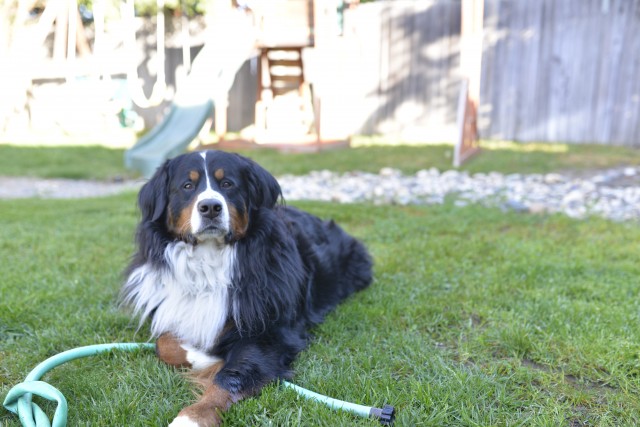 But poor Gunnar sheds, especially in the summer. His fur doesn't stick to things, like labrador fur, but it floats about the house and gathers in the corners like furry snow drifts. Ew.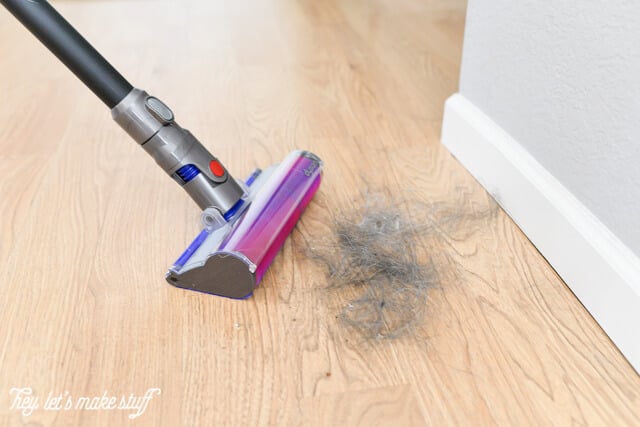 Our old upright vacuum would often just blow the fur around before it had the chance to suck it up, but we were very impressed with the Dyson's soft roller cleaner head. It quickly picked up the dog hair without sending it flying. I used to sweep all the dog hair into a pile and attempt to vacuum it. But the Dyson V6 Absolute is so light and easy to use that I'm going to skip the sweeping step from now on and just tackle the fur with the vacuum. If you're doing the same, just be sure to empty the canister when it hits the Max line.
Formula
Despite all my best efforts, we have ended up having the babies on some formula. The powdered formula is so light and gets everywhere. The other day I spilled some on our uneven tile countertops. I went to grab a paper towel, but my husband picked up the Dyson V6, attached the multi-tool in handheld mode, and whisked all the formula away, no problem! Our previous handheld cordless vac would have had a tough time getting the formula out of the grout, but the V6 did it in one pass.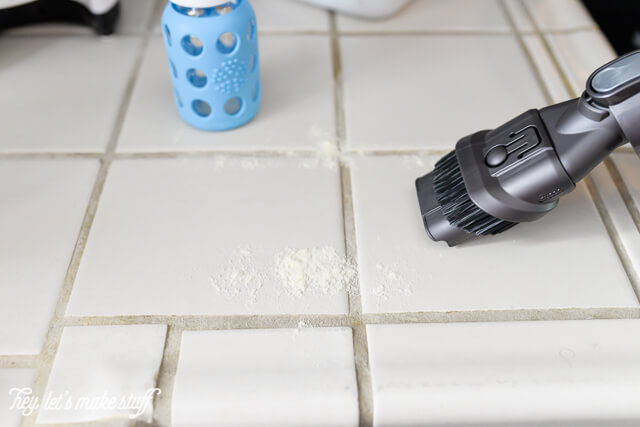 And because it's always charged, we've found it's perfect for quick clean-ups like this.
Baking Ingredients
Is it just me, or is it impossible to make cookies without creating a huge mess? Flour everywhere. Sugar settling in grout lines. Oats on the floor. I am a disaster in the kitchen, so I don't bake often. But now I can use the Dyson to help me clean up these difficult messes.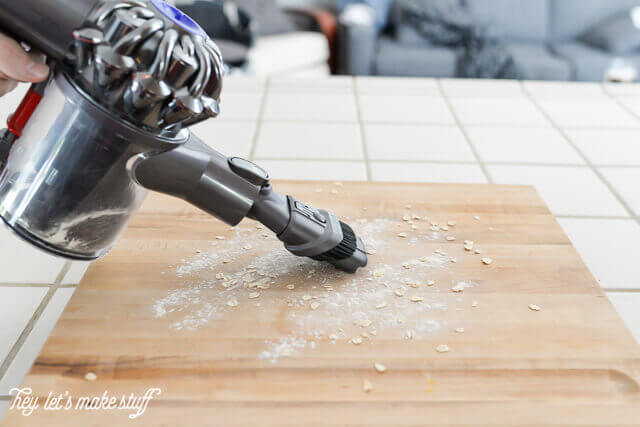 The soft roller with the wand is great for anything I drop on the floor (it picked up both the big oats and the small grains of flour), and I use the handheld with the multi-tool for getting the cutting board and counters clean. You can see in my photo how there are both oats and flour in the canister — it had no problem picking up either.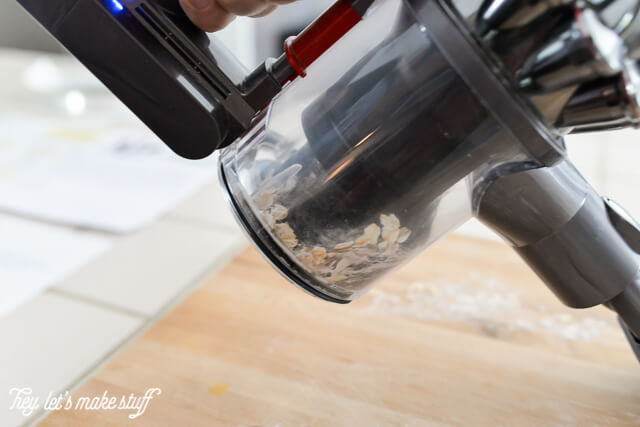 Easier clean-up means more cookies for everyone!
Crumbs in the Sofa
Having twins means that we are often eating whenever and wherever we can, just trying to get some food before the babies start fussing again. Half the time I'm eating while holding a baby. Our couches are proof that this is difficult. There are all sorts of crumbs in between our couch cushions. Our upright vacuum has a crevice tool, but the hose is laughably short and I never used it due to how difficult it was.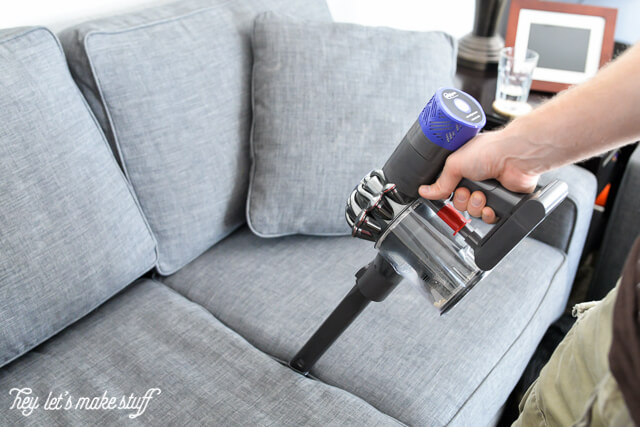 But attaching the V6's crevice tool to the wand made cleaning up these messes super easy! "Max" mode gave me extra power so it was done in a snap. We also used the mini motorized tool to clean the dog hair on the cushions.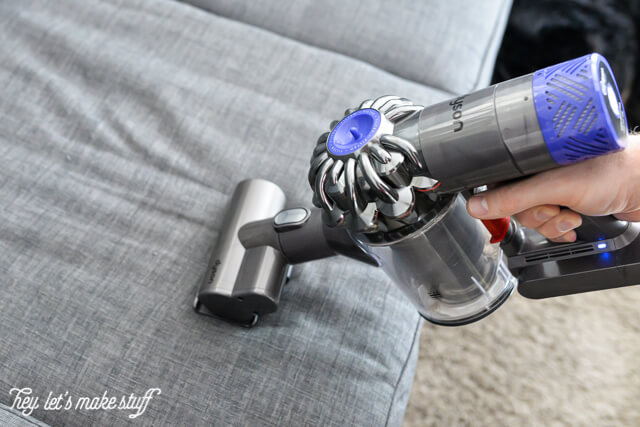 Thread, Glitter, and Other Crafty Stuff
My craft room is often a disaster. My carpets are constantly covered in tiny pieces of thread, paper scraps, and shiny bits of glitter. It's like fairly land blew up in here.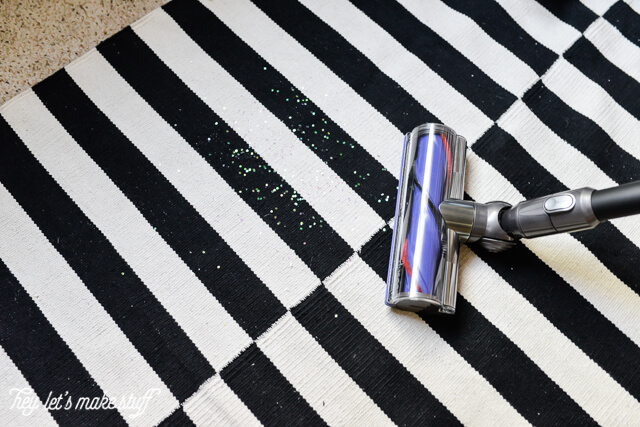 The motor brush head made quick work of picking up the glitter I spilled on the carpet, which we all know is super difficult to pick up! In fact, we went over it with just a few passes, I couldn't find one speck of glitter left. Impressive!
Final Thoughts
We both love the Dyson V6 Absolute. We do wish it had a larger canister, but the small canister makes for a lighter machine and it's easy to empty so it's really not a problem.
We didn't think it was going to replace our regular upright vacuum, but now we're thinking again. The charge lasts about 20 minutes, which may not be enough time to tackle our whole house, but at this point, 20 minutes is about all we get when these babies need us! We haven't used our upright since we got the V6 Absolute, so perhaps the old vacuum is a thing of the past!
QVC Special Value
And for today only, you can order the Dyson V6 Absolute from QVC, QVC.com, or the QVC app for a special low price. I really think it's worth it — I wouldn't recommend it if I thought it wouldn't change the way you clean your house!
[wpp range=daily header="TODAY'S TOP TEN POSTS" limit=ten order_by=views stats_comments=0 wpp_start=<ol> stats_views=1 wpp_end=</ol>]